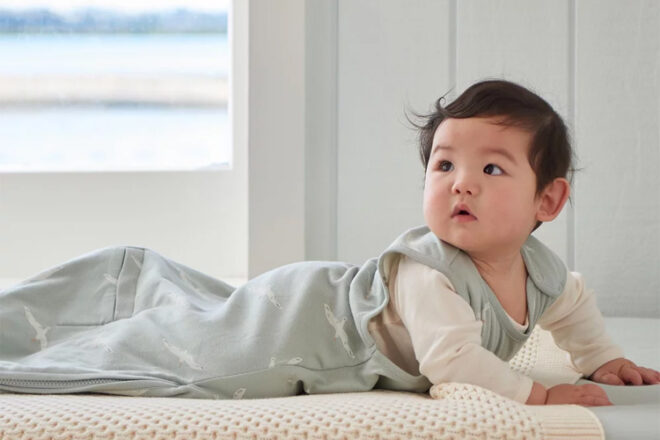 The right sleepwear goes a long way in helping to establish a healthy sleep routine for little ones. So to help you on your way, we've shortlisted Australia's best designer sleeping bags for newborns and babys that other mums love.
Like a wearable blanket, a baby sleeping bag helps regulate baby's body temperature while giving little legs plenty of wriggle room for healthy hip development. They help keep loose bedding out of the cot and come in different levels of warmth (called TOGs) to suit every season. And then there's the cuteness factor.
What is a TOG rating?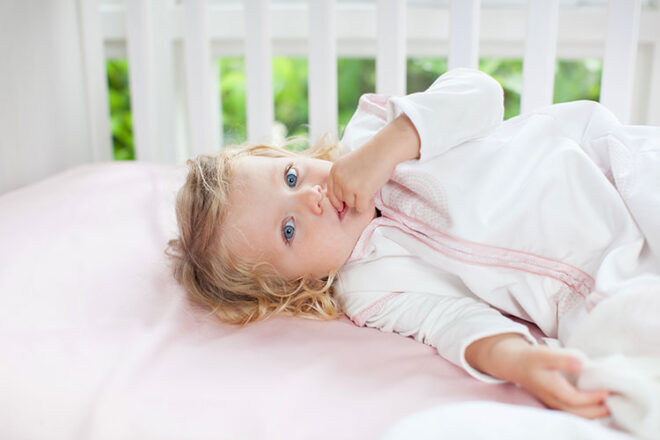 TOG is an acronym. It stands for 'Thermal Overall Grade'. And is a measure of thermal resistance of a unit of area, also known as thermal insulance. Put simply, it is a measurement that shows how much a particular fabric insulates – basically how warm it will be.
For sleeping bags in Australia, TOGs range from 0.5 up to 3.5, with the highest TOG rating being the warmest garment. And to understand which sleep bag TOG values are right for different room temperatures, there are a simple set of guidelines you can follow:
< 1.0 TOG – room temperature 24 °C to 27 °C
1.0 to 2.0 TOG – room temperature 20 °C to 23 °C
2.0 to 3.5 TOG – room temperature 10 °C to 20 °C
See our complete TOG Guide for more about getting the right balance of warmth at bedtime.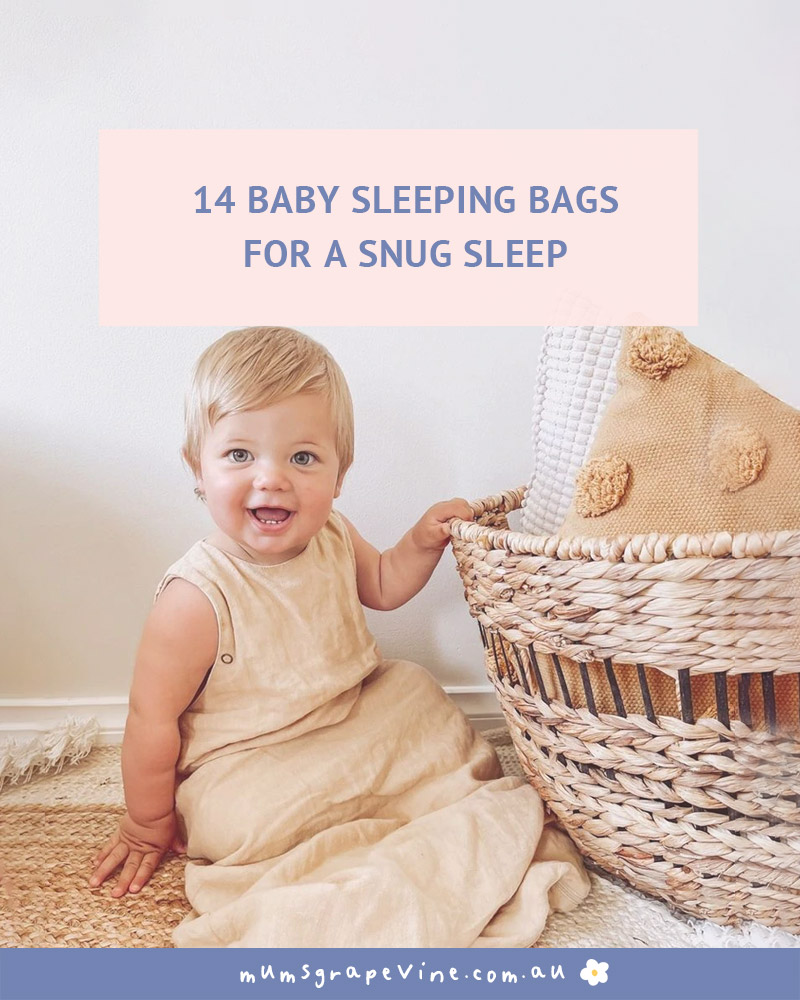 OUR PICK OF THE CROP
14 baby sleeping bags for a snug sleep
With so many baby sleep bags on the market in Australia, it's hard to know where to start, so we asked the HUGE Mum's Grapevine Facebook community which brands they've used and loved. In no particular order, here are the recommended products.
Tommee Tippee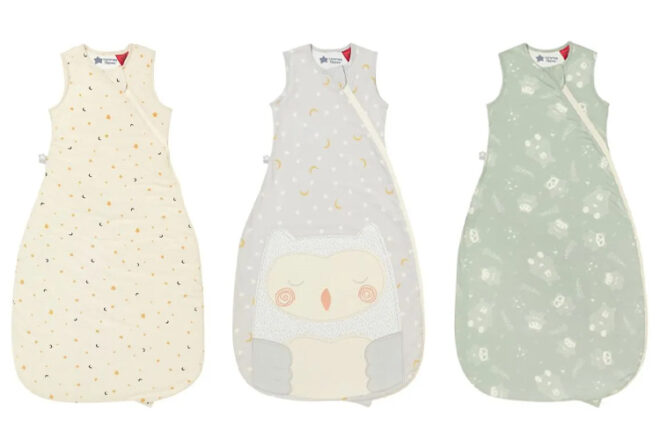 Snug up top and roomy down below, Tommee Tippee Original Grobags use 100% cotton-rich and fluorescent-free fabric to keep baby warm while being kind to young skin. We love that they come in a huge range of styles to suit every little personality.
---
Babystudio
Created from breathable soft cotton, Babystudio sleeping bags combine enough tightness for a comforting fit with plenty of stretch to allow legs and hips to sit naturally. We love that they come with or without sleeves in two handy TOGs for all year wear.
---
Billie + Bobbie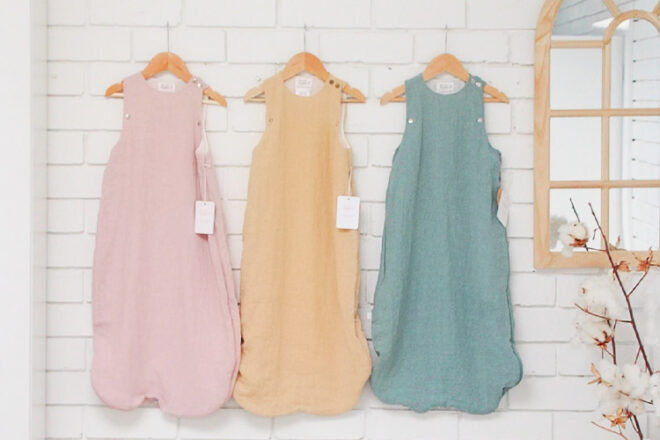 In a choice of all-season or winter styles, Australian-made Billie + Bobbie sleeping bags feature merino wool lining and adjustable underarm poppers. We love that they can be used all year round so you don't have to buy multiple sizes and togs.
---
Baby Loves Sleep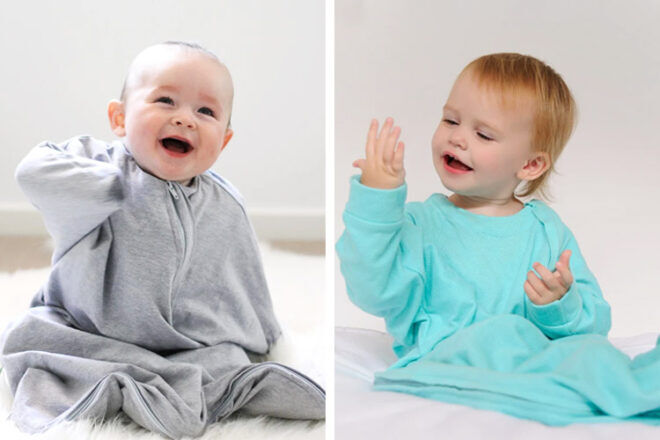 Toasty from top to toe, award-winning and hip-friendly Baby Love Sleepy Hugs sacks come fitted with full-body zips as well as a zip along the bottom for easy nighttime changes. We love that the 'Hands In and Out' style allows growing bubs to self-settle at sleepytime.
---
Merineo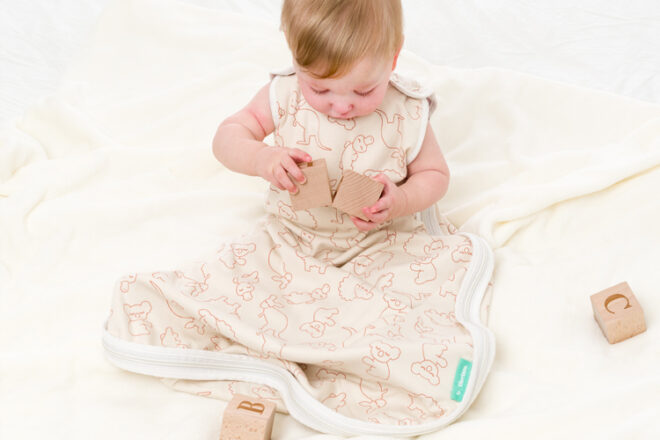 Made in Australia with 100% superfine Merino wool, Merineo breathable bags help regulate bub's body temperature throughout the night. We love the handy underarm press studs that adjust to growing babes.
---
ergoPouch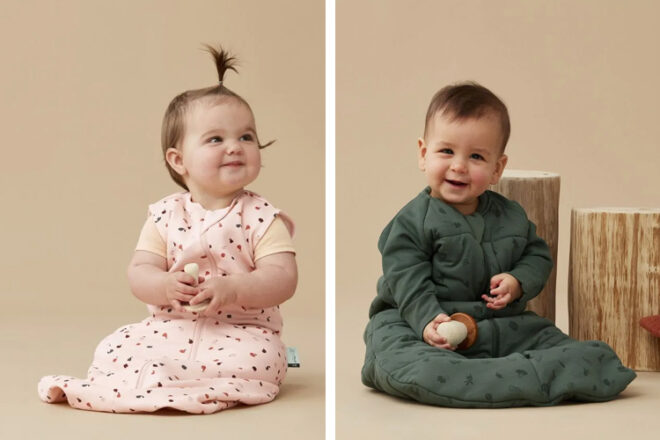 Available in long-sleeve or sleeveless, ergoPouch organic cotton Jersey Sleeping Bags are ergonomically designed with a bell-shaped bottom and approved by the International Hip Dysplasia Insitute. We love that they come with a handy room thermometer.
---
Bubbaroo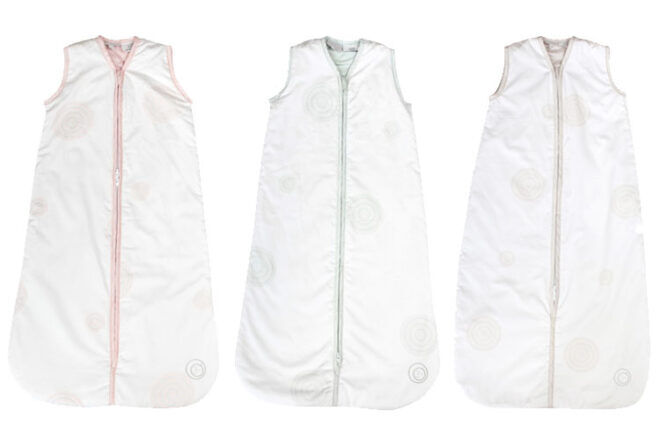 Made using breathable natural fibres, award-winning Bubbaroo Joey Swags are carefully designed to eliminate the need for donnas or blankets. We love the smooth cotton sateen lining and smart zip system that prevents bub from slipping down inside the bag.
---
Purebaby
Made using 100% organic cotton, Purebaby sleep bags come with or without sleeves in a range of TOG weights, from lightweight 0.5 up to 3.0 for winter. We love that each bag has a full-length zip with safety folds and comes in three sizes.
---
Aden & Anais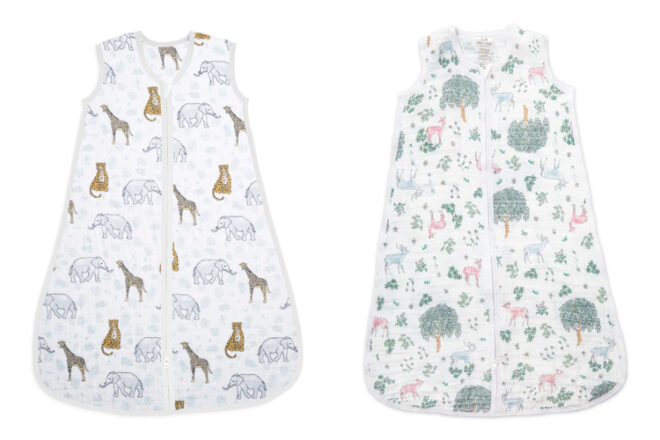 Created from pre-washed, 100% organic muslin cotton, Aden & Anais sleeping bags cater to all seasons, ranging from 1.o to 3.5 TOGs. We love that they're machine-washable, quick to dry and zip open from the bottom for stealthy nappy changes.
---
The Sleepy Company
One sleep bag for all seasons, The Sleepy Company 4-in-1 365 sleep bag V3 ingeniously configures to all seasons so you only have to buy one bag. Made with certified organic cotton we love the removable sleeves with built in hand mittens.
---
Love to Dream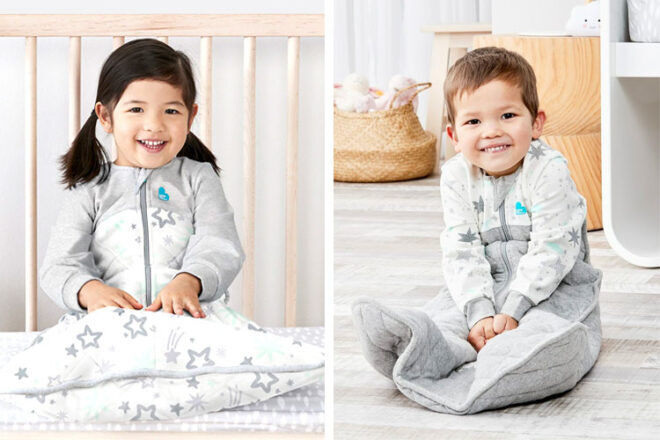 Like wearable blankets, Love to Dream newborn sleep bags range from all-season 1.0 TOGs in organic cotton to toasty 3.5 TOGs padded with warm Merino wool. love the handy twin-zipper for fuss-free nappy changes and extra stretch for frisky legs.
---
Cotton On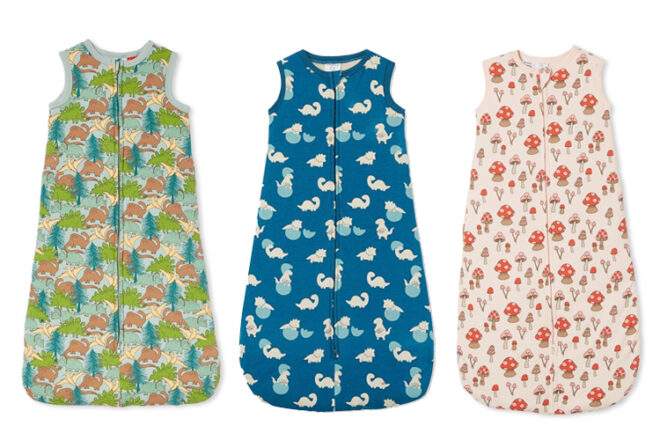 Available in six adorable styles, Cotton On Winter Sleep Bags feature lightweight wading to keep cutie pies cosy as the temperatures drop. We love that they come in five sizes to suit all ages and have double-ended zippers for quick on and off.
---
Nature Baby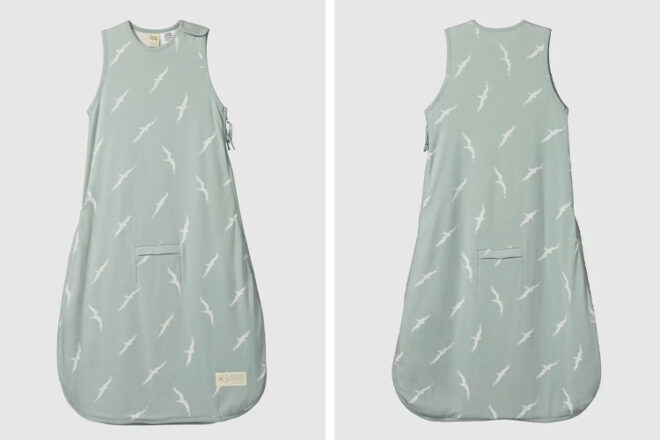 Crafted with love using 100% organic cotton, the Nature Baby Sleeping Bag stretches naturally to accommodate wiggly legs and growing bodies. We love that it comes with a handy travel slot for easily fastening bub into the car seat or pram after a nap.
---
Bonds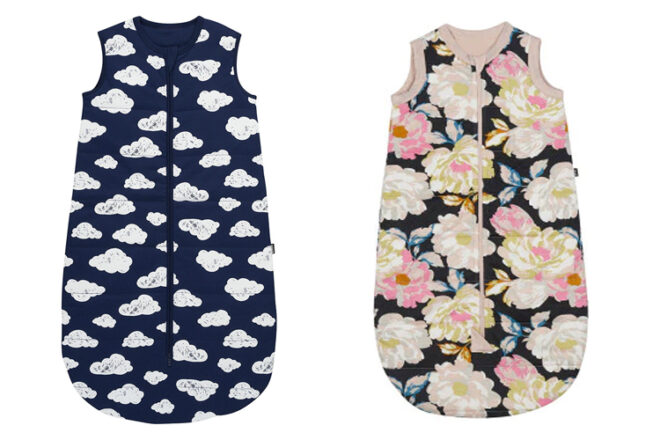 Approved by Red Nose for safe sleep, Bonds Wondersuit Sleep Bags use breathable cotton padding to keep babies comfortable throughout the seasons. We love that these come in sizes to fit littlies from birth right up to two years of age.
---
Are newborn sleep bags safe?
Yes, baby sleeping bags are safe for little ones provided they meet certain requirements. Red Nose Australia states that sleeping bags for newborns should not have hoods or wide neck holes that allow bubs to wriggle down into the bag. Also, there should not be any loose cords attached to the bag.
At what age can babies use sleeping suits?
Many sleeping suits are suitable from birth, just check the product's description carefully. Some bubs prefer to be wrapped and swaddled in the early days, others take to sleep suits easily.
How many winter sleeping bags do I need?
It's useful to have at least two bags on hand, so if you soil one you have another to put on while you wash and dry the first one. Keep in mind the dry time of the winter sleeping bags.
What should babies wear under a sleeping suit?
Your little one will need to wear appropriate sleepwear under the sleepsuit or bag. Most brands provide a handy TOG guide with instructions on which underclothes to wear for the weight of your particular bag or suit.
---
This shortlist has been curated by our senior editorial team and may include affiliates and/or paid inclusions. We would never recommend a product we haven't seen, used, tried ourselves or been recommended by a mum from our Facebook groups. See our Disclosure Policy.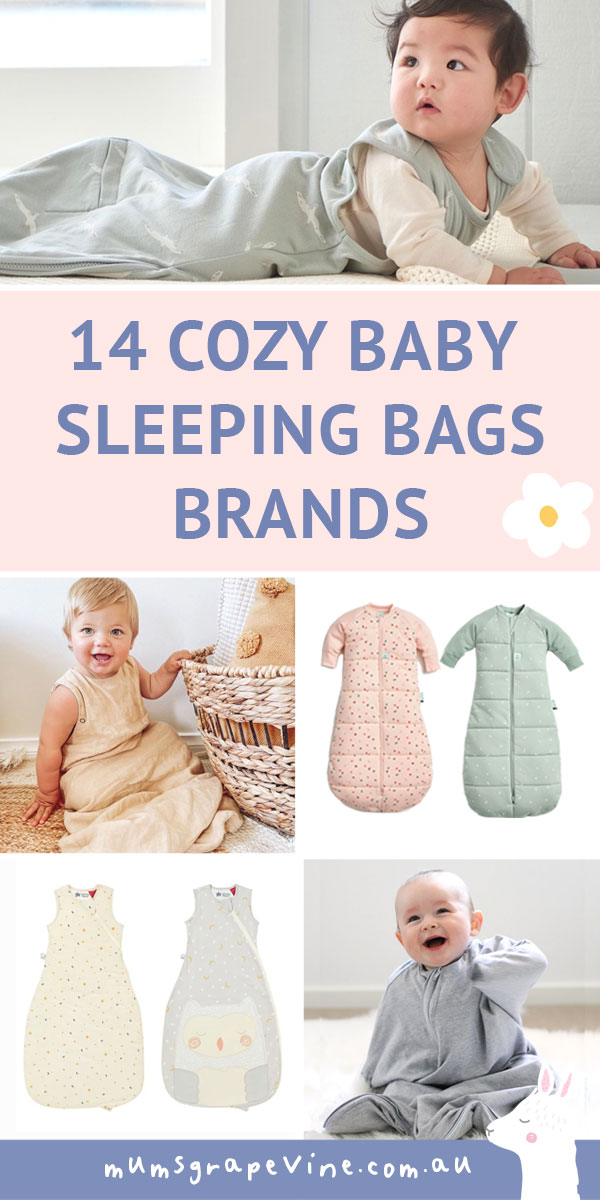 Know a baby sleep bag we should add to our list? Contact us and let us know, we've been collating Australia's best baby products into shortlists for over 14 years and we're always happy to support new brands and businesses.
Find more baby sleep aids in these roundups next …
Read this next …. How to stop a kid from escaping a sleeping bag
Thousands of Aussie mums in our Mum's Grapevine Facebook Groups are asking each other for recommendations on what to buy right now. And you can too! Join today.