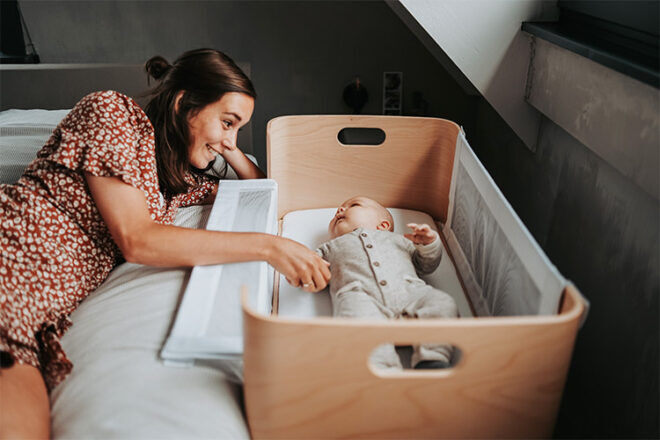 Many babes struggle with sleep during their early months, so a co-sleeper bassinet is a great solution for soothing baby back to sleep without you having to leave the bed.
Drop-down sides offer parents quick and easy access to baby for settling and feeding throughout the night. And positioned at the side of the bed, these bassinets offer babies their own safe sleep space, one where nighttime cuddles are never too far away.
What is a co-sleeper?
A co-sleeper baby bassinet is a separate sleeping area for babies that can be placed right next to the parent bed. Co-sleeping, on the other hand, is when parents sleep in the same bed with their baby.
This article is about co-sleepers, not co-sleeping, which according to Raising Children is not recommended as a safe sleep practice.
What to consider when buying a co-sleeper baby bassinet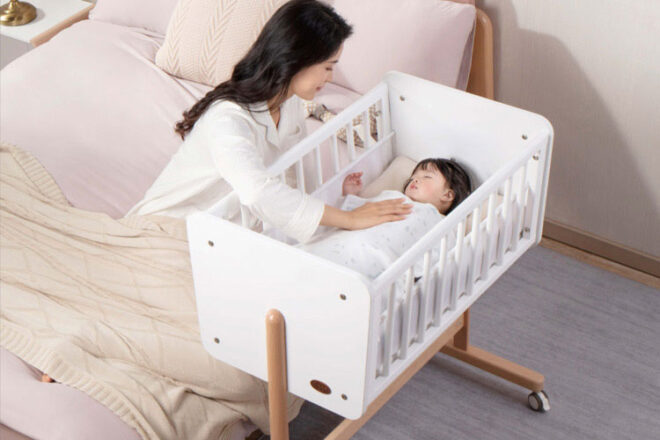 Adjustable height and tilt – An adjustable unit will enable you to set it to the correct height for your particular bed. Tilt adjustments can be useful for helping to relieve bub's reflux in those early months.
Breathability – Good airflow is important wherever baby sleeps, so look out for breezy mesh or cot-style sides that allow fresh air to flow through.
Safety – There are currently no Australian safety standards for co-sleepers, however, some manufacturers mention they comply with the older standards for Rocking Cradles.

OUR PICK OF THE CROP
7 co-sleepers that keep little ones close
With so many co-sleepers on the market in Australia, it's hard to know where to start, so we asked the HUGE Mum's Grapevine Facebook community which brands they've used and loved. In no particular order, here are the recommended products.
Some brands have offered exclusive offers for Mum's Grapevine readers. These offers may include exclusions and expiry without notice. Please direct all inquiries directly to the linked website.
Joie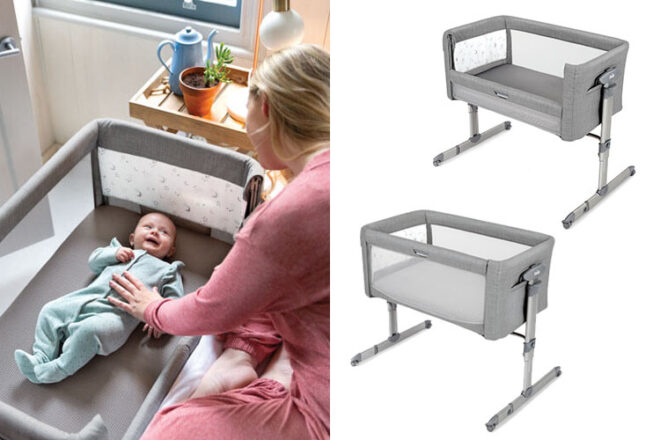 With a one-hand retracting panel, the Joie Roomie Glide Bebside Crib features a smooth gliding mechanism for soothing little ones to sleep. We love that it's fitted with lockable wheels for easy moving and has 11 different height adjustments.

---
Boori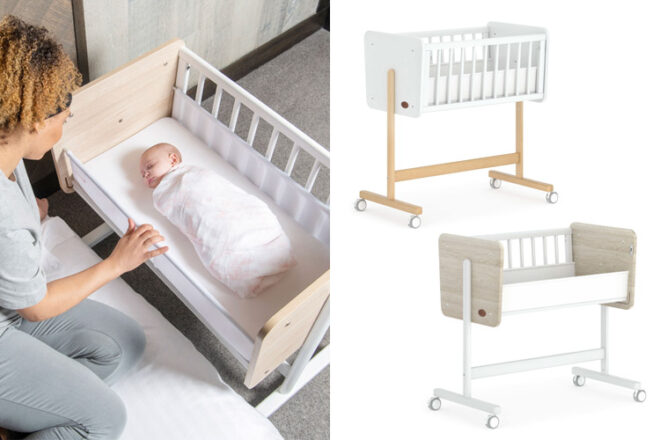 Equipped with solid wooden guard rails, the Boori Neat Bedside Sleeper has a breathable safety mesh that remains in place even with the guard rail down. We love that it adjusts to two different heights and converts to a children's desk further down the track.
---
Bednest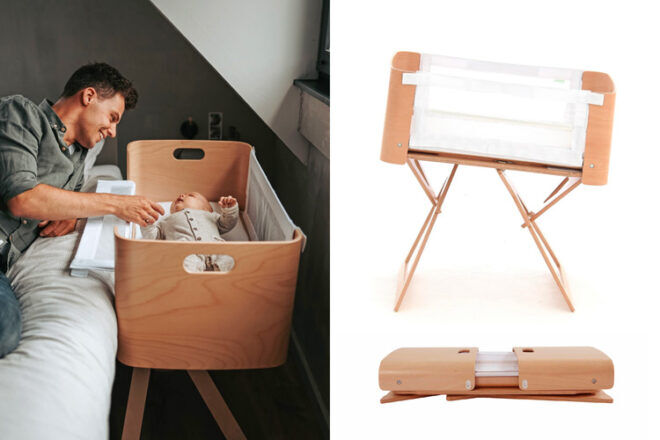 Made from European beechwood, the Bednest boasts a height-adjustable stand with over 70 settings, tiltable to help relieve reflux symptoms and easy to open and close mesh sides. We love that it folds flat for easy storage and travel.
---
Love N Care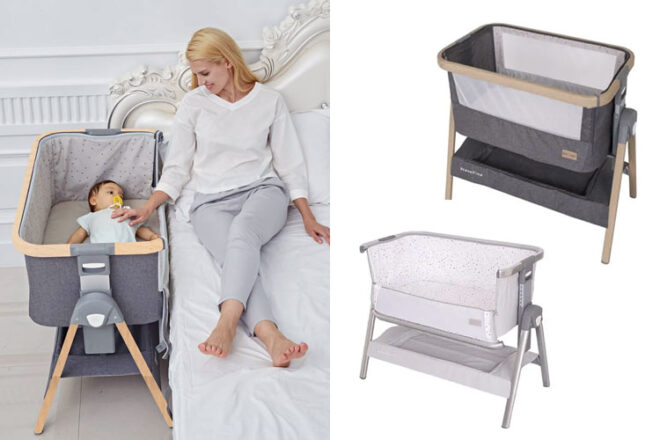 With a bassinet and bedside sleeper mode, the Love N Care Dreamtime Sleeper adjusts to six height positions and inclines at either end. We love that it comes with a removable inner lining for the warmer months and a handy storage bag.
---
Chicco
Equipped with a single-handed up and down side panel, the Chicco Next2Me Magic Crib is adjustable to 11 positions, tiltable and has a handy rocking mode. We love the extra ventilation provided by the 3d mesh mattress cover and mesh windows.

---
SnüzPod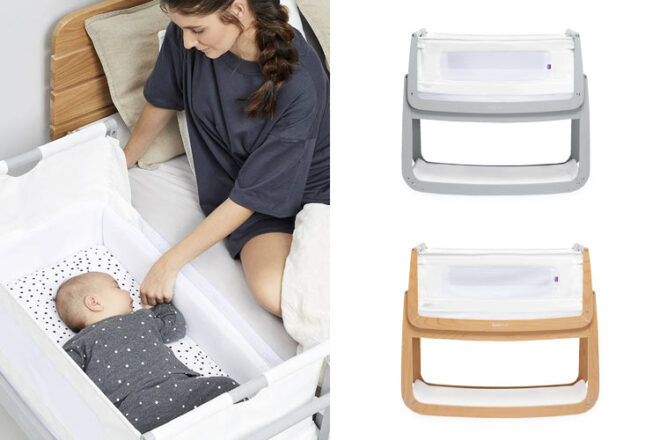 Feature-packed and available in seven gorgeous colour schemes, the SnüzPod4 Bedside Crib works as a stand-alone crib or as a bassinet. We love that it's fitted with an innovative ComfortAir system and a zip-down wall to bubba close through every stretch and sigh.
Edwards & Co Discount Code:
Use code 'MGV15' for 15% off SnüzPod4 bassinet.
---
Babyhood

Made from durable European beechwood, the Kaylula Co-Sleeper has mesh panelling for airflow, adjustable leg height and a zippered drop side with a unique safety barrier. We love that it comes with a machine-washable mattress and play bar with timber toys.
---
How long can a baby sleep in a co-sleeper bassinet?
Most co-sleepers are a similar size to regular bassinets and support babies up to approximately six months of age. Some bubs might be ready to transition to the cot as soon as two or three months. Check each particular brand for age recommendations.
Are co-sleepers the same as baby bassinets?
Unlike a regular bassinet with rigid sides, a co-sleeper has drop-down sides. This allows you to position it right next to the adult bed and keep baby within arm's reach. They provide babies with their own sleeping space, as recommended by Red Nose Australia, while staying nice and close to mum.
Can a newborn sleep in a co-sleeper?
Yes, most Australian brands are designed for use from birth up until approximately six months, depending on the manufacturer.
---
This shortlist has been curated by our senior editorial team and may include affiliates and/or paid inclusions. We would never recommend a product we haven't seen, used, tried ourselves or been recommended by a mum from our Facebook groups. See our Disclosure Policy.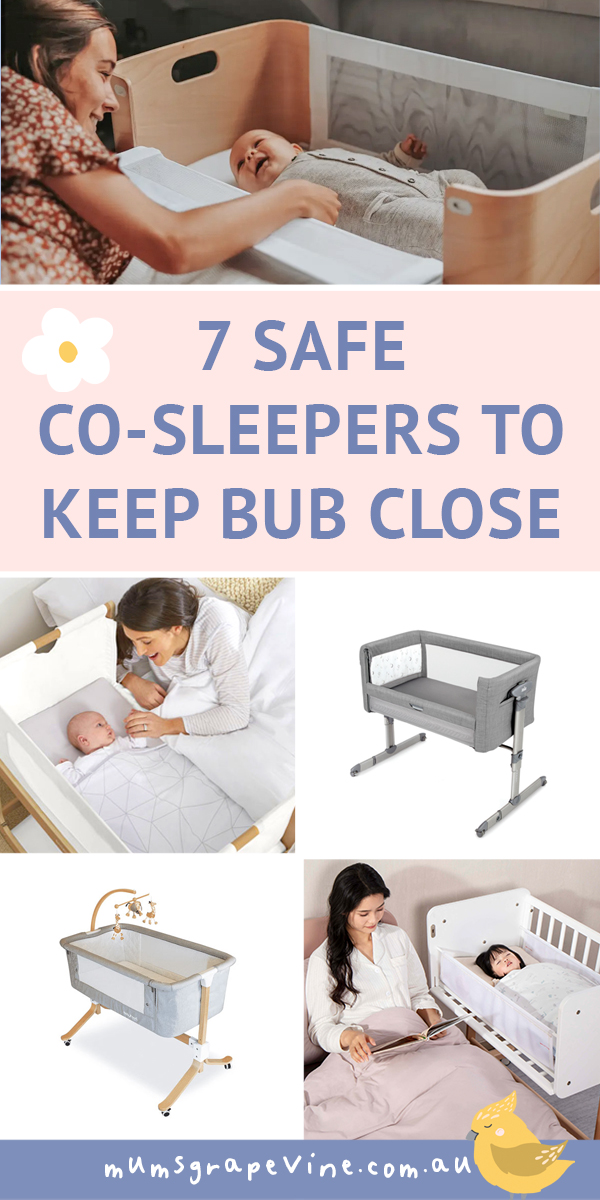 Know a co-sleeper we should add to our list? Contact us and let us know, we've been collating Australia's best baby products into shortlists for over 14 years and we're always happy to support new brands and businesses.
Find more baby beds and accessories in these roundups …
Thousands of Aussie mums in our Mum's Grapevine Facebook Groups are asking each other for recommendations on what to buy right now. And you can too! Join today.