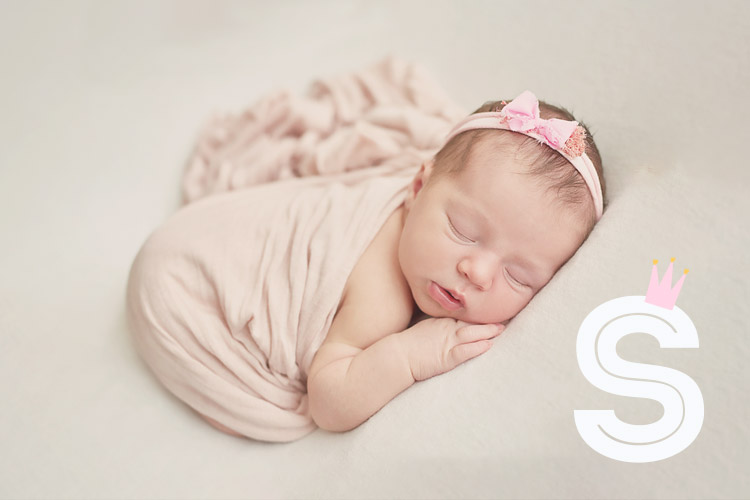 We're travelling through the alphabet in search of name perfection, and the 19th letter, has sprung some gorgeous girl names starting with S.
To help you name your baby, and create a shortlist of seriously good names, we asked the huge online Mum's Grapevine community to share their favourites. If you're looking thinking less common for your princess, we've got you covered with names we bet you haven't heard of like Seona, Styx, Sheroy, Symphani and Saanvi.
Should nature-inspired names be more your vibe, the letter S brings the goods with girl S name gems like Summer, Sky, Sage, Soliel, Sparrow and Saffron.
Celebrities who have bestowed an S name on their little girls include Ben Affleck and Jennifer Garner's daughter Seraphina, Tom Cruise and Katie Holmes' daughter Suri, Kylie Jenner's daughter Stormi, Victoria and David Beckham's daughter, whose middle name is Seven, and Moana Hope's daughter Svea.
And then there are girl names that start with S that are just oozing street-cred like Scout, Story and Shae.
Whether you like names that are sweet or strong, let's dive into girl names beginning with S:
Saanvi
Sabella
Sabine
Sabrina
Sadaf
Sade
Sadie
Safari
Safia
Saffron
Sage
Sahara
Saho
Sai
Saige
Sailor
Saisha
Sakura
Salma
Salvadora
Salvia
Samara
Samantha
Sammi
Samirah
Samta
Sana
Sandy
Sandra
Sandrine
Salana
Sally
Sallianne
Sapphire
Sara
Saoirse
Sarai
Sarena
Sari
Sarika
Sarita
Sarojini
Sasha
Saskia
Satchel
Saule
Savannah
Savi
Savina
Sawyer
Sayla
Scarlett
Scarla
Sherhonda
Scota
Scout
Sea
Seallie
Secoya
Seana
Season
Sebastiane
Siene
Sekai
Selah
Selda
Selene
Selena
Selina
Selma
Selphie
Sen
Senara
Senna
Senua
Senzi
Seona
Sephora
Se
Sequoyah
Serenity
Serendipity
Serena
Sereia
Serenade
Seven
Sevyn
Seville
Seraphina
Seychelle
Shadow
Shae
Shai
Sharlene
Shannan
Shannae
Shanlee
Shania
Shaelah
Shaelyn
Shaili
Shakira
Shane
Shanti
Sharmaine
Sharni
Sharn
Sharra
Sharon
Shasta
Shavaughn
Shaw
Shayla
Sheila
Sheba
Sheena
Shelby
Shelley
Sherelle
Sherlyn
Sherrie
Sheroy
Shesiedo
Shevone
Shianne
Shiloh
Shilpa
Shikara
Shirley
Shizuku
Sho
Shoko
Shonaya
Shontel
Shuana
Sian
Siannise
Siderael
Sicily
Sienna
Sierra
Sigrid
Sigourney
Sibeal
Sibley
Sibora
Sidhe
Sigal
Signe
Sky/Skye
Skylar
Soliel
Soma
Sommer
Sonali
Sonnet
Sonae
Sonata
Song
Soon
Sooni
Sonama
Sophie
Sophia
Solange
Soraya
Soren
Sorrell
Sosie
Souline
Souko
Sparkle
Sparrow
Spirit
Spring
Stacie
Stacia
Star
Starla
Starry
Stazie
Stella
Stephanie
Stefani
Stein
Steele
Steena
Steffie
Stevie
Storm
Stormi
Story
Styx
Stockard
Sterre
Sue
Summer
Summerlee
Suki
Sullivan
Sunbeam
Sumi
Suheyla
Sunaree
Sunday
Sunflower
Sunni
Sunny
Sunshine
Suri
Sutton
Susan
Suzie
Suzette
Svala
Svea
Swan
Swanhilde
Svetlana
Sweeney
Swyn
Sweden
Sy'rai
Sybil
Sylvie
Sydel
Sydney
Syndi
Symphani
Sylvian
Syreeta
Sheridan
---
Join the conversation
Looking for a girl name that starts with S and still haven't found one on our list? Head over to our social page, and take a look at the original post, there are more than 200 names for girls that start with S in the comments.
Read next …
Looking for more baby name inspiration? Make your way through our alphabet of baby names:
Expecting a baby?
Join one of the closed Mum's Grapevine pregnancy Facebook groups for non-judgemental support from other mums due at the same time as you.
Click and >>join your group<< today.