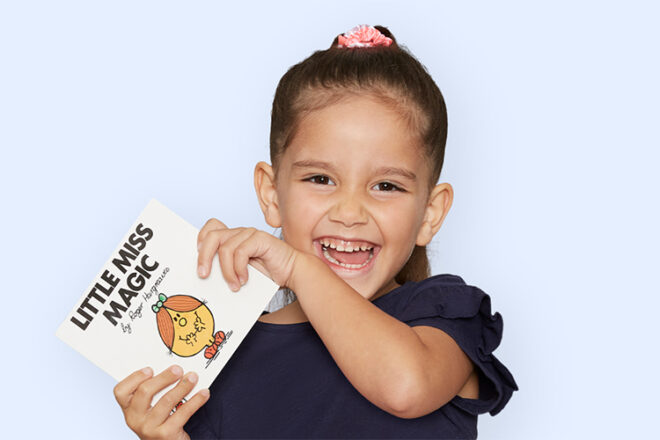 Big W's popular free book promo is back, and this time Mr Men and Little Miss characters are taking centre stage.
Since 2019, Big W has been running a Free Books for Kids program, with children able to collect free books in-store over eight weeks. And this time the aim is to give away more than two and a half million books to help spread the love of storytime amongst Aussie families.
According to BIG W's Storytime Study, almost two thirds (60%) of parents consider bedtime reading to be one of the most precious daily routines, however a third (33%) of parents spend less than 15 minutes per day reading with their little ones. 
In a quest to celebrate the joy of the Mr Men Little Miss series and the adventures of the iconic characters, BIG W has uncovered a real-life Mr Collector in its ranks. BIG W team member, Michael Ubrihien from Canberra, is Australia's Mr Men Superfan. Michael has amassed an incredible collection of over 880 Mr Men Little Miss books, toys, figurines, apparel, posters, DVDs and games, worth thousands and accumulated over 20 years.

Ubrihien's love for Mr Men Little Miss books started early in life, sparking a love of reading and fueling his imagination as well as a sense of adventure. He says: "The world of Mr Men Little Miss is so charming, it's easy to be transported to Happyland or Nonsenseland. The books really helped with my passion for reading, which continued to flourish throughout childhood and into adulthood. I love them because the stories are simple yet so diverse, engaging, and most of all, funny, with a cheeky quip at the end! "
To mark this year's instalment of Free Books for Kids, parents and carers are encouraged to take a page out of Ubrihien's book and collect all eight titles from the iconic Mr Men Little Miss series.
How to get free books from Big W
It's super easy to get your hands on some ripper Mr Men reads.
Go to a Big W store
Ask the door greeter for your free book
Get your FREE BOOK
Enjoy reading with your child
Families can collect eight titles from the iconic Mr Men Little Miss series, dropping in BIG W stores weekly each Thursday, including Little Miss Magic, Mr Bounce, Little Miss Wise, Mr Tall, Little Miss Happy, Mr Cheerful, Little Miss Curious and Mr Nonsense.
The free Mr Men and Little Miss books are available in-store from Thursday, 21 April, 2022 and while stocks last.
The retailer is also donating an additional 38,000 Mr Men Little Miss books to Good360 to support families and schools in need, with an emphasis on flood-impacted communities.
Read next …
Looking for more great books to read your kids? We have a whole book review section and here are a few of our favourites to get you started.