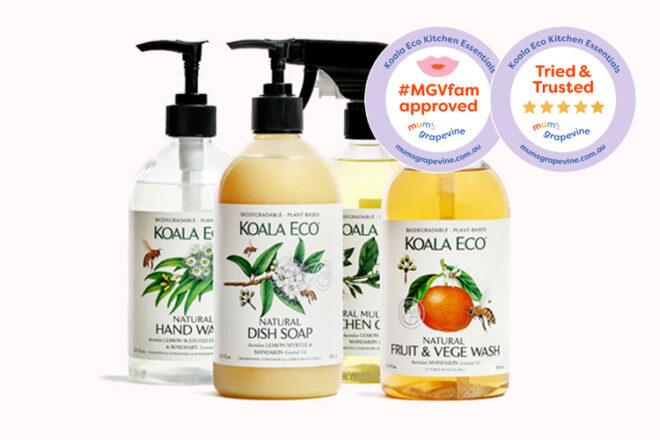 Mums recommend the Koala Eco Kitchen Collection
Australian-owned and run, Koala Eco products harness the power of Australian essential oils and plant-based ingredients to create natural and sustainable products.
The hero of the Koala Eco Kitchen Collection is the Lemon Myrtle & Mandarin Multi-Purpose Kitchen Cleaner. Not only does it smell divine, it effortlessly cleans and removes 99.9% bacteria from food prep areas including the fridge, microwave and dishwasher, without the need for any toxic chemicals.
Also included in the Kitchen Collection is the Natural Fruit & Vege Wash that removes residual pesticides, oils, waxes and yucky farming chemicals from fruit and veg, a Natural Dish Soap tough enough to cut through grease and food particles, and an all-natural anti-bacterial hand wash.
The Kitchen Collection is available online at Koala Eco.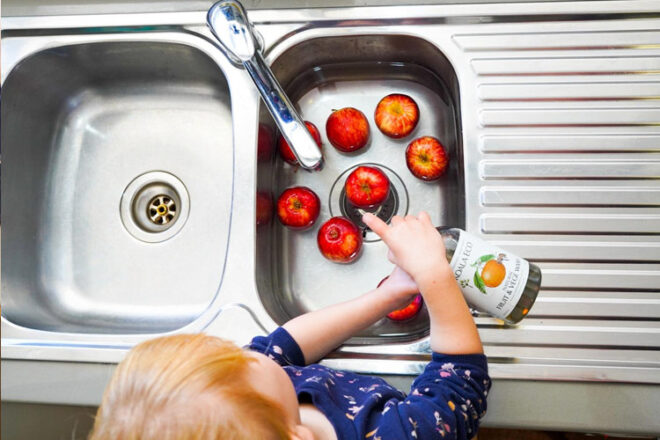 Five reasons to love Koala Eco:
It's eco-friendly
Koala Eco products have been carefully formulated to be environmentally friendly, sustainable, and ethically produced. Each product combines high concentrates of pure Australian essential oils with quality plant-derived biodegradable ingredients that won't harm you or the planet.
The products are effective & powerful
Koala Eco has worked with a specialist chemist to produce powerful yet completely non-toxic formulas that you can trust and depend on to clean and sanitise hard surfaces, furniture, and appliances throughout your home.
They have a refreshing smell
Koala Eco products include highly concentrated essential oils including eucalyptus, lemon myrtle, peppermint, lemon-scented tea tree, pink grapefruit, mandarin, rosalina, and rosemary. Each product smells deliciously refreshing and emanates throughout your home.
They give back
Every time you buy a Koala Eco product, they donate to the charity One Percent for the Planet to assist in the ongoing protection of land, forests, rivers, and oceans, and also to encourage sustainable methods of energy production.
They're 100% Australian
Koala Eco has committed to making everything in Australia. All of their ingredients are sourced locally so they help support local economies.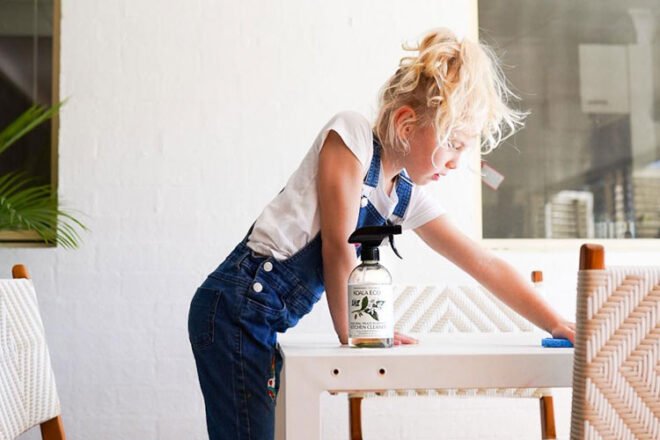 We asked three mums from the Mum's Grapevine Facebook Baby Groups to try the Koala Eco Kitchen Collection and here's what they had to say:
---
Amelia Lees, mum of new baby Cooper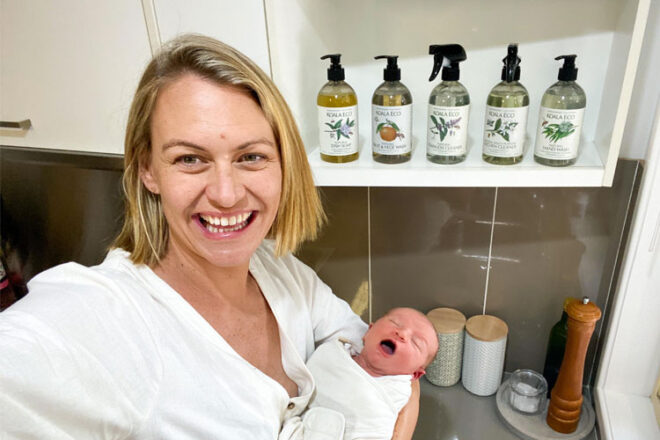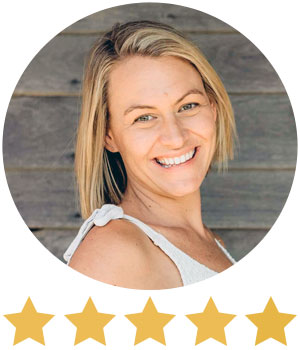 "The kids love how great the products smell"
I couldn't review the Koala Eco products without raving about the smell. Not only does the product work a treat but the bottles look great on my bench and they all smell wonderful. If I'm cleaning and someone walks in the kitchen they can't help but comment. It makes cleaning feel that little bit special.
The multi-purpose kitchen cleaner works really well on multiple surfaces. I loved that the after-dinner kitchen cleaning is even faster now spraying from the bench, to the sink and through to the wooden dining table.
I've only ever washed my fruit and veg with water. I was sceptical that the kids would taste the product on their fruit and decide to not eat it. But not only did they have a great time washing the fruit and veg with me, but none of us could taste any product.
My husband and I take turns putting the kids to bed or cleaning the kitchen. For me, the most annoying part is any leftover pots or plates that don't fit in the dishwasher. The natural dish soap works really well even on the grimiest pots.
---
Jorgia White, 31 weeks pregnant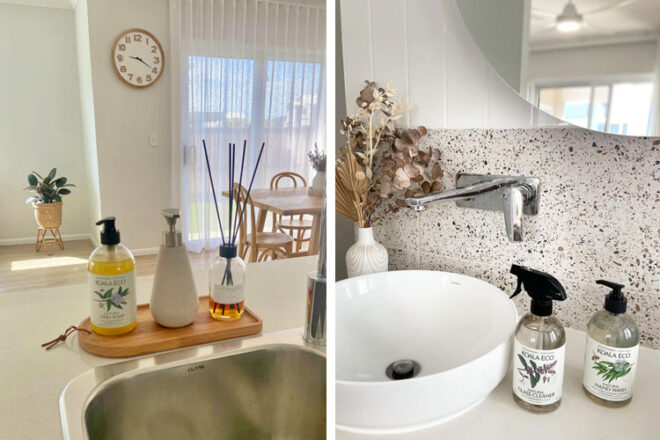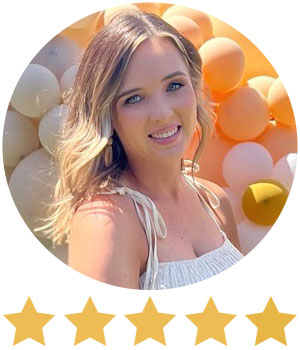 "I love the Fruit & Vege wash for extra food safety during my pregnancy"
I love the packaging of the Natural Hand Wash! It looks so gorgeous in our bathroom and matches our decor beautifully. I also loved the natural scent of the Multi-Purpose Kitchen Cleaner especially given we were using it on such a large central surface! It's so difficult to find a multi-purpose cleaner that doesn't have an incredibly strong chemical smell.
The Natural Fruit and Vege Wash was a new addition for us and my partner and I love it! I didn't know about this at the start of my pregnancy but now that I do, it will be a very important part of our routine, especially once bub is starting solids.
---
Carly Reynolds, 32 weeks pregnant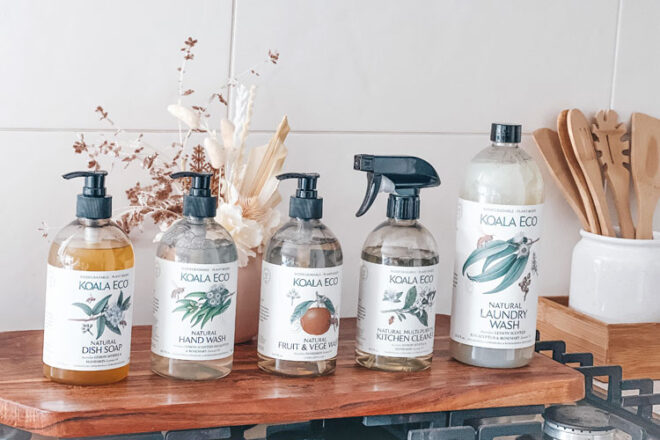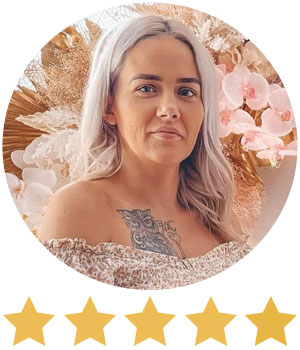 "I love how the products are safe for me to use while I'm pregnant."
Koala Eco is a great natural cleaning range, especially with little ones in the home. I love the way that each product smells and how super safe they are for my home during my pregnancy and around my other little ones.
I absolutely love the Fruit and Vege wash, I have been looking for this kind of product for a while now and will definitely continue to use this in my home. My kids love that they were able to help with this.
We will definitely continue to use Koala Eco in the home.
---