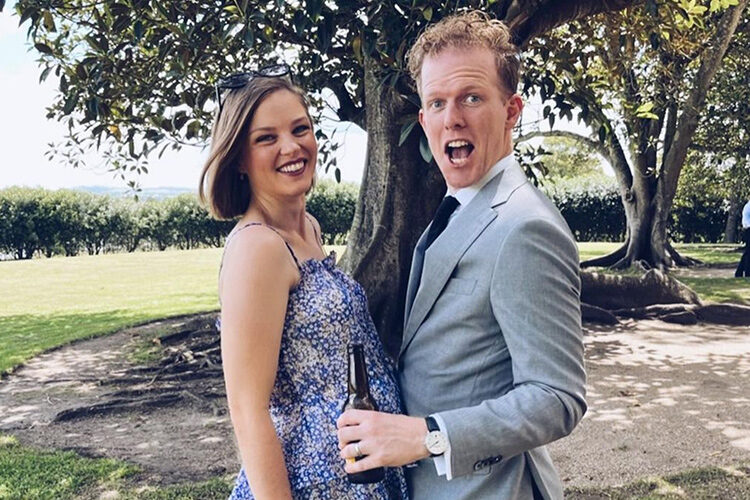 Googlebox reality TV star Adam Densten and his wife of one year, Rachel Falconer, have welcomed their baby girl.
Born 4 weeks early on May 2, the Taurean babe is called Celia, a beautiful girls' name meaning 'heavenly.'
According to Adam, the Densten's are a punctual bunch, so it's no wonder the newest addition wanted to come a little early.
The couple's first family photo was shared on Women's Day and features Adam proudly holding Celia Kate who has a gorgeous little expression on her face.
View this post on Instagram
The couple, both 31, shared some insights into their new roles as mum and dad that so many can relate to. Adam said to Women's Day:
"You're trying to keep a human alive! It's like being given your driver's licence and them saying, 'OK, just go out and drive in peak hour,' when you've never driven a car before. It's a bit of a whirlwind but now we've settled into it a little bit more, we can actually enjoy it."
They've also expressed that whilst the early days have been "really nice" Adam (whose Gogglebox mate is Symon Lovett) has said it's been "very stressful, too."
Adam and Rachel married recently in April last year in Portsea, Victoria. This happy snap from the wedding was captioned:
"2021 was a wild year – got married, fell pregnant, bought our family home…. yet still spent 6 months in covid lockdown. High peaks and heavy troughs. Not sure what is left on the checklist to becoming a fully fledged adult?
Hopefully 2022 is even more fun (and is awesome for you too!)"
View this post on Instagram
Known for his humour and witty commentary, Adam took to Instagram in the couple's final trimester with a series of funny posts, one being:
"We have now reached the 'your belly can act as a coaster for my beer' stage of the pregnancy…"
View this post on Instagram
We wish the beautiful family all the best as a tribe of three, and look forward to hearing how their parenting journey progresses.
Read next …
Missed the latest celebrity baby news? Catch up with these articles or all the goss:
Don't miss any celebrity baby and pregnancy announcements, subscribe to our newsletter and be first with the news.