Afterwards: Postpartum Life Mum To Mum.
By Tori Bowman Johnson
We've talked about parenting books a few times here at Mum's Grapevine. Reading Tori Bowman Johnson's Afterwards, however, felt revolutionary.
She's not teaching us anything new or groundbreaking in terms of baby-rearing. But if you think that's the point of this book, you're missing its goal entirely.
If we were to sum Afterwards up in a sentence it would more be a manual for navigating your new self as a mother. And it's brilliant!
Afterwards is a simple, no-nonsense book. It's filled with functional, useful descriptions of what to expect in your body during, and in the months after childbirth. Tori's amusing, conversational writing is interspersed with valuable information from experienced professionals. There are tips from a midwife, a women's health physio and a sexual health psychologist, and even a skincare expert.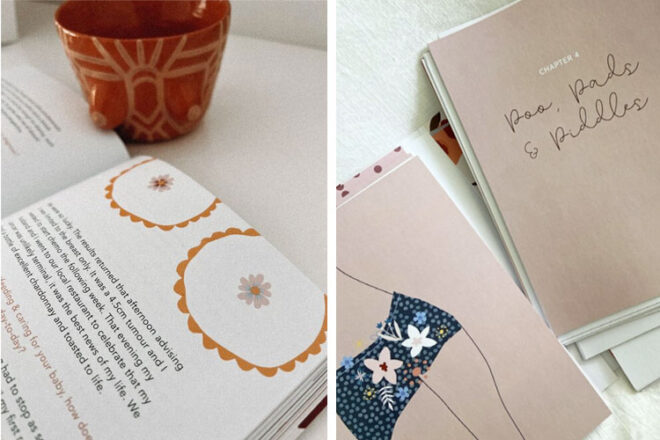 It covers everything you could really think about Googling after birth – breastfeeding, going to the toilet after birth, sex, postpartum exercise and mental health. It even goes into less medical areas like getting a wax and dealing with mum guilt and boredom.
The most enjoyable and relatable thing about this book is that you can tell that Tori has clearly been through all the feelings that new mums struggle with. We struggle with them and we're often too afraid to talk about them with someone directly. Afterwards is empathetic and respectful of the unique nature of each woman's maternal experience.
This book is like the best friend you'd chat to if you didn't feel any sense of guilt or discomfort.
Here's a huge round of applause from us to the author for normalising the perfectly imperfect nature of motherhood.
Available now from Amazon with free shipping for Prime Members.
---
Win a copy of Afterwards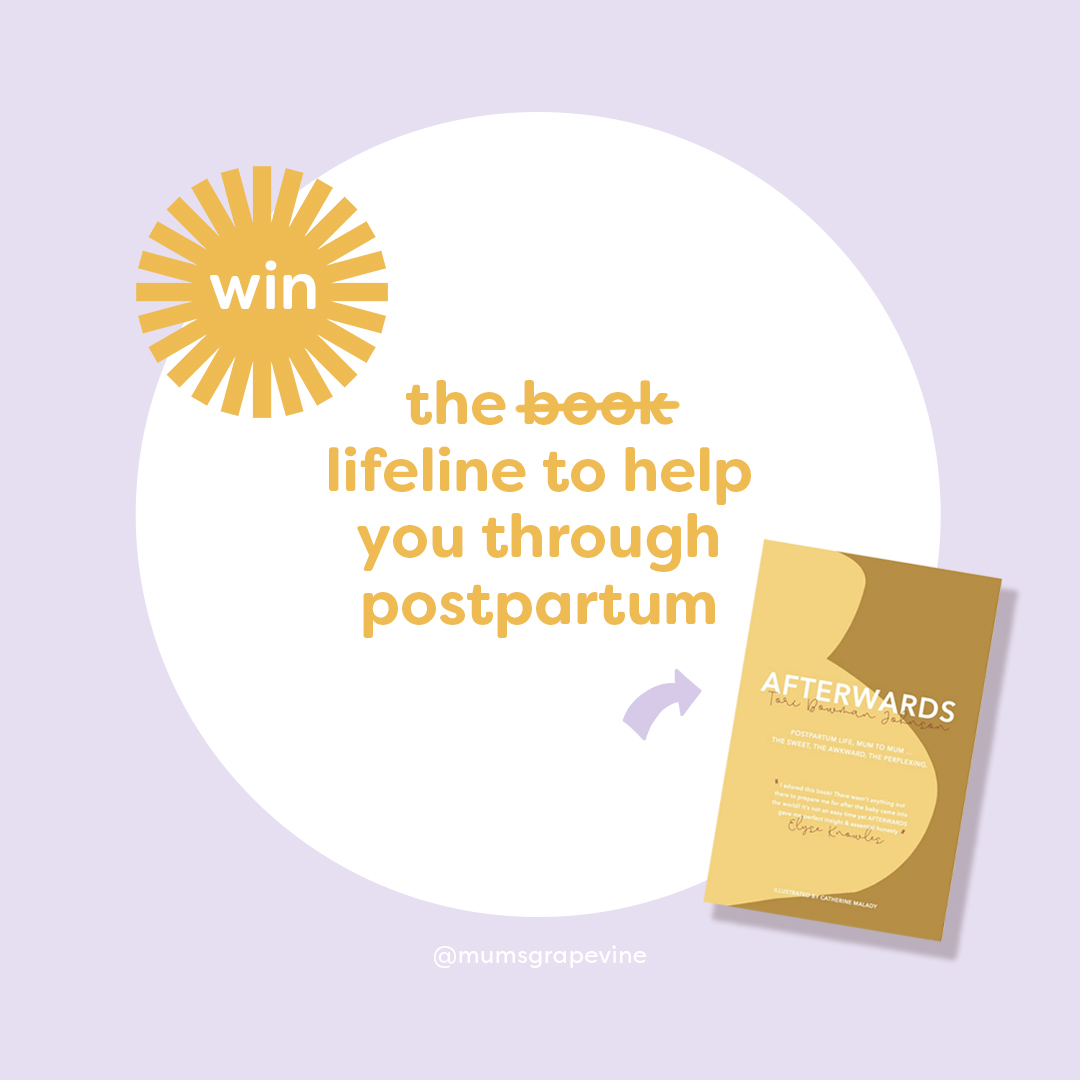 We're giving eight (8) lucky Mum's Grapevine Facebook Group members a copy of Afterwards by Tori Bowman Johnson, valued at $35 each.
Entry is open to all Australian mums, expecting or with children under 4 years of age. You just have to be a member of at least ONE of the 22 Mum's Grapevine Baby Facebook Groups. Groups are based on the season your children are due/born (find and join your group here).
Competition ends June 17, 2022.
HOW TO ENTER
Step One: Enter your details in the entry form below.
Step Two: Tell us which Mum's Grapevine Facebook group(s) you are a member of.
Step Three: Tell us what's been your biggest parenting challenge so far
Good luck Mumma's, we've got this!
xo
---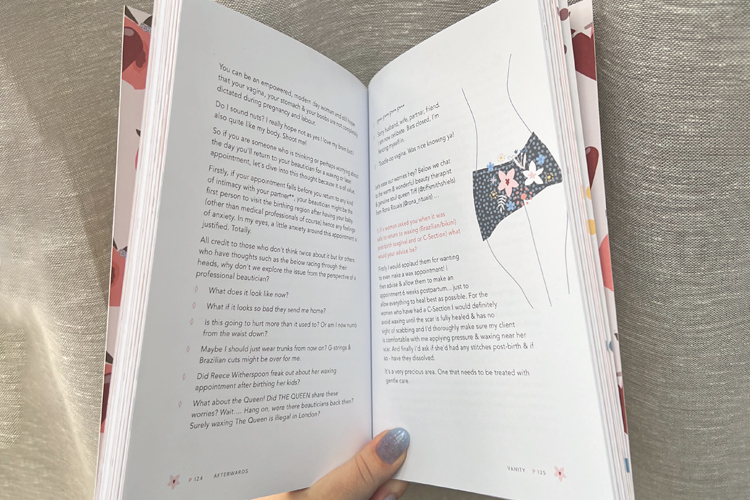 Title: Afterwards: Postpartum Life Mum To Mum. The Sweet, The Awkward, The Perplexing
Author: Tori Bowman Johnson
Publisher: Tori Bowman Creative
Publication Date: October 2021
Format: Paperback
ISBN: 9780645263107
I'm sure the adventure of motherhood will continue to throw all of us into days where we feel that we have only enough energy to exist in a dazed & confused fog … but with every moment of "WTF?", another moment of pure, surreal, indescribable and magnificent wonder will follow. Those are the moments worth hanging in for.
About the Author
Tori Bowman Johnson has a background in project management, copywriting and branding. She has worked with clients such as Elyse Knowles and Megan Gale. Tori wrote Afterwards after the birth of her son. She describes the book as being written: "by a first-time mum, for every other first-time mum who is fumbling around the postpartum playground".
Available now from Amazon with free shipping for Prime Members.
---
COMPETITION
TERMS AND CONDITIONS
Competition name: Weekly Win-a-thon – Afterwards: Postpartum Book
The Promoter Mum's Grapevine Pty Ltd ABN 90 134 843 726.
Entry is open to Mum's Grapevine newsletter subscribers who are Australian residents 18 years of age and over. Employees and their immediate families of Mum's Grapevine are not eligible to enter.
Entrants must be current members of a Mum's Grapevine Baby Facebook Group.
Entry to the competition commences on June 2, 2022 and closes 11:59 pm on June 17, 2022 AEST.
Judging will take place at 10:00am on 20 June, 2022 at Brighton VIC.
Winners will be notified by email and published on this page.
THE PRIZE
There will be EIGHT (8) winners.
Each winner will receive a copy of Afterwards by Tori Bowman Johnson.
Total prize pool valued at $280.
HOW TO ENTER
Entrants must complete all requirements within the entry box above to be eligible.
Instructions on 'How to Enter' form part of these Conditions of entry.
No responsibility is accepted for late or incorrect entries.
The prize must be taken as stated and no compensation will be payable if a winner is unable to use the prize as stated. The prize is not transferable, cannot be en-cashed nor can it be redeemed in any other form.
The Promoter shall not be liable for any loss or damage whatsoever which is suffered (including, but not limited to, indirect or consequential loss) or for personal injury suffered or sustained as a result of accepting the prize.
Entry in this Mum's Grapevine competition implies consent of your details (name, suburb and state) being published on the Mum's Grapevine website and/or newsletter and/or social media pages. Your email and postal address details will NOT be made public.
Mum's Grapevine will not supply your details to anyone.
Mum's Grapevine will never sell or disclose your personal information to ANY third party without your consent.