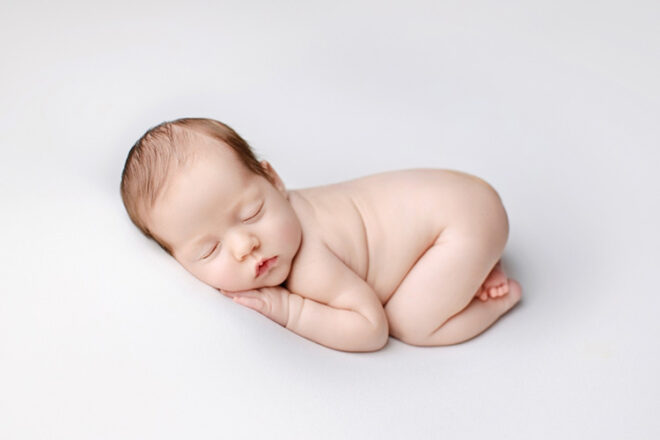 Australia's top 200 baby names for 2022 have just been revealed, and whilst the top boys' name has held onto its number one ranking, the crown has been passed onto a new name for the girls. This is the first time there's been a new top girls name since 2015 we might add.
Unique baby names, popular baby names, and nicknames as first names, all make an appearance in this year's McCrindle most popular baby names list for 2022. At the top, we have Oliver (1) and a new top place Isla (1).
Australia's obsession with florals and nature continues with Willow (8.), Lily (13.), Ivy (14.), Violet (28.), Daisy (34.), Luna (37.), Poppy (38.), Kai (40.), Aurora (45.), Stella (58.), River (60.), Olive (64.), Summer (67.), Bodhi (70.) and Delilah (71.) firmly cultivating top 100 spots.
Colours are still a source of inspiration, with Ruby (21.), Hazel (24.), Scarlett (30.) and Rose (81.) trending strong.
Same-same but different
The Top 200 most popular baby names for 2022 feature names that have both male and female versions such as Olivia (3.) and Oliver (1.), Aria (26.) and Ari (69), Ellie (35.) and Eli (52.), Billie (47.) and Billy (74) and Harriet (62.) and Harry (22.).
And of course, the rise of gender-neutral monikers continues with gems like Frankie (31.), Mackenzie (51.), Peyton (98.) and a personal office favourite Quinn (73.).
Royals reign
The British royal family may be steeped in history but their names continue to capture the heart of Aussies today. Before Charlotte (2. this year) was dethroned by Isla (1.) it remained at the top since 2015! William (5.), Mia (6.), Lucas (9.), Archie (13.), Harry (22.), Sienna (23.), George (27.) and Charles (75.) continue to lead the charge for royal names and we don't see that trend slowing down anytime soon.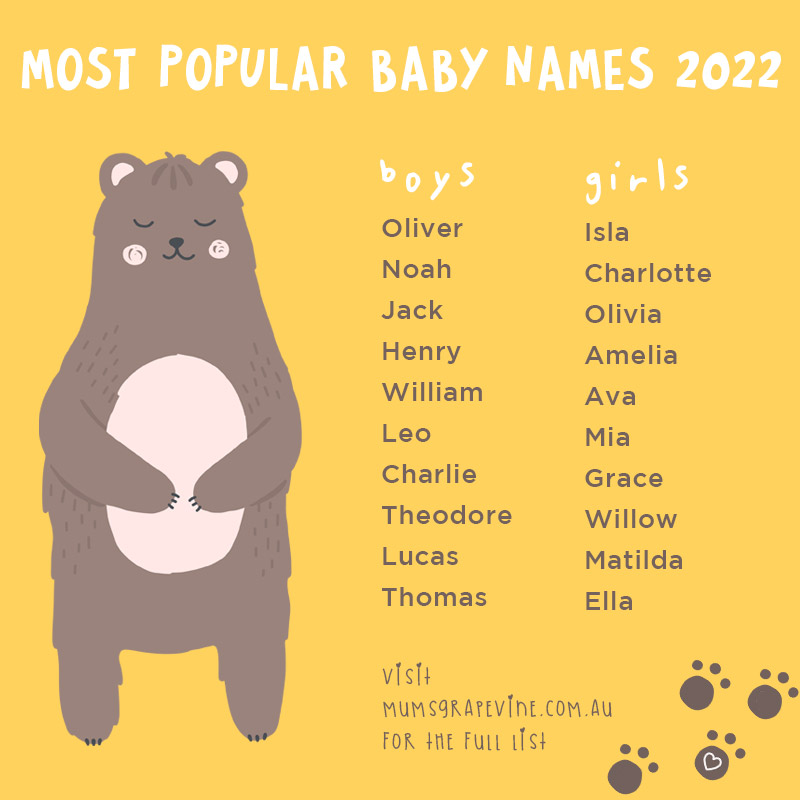 Top 100 girl names in Australia for 2022
Isla
Charlotte
Olivia
Amelia
Ava
Mia
Grace
Willow
Matilda
Ella
Harper
Chloe
Lily
Ivy
Isabella
Evie
Sophie
Zoe
Mila
Sophia
Ruby
Evelyn
Sienna
Hazel
Lucy
Aria
Audrey
Violet
Layla
Scarlett
Frankie
Georgia
Florence
Daisy
Ellie
Emily
Luna
Poppy
Sofia
Isabelle
Hannah
Ayla
Zara
Elsie
Aurora
Alice
Billie
Maya
Eleanor
Penelope
Mackenzie
Abigail
Freya
Emilia
Emma
Sadie
Eva
Stella
Bonnie
Remi
Millie
Harriet
Eloise
Olive
Piper
Lola
Summer
Savannah
Addison
Maeve
Delilah
Phoebe
Quinn
Pippa
Imogen
Elizabeth
Eden
Jasmine
Bella
Charlie
Rose
Hallie
Adeline
Ariana
Harlow
Riley
Aaliyah
Claire
Elena
Eliza
Anna
Lyla
Indiana
Maggie
Lara
Nora
Heidi
Peyton
Rosie
Zoey
Top 100 boy names in Australia for 2022
Oliver
Noah
Jack
Henry
William
Leo
Charlie
Theodore
Lucas
Thomas
Elijah
Hudson
Archie
Levi
Luca
James
Oscar
Liam
Alexander
Harrison
Max
Harry
Ethan
Mason
Lachlan
Harvey
George
Archer
Hunter
Arlo
Hugo
Cooper
Xavier
Isaac
Sebastian
Arthur
Finn
Samuel
Benjamin
Kai
Lincoln
Patrick
Jacob
Joshua
Louis
Sonny
Beau
Riley
Jasper
Carter
Ryan
Eli
Jordan
Edward
Austin
Logan
Flynn
Angus
Jackson
River
Joseph
Daniel
Spencer
Ezra
Asher
Jaxon
Luka
Muhammad
Ari
Bodhi
Jayden
Michael
Theo
Billy
Charles
Felix
Aiden
Owen
Gabriel
Matthew
Adam
Parker
Caleb
Leon
Jude
Hamish
Fletcher
Zachary
Miles
Darcy
Ryder
Ali
Leonardo
Ashton
Lennox
Nicholas
Luke
Connor
Elias
Vincent
Read next …
Want to take sneaky peek back to previous years? Take a look at these: