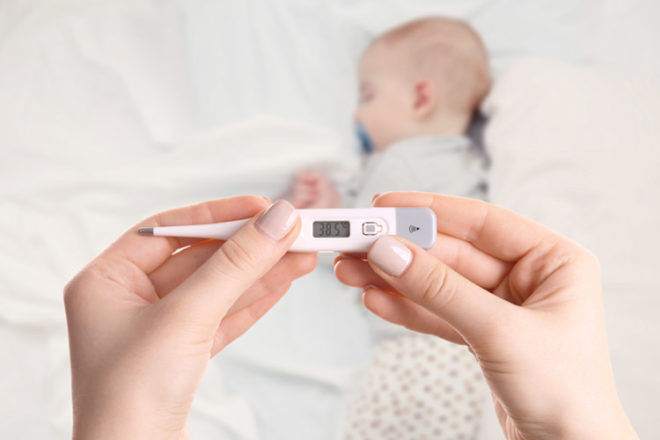 It's a well-known fact that babies get sick. A lot. And the only accurate way to know if little ones have a temperature is by using a baby thermometer. That's why a reliable, accurate and easy-to-read thermometer is a handy must-have item for every family's medical kit.
From digital probes to ear and forehead styles, there's now a huge range of baby thermometers to choose from.
What to consider when buying a baby thermometer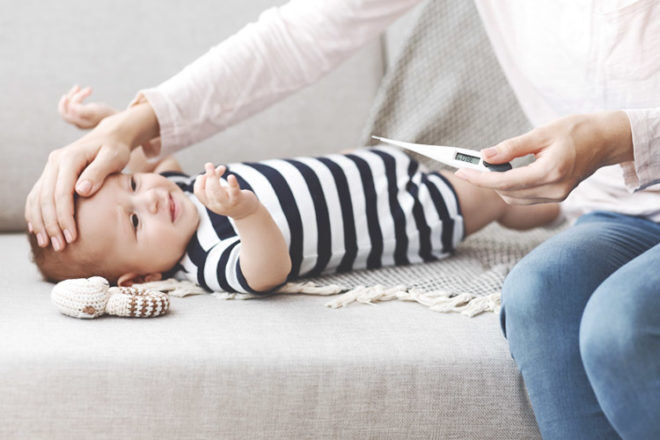 Gone are the days of a one-size-fits-all mercury thermometer. Now there are plenty of different options for taking a baby's temperature.
Type: There are a few types of thermometers that can be used to take a child's temperature at home:
Digital thermometers for armpit, oral or rectal readings.
Tympanic or ear thermometers use infrared rays to read the core body temperature.
Forehead thermometers uses an infrared scanner to take the temperature of the temporal artery in the forehead.
Temperature strips contain heat-sensitive crystals that react by changing colour.
Bluetooth thermometers are adhesive patches that stick under bub's armpit and connect to an app that tracks their temperature.
Accuracy: There's debate about the most accurate type of baby thermometer. A great #MGVtip from the mums we asked is to take your thermometer to your next doctor's appointment and test it against your doctor's thermometer.
Display: Some baby thermometers simply display the temperature, others light up red or sound an alarm to indicate a fever, which is very handy in the middle of the night.
---

14 baby thermometers for accurate readings
To help you find an affordable and accurate thermometer for your baby, we've compiled this list of leading brands available in Australia to get you started in your search.
Here are 14 of the best baby thermometers in Australia for 2022.
Oricom
Non-contact for easy body temperature, surface and room checks in less than two seconds, The Oricom HFS1000 features colour-coded displays that make it simple to know if bub has a fever. It stores up to 32 readings and automatically powers down.
---
MedeScan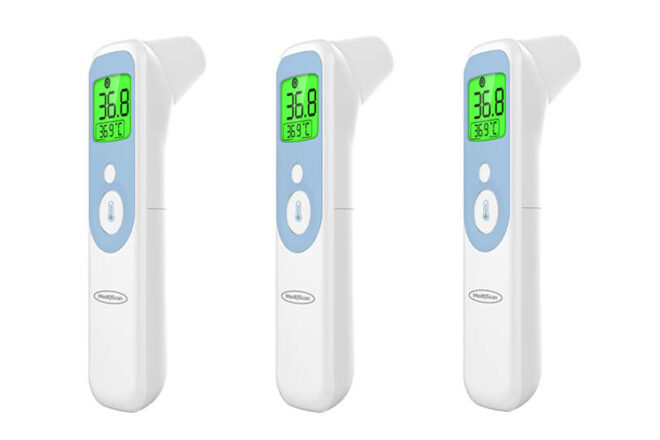 With child or adult modes for accuracy, the Medescan 2-in-1 thermometer uses an infrared sensor to instantly measure baby's temperature by ear or forehead. It's also handy for quickly checking the temperature of bub's nursery, bathwater or meals.
---
Welcare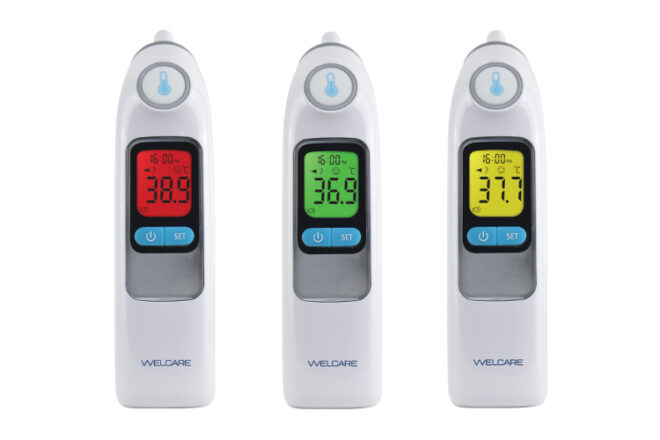 With coloured fever indicators plus an alarm, the Welcare Ear Thermometer offers fast, accurate temperature checks within one second. The real-time clock makes tracking fevers easier and the disposable probe covers keep everything hygienic.
---
Cherub Baby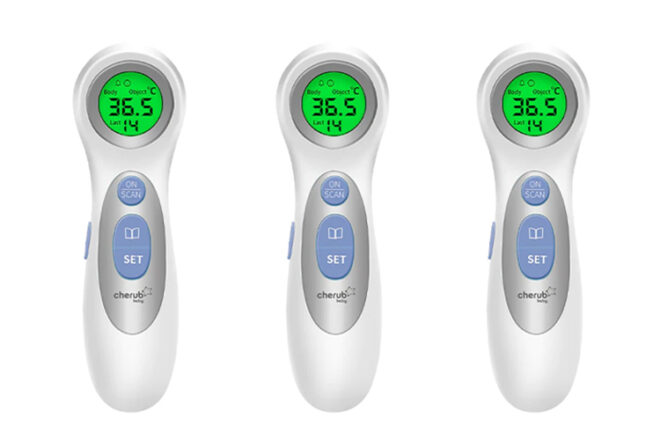 With four handy functions to use for the whole family, the Cherub Baby Touchless Thermometer reads foreheads, bathwater, rooms and baby's bottles. Features include slight and high-fever indicators, a long-life battery and a simple one-touch operation.
---
Oricom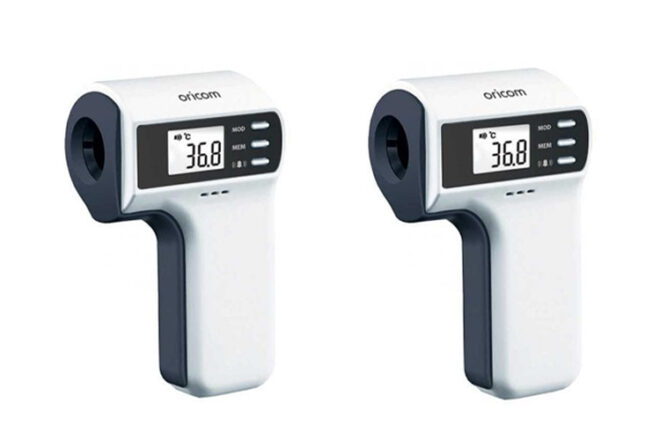 Non-invasive and hygienic, the battery-powered Oricon FS300 accurately measures the temperature of the body room and surfaces in less than two seconds. Not only does it come with a large backlit LED screen, but it also stores 32 recorded temperatures.
---
MedeScan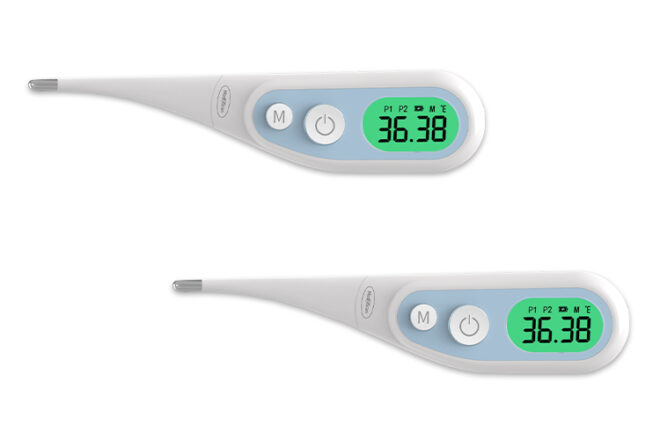 With an easy-to-read, coloured display, the MedeScan Fast Scan accurately records baby's temperature in as little as eight seconds. Colour codes highlight when a fever strikes, while the memory function helps to track and compare previous recordings.
---
Beaba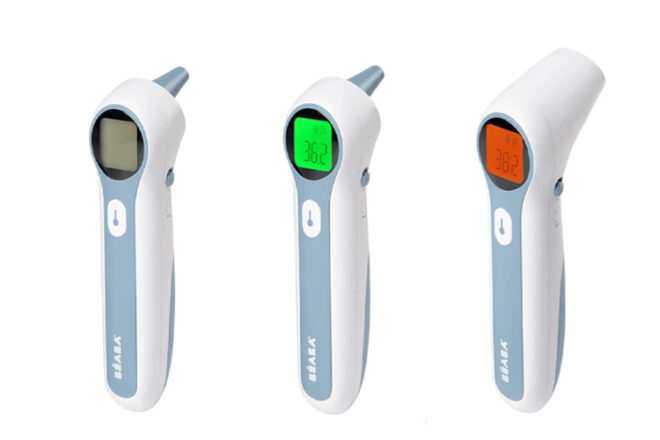 From babes to adults, the Beaba Infrared Thermometer is a household essential that provides ultra-fast and reliable readings in just one second. Warning beeps and colour codes indicate when fever is present, and the bright backlit screen is visible day or night.
---
Mobi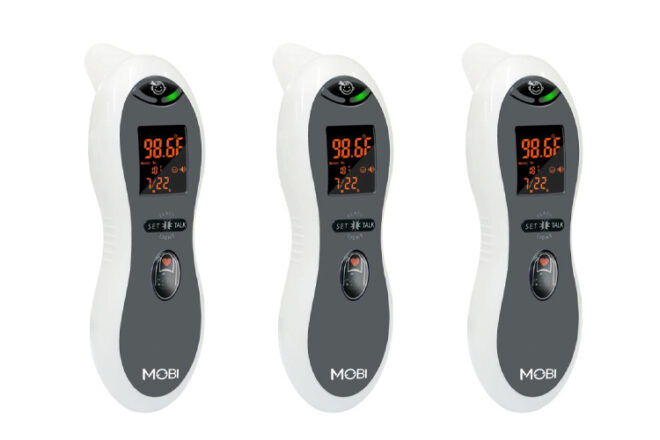 Quick and easy to use, the Mobi 2-in-1 operates as a reliable ear and forehead thermometer plus a fingertip pulse reader. It stores the previous 30 readings to help you track baby's progress and displays temperatures in Celsius or Fahrenheit.
---
Omron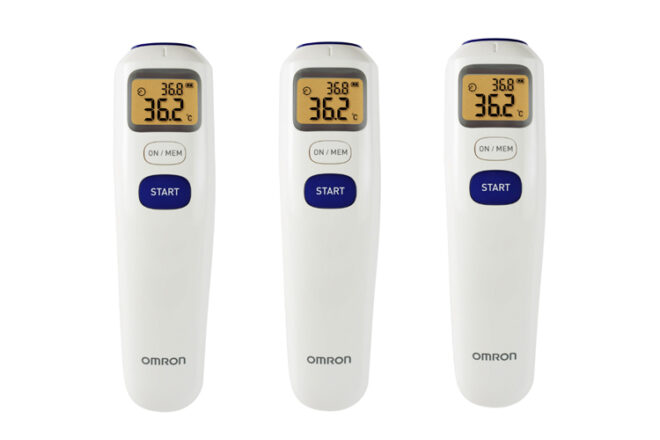 A versatile device to use all around the home, the Omron MC720 records the temperature of foreheads, rooms and surfaces. The backlit screen displays not only the current reading but the previous one, enabling fast comparisons at any hour.
---
Oricom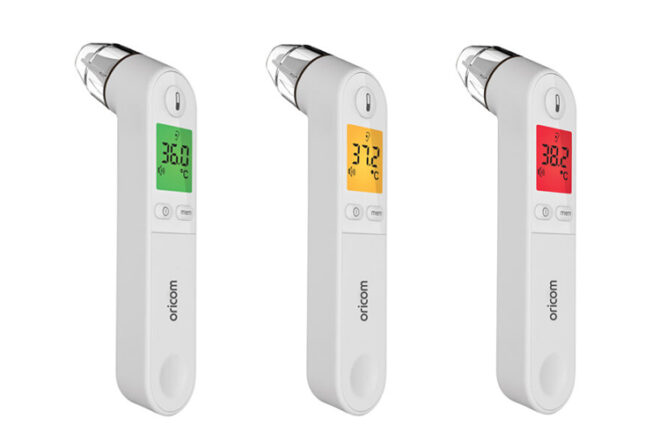 Designed specifically to measure body temperature via the ear canal, the Oricom IET400 is suitable for all ages and features colour-coded readings for fast interpretation. It stores up to nine readings and records in both Fahrenheit and Celcius.
---
Tommee Tippee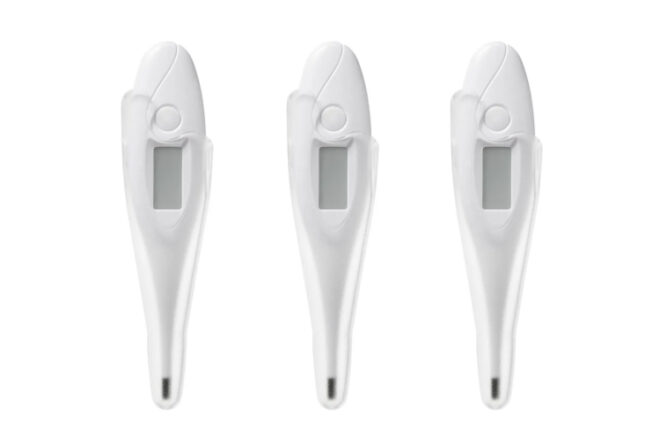 Lightweight and reliable, the Tommee Tippee digital thermometer is ready to go everywhere with you and baby – from the nursery to that long-awaited holiday. It is suitable to use from birth and comes with a digital display and built-in fever alarm.
---
Ritalia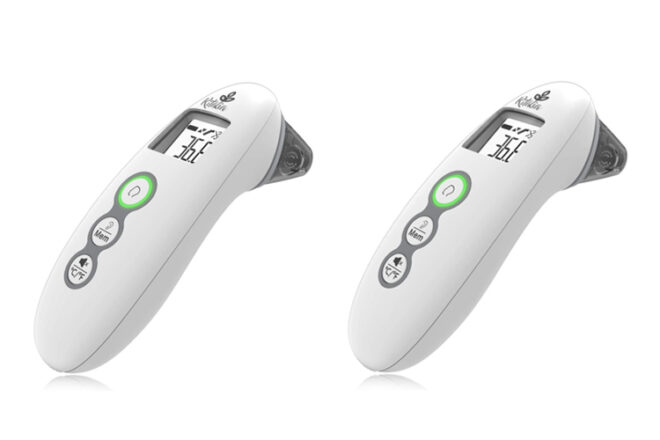 Equipped with a German sensor, the Ritalia thermometer accurately records and stores temperatures in just one second. It can be used in the ear or on the forehead, and it also records ambient temperatures of objects such as baby's food and drinks.
---
Withings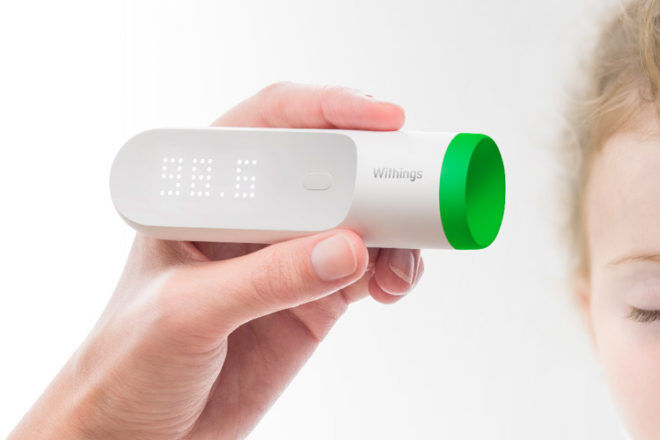 Super smart, this no-touch thermometer is wi-fi connected so it sends all data back to an app for easy tracking. The 16-sensors read bub's temperature via the temporal artery by sweeping across the forehead with no skin contact.
---
This list has been lovingly curated by our editorial team, and may include affiliates and/or paid inclusions. We would never recommend a product we haven't seen, used, tried ourselves or been recommended by a mum from our Facebook groups. See our Disclosure Policy.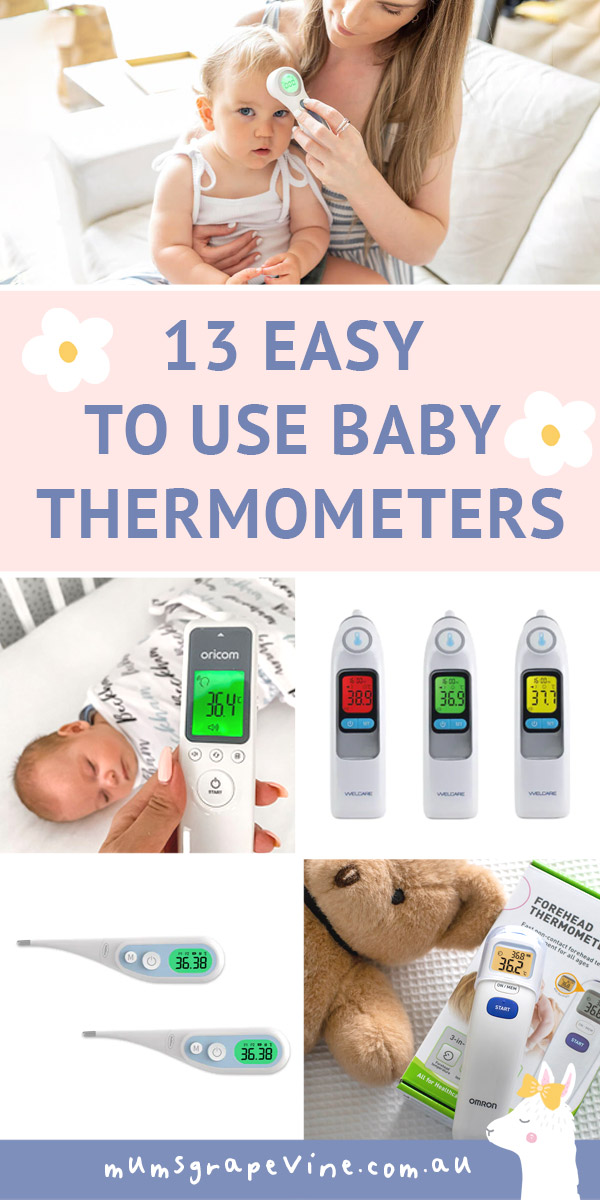 Know a product we should add to our list? Contact us and let us know, we've been collating Australia's best baby products into shortlists for over 14 years and we're always happy to support new brands and businesses.
Read this next: How to manage baby's first cold
Thousands of Aussie mums in our Mum's Grapevine Facebook Groups are asking each other for recommendations on what to buy right now. And you can too! Join today.