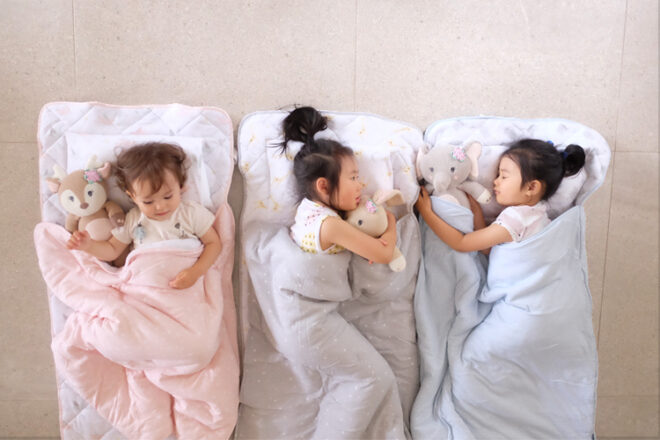 It's no secret that toddlers are energiser bunnies of a whole other league. But tiny tackers get tuckered out fast, which is why we love nap mats for a quick snooze when bodies need to recharge.
Portable and compact, nap mats make a brilliant sleep solution for daycare, sleepovers and family travel. Both a padded mat and blanket in one handy bundle, they're perfectly sized for little bodies. Some even feature built-in toddler pillows, giving little heads a soft place to rest between adventures.
To help you find a smart and practical nap mat, we've compiled this list of fab designer brands available right here in Australia to get you, and your little dino-snorous started in your search.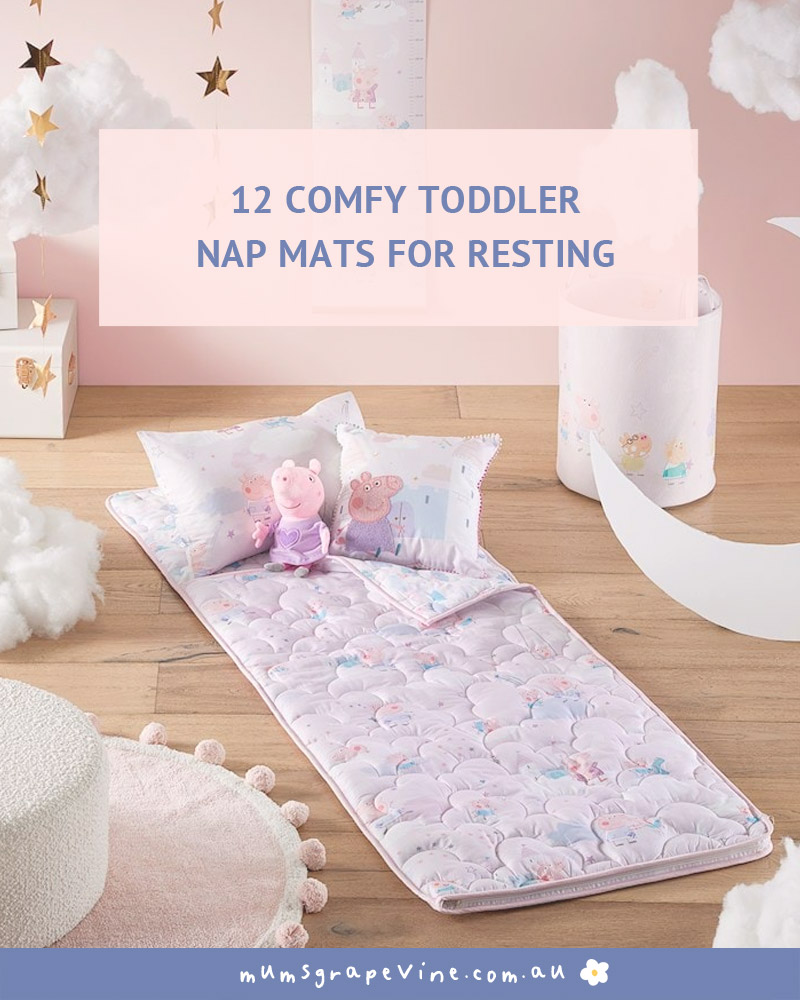 Here are 9 toddler nap mats for resting on the go
With so many napping mats available in Australia, it's hard to know where to start, so we asked the HUGE Mum's Grapevine Facebook community which brands they use and love. In no particular order, here are the ones they recommended.
Homezy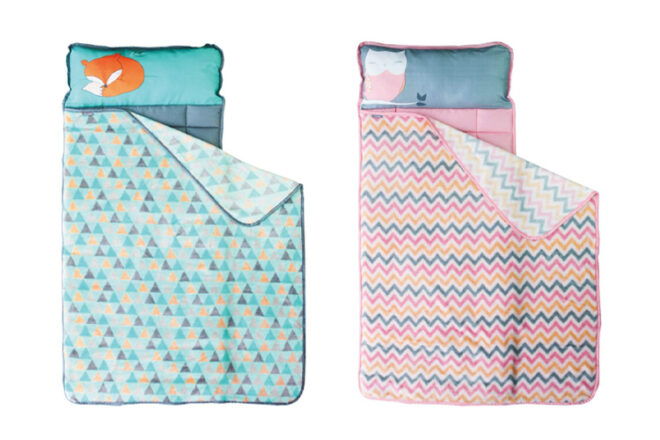 Portable, padded and practical, the Baby Boom Toddler Mat Set features a removable pillow insert and measures 53cm x 127cm for growing tots. We love that it's washable, easy to fold and uses non-toxic and gentle materials without flame retardants.
---
Rely + Bear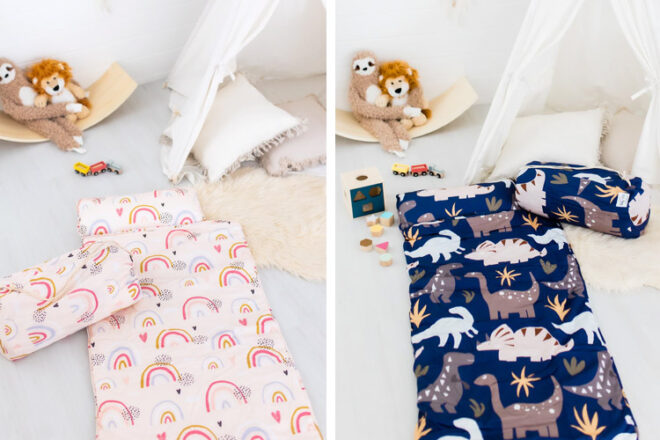 An all-in-one sleep solution for little ones on the go, Rely + Bear Toddler Mats include a removable built-in pillow, soft sleep pad and cosy blanket. We love that it comes with a carry handle and a useful drawstring dustbag for simple storage.
---
Living Textiles

Designed to fit daycare stacker beds, Living Textiles Childcare Sleep Mats include a snug quilted pad and hypoallergenic, removable cotton pillow. We love that they come with four elastic loops for easily attaching to beds and staying put.
---
Swaggies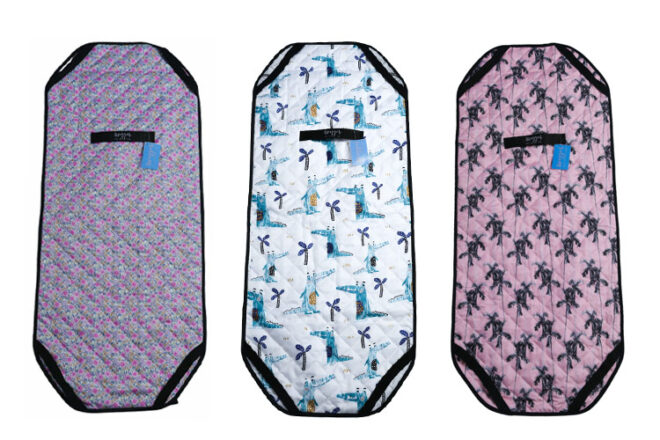 Suitable for tots ages two to four years, Swaggies Daycare Bed Mats are specifically designed to attach to daycare stretcher beds with elastic straps. We love that they come with a comfy pillow and a handy storage pocket for little treasures.
---
Pilanky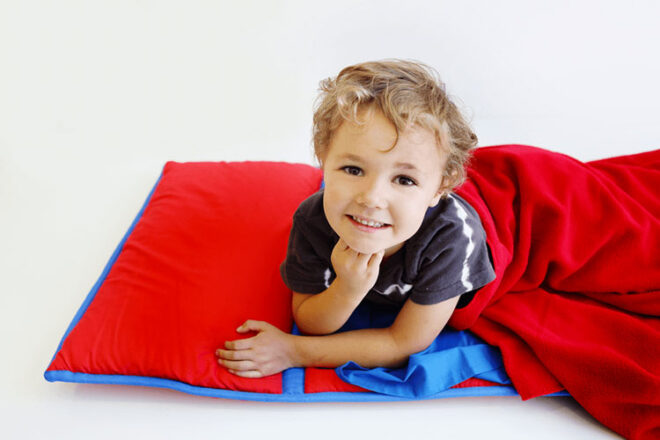 Designed and made in Australia, Pilanky Toddler Beds come with a comfy kiddie mattress, pillow, detachable double-width sheet and a snug blanket. We love that they're easy to care for and even come in mini styles for favourite teddies and dolls.
---
Adairs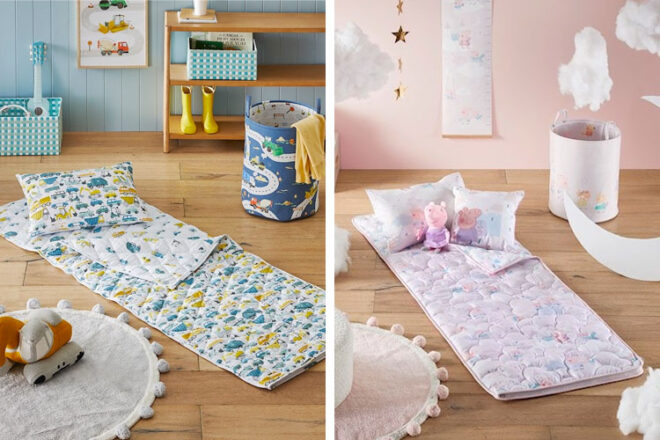 Measuring 190cm x 70cm and made from pure cotton, Adairs Sleeping Mats are cosy and fun accessories for daycare and sleepovers. We love that they are machine-washable and available in designs that cater to every little personality.
---
Baby Boom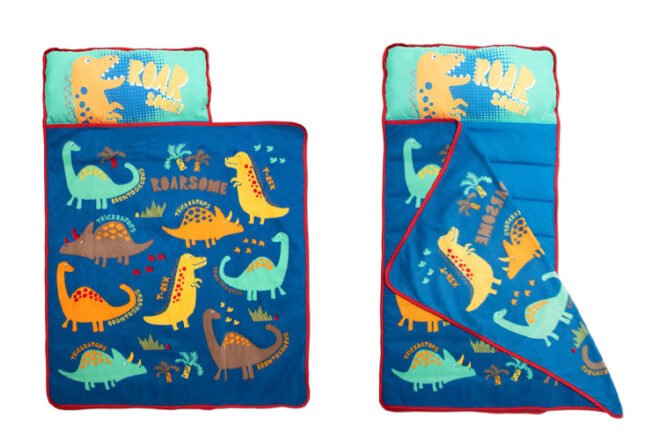 Fitted with a useful carry handle, the fun and functional Baby Boom Kids' Nap Pad comes with a quilted pad, warm blanket and soft pillow. We love that it rolls up into a sweet little swag and secures with Velcro tabs.
---
Jam Berry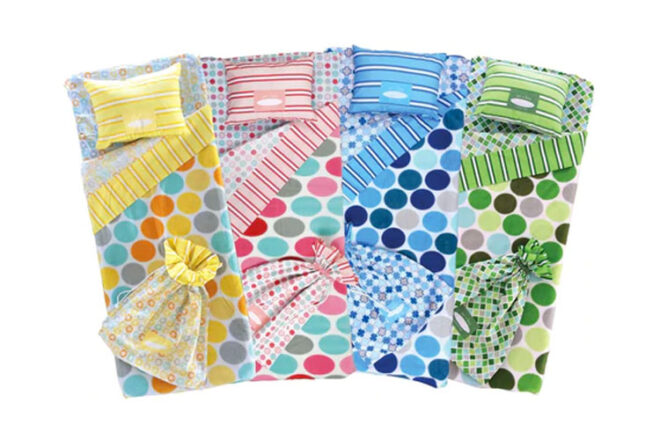 Crafted from 100% cotton, Jam Berry sets include a top and bottom sheet, fleece blanket, a pillow and zip-off cover. We love that they come with a drawstring bag and name label for avoiding lost property!
---
Studio Play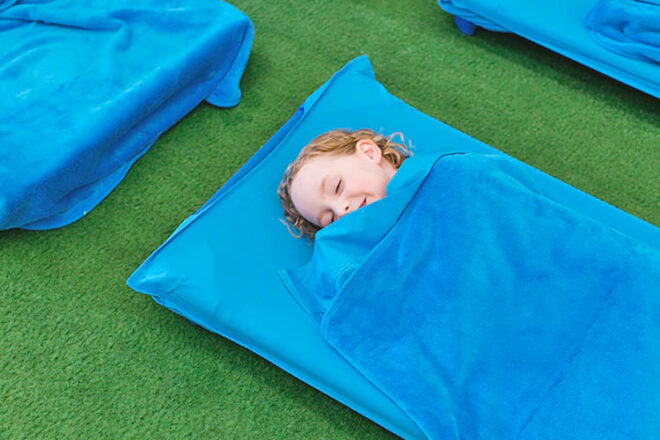 Made using brushed coral fleece or pure waffle cotton, Studio Play Stretcher and Mat Blankets come in fun kid-approved colours and measure up to 124cm x 89cm. We love how soft, warm and durable these are. (Blanket only.)
---
This list has been lovingly curated by our editorial team, and may include affiliates and/or paid inclusions. We would never recommend a product we haven't seen, used, tried ourselves or been recommended by a mum from our Facebook groups. See our Disclosure Policy.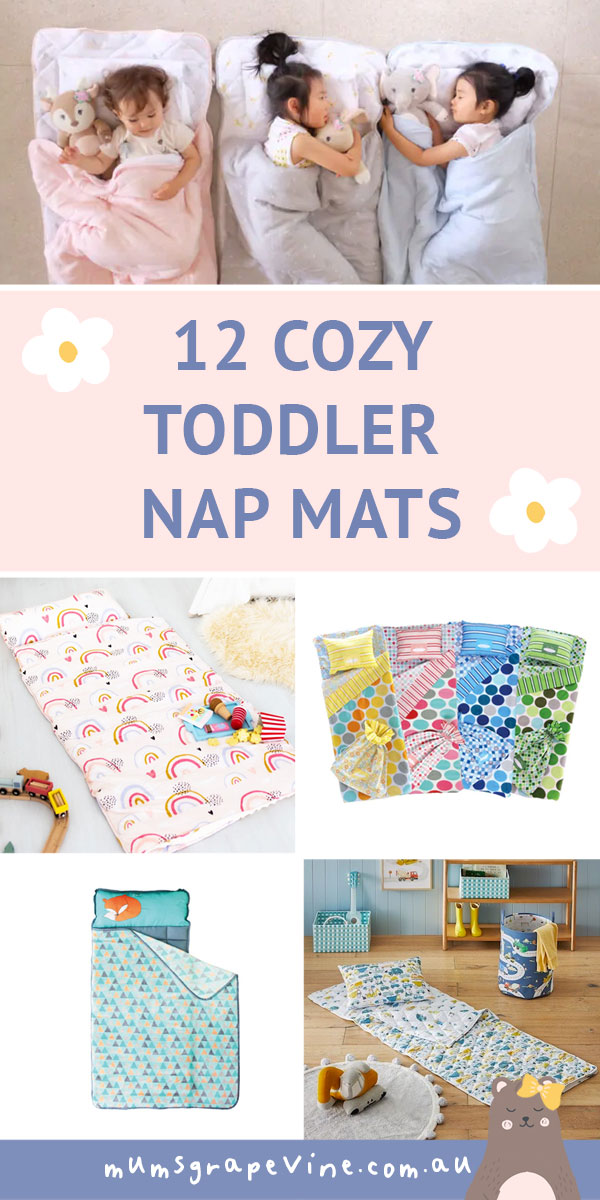 Know a product we should add to our list? Contact us and let us know, we've been collating Australia's best baby products into shortlists for over 14 years and we're always happy to support new brands and businesses.
Read next …
Thousands of Aussie mums in our Mum's Grapevine Facebook Baby Groups are asking each other for recommendations on what to buy right now. And you can too! Join today.