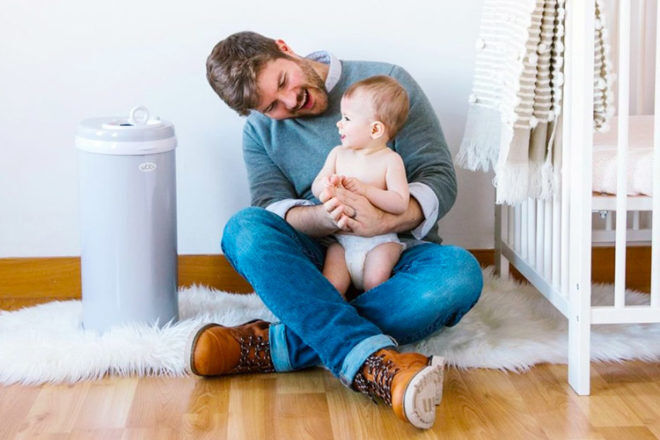 With newborn babies come days filled with cuddles, special moments – and nappies. Lots of nappies. If you've made the decision to use disposables on your little one's botties, a quality nappy bin will very quickly become your best pal in the nursery.
Game-changers when it comes to less fuss at change time, nappy bins are specially made for one-handed disposal. Unlike regular bins, they're cleverly made to trap odours, saving you countless trips to the outside bin every day.
Sleek, hygienic and oh-so-convenient, nappy pails help keep your nursery clean and your changing station organised – so you can spend more time on the fun stuff, like snuggling your delicious baby.
What to look for when buying a Nappy Bin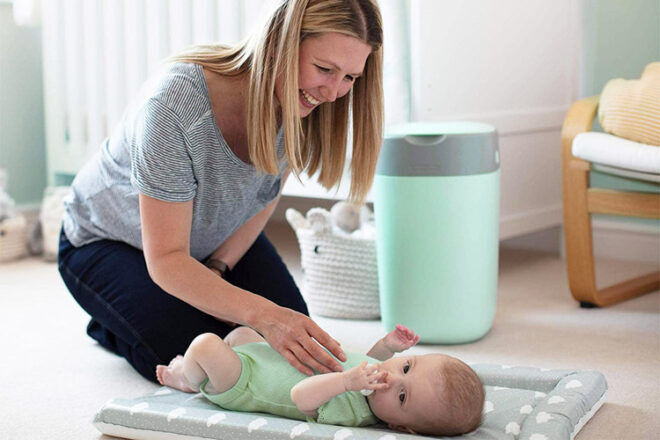 Here are some of the key features to look for when buying a nappy disposal bin:
Size: Like everything else in the nursery, size really does matter. Babies come with a lot of stuff, so choose a pail that can store at least a full day's worth of nappies without cluttering the nursery.
Capacity: How far is the outdoor wheelie bin from baby's nursery? If you live in an apartment building or have a few flights of stairs to climb, consider buying a nappy bin with a larger capacity to save yourself a little legwork.
Odour containment: There's no denying that wet nappies smell a little funky. Look for a nappy bin that locks in bad smells with clever seals or coatings to keep baby's nursery smelling fresh all day long.
If you have an extra sensitive nose, fear not, we've found this neat little odour trapper that you simply tape to the inside top of the bin. Check it out at the end of this roundup.
OUR PICK OF THE CROP
7 nappy bins for trapping odours
To help you find a stick-free place to store dirty nappies, we consulted our huge Facebook community of Australian mums and listed their most popular choices below.
In no particular order, here are 7 of the more popular nappy bins for 2023.
Tommee Tippee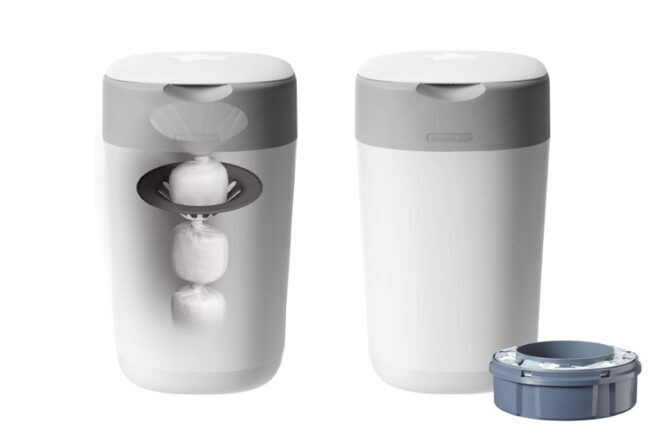 It's the teeny, tiny nappy bin that does big work. Able to hold up to 28 nappies, this nappy disposal bin seals each individual nappy in a multi-layered film providing an odour and germ barrier that's second to none.
---
Ubbi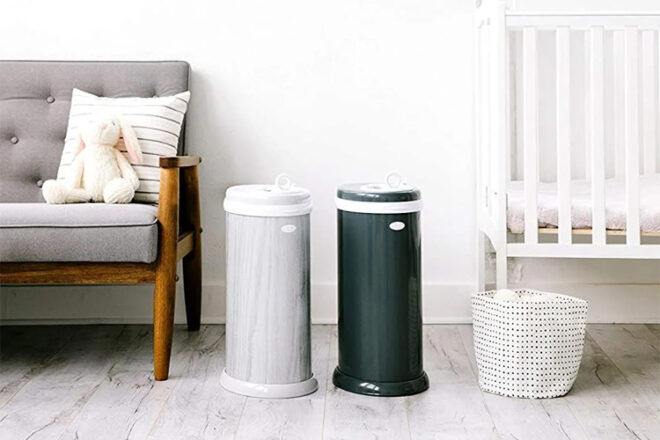 The Ubbi Nappy Pail comes with a sleek sliding lid, childproof safety lock and rubber seals in all the right places. It holds up to 55 nappies and comes in a range of fab designs. But the winning feature of this beauty is that it can be used with any regular bin liner.
---
Angelcare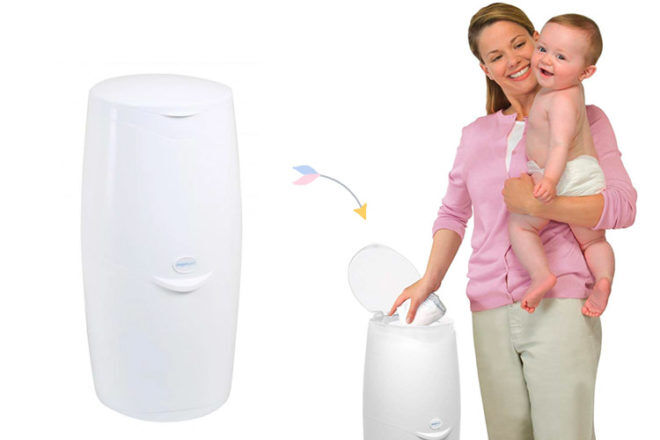 Simply push soiled nappies through the clamp system and the Angelcare nappy bin will wrap nappies in a multi-layered bag and contain all nasty smells. The bin is roomy enough to hold up to 20 nappies and refills will see you through 128 changes.
---
Korbell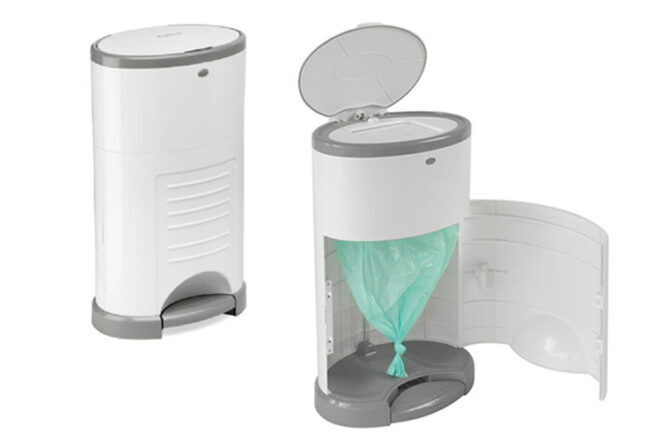 One of the simplest and most economical nappy disposal units around, the Korbell nappy bin holds up to 40 nappies at once and comes with a unique double seal system that locks in funky smells. Best of all, a standard liner refill will last for up to 495 nappies.
---
Dékor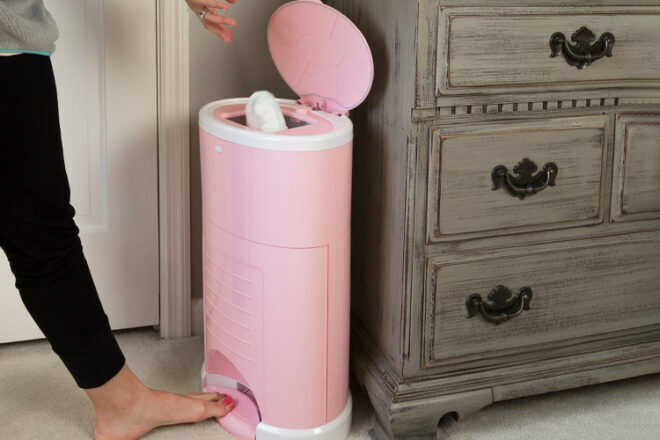 Completely hands-free, with no squishing, twisting or bending involved, the Dékor diaper pail is as easy to use as it is hygienic. Made of non-odour absorbing plastic, it holds up to 60 nappies and comes with a full set of liners to get you started.
---
Creative Baby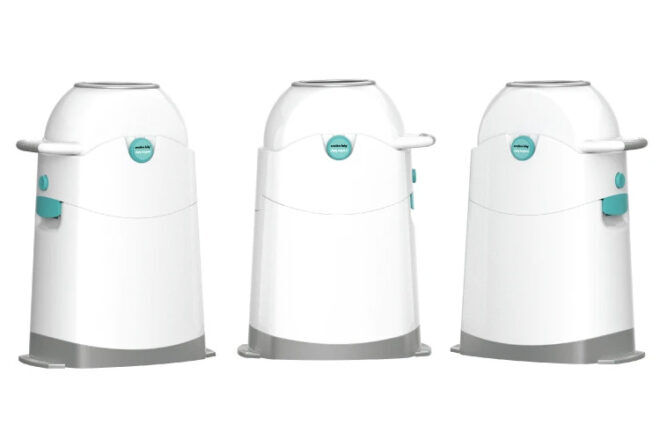 Compatible with any disposal bag, the Creative Baby Diaper Pail comes with a unique rotating lid and piston system made for one-handed use. It hides away all those unwanted odours and looks fab in the nursery.
---
Ninja Mama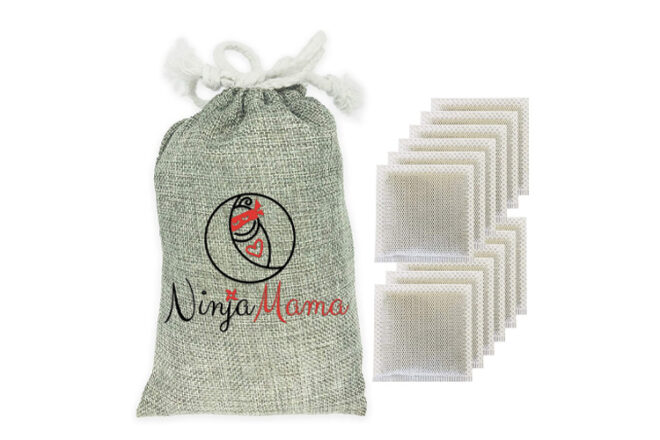 For even more odour protection for your pail Ninja Mama Deodorisers are the answer. In packs of 12 sachets, they use eco-friendly, all-natural charcoal to absorb smells and purify the air. Just tape them inside your bin lid and let them do their thing.
---
Do you really need a nappy bin?
While not an absolute necessity, a purpose-built nappy pail contains funky smells for a long time and looks tidy.  So, we consider it a valuable addition to your change-time essentials.
What should I look for in a nappy bin?
Look for a unit that seals to lock in smells, that's easy to clean and looks great in your baby's special room. Also, don't forget that you will almost always have your baby in one arm, so look for a nappy bin that can be easily operated with one hand.
How much are nappy bins?
In Australia, expect to pay anywhere from $25 to $150 for a quality unit.

Know a product we should add to our list? Contact us and let us know, we've been curating Australia's best baby products into helpful lists for over 15 years and we're always happy to support new brands and businesses.
Read next…
Ask other mums
Looking for a bin for nappies and still not sure if any of these are right for you? Join the huge #MGVfam in one of our private Facebook Baby Groups and ask thousands of other mums with babies the same age as yours which ones they recommend. Join today!
We want you to know
At Mum's Grapevine, we're a team of passionate mums (with 19 kids!) and over 15 years of experience researching and writing about all things baby and parenting. Our reviews of recommended products, like the ones in this post, may include paid inclusions, but we promise to only feature products that we truly believe in and have used or seen ourselves. We want to ensure that you, our readers have access to the latest and greatest products in the parenting world, and we're committed to maintaining our high standards of quality and honesty. See our Disclosure Policy.
Thank you for trusting us to be your go-to source for all things baby-related.
xoxo