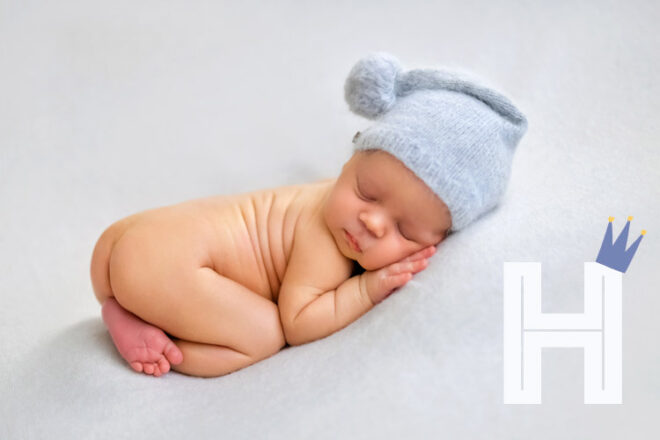 As we journey through the alphabet in search of name perfection for boys, the eighth letter H is a stop you don't want to miss. Eight is considered a very lucky number, will it bring up some gems for your baby name shortlist?
To help you name your baby boy, we asked the huge online Mum's Grapevine community to share their favourites. If surnames as first names sparks interest for you, you're spoilt for choice with options like Hockely, Hinton, Holden, Hilson and Hewitt.
If you're on the uber-popular but uber-cool train, you can't go past winners like Hendrix, Hudson, Hunter, Harvey, Hayden and Hugo.
Celebrities are fans of H too, with Dami Im's son Harrison, adventurer Bear Grylls' boy Huckleberry and Hank born to Andy Roddick.
H brings the goods with one syllable names that pack a punch such as Haze, Hugh, Heath, Hale and Hanz.
And for some reason, the letter H has the ability to instil a stately nature to your boys name with monikers like Hebert, Heston, Harrol, Hardy and of course Henry.
Whether you like names that are modern or traditional with a twist, let's dive into boy names starting with H: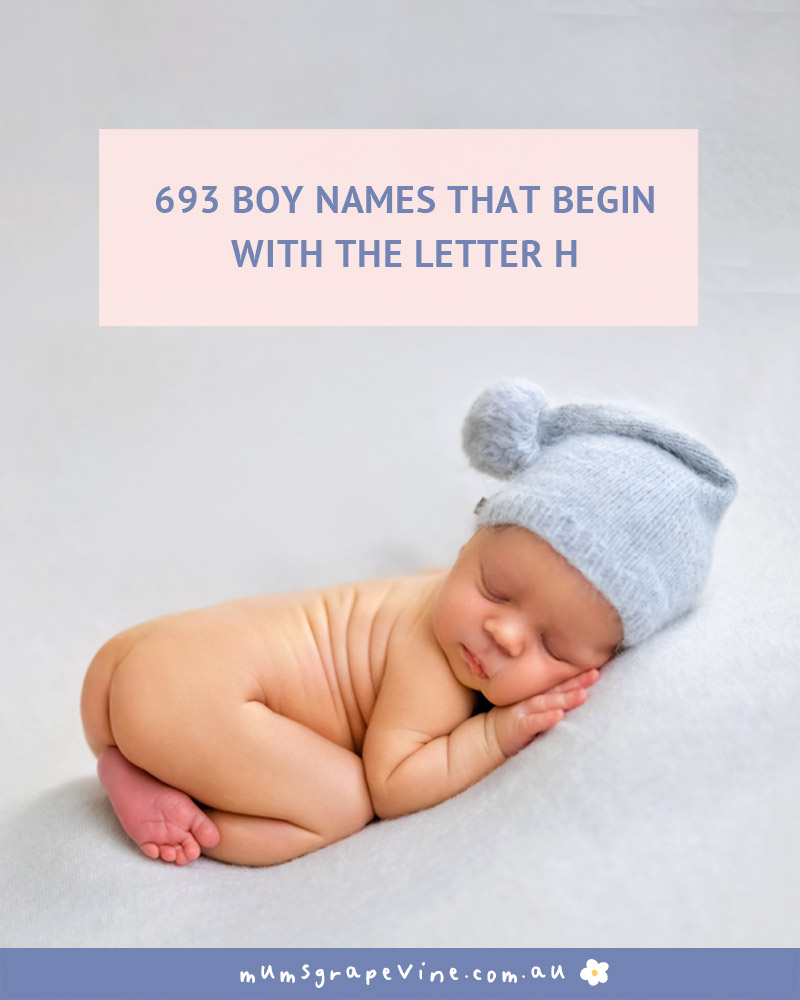 Favourite boy names that start with H
Hackett
Hackett
Hilson
Hadleigh
Harrol
Hadrian
Hagen
Haider
Hakeem
Hamish
Hampton
Hani
Hank
Harley
Harlyn
Harold
Harris
Harrison
Harry
Hartley
Harvey
Hayden
Haydrian
Hayes
Haywood
Haze
Heath
Heathcliff
Heatley
Hector
Helix
Hendrick
Hasim
Harte
Hatcher
Hastings
Hau
Havel
Haven
Hawke
Hawthorn
Hawes
Hawkins
Haynes
Hazel
Headley
Heinz
Henderson
Henrik
Hendry
Herbie
Henley
Heriot
Hermann
Herrior
Hew
Hewitt
Hewson
Hagan
Hai
Haig
Hikaru
Hill
Hiram
Hilton
Hirst
Hoang
Hobbson
Hockley
Hoffman
Holm
Holt
Homer
Hong
Hopkins
Horace
Horton
Houston
Howie
Hui
Humfrey
Hunt
Huntley
Huxlee
Hutton
Hale
Hendrix
Henry
Herbert
Hero
Heston
Hezekiah
Hoa
Hoban
Holden
Horatio
Hoss
Howard
Hubert
Huck
Hudson
Huey
Hugh
Hugo
Humphrey
Hunter
Huron
Hutch
Huxley
Hall
Hallem
Halver
Hamal
Hamlet
Hanh
Hanson
Hardey
Habon
Harlow
Hanz
Harrod
Heaton
Heathclyf
Henson
Herald
Hiamovi
Higgins
Hinto
Hirsi
Hiroto
Hoel
Holter
Hodsone
Horizon
Hosea
Huckleberry
Hugi
Hemingway
Hager
Haydn
Halo
Hasson
Haylen
Hernesto
Hinton
Hodari
Hope
Hoy
Hridaan
Hristopher
Hutson
Hosiah
Hyde
Henro
Hondo
Honour
Harshan
Hyatt
Heiden
Helios
Hardison
Hawkens
Hasher
Haxton
Henning
Haakon
Haddon
Hadi
Hadlee
Hagrid
Haidyn
Hakim
Hal
Halen
Halford
Hallden
Halsey
Halstead
Halston
Halvor
Ham
Hamilton
Hamlin
Hammett
Hammill
Hampus
Hamza
Han
Hanan
Handley
Hans
Hansel
Harbert
Harbour
Harcourt
Hardin
Hardon
Hardwin
Hardy
Harford
Hargreaves
Hargrove
Hargus
Harish
Harjeet
Harkin
Harlan
Harland
Harlem
Harlen
Harlo
Harm
Harmen
Harmonio
Haroldson
Harpo
Harpur
Hart
Hartlea
Hartwig
Haruki
Harun
Harv
Harvee
Harwell
Hasan
Hasani
Hashim
Haslett
Hassan
Hast
Hastie
Hasting
Hattie
Haward
Hawk
Hawthorne
Hayatt
Haydrien
Hayk
Hazen
Hazleton
Hazlewood
Headleigh
Hearding
Hearn
Hearst
Hebor
Hedeon
Hedrick
Heine
Heinrich
Heinrick
Helario
Heleuma
Helge
Heliodoros
Helji
Helmuth
Hemachandra
Hendrie
Hendron
Henlea
Henlee
Henny
Henryson
Heracles
Herculano
Hercules
Heriberto
Hermie
Hermus
Hernan
Herndon
Heron
Herrik
Herschel
Hewett
Hewlett
Hewlitt
Hideo
Hilar
Hilarius
Hilary
Hiller
Hillyard
Hiro
Hisashi
Hisham
Hitchcock
Hitoshi
Hjalmar
Hjalmer
Hogan
Hogarth
Holland
Hollis
Honor
Hooker
Horst
House
Howe
Howel
Hoyt
Hubie
Hulbert
Humbert
Humberto
Hume
Huntlee
Huntleigh
Hurst
Hussein
Hylton
Hymen
Hymie
Hyrum
Hadden
Hadley
Hadwin
Halbert
Hannibal
Hanley
Happy
Harding
Harper
Hedley
Herb
Herman
Hopkin
Horati
Howell
Hughie
Haarikrishnna
Haarsh
Haipriya
Hajay
Haji
Hakesh
Haldar
Hamant
Hamatha
Hamendra
Hamsa
Hanamanth
Hanish
Hansaraj
Hanshal
Hansin
Hansraaj
Hanuman
Hanumant
Har
Hara
Haraksa
Haranadh
Hardhik
Hardik
Hare Krishna
Hareendra
Hareesh
Harekrishna
Harendra
Haresh
Hareshwar
Hari
Hariaksa
Haribabu
Haricharan
Haridas
Haridev
Harigopal
Harihar
Haiden
Hussain
Haziel
Haris
Haroon
Hamzah
Hudsyn
Holdyn
Haden
Henri
Huxton
Hendrik
Hershy
Hillel
Habib
Humza
Henryk
Holton
Heitor
Hashir
Hendrixx
Hersh
Haaken
Haakin
Habacuc
Habakkuk
Habbakul
Habeeb
Hackit
Hackitt
Hackman
Hacon
Hadar
Hadaram
Haddan
Haddin
Hadriano
Hadrianus
Hadriel
Hadur
Hadwyn
Hadwynne
Hafeez
Hafez
Hafiz
Hagleigh
Hagley
Hagly
Hahn
Haidi
Haidar
Haie
Haile
Haim
Haimon
Hairo
Hajime
Hajo
Hakaku
Hakan
Hako
Hakon
Haksh
Halberg
Haldan
Halden
Halim
Halton
Hamblin
Hamdi
Hameed
Hamid
Hamidi
Hamilcar
Hammad
Hammond
Hanale
Hananiah
Hanauhoulani
Hanford
Haniel
Hanif
Hanlee
Hannes
Hanniel
Hanns
Hanoch
Hansen
Hanzel
Hao
Haoa
Harald
Haran
Harbin
Harden
Hardie
Hardwick
Harel
Hargun
Harinder
Harshal
Harith
Harlin
Harloe
Harlon
Harlynn
Harman
Harmon
Haroldo
Haroun
Harrel
Harrell
Harrington
Hartford
Hartlee
Hartleigh
Hartman
Hartmut
Hartwell
Harvard
Harve
Harvie
Harvy
Harwill
Harwood
Hashabiah
Hasheem
Hasimbo
Haskel
Haskell
Hassain
Hashan
Hatim
Hau'oli
Havard
Havier
Havin
Hawkeye
Hawkie
Hawkyns
Hayato
Haydan
Haydar
Haydon
Haye
Haylan
Hayle
Hays
Haytham
Hayward
Hazaiah
Hazem
Hazin
Heber
Hebert
Heder
Heiko
Heilyn
Hein
Heiner
Hektor
Heladio
Helio
Heliodoro
Heller
Helmut
Heman
Hendricus
Henk
Henleigh
Henlie
Henrijs
Henrique
Heraklees
Heraldo
Herberto
Herbertt
Herebeorht
Herlief
Hermes
Hermilo
Herminio
Hermon
Hernandez
Hernando
Herodion
Herold
Herrick
Hersch
Herschell
Hershel
Herve
Hervey
Herwin
Hesekiah
Hesketh
Heyward
Heywood
Hezakieh
Hezeki
Hezro
Hiatt
Hiawatha
Hibai
Hideki
Hidekki
Hidetaka
Hien
Hieu
Hilario
Hilarion
Hillard
Hilliard
Hillierd
Hillter
Hillyer
Hillyerd
Himesh
Hines
Hinrich
Hipolit
Hipolito
Hippolyte
Hippolytos
Hippolytus
Hiroaki
Hirohito
Hiroki
Hirom
Hiromi
Hiroshi
Hirsch
Hirschel
Hirsh
Hitendra
Hitesh
Hlutwig
Hoaalohakupaa
Hobart
Hobbes
Hobbs
Hobert
Hobie
Hobson
Hodge
Hodges
Hoele
Holbrook
Holger
Hollister
Holman
Holmes
Holo
Homar
Homero
Honi
Honorius
Hoover
Hopper
Horacio
Houghton
Hovannes
Howland
Hoyle
Hoyte
Hrant
Hrayr
Hreodbeorht
Hristivoje
Hristo
Hrodwulf
Hrothgar
Hrvoje
Huang
Huba
Hubbard
Huberto
Hubrecht
Huddie
Hue
Hughes
Hugues
Huib
Huig
Hulama
Huldrych
Hummus
Humph
Humphery
Hung
Huntington
Huntly
Huon
Hurbert
Hurley
Husain
Husam
Husayn
Husein
Husni
Husseini
Huston
Hutchinson
Hutchison
Huub
Huw
Huy
Huyana
Hwang
Hy
Hyder
Hyman
Hypolite
Hyram
Hyson
Hyun
Hyun-Jin
Hywel
Hywell
Hyzen
---
Join the conversation …
Got a baby name that starts with H that you think we should add to our list? Head over to our social page, there are over 3200 comments all with baby names that start with H.
Read next …
Looking for more baby name inspiration? Take a look at these popular articles:
Join our Facebook groups
Join one (or four!) Mum's Grapevine Facebook groups and chat with other mums due at the same time as you. We have over 20 groups to join!
Click here >> Mum's Grapevine Facebook Groups << and find your group today!