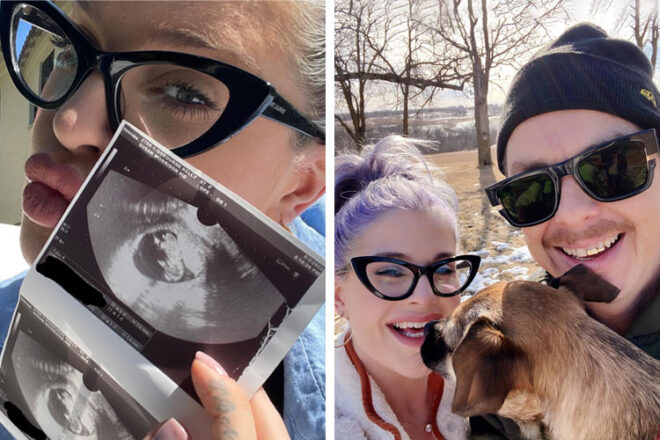 'Osbournes' star Kelly Osbourne has announced that she is expecting her first baby with boyfriend Sid Wilson.
Posing for a selfie with her ultrasound scan as well as lying on a sun lounger looking lovingly at the images, the 37-year-old Mum-to-be made her announcement with a short but beautiful message:
"I know that I have been very quiet these past few months so I thought I would share with you all as to why… I am over the moon to announce that I am going to be a Mumma. To say that I am happy does not quite cut it. I am ecstatic! "
View this post on Instagram
The news has been met with messages from fans and famous friends including congratulations from Jesse Tyler Ferguson and singer Jessie J.
This is the first baby for Kelly Osbourne and Sid Wilson (45), who announced they had started dating back in February 2022. Sid Wilson, best known as the turntablist of the Grammy Award-winning heavy metal band Slipknot, and Kelly were friends for over 23 years before making it official.
"After 23 years of friendship, I can't believe where we have ended up! You are my best friend, my soulmate and I am so deeply in love with you Sidney George Wilson. "
View this post on Instagram
Sid posted to his own Instagram with the ultrasound image, captioning: "❤️‍‍❤️".
View this post on Instagram
Kelly's family, famous for their show the 'Osbournes' have shared their love and congratulations – Sharon Osbourne posting the same photo of Kelly pouting next to her ultrasound and commented:
"My ❤️ could not be more full! So excited to share the beautiful journey ahead with you @kellyosbourne".
Jack Osbourne, Kelly's brother posted the same image and wrote: "And the tribe gets bigger! Congratulations @kellyosbourne ❤️"
We wish a huge congratulations to the couple and we look forward to following Kelly through her pregnancy and her journey into parenthood.
Read next …
Missed the latest celebrity baby news? Catch up with these articles for all the goss:
Don't miss any celebrity baby and pregnancy announcements, subscribe to our newsletter and be first with the news.