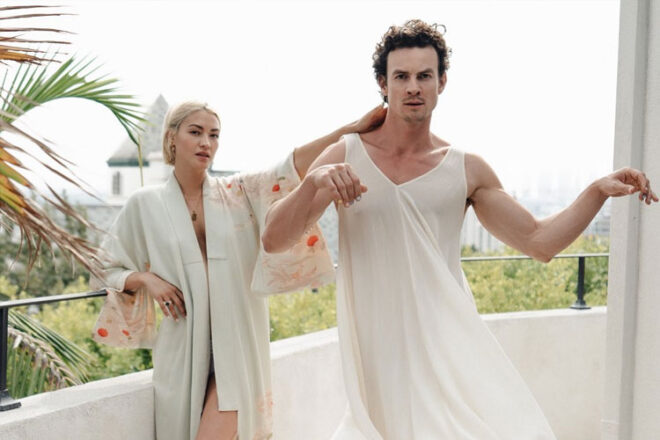 Australian actor Luke Cook and stylist wife, Kara Cook, are expecting their second baby together.
"Expanding Our Tribe! 😍😍😍" the couple announced on Instagram in a joined post.
The video showed the Chilling Adventures of Sabrina actor with a balloon in one hand and their first son in the other while Kara popped the balloon to reveal that they are expecting another boy.
View this post on Instagram
The couple who currently live in Los Angeles have one son together, Chaplin Benjamin Cook who was born in November 2020 while they were still living in Sydney.
Luke and Kara made the announcement of his arrival the day after his birth each with a sweet Instagram post. Kara captioned the heartwarming photo: "Chaplin Benjamin Cook 💕I've dreamt about what this moment would feel like for what seems like an eternity. To finally hold you in my arms for the first time. To stare at you. To take you in. To breathe you in. That smell…It's what only my dreams have been made of. And now here you are. This little person, Our little person. Those little feet. Well…Huge feet. It's been you in there this whole time. Love. Pure, unconditional, Heart shatteringly overwhelming Love. Yesterday you made us a family, You made me a mother and you became our whole world. Thank you for choosing us to be your guides through this life. I am in heaven! @thelukecook".
View this post on Instagram

And Luke followed suit with a black and white image of father and baby son skin to skin, writing: "Chaplin Benjamin Cook. Born 11/11/2020. Kara was brave. We all cried. He's a joy."
View this post on Instagram
The news of the new addition was greeted with celebration from fans and friends, who left comments of love under the video.
Bachelor alumn and close friend Anna Heinrich was among those congratulating the couple, she wrote: "🙌🙌 OMG CONGRATULATIONS 🥳 🥳". Anna and Kara were pregnant together during each other's first pregnancy.
During their time pregnant together, Kara shared a great pic of the two noting how grateful she was to have someone going through a pandemic pregnancy at the same time as her.
She wrote: "There really is nothing scarier than finding out you're pregnant for the first time. It's beautiful…but it is scary. So many questions arise. Fears, concerns, uncertainties, doubts. And then you throw in the economic and emotional chaos of a global pandemic and, well, it's a recipe for hormonal disaster. Thankfully I've been able to share the journey (and all the questions) with this beautiful lady. It's been such a blessing to be home in our little bubble in Sydney and so close to someone who is going through the exact same things emotionally and physically. Just having someone who knows exactly what you're going through has made it all that much easier. Sending lots of love to all the Mummas out there bringing their babies into the world during such an uncertain time. Stay strong! You got this. @annaheinrich1 😍 #31weeks".
View this post on Instagram
Anna whose daughter with Bachelor Tim Robbards was born only a couple of days after Chaplin Cook, posted a set of pictures with the couples and their babies with the caption: "Mothers Group & Daddy Day Care 👶🏻 🍼"
View this post on Instagram
Luke and Kara married in early 2020 after a quick engagement. They celebrated with a small ceremony in Sydney surrounded by their family and friends.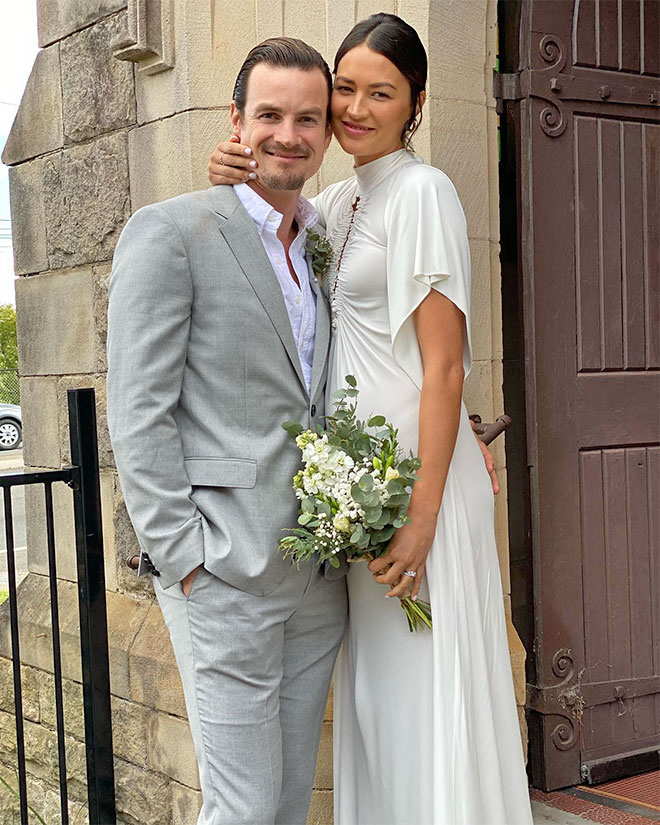 The Dynasty actor is also widely known for his viral videos on Instagram and TikTok, often featuring the couple's 18-month-old making for hilariously cute family memories.
View this post on Instagram
We can't wait to follow Luke and Kara on their parenting journey and wish the couple all the best as their family grows to a unit of four!
Read next …
Missed the latest celeb baby news? Catch up with these articles:
Don't miss any celebrity baby and pregnancy announcements, subscribe to our newsletter and be first with the news.