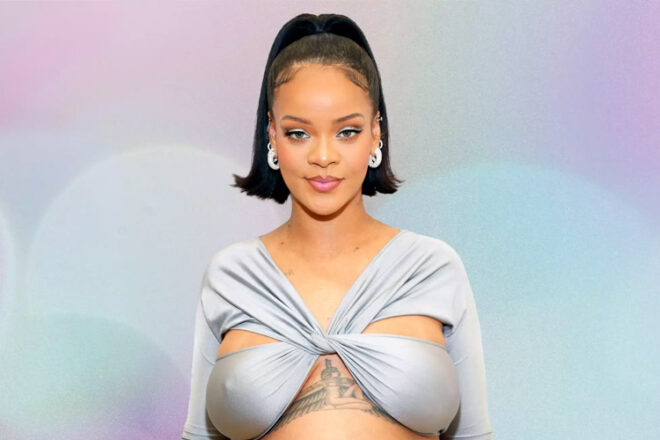 Businesswoman and all-around superstar Rihanna and her musician boyfriend A$AP Rocky have officially welcomed their first baby together.
According to TMZ, the fashion icon gave birth to her and A$AP Rocky's first child, a May baby, born on Friday the 13th in Los Angeles.  So far there has been no mention of a name, but Rihanna did mention early in her pregnancy that she wants to choose a baby name that celebrates her Barbados heritage.
The last time we saw Rihanna was May 9 on Mother's Day weekend, grabbing dinner with A$AP in Santa Monica.
In true 'badgalriri' style the singer stepped out in a bedazzling two-piece that showed off her bump, framing it with endless bling.
View this post on Instagram
A day before the outing, the star posted a video on her Instagram performing some self-care. Hair wrapped in a towel while standing in her bathroom, Rihanna used her own brand Fenty Skin's Cookie'sNClean face mask and rubbed her ButtaDrop body moisturiser into her belly.
"and that's on self care bih 🧖🏿‍♀️"
View this post on Instagram
Although the gender is not 100% confirmed by the couple yet, many sources cite that the couple gave birth to a little Taurean boy.
We cannot wait for the gender and name reveal from the couple, and will update as soon as we know more. We wish a world of congratulations to the couple who we are sure are taking a few private moments to themselves before introducing their little one to the world.
Read next …
Missed the latest celebrity baby news? Catch up with these articles for all the goss:
Don't miss any celebrity baby and pregnancy announcements, subscribe to our newsletter and be first with the news.
---
One of our favourite things to do recently here in the Mum's Grapevine office is to anticipate and marvel at Rihanna's pregnancy fashion.
The singer is constantly stepping up the fashion stakes and enjoying styling her baby bump. It's no secret that she's kept it anything but 'conventional' and whilst some pregnant Mumma's choose the conservative approach to maternity wear, RiRi has gone the opposite with daring looks and bold choices that really show off her growing body. Would we expect any less from the SAVAGE X FENTY designer though?
She set the fashion tone early with her photoshoot pregnancy announcement in the now-famous vintage pink Chanel jacket with Gripoix buttons whilst strolling along the streets of Harlem, New York. The hot pink puffer was designed by Karl Lagerfeld in 1996.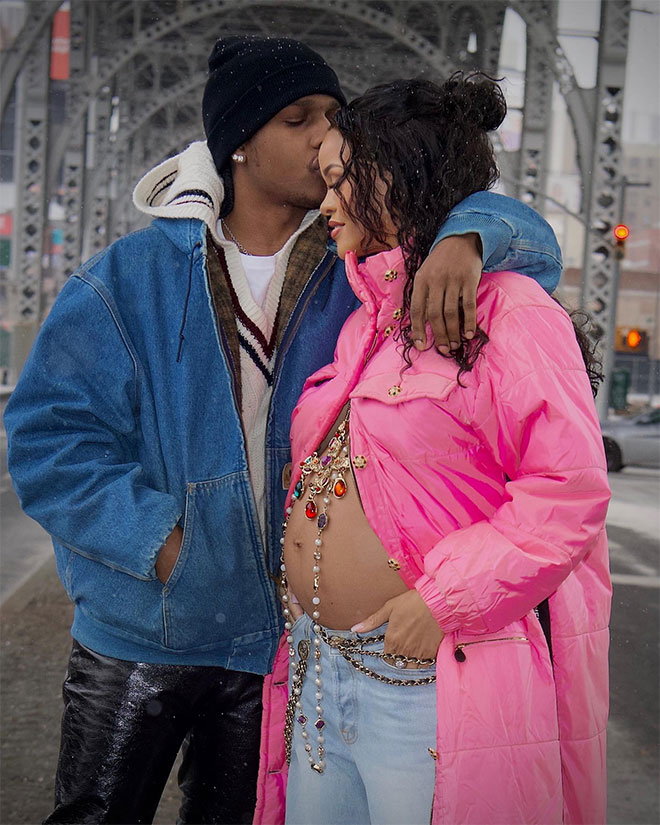 One week following the couple's pregnancy announcement, the singer stepped out in all-black (always a winner) in a Jean Paul Gaultier lace-up top, gold bra, cropped bomber jacket, and slick shades.
"All black everything 🐣" she captioned the photos.
View this post on Instagram
How do you dress the bump on a dinner date? If you're Rihanna, it's a full-length denim and leopard patchwork coat and Fendi crop top, of course. Other choices included a Jacqui Aiches diamond bra paired back with a camo cap from Awake NY.
Accessories-wise it's hard to go past the classics of a Dior saddle bag and Tom Ford heels.
View this post on Instagram
Early March Rihanna showed off the bump in a green trench coat and turquoise one-piece with cutouts strategically placed, showing some skin. The next day she posed in anything but the "usual" jeans and a hoodie – sporting a luxed-up version that were accompanied by more than thigh-high brown suede boots and a jacket with shearling to match.
View this post on Instagram
View this post on Instagram
Attending an afterparty for the Academy Awards, the singer wore a floor-length black gown half sheer, half sequins.
"me and my date for Oscar Gold Party #bump22"
View this post on Instagram
A couple of days later Rihanna posted a series of photographs captured by celebrity photographer Miles Diggs, wearing a tiny knit bralette, baby pink low-rise jeans, and a fur jacket.
She captioned the photos: "ya boy @diggzy out here ackin up".
View this post on Instagram
Mid-April Rihanna and Vogue announced that the mogul would be Vogue's May cover star, both posting beautiful images that we can only describe as the most glamourous pregnancy photoshoot anyone has ever had!
View this post on Instagram
Shot by iconic photographer Annie Leibovitz, Rihanna is seen in a number of photographs in what looks to be a Parisian hotel room surrounded by decor akin to the French monarchy.
View this post on Instagram
Every year Rihanna is one of the most anticipated guests at Vogue's Met Gala held in New York City. This year fans were disappointed when it was realised the star was not going to be in attendance despite being Vogue's May cover star.
Although she didn't make an appearance, Vogue still honoured the star by portraying a digital rendering of her cover photo that had her striking a pose with her very pregnant belly, carved into marble.
View this post on Instagram
What do you think of her looks?
---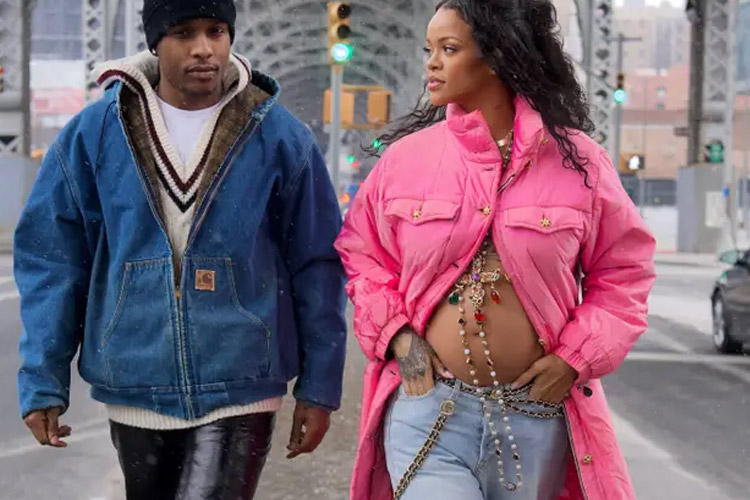 Superstar Rihanna and boyfriend A$AP Rocky are expecting their first child, and it's causing quite a stir. It isn't through their own social media channels that the news has broken but rather a photoshoot with photographer Miles Diggs for Vogue magazine that showed off her new, and now very iconic bump.
He simply captioned the post with the words "SHE IS ! 📸: @diggzy"
View this post on Instagram
The congratulations and comments are raining in for the happy couple. Tori Spelling said:
"Chicest photo EVR"
The Fenty designer and A$AP Rocky, both 33, began dating in May of 2021. ASAP, whose real name is Rakim Athelaston Mayers has described the Grammy-award winner as "The love of his life" adding about being a father one day:
"If that's my destiny, absolutely," he said. "…I think I'd be an incredible, remarkably, overall amazing dad. I would have a very fly child. Very."
Honestly, we can't wait, this is going to be a very fly child indeed.
View this post on Instagram
We wish Rihanna and ASAP all the best for their pregnancy journey and we are so excited to follow them along the way.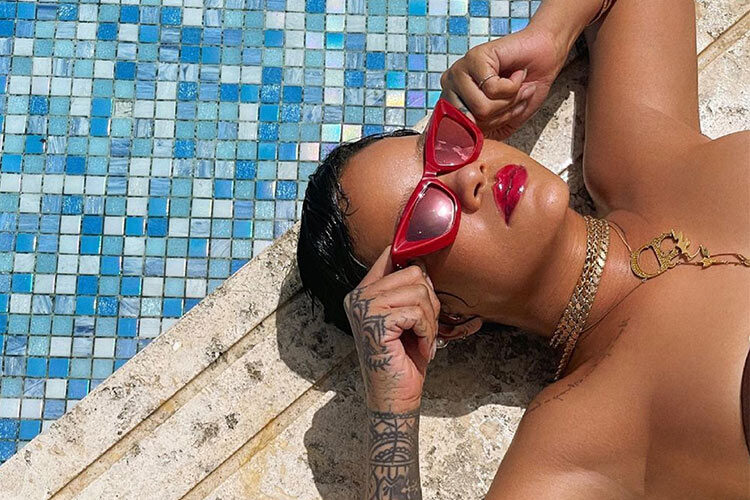 Read next …
Missed the latest celeb baby news? Catch up with these articles:
Don't miss any celebrity baby and pregnancy announcements, subscribe to our newsletter and be first with the news.