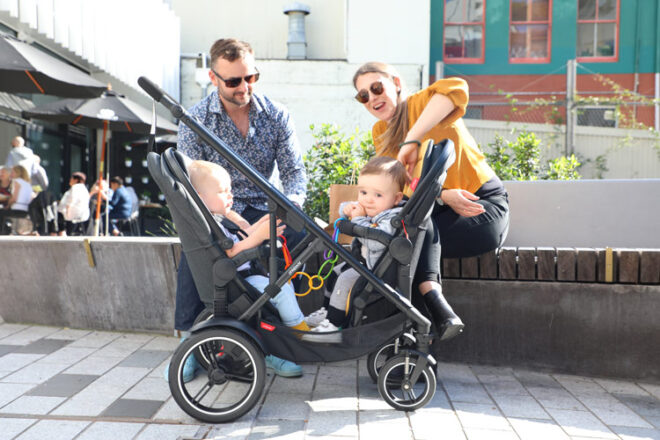 Getting out and about with two kids is no small feat. With twice as many little legs to control and twice the amount of stuff, a good double pram can make all the difference.
Specially built to accommodate two kids at once, double pram seats are positioned in either a tandem arrangement, where one child sits in front of the other; or side-by-side. The solution for busy parents with a toddler and a baby, double prams make it quicker and easier to get around.
To help make life a little easier, we've searched the shops and found 8 double prams that are perfect for carrying a couple of kiddies.

8 double prams for growing families
To help you find the right tandem or side-by-side pram for your growing family, we've compiled this handy list of brands to get you started in your search. In no particular order …
Here are 8 of the best double prams in Australia for 2022:
Nuna
Crafted to convert to a double or twin, the Nuna DEMI Grow ensures a smooth ride no matter the terrain. Suitable from birth to 22.7kg it boasts dual suspension, one-touch rear-wheel braking system, and built-in clear hub caps to protect from dirt and debris.
---
Joie Baby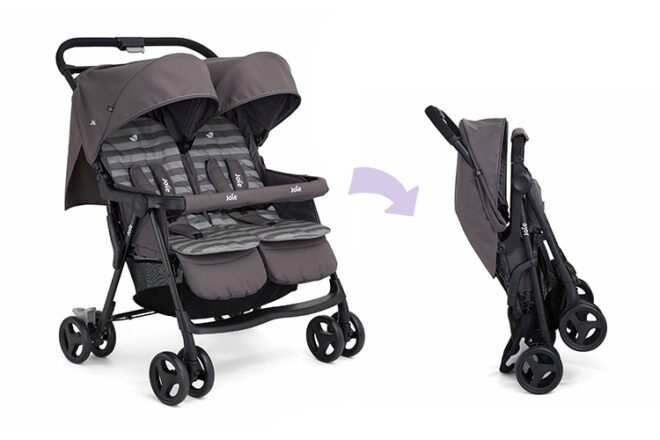 With independent reclining seats (hello naps), the Joie Aire Twin Stroller is an ultra-lightweight ride that accommodates twins or multi-age children. Suitable from birth, the Aire sports boasts reversible cushion seat pads, full suspension and a one-handed ease-fold back (with automatic locking!).
---
Edwards & Co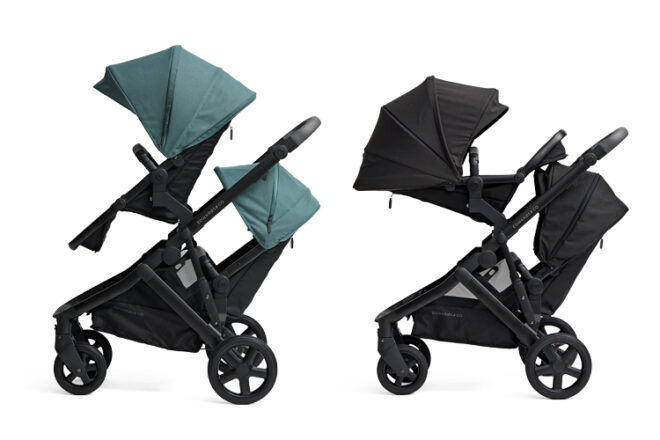 With the same footprint as a single stroller, the Edwards & Co Olive is small yet mighty. Adaptable for twins or multi-aged children, the Olive boasts a super-compact fold and 54kg weight capacity. Luxurious full seats, heaps of configurations and a choice of 5 colours makes for a comfy, stylish ride.
---
Egg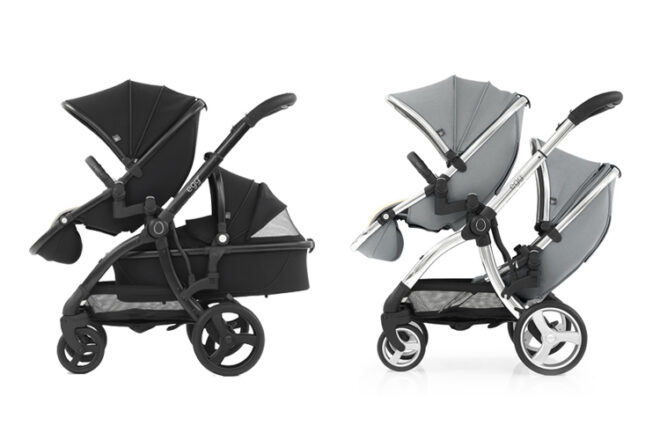 With the style-conscious parent in mind, the Egg2 stroller boasts a 5-position handle, 3-position recline and luxurious soft-touch tailoring. The cleverly-designed central chassis is positioned 3.6cm higher to make tending to newborns easy. Adaptable for twins or two children of varying ages, it glides over any terrain and seamlessly folds down with one hand.
---
Doppio
A complete all-round solution for twins or multi-aged children, the Doppio XX is a lightweight stroller with many seating configurations. The unique frame design allows for toddlers to be seated in the upper front position so they can enjoy the view. Designed in Australia it comes with a full built-in sun drape.
---
Baccani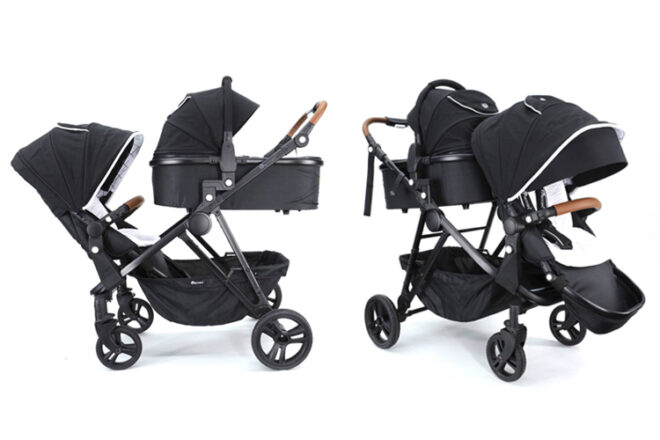 With a focus on luxury, elegance and comfort, the Baccani Lusso Double accommodates 2 seats or a bassinet and seat. Monochrome styling, 6-position adjustable handlebars and an extra-large shopping basket make this an attractive option for parents with two in tow.
---
phil&teds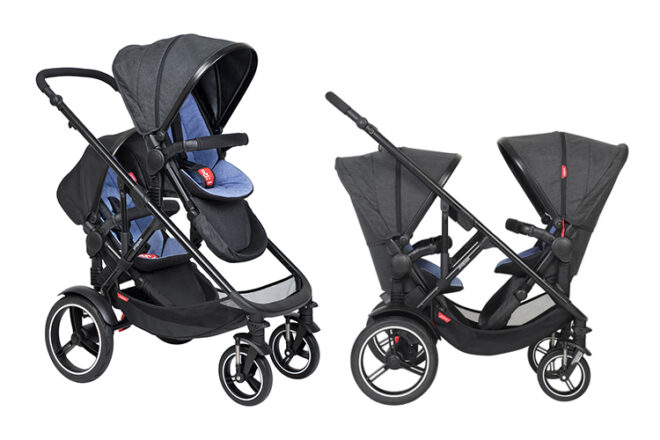 Equipped for any adventure, the phil&teds Voyager accommodates your two explorers within the footprint of a single buggy. Say hello to seamless manoeuvring and handling thanks to added suspension, tyres that don't puncture and seats at the perfect height to make kerb poppin' easy. It's the little things.
---
Bumbleride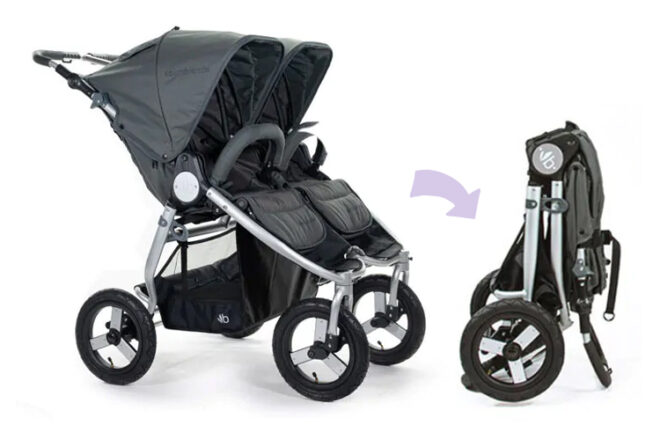 Built for adventure, this side-by-side pram manoeuvres with ease, even when it's packed to the rafters. Suitable for newborns, this durable double pram features a deep footwell and tall backrest for toddlers, plus a finger-trigger fold to make packing up a piece of cake.
---
This list is loving curated by our Editors and may include affiliate and/or paid inclusions. See our Disclosure Policy.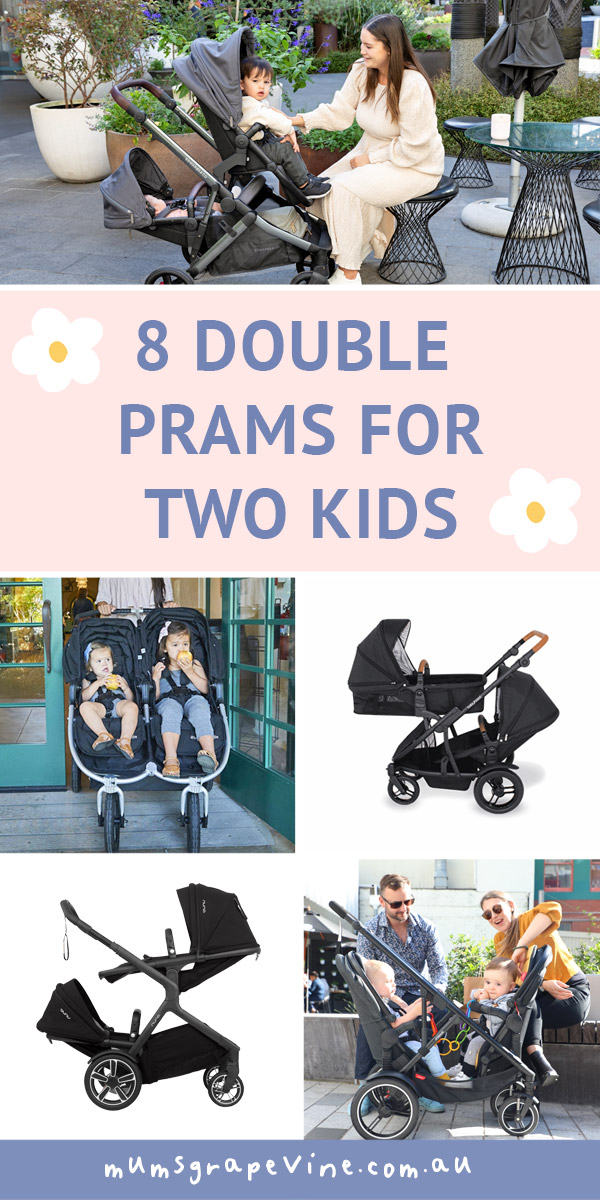 Know a double pram we should add to our list? Contact us and let us know.
Here are more baby prams and accessories …
Read this: How to clean your pram in five easy steps
Thousands of Aussie mums in our Mum's Grapevine Facebook Groups are asking each other for recommendations on what to buy right now. And you can too! Join today.