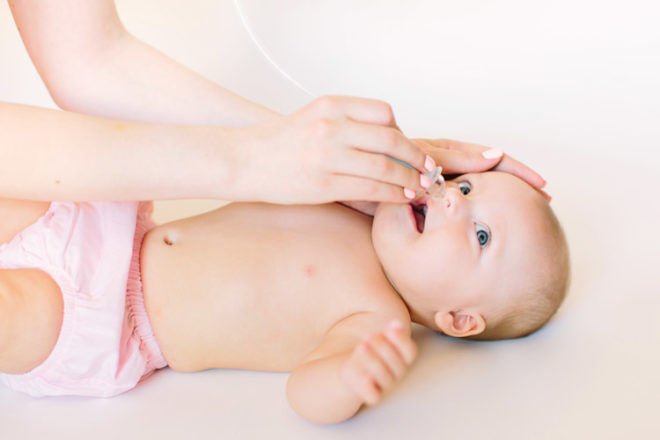 Babies get blocked, snuffly noses a lot. And being able to help them breathe easier means better sleep, easier feeding and a happier babe. This is where a baby nasal aspirator (also called a 'snot sucker') comes in super handy.
A nasal aspirator is a handheld suction device that hygienically removes the mucus caused by colds. Tiny airways and the inability to clear the snot themselves make congestion particularly upsetting for little ones, but aspirators help babies (and parents) feel more comfortable.
In Australia, nose aspirators come in a few different forms, from automatic units that do all the work for you, to budget-friendly manual 'snot suckers'.
To help you choose the best baby nasal aspirator for your needs, we've listed some of the key points to consider before you buy.
What to look for when buying a baby nasal aspirator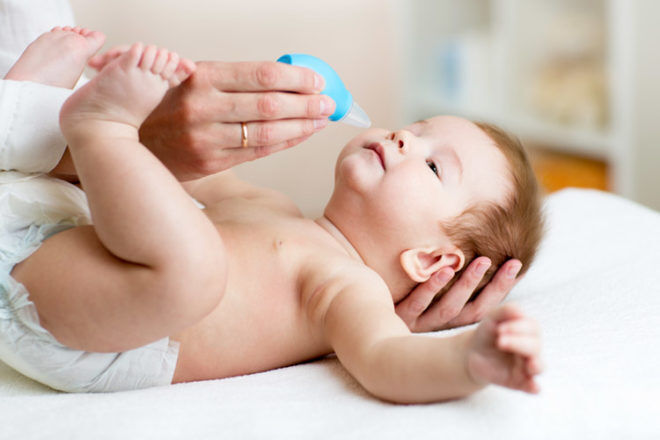 Type of aspirators
An electric nasal aspirator is battery-operated and simple to use. Just pop it in your child's nose, press the button and watch it create suction that gently extracts the mucus into a separate chamber.
Manual aspirators usually require nasal saline drops to help loosen mucus before either using a bulb aspirator or a one-way tube that is sucked on by a parent.
Noise levels – Electric aspirators are obviously a little noisier than their manual counterparts, so consider this if your child is easily upset by certain noises.
Suction levels – Some electric aspirators have only one suction level, others have several level settings.
Age restrictions: Not every baby nasal aspirator is suitable to use from birth, so just check that it is suitable for your baby's age before you purchase.
Accessories – Some nose aspirators for babies come with spare nozzles of different sizes and other useful accessories like carry cases.
OUR PICK OF THE BUNCH
6 baby nasal aspirators available in Australia
Some brands have offered exclusive offers for Mum's Grapevine readers. These offers may include exclusions and expiry without notice. Please direct all inquiries directly to the linked website.
To help you find the best nasal aspirator for babies, we've compiled this list of fab brands available in Australia to get you started in your search.
Here are 6 of the best baby nasal aspirators in Australia for 2022:
Snotty Boss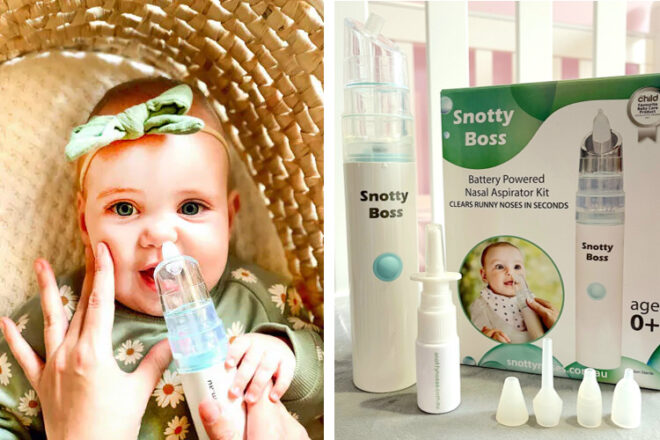 The Snotty Boss electric aspirator comes with strong, scientifically tested suction and a super quiet motor. A complete kit that includes four flexible silicone nozzles, a spray bottle for saline nasal drops and a carry bag. It has everything parents need to help baby breathe, feed and sleep better.
Snotty Boss Discount Code:
Use code 'MGV' for 15% off the Snotty Boss Nasal Aspirator.
---
Oricom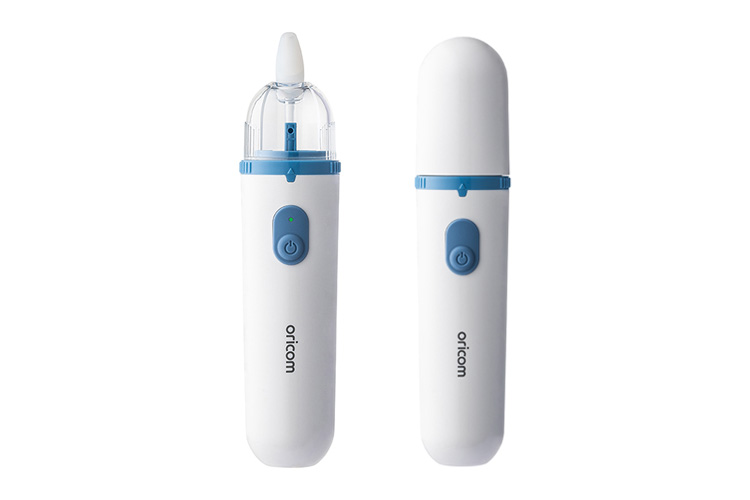 Created specifically for the needs of newborns, infants and small kids. This rechargeable aspirator has a flexible silicone tip that extracts mucus from nasal passages with a simple one-touch operation. It's easy to clean, quiet and features two suction levels.
---
Braun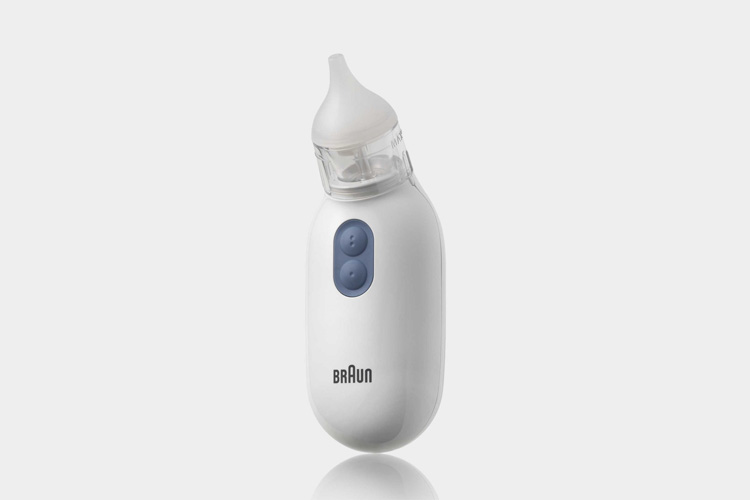 Able to be used in any orientation, the Braun Nasal Aspirator provides quiet, fast and gentle relief via two suction levels. With two comfortable-sized nasal tips included for a snug fit, the parts are easily cleaned and dishwasher safe – handy!
---
Haakaa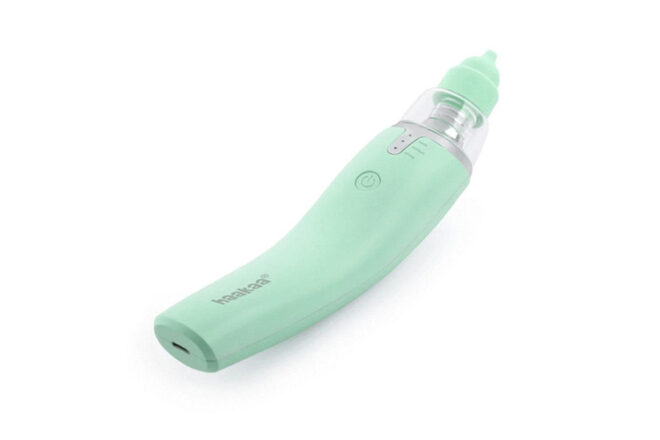 Featuring a simple one-button operation and an ergonomic, easy-grip design, the Haakaa Electric Nasal Aspirator can cycle through three different strengths. Sensitive noses will breathe easy with the soft and gentle silicone tips which can easily be sterilised for re-use.
---
Bubzi Co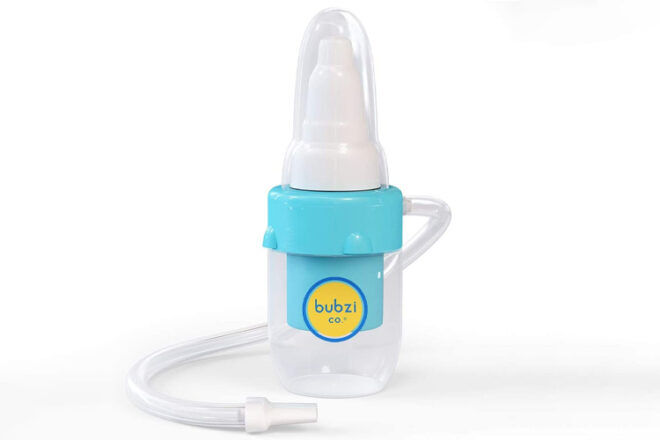 Easy to control and simple to clean, the Bubzi Co manual aspirator gently clears stuffy noses in as little as 30 seconds. It has a unique tube that maximises suction, an ultra-soft tip made from hospital-grade silicone and it comes with a handy carry case.
---
FESS Little Noses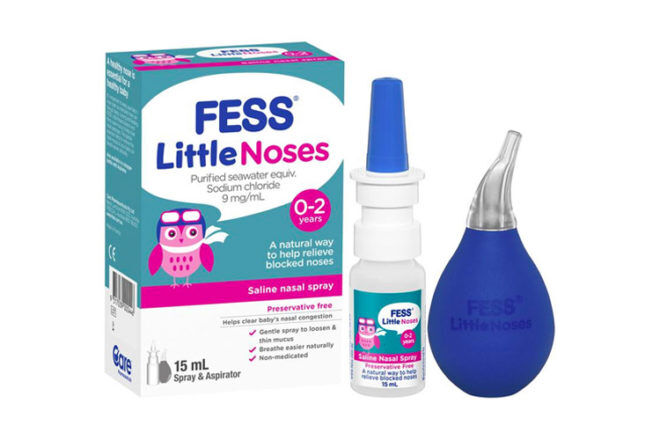 Designed especially for little noses, this handy kit contains a non-medical saline solution and aspirator. Simply spray the solution into baby's nostril and then remove it along with any mucus using the gentle rubber bulb syringe.
---
Is a nasal aspirator safe for babies?
Used correctly, nasal aspirators are safe to loosen stubborn mucus and help babies breathe easier when they have a cold. Always follow the instructions carefully and if in any doubt about its suitability, chat to a doctor first.
When should you use a baby nasal aspirator?
Use an aspirator when your little one is congested and having trouble breathing easily through the nose. Some parents suggest using an aspirator before meals to clear airways and help little people feed easier.
What are the benefits of a nasal aspirator for babies?
Because babies are unable to blow their own noses, an aspirator helps to clear out the mucus causing the blockage. As a result, little ones settle easier, feed better and generally feel more comfortable.
What's the best way to clean a nasal aspirator?
The good news is that most aspirators are designed for easy cleaning. Some units can be disassembled and are completely dishwasher safe, others require hand-washing with warm soapy water.
---
This list is loving curated by our Editors and may include affiliate and/or paid inclusions. See our Disclosure Policy.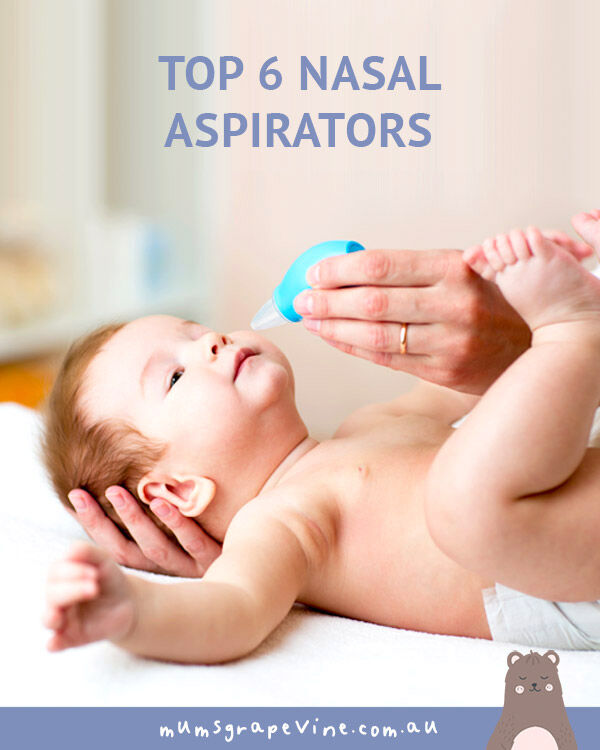 Know a product we should add to our list? Contact us and let us know, we've been collating Australia's best baby products into shortlists for over 14 years. And we're always happy to support new brands and businesses.
Read these roundups next …
Thousands of Aussie mums in our Mum's Grapevine Facebook Groups are asking each other for recommendations on what to buy right now. And you can too! Join today.