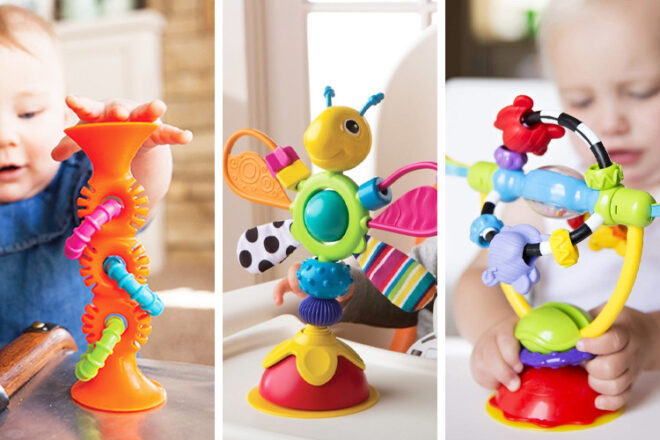 High chair toys are the genius little playthings making baby's mealtimes fun and providing entertainment between courses. Pint-sized and portable, they're perfect for taking with you everywhere bubba is likely to stop for a nibble.
With a strong suction base, high chair toys stick to tray tables or benches – and stay there. Little hands can tinker and twirl, young gums can soothe teething pain, and you can get on with preparing the next course (or re-making the first one that bub sent back!).
OUR PICK OF THE CROP
20 fun high chair toys (that stay put!)
To help you find a super sticky toy for your high chair, we've compiled this list of fab high chair toys available in Australia to get you started in your search.
Here are 20 of the best high chair toys in Australia:
Fat Brain Toys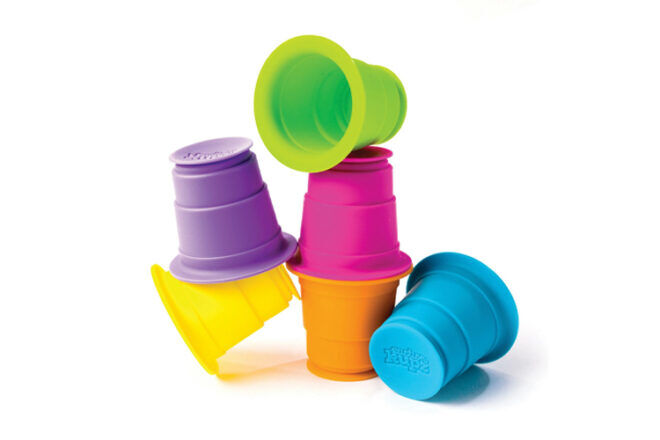 Super bright and impossible to miss, Fat Brain Toys Suction Kupz stick to almost any smooth surface. We love that from the high chair to the fridge, they're a fabulous tool that little builders can play with all over the house.
---
Skip Hop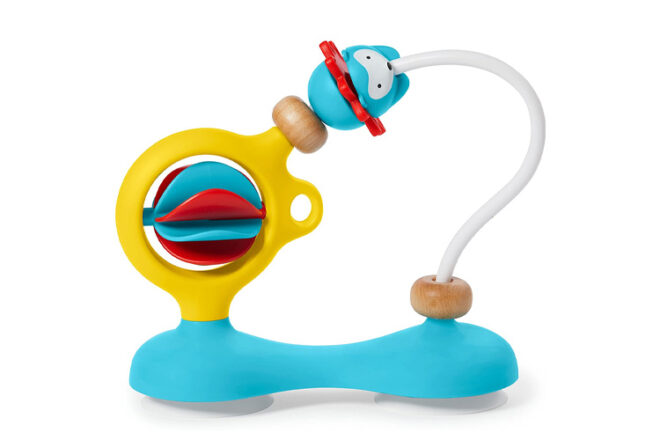 Suitable for little ones from four months, the Skip Hop Explore & More Bead Mover attaches to most smooth surfaces with its tough suction base. We love the moveable wooden beads that strengthen dexterity and introduce basic counting skills.
---
Hola Toys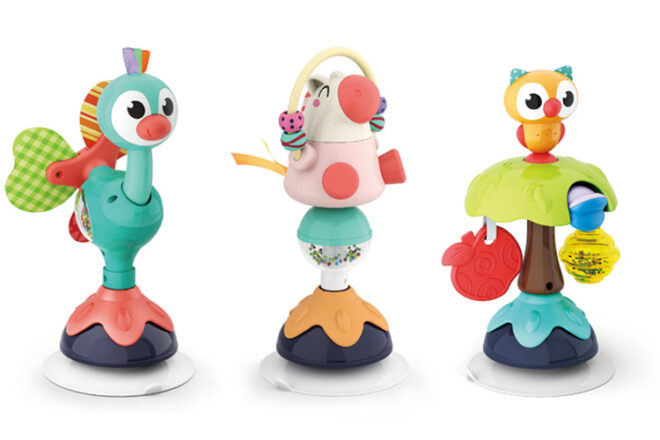 Specially designed with different materials, colours and sounds, Hola Highchair Toys stimulate touch and vision whether you're dining at home or out. We love the nodding heads and spinning tails for inciting loads of baby giggles.
---
MOLUK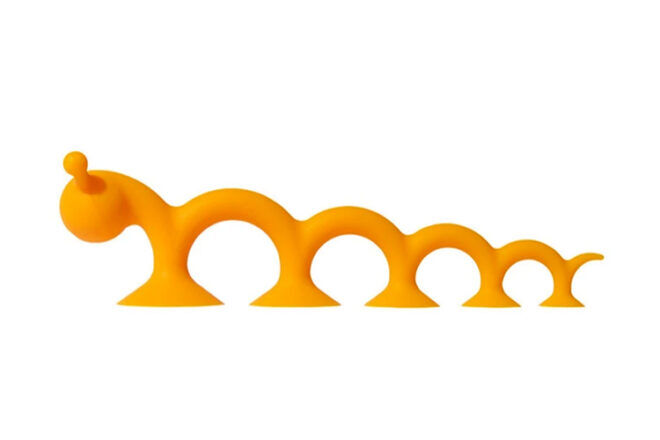 Quirky and entertaining, the Swiss-designed MOLUK Oogi Pilla uses super-elastic silicone that stretches in all directions. We love that it comes with five suction feet for multiple positioning and connects to other Oogis in the range.
---
Grapple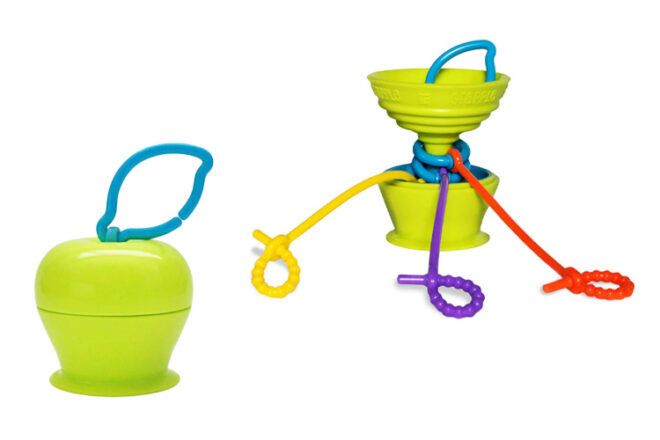 Invented out of necessity (and a little bit of desperation), the Grapple Toy Teether contains silicone cords that attach to bub's favourite toys to keep them from tumbling overboard. We love that it means no more bending down to retrieve turfed toys!
---
B. Toys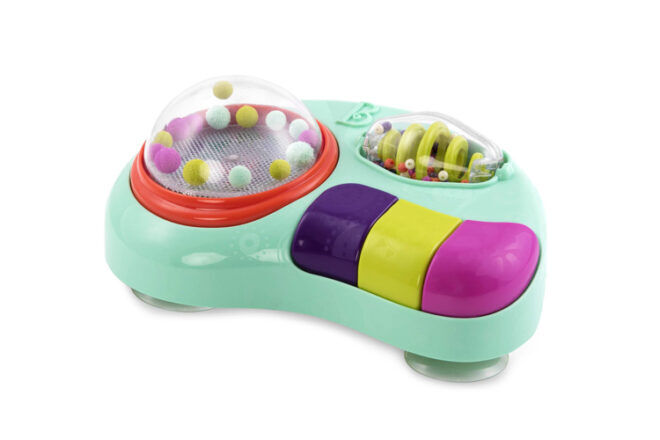 Like a mini activity play table, The genius B. Toys Activity Suction Station sticks firmly to high chairs and includes chunky buttons, a popping dome and spinning spirals. We love the addition of lights and sounds for keeping little humans mesmerised.
---
Fat Brain Toys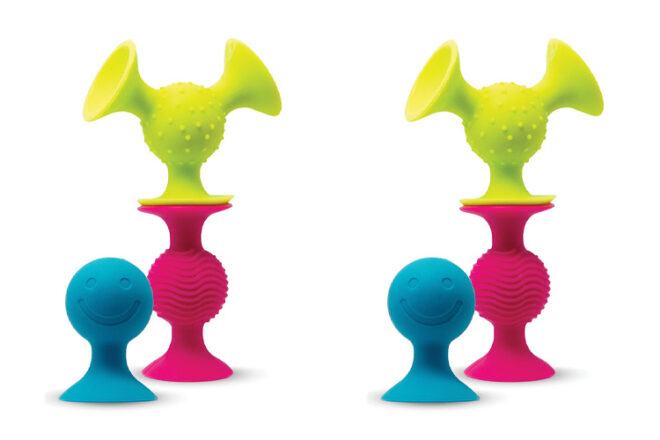 BPA-free and suitable from six months of age, PipSquigz tactile suction toys come in sets of three and can be tugged, pushed, shaken, poped and pulled. We love that they include wavy bumps for stimulating little fingers and are dishwasher safe.
---
Melissa & Doug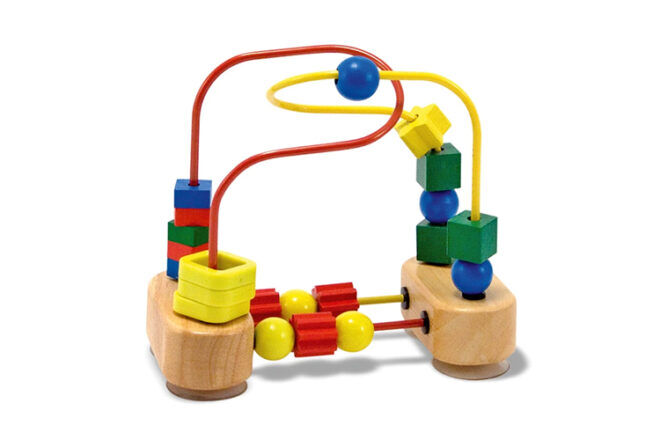 Fitted with suction cups that keep it from going anywhere, the Melissa & Doug Wooden Bead Maze helps bubs develop colour recognition, hand-eye coordination and fine skills. We love that it helps growing bubs learn the basics of shapes and counting too.
---
Baby Einstein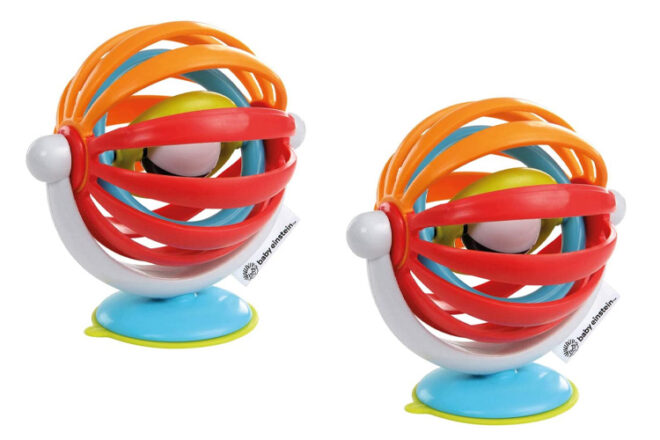 Designed with a series of bright loops that swing about in different directions, the Baby Einstein Sticky Spinner is easy to grab and fab for developing fine motor skills. We love that it's big on colour and turns any flat surface into a boredom-busting activity centre.
---
123 Grow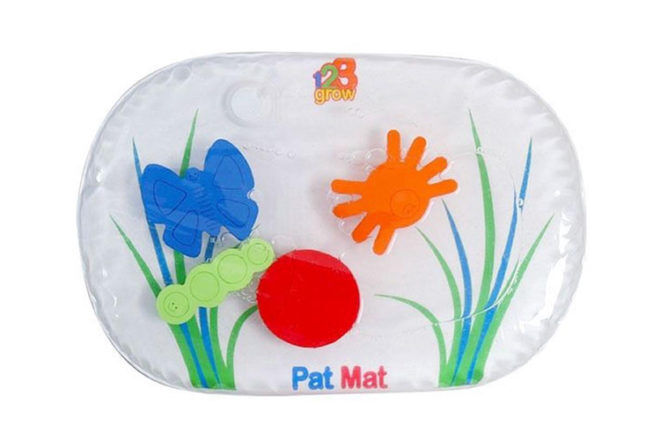 Filled with water and bright shapes, the 123 Grow Pat Mat is designed to fit most standard tray tables and is suitable for bubs from six months. We love that it's just as wonderful for floor play as it is for entertaining little diners at mealtime.
---
Boon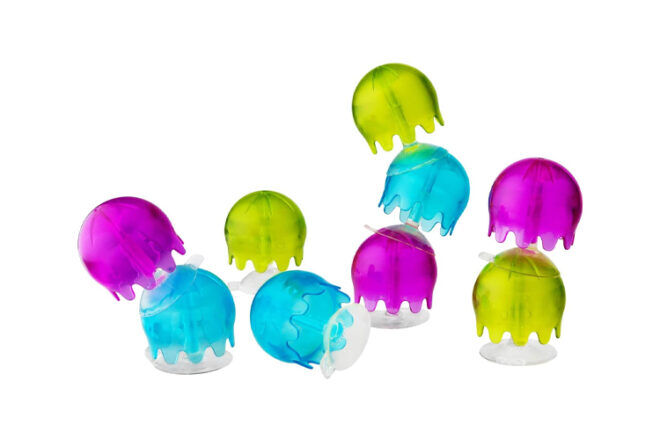 As fabulous for the high chair as they are for tub time, Boon's BPA-free Jellies suction toys come in sets of nine and suit little ones from 12 months of age. We love the unlimited stacking, sorting and building play they offer bubs and growing tots.
---
Fat Brain Toys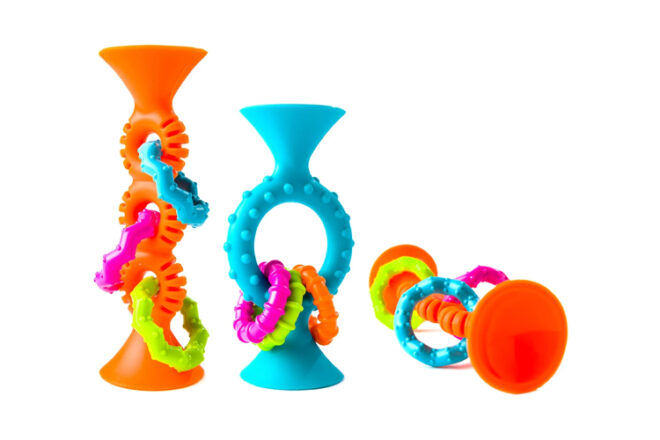 Made using BPA-free silicone, PipSquigz Loops incorporate a central tower and loads of loops sure to be a hit with teething bubs. We love that it comes packed with colours and textures and that it's safe to pop in the dishwasher after mealtimes.
---
Hape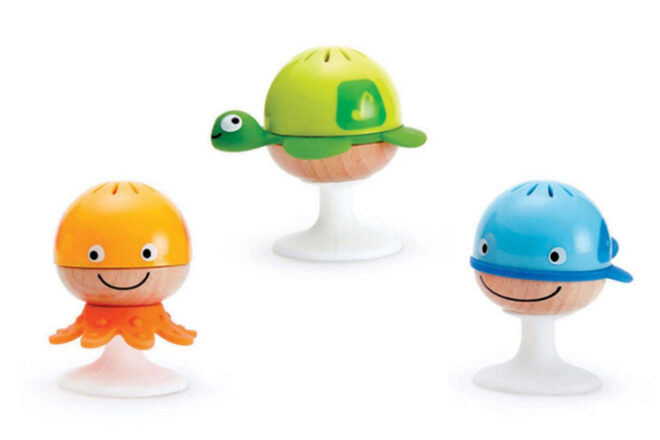 With fun sounds and loads of colour, Hape Stay-Put Rattles use non-toxic wood and plastics to be as safe for goring bubs as they are cute. We love the strong suction base that sticks to most smooth surfaces and the tactile elements for tinkering.
---
Bumbo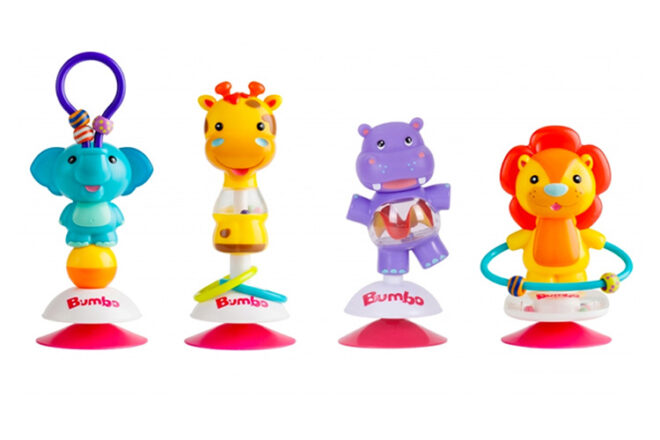 Adorable additions to Bumbo tray tables or high chairs, Bumbo's suction toys come in a choice of animal designs and feature a rotating base, strong suction seal and fun interactive elements. We love that each is safe for teething bubs to chomp on.
---
ELC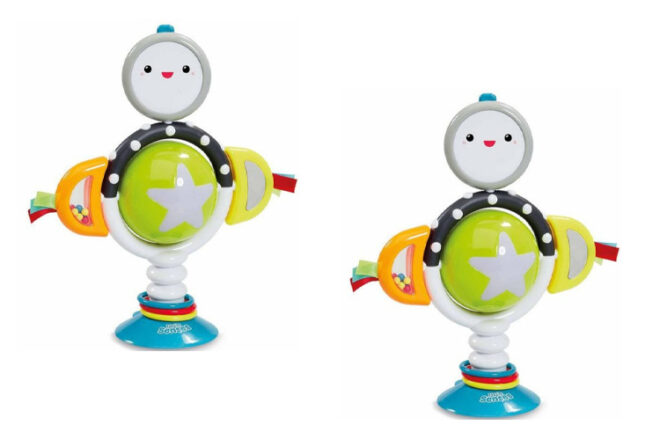 Suitable for ages six months and up, the ELC Little Senses Glowing toy comes with tassels to touch, rings to twirl and a sweet round belly to spin that activates a colour-changing light. We love that it also has a turning head and moving arms.
---
REMOKING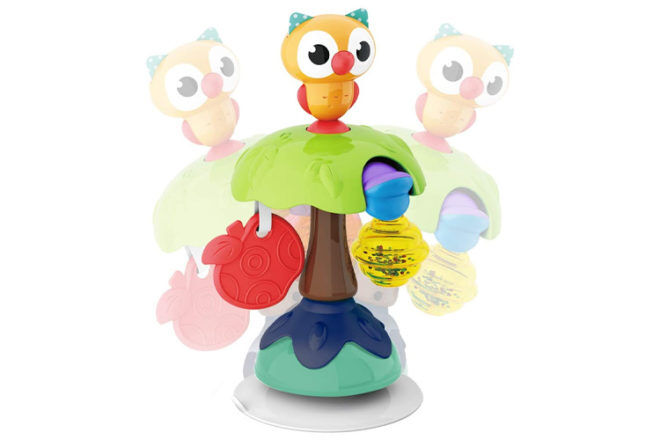 Packed with sensory features, the REMOKING interactive Rattle includes spinning balls and beads, a rotating tree truck and even an apple to shake and sway. We love the extra-strong suction base and super-cute owl perched atop the tree.
---
Lamaze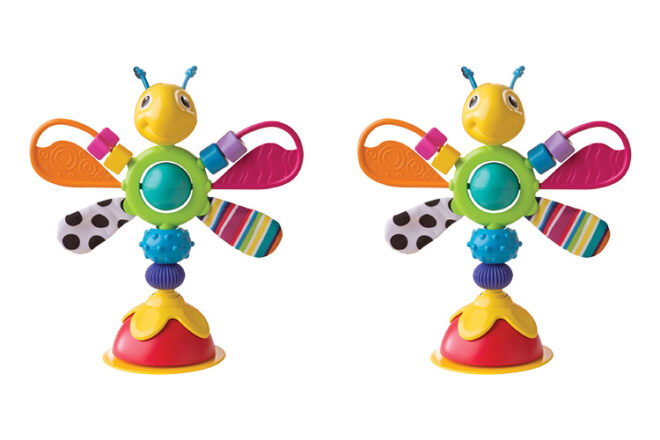 Suitable from six months of age, the Freddy the Firefly by Lamaze has textured wings, moving beads and a large central spinning ball for little hands to enjoy. We love that it comes fitted with a secure suction base for most flat surfaces.
---
MOLUK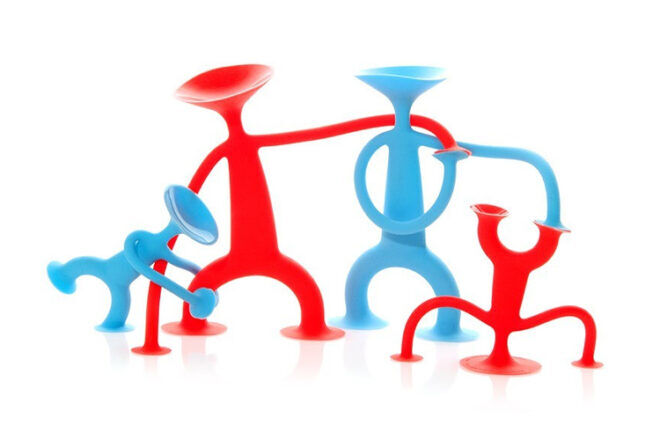 Stretchy, tactile and kinda crazy, MOLUK Oogi high-quality silicone figures provide endless open play for tots over three. We love that each figure has a suction head, feet and hands, and they connect to each other as well as other characters in the collection.
---
Sassy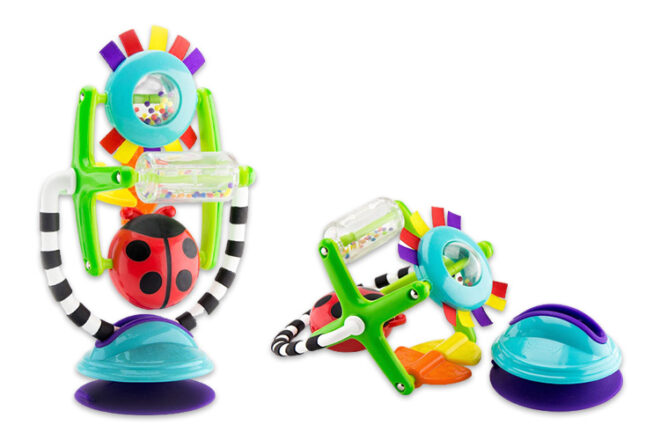 Designed to be swatted and tugged, the Sassy Sensation Station comes with built-in music effects it detaches from the suction base for when you'd rather use it as a rattle. We love that it's built tough and internationally designed to be pushed and pulled.
---
Toy Straps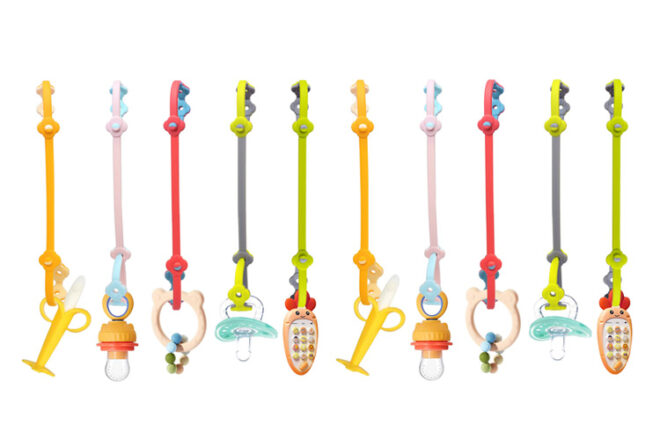 Crafted from BPA-free food-grade silicone, these toy straps attach to bub's favourite toy at one end and the high chair at the other, keeping treasures off the dirty floor. We love how versatile these are – use them in the car, pram or at mealtimes.
---
Know a high chair toy we could add to our list? Contact us and let us know, we've been curating Australia's best baby products into helpful lists for over 15 years and we're always happy to support new brands and businesses.
Read next…
Ask other mums
Looking for a maternity sports bra and still not sure if any of these are right for you? Join the huge #MGVfam in one of our private Facebook Baby Groups and ask thousands of other mums with babies the same age as yours which ones they recommend. Join today!
We want you to know
At Mum's Grapevine, we're a team of passionate mums (with 19 kids!) and over 15 years of experience researching and writing about all things baby and parenting. Our reviews of recommended products, like the ones in this post, may include paid inclusions, but we promise to only feature products that we truly believe in and have used or seen ourselves. We want to ensure that you, our readers have access to the latest and greatest products in the parenting world, and we're committed to maintaining our high standards of quality and honesty. See our Disclosure Policy.
Thank you for trusting us to be your go-to source for all things baby-related.