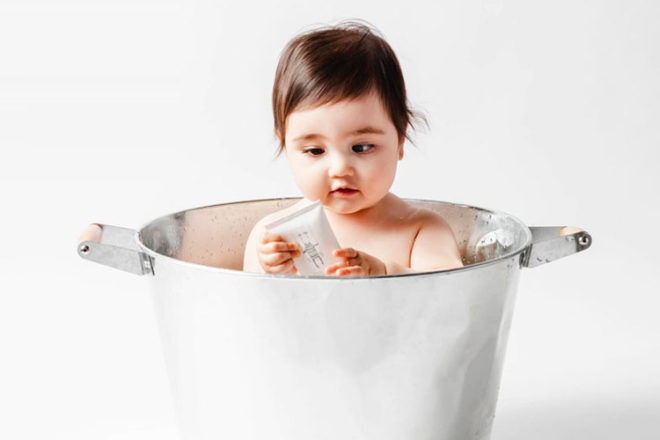 There's nothing more delicate than newborn baby skin. And like the food we put into their bodies, taking care of the natural baby skincare products we put on their sensitive skin is just as important.
One of the best ways to protect sensitive newborn skin is to use a natural baby skincare product, one that's free from all those harmful chemicals, yucky toxins and hidden nasties found in so many other products.
Australia's top-selling skincare products for babies are free from irritants and use a combination of nourishing plant-derived ingredients including chamomile, lavender, and calendula to guard and soothe young skin while smelling absolutely delicious (or of nothing at all).
OUR PICK OF THE CROP
12 All-Natural Skincare Products For Babies
To help you find the best skincare for your baby, we consulted our huge Facebook community of Australian mums and listed their most popular choices below.
In no particular order, here are 12 of the most popular natural baby skincare brands in 2023.
Weleda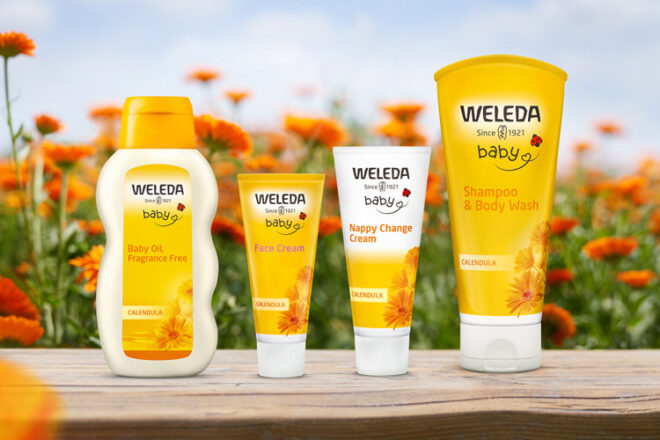 The Weleda baby skincare range is packed with the goodness of organic calendula (or marigold), which is known and loved for its skin healing properties. Products include shampoo and wash for cleansing the skin, baby oils for delicious massages and nappy change creams to look after the delicate nappy area.
---
Mikash

Certified organic with not a nasty in sight, Mikash skincare is formulated in Melbourne using only premium 100% natural plant derived ingredients. These luxurious, effective and multi purpose baby products are available individually or in convenient, giftable sets.
---
Wotnot Naturals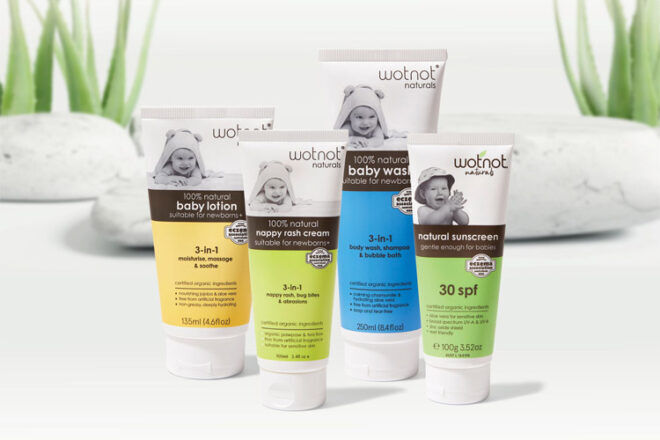 Free from hidden toxins, Wotnot's all-natural products nourish babies' sensitive skin with the help of flaxseed oil – one of nature's richest sources of omega-3 and omega-6. Developed to ensure skin is clean, hydrated and soothed using certified-organic ingredients, the range is approved by the Eczema Association and is suitable for newborns.
---
ChamonixRain Organics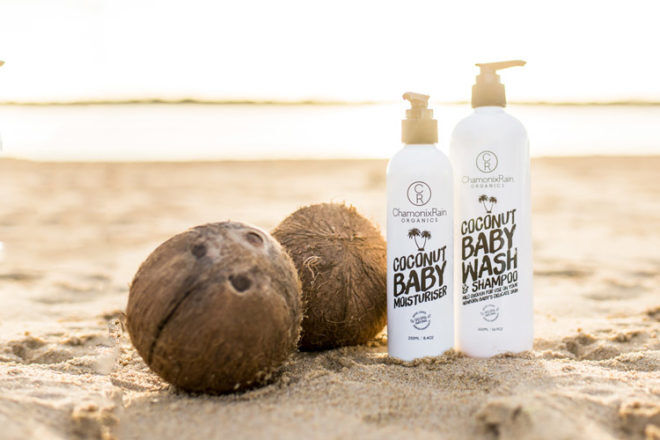 Gentle enough for newborns, ChamonixRain Organics leaves little one's skin smiling. With hydrating coconut oil at the heart of their products, this skincare nourishes dry skin while replenishing its natural oils. The addition of Organic Lavender and Chamomile Extract helps calm Baby for a good night's sleep.
---
Bunjie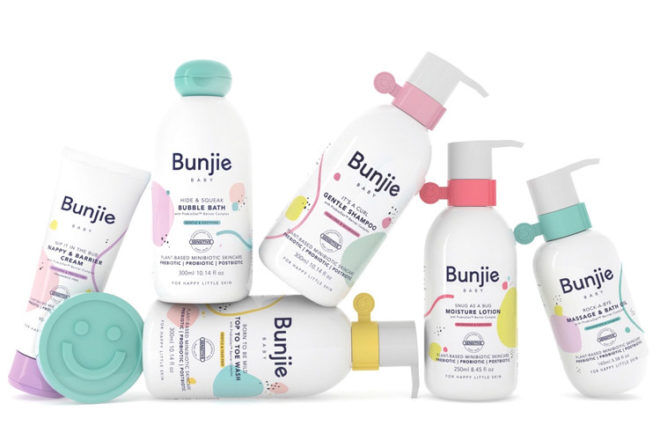 An exciting first in skincare for babies, Bunjie is a range of prebiotic and probiotic immune boosters for the skin. Proudly Australian-made, Bunjie is powered by patented microbiome boosters to protect soft little bodies night and day. Whether it be a barrier cream, baby oil or bubble bath, these guys have a bottle for the job.
---
Kind Coconuts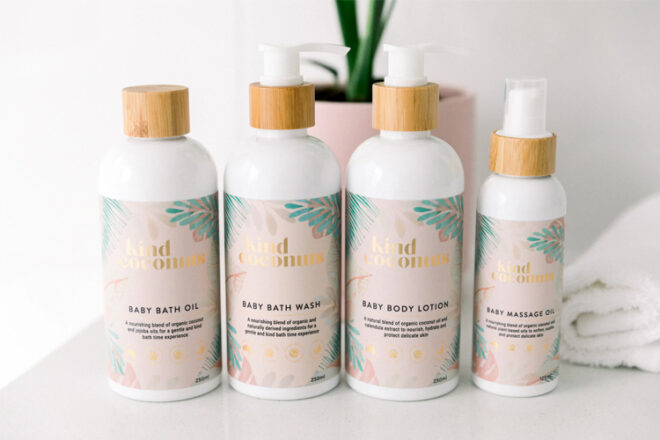 Created by a pharmacist and mother, the star of the Kind Coconuts range is organically grown virgin coconut oil sourced directly from the islands of Fiji. From the bath wash to the massage oil, each product is gentle, all-natural and sustainable. Bonus, each purchase helps support Fijian communities.
---
GAIA Natural Baby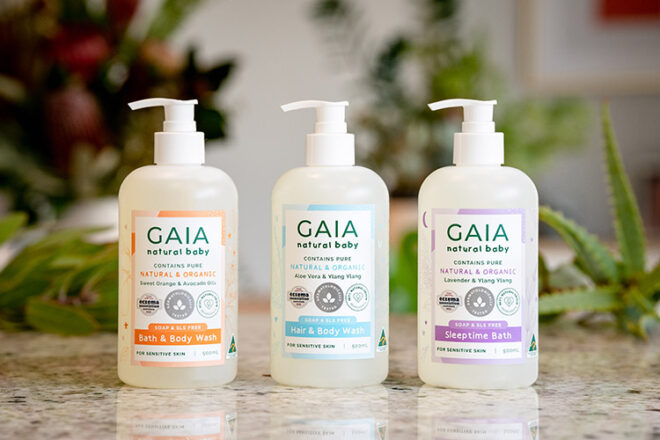 The baby range from GAIA has all bases covered. With formulas free from soap and enriched with natural and organic ingredients to protect delicate skin. Choose from silky smooth moisturisers made with shea butter and avocado oil to a dreamy massage oil that calms baby bears ready for bed.
---
Gilly Goat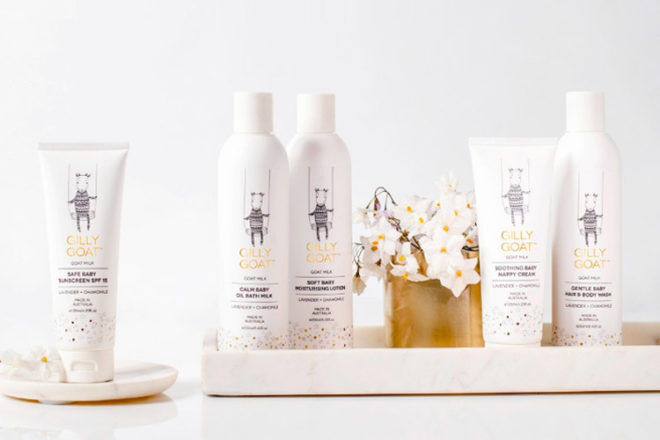 Created from a base of aloe vera, shea butter and goat's milk, the Gilly Goat skincare range targets dryness, irritation and redness with naturally rich moisturising ingredients. Plus, it's free from toxins and packed with calming botanical extracts that clean and shield bubba's skin while keeping soft.

---
Jack N Jill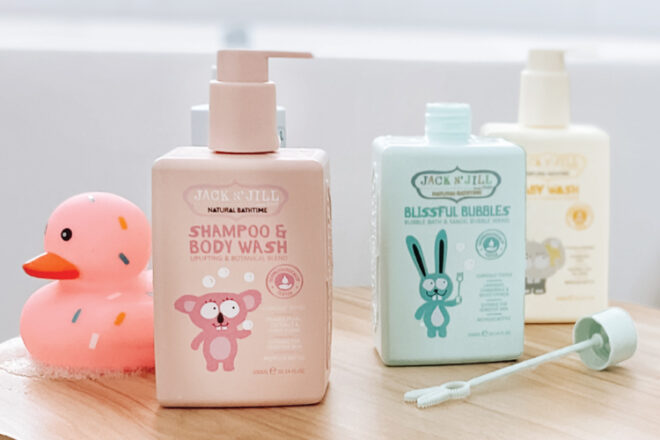 Dermatologically tested and crafted to be mild and safe, Jack N Jill's bath and body range is a natural addition to your kids' routine. With ingredients like Lavender, Chamomile, White Cypress and Clary Sage oils, the formulas are gentle on sensitive skin and come in too-cute recycled pastel packaging.

---
Bondi Wash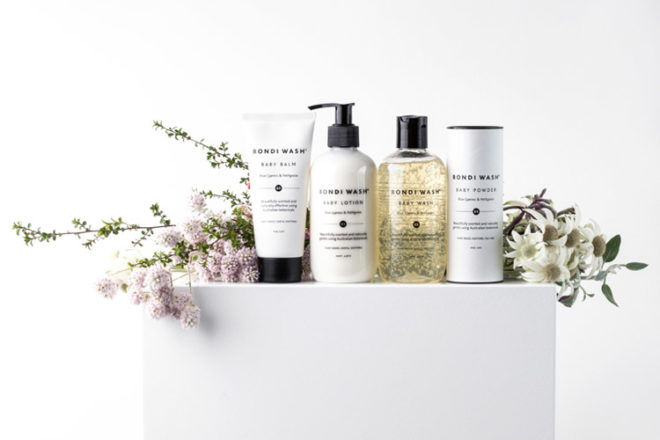 Packed with Australian products to treat and protect our precious babes, the range from Bondi Wash is fragranced with Blue Cypress to soothe inflamed or irritated skin. Featuring a baby balm, bar, lotion, powder, wash and a gentle washcloth, this simple yet effective skincare leaves skin feeling silky smooth.

---
Pigeon Baby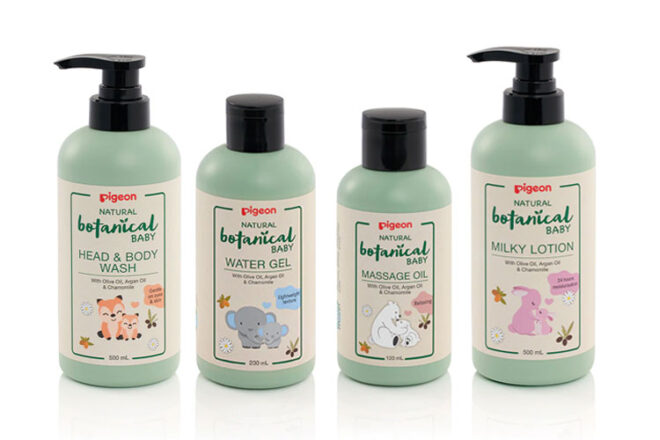 Safe for delicate newborn skin, Pigeon's natural botanical baby products nourish and moisturise with Argan, Olive and Chamomile extracts. Dermatologically tested and pH balanced, the range consists of a body wash, water gel, massage oil and body lotion, each with sweet packaging to boot.

---
Dr Bronner's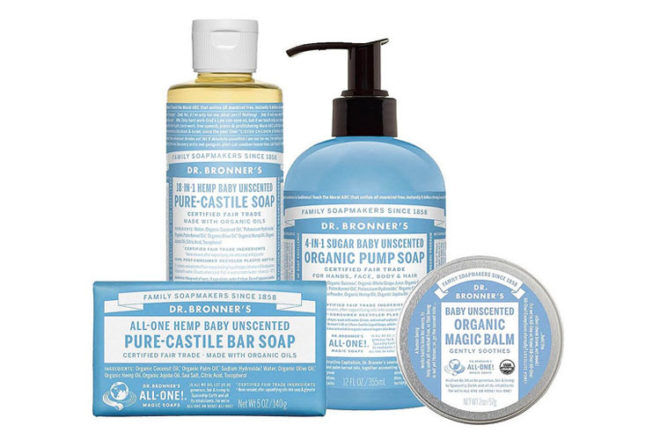 Known worldwide for their 18-in-1 Magic Soaps, Dr Bronner's range has extended into skincare for babies. With Fair Trade baby bath products that are all fragrance-free, they're ideal for sensitive baby skin. Key ingredients such as hemp, coconut and jojoba oil leave the skin feeling squeaky clean and luxuriously smooth.

---
Know a baby bath product we should add to our list? Contact us and let us know, we've been curating Australia's best baby products into helpful lists for over 15 years and we're always happy to support new brands and businesses.
Read next …
Ask other mums
Looking for natural skincare products for babies and still not sure if any of these are right for you?  Join the huge #MGVfam in one of our private Facebook Baby Groups and ask thousands of other mums with babies the same age as yours which ones they recommend. Join today!
We want you to know
At Mum's Grapevine, we're a team of passionate mums (with 19 kids!) and over 15 years of experience researching and writing about all things baby and parenting. Our reviews of recommended products, like the ones in this post, may include paid inclusions, but we promise to only feature products that we truly believe in and have used or seen ourselves. We want to ensure that you, our readers have access to the latest and greatest products in the parenting world, and we're committed to maintaining our high standards of quality and honesty. See our Disclosure Policy.
Thank you for trusting us to be your go-to source for all things baby-related.
xoxo