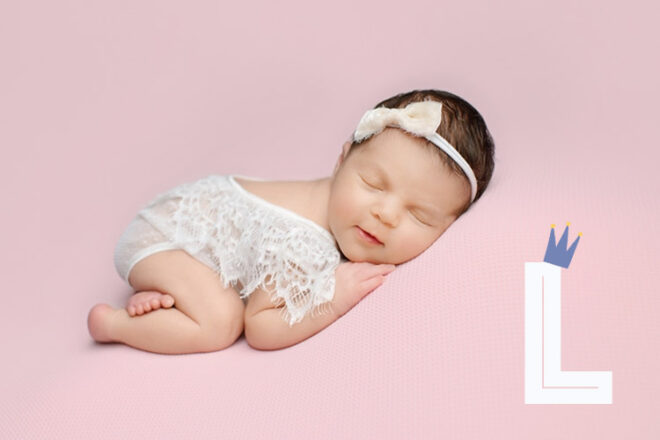 When you're looking for the loveliest name in the land for your brand new love bug, the letter L gives some gorgeous options.
Maybe you've got all the heart-eyes for the letter L because it's the same letter your grandmother's maiden name starts with. Or perhaps it's a family tradition, or you want to start your own naming tradition. Whatever your reasoning we've dived headfirst into the ABCs of baby-naming to find the most beautiful and unique monikers for girls that start with the 12th letter of the alphabet.
Girl names that start with L
If your heart is set on a daughter with a name starting with L here are a few of our favourites, six of which appear in the most popular baby names for Australia 2022.
Layla
Lily
Leah
Lydia
Leilani
Lauren
Lilly
Lucia
Lila
Lilah
Lilliana
Lena
Lia
Lexi
Luciana
Leslie
Leighton
Liana
Lorelai
Lauryn
Lilian
Laurel
Lylah
Lennox
Laney
Linda
Lyra
Livia
Lina
Lara
Landry
Louise
Lyanna
Lindsey
Luella
Legacy
Libby
Lilyanna
Luisa
Leela
Lianna
Leilah
Leena
Lenora
Lillyanna
Lillyana
Lorena
Letty
Lucinda
Lillian
Luna
Liliana
London
Laila
Londyn
Leila
Lucille
Leia
Logan
Lyric
Laura
Lana
Lennon
Lorelei
Lilith
Lainey
Leona
Liberty
Lacey
Leyla
Lilyana
Lillie
Liv
Lilianna
Layla
Leanna
Louisa
Lexie
Lailah
Lea
Lillianna
Lisa
Lizbeth
Luz
Lincoln
Lilia
Loretta
Lindsay
Larissa
Leilany
Lesly
Londynn
Laylani
Layan
Laniyah
Litzy
Liah
Lakeisha
Lakelyn
Laken
Lakey
Lakota
Lakotah
Laksha
Lakshmi
Lakynn
Lala
Lalage
Lale
Laleh
Lalia
Lalisa
Lalita
Lally
Lamar
Lamarr
Lamia
Lamina
Lamorna
Lan
Land
Landon
Lane
Langley
Laoise
Lapis
Leandra
Leanira
Leanne
Leatrice
Leda
Lee
Leelee
Leen
Leeza
Legaci
Legend
Leia
Leah
Leander
Leire
Leisa
Leith
Lėja
Lelia
Lelise
Lemmitty
Lemon
Leni
Lenia
Lennis
Lenny
Lenore
Leocadia
Leon
Leone
Leonie
Léonie
Leonor
Leonora
Leonore
Leontine
Leontyne
Leopoldine
Leor
Leora
Leota
Leotine
Lerryn
Les
Lesedi
Lesia
Lesley
Leta
Letesha
Letha
Lethe
Letícia
Letitia
Letizia
Leto
Lexington
Lexis
Lexus
Lexy
Leya
Leyre
Li
Liadain
Liadan
Liam
Lian
Lianne
Liat
Liba
Libba
Lilimae
Lilinoe
Liliosa
Lilit
Lilita
Lilium
Liliwen
Lilja
Lilla
Lillemor
Lillevi
Lillia
Lilliale
Lillias
Lilliet
Lykke
Lyle
Lynda
Lyndsey
Lynelda
Lynette
Lynlee
Lynn
Lynneth
Lynwen
Lynx
Lyrica
Lyrical
Lysandra
Lysistrata
Lysithea
Lyla
Laraine
Laraline
Laramie
Lara
Larimar
Larin
Larisa
Lark
Larkin
Larkspur
Larsa
Lasma
Latifah
Latisha
Latona
Latoya
Laudes
Laudine
Laudomia
Launa
Lauralei
Lauran
Laureen
Laureline
Laurence
Laurentia
Laurenza
Lauretta
Laurie
Lava
Lavanda
Lavender
Laverna
Laverne
Laviai
Lavinia
Lawrence
Lawson
Layke
Layne
Laynee
Layton
Lazuli
Léa
Leaf
Leafy
Leigh
Leimomi
Leinani
Leica
Leigh
Around the world girl L names
From Laos to Luxembourg and every location in between, there's a treasure trove of ludicrously lovely L names to bestow upon your little one.
The rugged shores of Ireland are home to some of the most unique baby names starting with L, from Lasir to Lany. While the Danes really know how to craft sublime monikers, like Liva and Lottie.
And here's a little prediction – the name Lilibet – used by Prince Harry and Meghan Markle for their daughter – is about to become one of the most popular baby names of the year, you watch!
Irish names: Leedan, Lany, Lanna, Lun, Lynton, Lean, Lile
French names: Lourdes, Lacee, Lucille, Leona, Leal
Indian names: Lakshmi, Lailah, Lajvati, Lalima, Lathika
Spanish names: Lupe, Luziana, Leonides, Lea, Lala
Danish names: Laerke, Laura, Liva, Lari, Lau, Leif, Lemmy
Greek names: Lysander, Lanora, Leyda, Ledell, Lyris
Scottish names: Lilidh, Levene, Lileas, Ludy, Lorne
L girl names with a theme
You can find great inspiration from themes, and the letter L really does unearth some gems.
Some are nature-based without being obvious, others put a pin in this sublime list of cities, countries and towns.
Girl nicknames that start with L
Australians just love to shorten or Aussie-fy a name, so it makes sense that we're comfortable in giving our babies a nickname as their actual name.
But we're not talking Shaz, Daz or Wazza, but a little more elegant L nicknames as first names.
Elizabeth: Liz, Libby, Lilibet, Lilly, Li, Liza
Delilah: Lila, Lia
Magdelina: Lena
Charlotte: Lotte
Louise: Lulu, Lou
Ashleigh: Leigh
Lillian: Lil, Lilly, Lolly
Loretta: Lorrie, Lou
Lorraine: Lorrie
Lucille: Lucy, Lu
Lyndon: Lynn, Lindy
Luella: Lu, Lula
Classic L names for girls with modern spellings
Pay homage to grandparents with a modern take on classic names that start with L. Or give new life to a popular baby name that you love with just a little tweaking of the spelling.
Layla: Laila, Lailah, Laylah, Leila, Leyla
Lauren: Lauryn
Liliana: Lilianna, Lillianna
Laura: Lora, Lawra, Laurah, Loura
Lucy: Luci
Logan: Logyn, Logen
Lilly: Lileigh, Lili, Lilee, Lilie
Lindsay: Lindsey, Lyndsey
---

Read next …
Looking for more baby name inspiration? Make your way through our alphabet of baby names:
---

---
Join our Due Date Facebook Groups
If you're expecting your own little miracle, you can join one of our supportive Facebook pregnancy or baby groups and talk babies 24/7 with thousands of other mums all due, or who had babies, around the same time as you.
Click and join your group today!