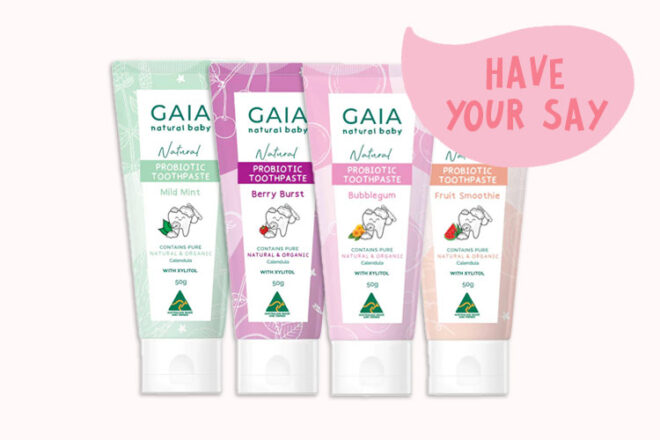 Hi mummas,
Welcome to the Mum's Grapevine product review program. We have loads of products for you to try and review and the best bit is you get to have your say and keep all the amazing things we send you.
This week we're looking for twelve (12) mums to try out the new GAIA Natural Probiotic Toothpaste with their children.
Available in four irresistible flavours, GAIA's new kids' toothpastes are enriched with probiotics and xylitol to support oral health. Free from fluoride, artificial colours and flavours, they contain 99% natural origin ingredients, organic Calendula, Aloe Vera and naturally derived flavours.
Suitable for use from 6 months of age, GAIA Natural Probiotic Toothpastes are safe to swallow if used as directed.
Lovingly Australian-made and owned, they're very much Tooth Fairy approved!
GAIA Toothpaste Review Application
Twelve (12) mums will each receive two GAIA Natural Probiotic Toothpaste in the flavours of their choice.
All we ask in return is that you take lots of photos and/or videos of your kids using the product and provide honest feedback.
If you would like to participate, simply fill in your details below and you'll be notified via email if you've been lucky enough to be selected.
Good luck!
xx
Know a friend who'd like to try GAIA Natural Probiotic Toothpaste? Hit 'share' below and tell your friends!