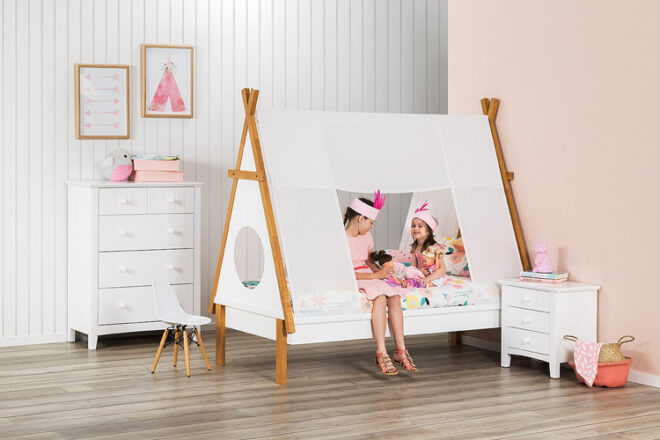 Ahh, the time has come for your (not so little) one to upgrade to their very own Big Bed. Whilst it's an exciting time, it can be hard to know where to shop. Cue Amart Furniture for the sweetest beds, designed for sweet dreams.
With an impressive and affordable range including singles, trundles and bunks, the kids won't be protesting slumber when their bedroom features one of these. And everyone can sleep easy knowing all Amart Furniture kids beds are manufactured to Australian standards.
We've teamed up with the team at Amart Furniture to find our top 12 picks for big boy and girls beds your little ones will go ga-ga over.
Bulldozer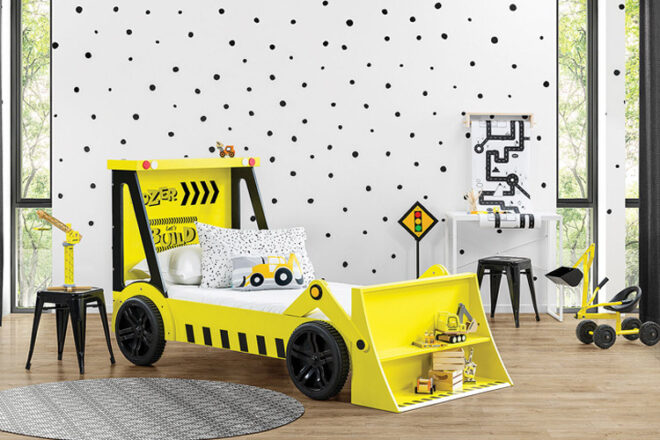 Constructed with thick durable tyres and a metal centre rail for durability, construction-loving kids will go crazy for this bed. It features a bookcase at the front for their favourite bedtime reads.
---
Teepee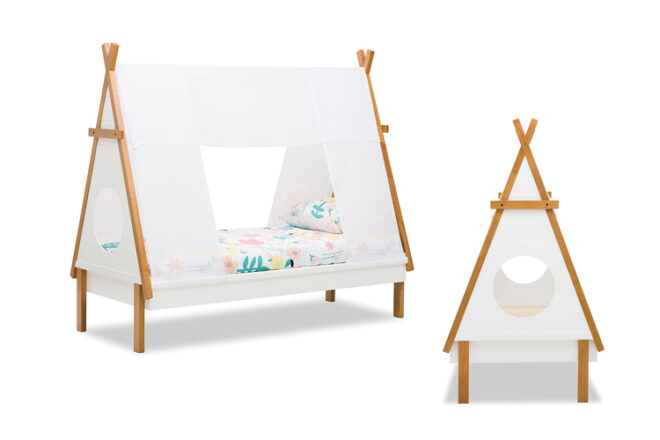 With fun peep holes on both ends, this teepee bed features a chiffon-style fabric canopy allowing for airflow and breathability. Unisex and versatile, it can be styled numerous ways thanks to the neutral tones.
---
Fire truck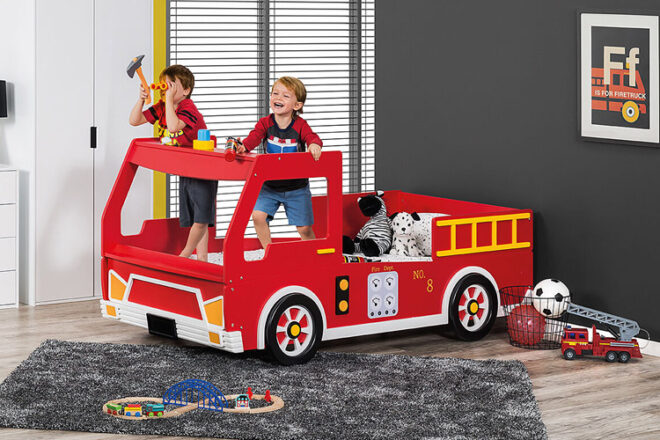 Little firefighters will have a blast sleeping and playing in this eye-catching bed. With a quality painted finish in fire-engine red (of course), it will the highlight of their room. How cute is the ladder on the side?
---
Kombi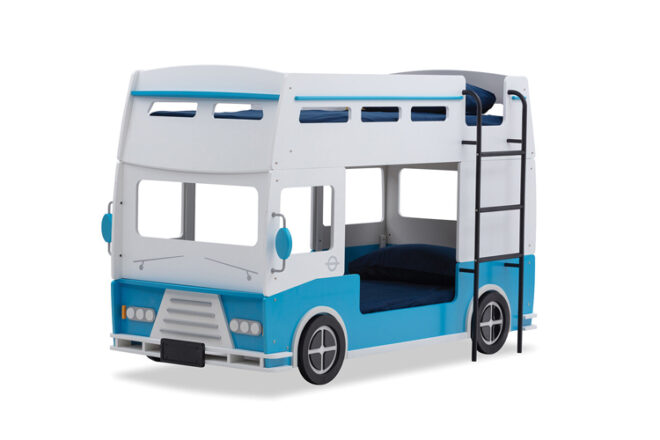 Fun by day and by night, this exciting bunk will have them heading straight to slumber town. Equipped with the cutest features, it's made with quality MDF and board construction and like all Amart Furniture beds is manufactured to Australian standards.
---
Modern farmhouse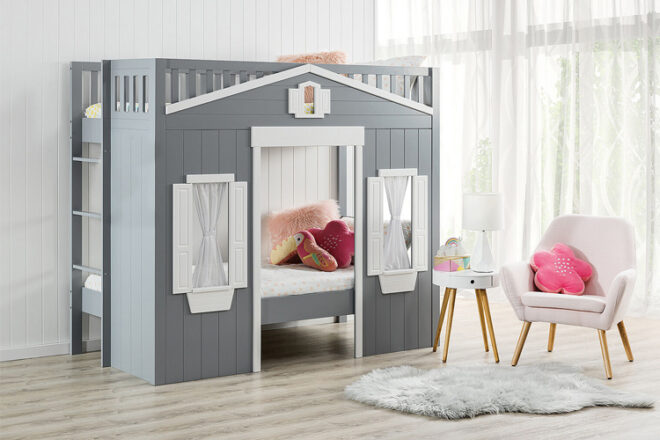 The stuff of dreams, this swish bunk features three windows with curtains, a door and built in ladder. In a contemporary stone grey and white finish, it comes with A-Z lettering for personalisation.
---
Room for two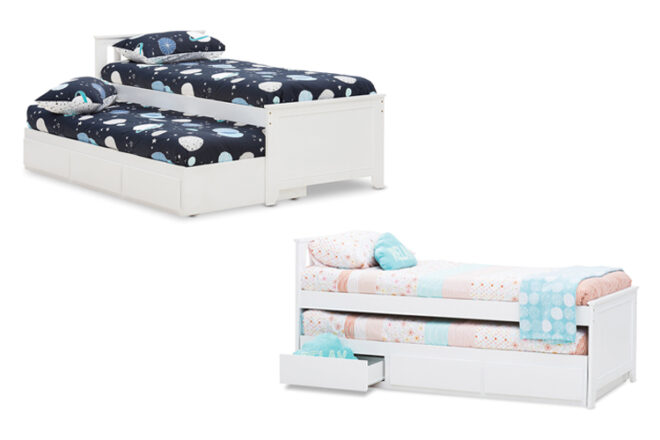 Durable, functional and versatile, this bed will see them through for years to come. Lending itself to be styled any way you (or they) like, the pull-out trundle is ideal for sleepovers and extra guests, while three drawers provide handy additional storage.
---
Cubby house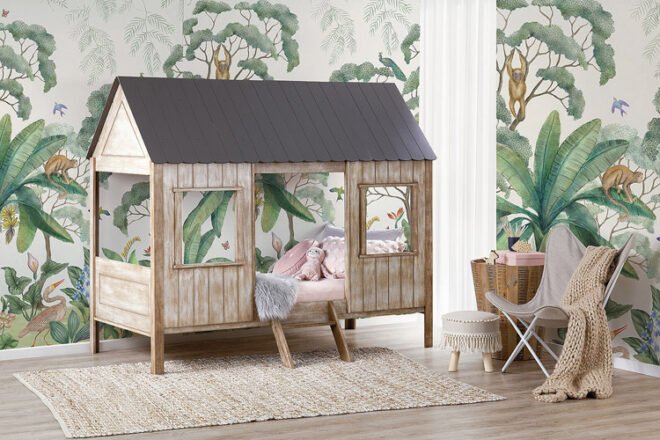 This too-cute cubby bed will spark imagination and create sweet dreams. With a realistic pecan and country brown facade, it's topped with a classic slat roof and will be the centrepiece of your kids' bedroom.
---
Vroom, vroom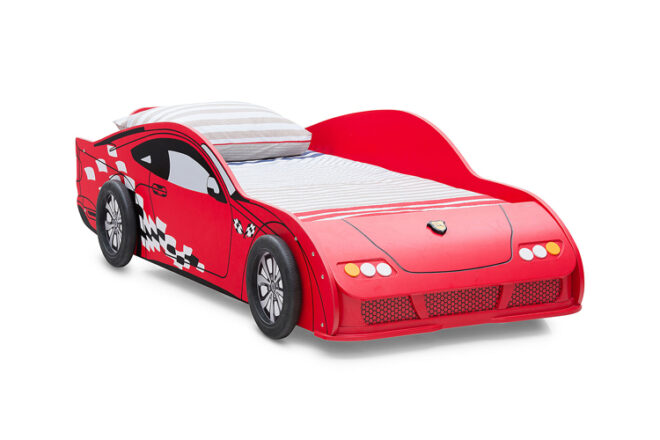 With pride of parking in their room, your little one will want to race to bed when this is where they sleep every day! Made from a durable MDF and board construction, this fun sleep solution is perfect for car enthusiasts.
---
Lovely loft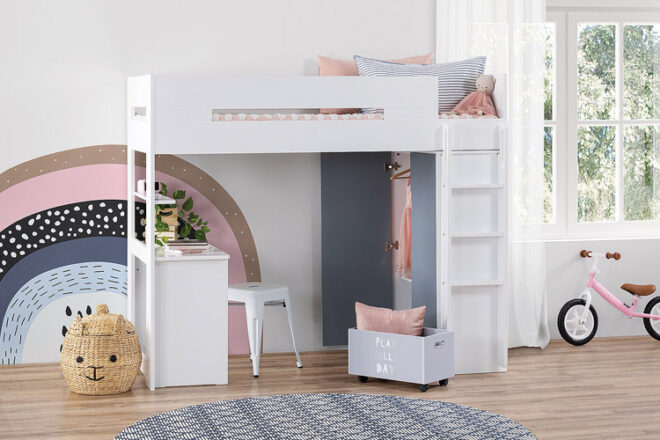 This loft bed is the ultimate package with ample storage, a study desk and a two-door robe for clothes and dress-ups. In modern, neutral colours to match any room, this bunk saves space whilst providing your little one with their own cosy space to play and learn.
---
Clever storage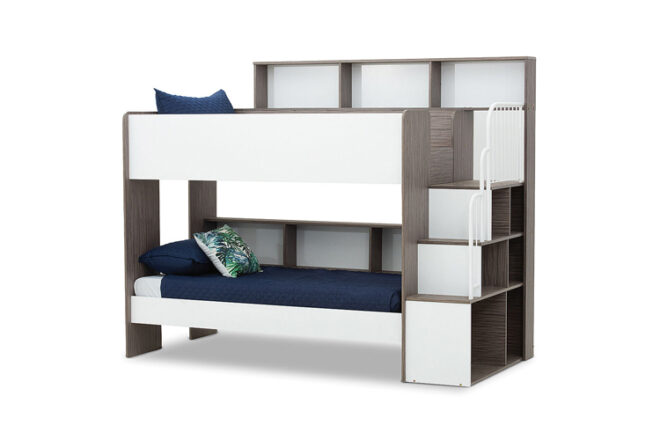 Sharing a room is fun and easy when they've got the Jason MK2 bunk. Making clever use of all available space, it features storage steps and heaps of shelf space for each child. It's a smart, practical and functional sleep solution that will grow with your kids.
---
King or Queen of the house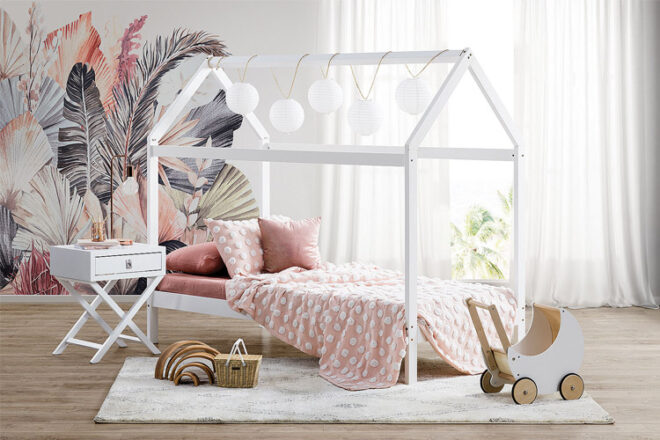 In crisp, fresh white, this fun and a dreamy single bed can stay minimalist or be customised to their heart's content. The rubberwood construction is durable and the elevated sleeping area has strong support feet and side rails for safety.
---
Sweet setup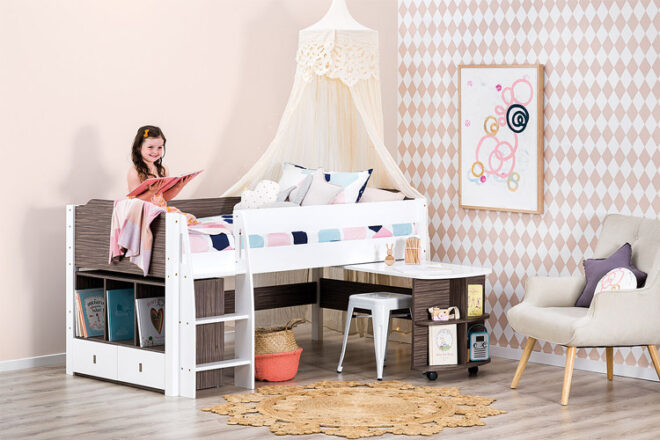 Great for small spaces, this compact bunk features a roll-out desk, side shelf and drawers plus extra storage underneath. Finished in white and dark tango, this sweet setup gives your child the opportunity to create a sense of fun between sleep and learning.
This article was written on behalf of Amart Furniture