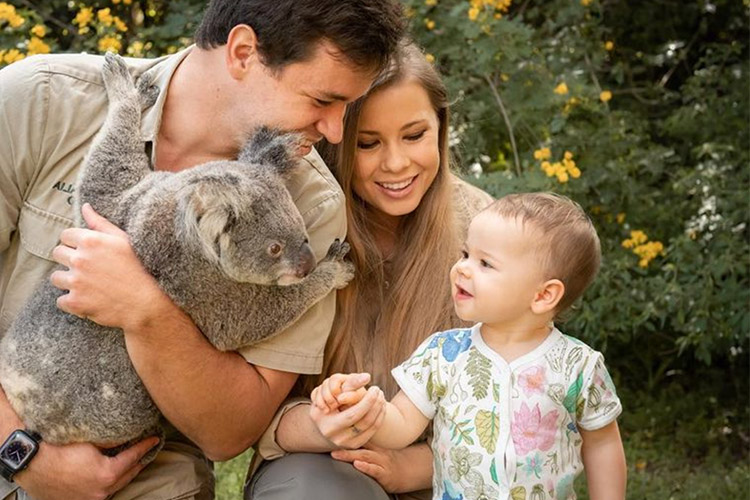 Australia is home to some of the most talented stars, who also happen to be parents. When they are not busy entertaining or educating us, these Aussie celebrities are knee deep in parenting duties, just like the rest of us!
So just what do our homegrown stars name their offspring? Here's our favourite Australian celebrity baby names of the past and present.
Harrison
Singer-songwriter Dami Im named her first child Harrison Noah, with Noah being the name of her husband – so sweet! Trendy but familiar, Harrison is one of those surname baby names that we see staying popular for some time, in fact it was number 20 on Australia's Most Popular Baby Names 2022.
View this post on Instagram
Arna
Fitness trainer Kayla Itsines and Tobi Pearce named their daughter, now three, Arna Leia which is a fresh take on Anna and gives us Frozen vibes. Arna is soon to be big sister with Kayla recently announcing her pregnancy with now fiance Jae Woodroffe. We can't wait to hear what the new addition will be called!
View this post on Instagram
Celia
Googlebox reality TV star Adam Densten and Rachel Falconer recently welcomed their first child together, a Taurean babe they called Celia. It's a beautiful girls' name and meaning 'heavenly.'
View this post on Instagram
Thomas
TV host and ray of sunshine, Edwina Bartholomew and husband Neil have two children, the newest addition being Thomas Donald Elliott who is sibling to big sister Molly. Thomas came in at tenth spot for Most Popular Aussie Baby Names 2022.
View this post on Instagram
Ahi
Moana Hope and wife Isabella Calstrom already have a daughter, Svea, and recently welcomed their son Ahi Joseph. Pronounced Are-He, Ahi is of Sanskirt or Indian origin, and has many meanings including 'cloud', 'the sun', 'water' and 'the meeting of heaven and earth'. What a beautiful nod to Moana's own water inspired name which means 'ocean' and 'the sea.'
View this post on Instagram
Glorious
Aussie model Jessica Hart and husband, former NASCAR driver James Kirkham gave their little boy a bold, unique name you don't see every day: Glorious. Unusual monikers run in the family, with big sister who is called Baby-Rae.
View this post on Instagram
Joseph
Television personality Jan Fran and comedy film director husband Al Morrow have recently announced the birth of their baby boy named Joseph Francis Morrow. Sharing a birthday with his mumma's co presenter on The Project, Peter Helliar, Joseph is affectionately nicknamed JoMo.
View this post on Instagram
Hugo
Masterchef favourite Tommy Pham and his wife Wendy named their second baby boy Hugo. This classy name is rising up in the ranks coming in at position 31 for Most Popular Aussie names in 2022. His older brother Miles is 89th on the same list!
View this post on Instagram
Minnie
Ellidy Vlug, the widow of late Australian snowboarding champion Alex 'Chumpy' Pullin gave birth of their daughter, 16 months after he tragically passed away. In loving homage to her dad, she was named Minnie Alex Pullin. Our heart.
View this post on Instagram
Maxwell
Former Bachelor winner Alex Nation recently welcomed her first child with fiancé Carson Jory. Affectionately known as Maxy Moo, his full name is Maxwell Keegan Jory, another cool surname-as-first-name. Maxwell is baby brother to Alex's first child Elijah, who is 10.
View this post on Instagram

Vada
What do Tiffiny Hall and Ed Kavalee, and renovators Kyal and Kara from The Block have in common? Both their daughters are Vada. Meaning 'knowledge, rule' this name of German roots is a bold choice for girls.
View this post on Instagram
View this post on Instagram
Grace
Wildlife conservationist Bindi Irwin and husband Chandler Powell chose the one-syllable name Grace for their daughter, pairing it with the strong middle name Warrior. Bindi said of her little girl, 'Our graceful warrior is the most beautiful light. Grace is named after my great-grandmother, and relatives in Chandler's family dating back to the 1700s.'
View this post on Instagram
Miranda Tapsell and husband James also chose Grace. Named Grace Birri-Pa Purnarrika Colley, Birri-Pa is Larrakia for Butterfly and Purnarrika is Tiwi for Water Lily and makes for a gorgeous Aboriginal name.
View this post on Instagram
Lola
Bachelor couple Matty J and Laura Bryne named their second daughter Lola Ellis Johnson, a sweet girls name which is actually 66th most popular girls' name for 2022. Their first daughter Marlie-Mae is right on trend with hyphenated baby names still going strong as ever. Former MAFS star Davina Rankin also gave her daughter a hyphenated name opting for Mila-Mae.
View this post on Instagram
Harper
Another Bachie couple Sam and Snez Wood recently welcomed another girl to their tribe called Harper Jones Wood. They also have daughters Charlie, Willow and Eve. Karl Stefanovic and wife Jasmine also have a Harper, in this case Harper May.
View this post on Instagram
View this post on Instagram
Rahiti
All-round legend Turia Pitt and Michael Hoskin's second son is named Rahiti who is big brother to Hakavai. Hakavai was named in honour of Turia's mother and their Tahitian heritage and means 'dance of the water' whilst Rahiti translates to 'sunrise.' Beautiful nature names!
View this post on Instagram
Elle
Original Bachelor couple Tim and Anna Robards named their daughter a very fashionable Elle. A lovely short and sweet first name, it means 'she.'
View this post on Instagram
Oliver
Jules Robinson and Cameron Merchant of MAFS fame called their son Oliver Chase Merchant. Oliver is of course on the most popular Aussie baby name list, in first place no less! Little Ollie can often be seen accompanying mum to work.
View this post on Instagram
Tristan
Tristan is a strong boy's name and the chosen moniker of Hollywood superstar (and former Home and Away star) Chris Hemsworth. Chris and his wife, Elsa Pataky also have daughter, India and Tristan's twin brother is named Sasha.
View this post on Instagram
Albee
Australian celebrity baby names don't get cuter than this. The Secret Life of Us star, Claudia Karvan selected Albee for her son. She also has a daughter named Audrey. Albee and Audrey – how cute is that?
Sonny
A golden name for the light of your life, Sonny is one of the names that celebs are loving. Melanie Vallejo from Winners and Losers has a son named Sonny Kingston (and also a daughter called Luna Grace – we're loving the sun and moon references). Other Aussie stars that love Sonny are Hamish and Zoe Blake and Model Elyse Knowles also has a Sunny, spelt with a u.
View this post on Instagram
View this post on Instagram
View this post on Instagram
Rocco
Rocco comes with that new wave coolness to it but isn't impossible to spell or pronounce. House Husband's Gyton Grantley selected the name for his son, born in 2016. Aussie actress Rose Byrne also opted for Rocco for her little dude.
View this post on Instagram
Evander
It's not one you hear everyday (unless you are a boxer), but the name Evander certainly packs a punch! Neighbours' alum Erin Gleave (nee McNaught) and rapper Elliot (known as Example) selected it for their first child in 2014. They also have another Ennio Stanley, born in 2017
View this post on Instagram
Valentino
It may not be the easiest name for a child to spell but Valentino certainly has a special ring to it! Offspring's Asher Keddie went with it for her first child, born in 2015.
View this post on Instagram
Hendrix
Looking to give your little one a rock star name? Hendrix is a great choice and one that Neighbours' star Madeline West and chef Shannon Bennett selected for their son. As it turns out, Madeline isn't just the queen of Australian television but also of uber cool baby names. She opted for equally edgy and x-themed names for her other children – Xalia, Margaux, Xanthe, Phoenix and Xascha.
Jennifer Hawkins and husband Jake Wall also have a Hendrix. He is baby brother to sister Frankie who has a really cool unisex name.
View this post on Instagram
Harley
Like Madeline, Home and Away's Christie Hayes opted for Hendrix for her son. She also stuck to the non traditional and somewhat bad boy name, Harley for her other son. Hendrix and Harley – the pinnacle of Australian celebrity baby names – you just know these boys are going to break some hearts when they get older!
View this post on Instagram
Lennox
Lennox is a name reserved for only the coolest of the kids and it is former Home and Away star Pia Miller's choice for her second son. Pia's first son is Isaiah who she had at 19.
View this post on Instagram
Johnas
Another former Summer Bay resident, Ada Nicodemou went with Johnas, a unique combination of John and Jonas, for her only child.
View this post on Instagram
Zayd
There is something about names starting with Z that automatically catch the eye. And Zayd is certainly no exception. The Project presenter, Waleed Aly opted for this unique moniker for his son. He also has a daughter named Aisha with wife Dr Susan Carland.
Pixie
Marketing boss Roxy Jacenko's two children are in the spotlight just as much as her. Followers will be familiar with daughter Pixie, who is of course the personality behind 'Pixie's Pix'.
View this post on Instagram
Montgomery
Although traditionally considered a bit on the stuffy side (think Montgomery Burns), this name is quickly headed towards the category of old school chic. Home and Away alum Isla Fisher and Sacha Baron Cohen named their third child Montgomery. The couple also have two daughters, Olive and Elula.
Ada
Masterchef winner Billie McKay's and husband Hayden's daughter is named Ada, currently two. The name may be short and sweet but its meaning of 'nobility' is pretty lofty – and we love it.
View this post on Instagram
Henry
Henry is another traditional name returning to the charts. Multi-award winning Aussie actress Deborah Mailman opted for the classic Henry for one of her boys. Her other son is Oliver.
Tom Hawkins and wife Emma recently added to their brood with their son, Henry Frederick. He joins sisters Arabella and Primrose.
View this post on Instagram
Aerin
Light and pure, Aerin is a gorgeous variation of the typical Erin that also resonates well with Game of Thrones fans. It is the name of TV presenter Sarah Murdoch's daughter. She also has two boys – Kalan and Aidan.
Allegra
A name with earthy connotations, Allegra has a breezy coolness to it. TV presenter Jessica Rowe chose this for her second daughter and opted for the equally eloquent Giselle for her first.
View this post on Instagram
Evie
Carrie Bickmore is another one of our favourite Aussie TV presenters who has a thing for adorable names. She selected the trending Evie for her daughter, 2, as well as Oliver for her 9-year-old son.
View this post on Instagram
Coco
It's a name so nice, you have to say it twice. Elegant and sophisticated, Coco is a big name in the fashion industry as well as for the next generation. The Secret Life of Us' Catherine McClements opted for Coco for the name of her daughter. Coco's little brother is named Quincy.
Gigi
Offspring's Kat Stewart also went with the double letters for double the cuteness. Although her full name is Georgia, Kat tends to use the nickname, Gigi for her little girl, born in 2016. Kat also has an older son, Archie.
View this post on Instagram
Lottie
Cheerful and unconventional, Lottie is a cute nickname that also works well for a first name. House Husband's Rhys Muldoon has a little girl named Lottie.
Stella
Stylish and sophisticated, Stella is what Home and Away alum Simon Baker selected the name for his daughter, opting to pair it with the unique middle name Breeze. Simon also has two sons named Claude and Harry. Aussie TV legend William McInnes also opted for Stella for his daughter, born in 1998. As well, he has a son named Clem.
View this post on Instagram
Phoenix
Aussie actress Tammin Sursok selected Phoenix for her daughter, whilst chef and restaurant owner Sarah Todd selected Phoenix for her son. Neighbours alum, Kym Valentine went with the edgy Phoenix for her little boy as well. She also has a daughter named Millanna.
View this post on Instagram
View this post on Instagram
View this post on Instagram
Scout
Another unique choice for a little girl is Scout, which is probably most often associated with the literary classic, To Kill a Mockingbird. Wrong Girl's Jessica Marais and Home and Away alum James Stewart used Scout for their daughter, born in 2012.
View this post on Instagram
Sunday
Presenter Grant Deyner and wife Chezzi opted for the name Sunday Mary Mae for their third daughter, and is clearly following the S-name trend with other daughters Scout and Sailor. Another famous Aussie Sunday is Nicole Kidman and Keith Urban's daughter, whose middle name is Rose.
View this post on Instagram
Zipporah
Doctor Doctor Rodger Corser is a fan of unique names and we love his daughter's name – Zipporah. Rodger has three other children, daughter Cilla and sons, Dustin and Budd.
View this post on Instagram
Mae
We end our list with a name that is short, sweet and simply adorable. Home and Away alum Kate Ritchie gave Mae to her daughter, born in 2014.
View this post on Instagram
Looking for more star-studded baby names? Check out these other celebrity baby names and don't miss baby names with the Z factor.