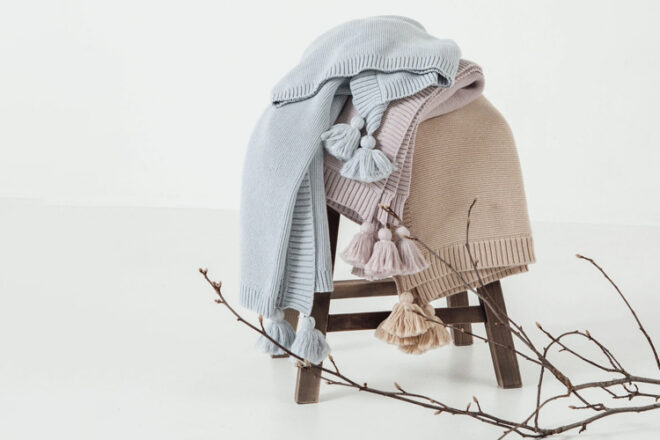 Keeping baby snug as a bug during the night goes a long way towards a better sleep (for them and for you). And as Australia's winter months roll in, there's no better time to invest in a few cosy baby blankets for cuties to snuggle into.
Soft enough to sleep with yet light enough to take on their travels, a blankie needs to provide little ones with supreme comfort while being lightweight and breathable for when the nighttime wriggles begin.
But do you go with wool or cotton? A cot size or bassinet size? Blankets come in all shapes and size, and in all colours of the rainbow, so to lend a hand, we've listed some key points to consider when you're looking for that first special blankie for your wee one.
What to look for when buying a blanket for baby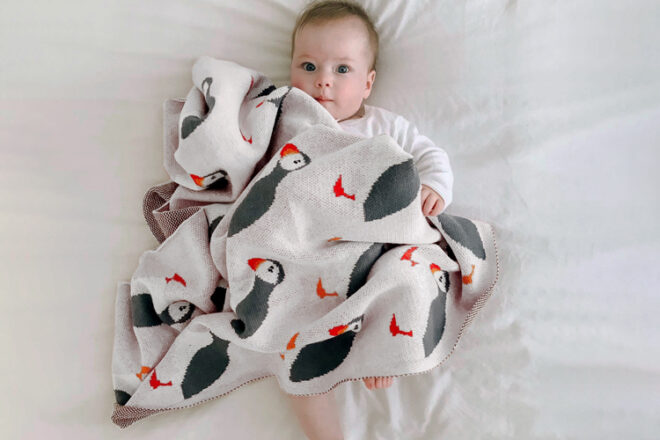 Breathability: A blankie for little ones needs to be breathable to ensure a night of safe sleep. To test, simply hold the blanket next to a fan and if you can feel the breeze through the blanket, the material is breathable.
Size: As well as keeping the baby warm, blankets make fantastic floor mats, sunshades and even nursery decoration. Size range from bassinet to cot and single bed sizes – so think about the ways you'll use the blanket before you buy one.
Ease of washing: Like all things a baby needs and uses, the bambino blanket may get a little messy. Look for materials that are machine washable and dry quickly – the sooner bub is reunited with that special blankie the better.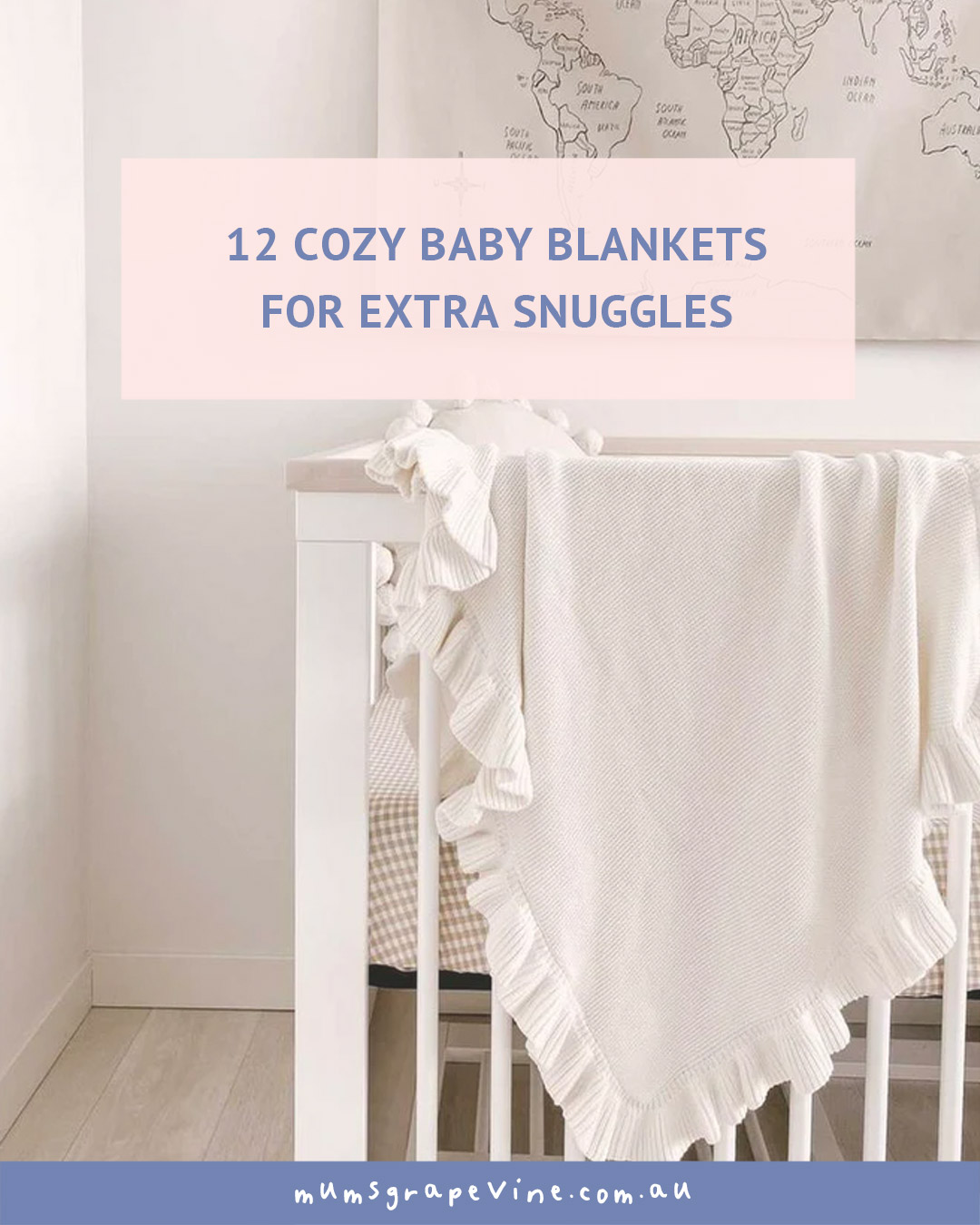 12 pint-sized blankets for super soft snuggles
To help you find a super-cute and snuggly blanket, we've compiled this list of fab brands available in Australia to get you started in your search.
Here are 12 of the best baby blankets in Australia for 2022:
Purebaby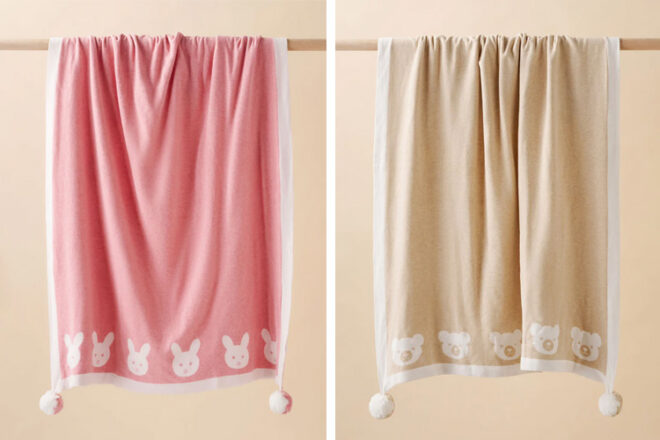 The organic cotton blankets from Purebaby are perfect for sleep, play and out and about in the pram. Buttery-soft, the delightful range features textured knits and organic cotton and wool blends, all incredibly gentle on newborn skin. How to choose?
---
Namely Co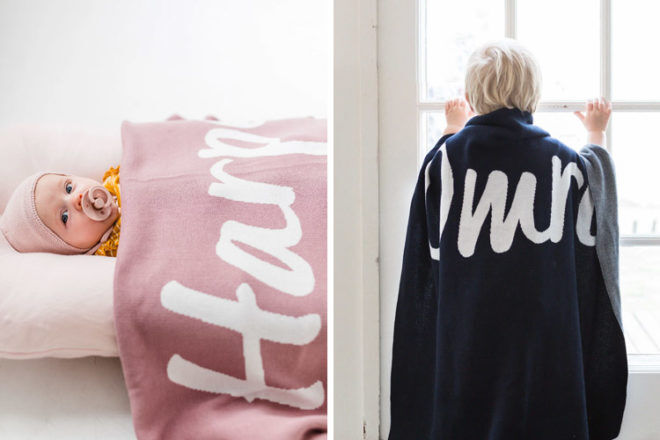 In a choice of 100% organic cotton or luxurious cashmere, Namely Co blankets are keepsakes to treasure. Whether it be sightseeing in the pram or going bye-byes in their bassinet, the blankets cocoon little ones in cosy comfort and warmth.
---
Bundl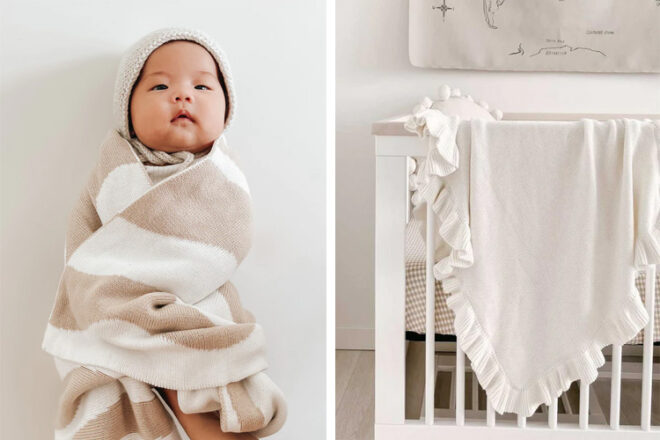 Made from 100% GOTS certified organic cotton, the uber-cool blankets from Bundl are a dream for styling, not just sleep. Generous in size with reversible designs in earthy tones, they're easy to keep looking great as they're 100% machine washable. So good.
---
Merino Mana Australia
Crafted from the finest quality Australian and New Zealand merino wool, Merino Mana blankets are keepsakes to treasure for years to come. With natural temperature regulating properties, they ensure baby stays cosy during the colder months and cool in the summer.
---
Snuggly Jacks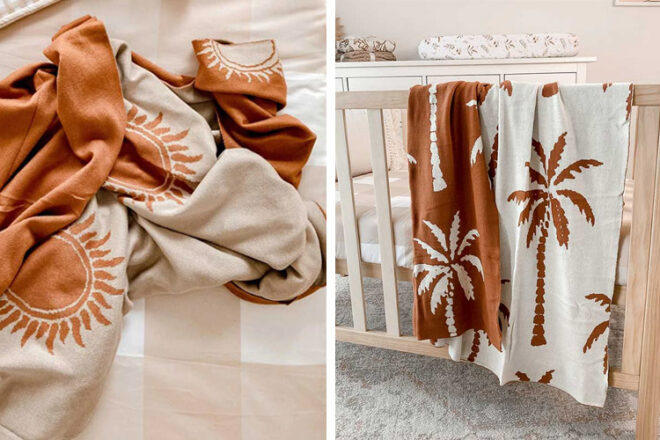 There's something for every bunny in the Snuggly Jacks range of cotton yarn infant blankets. Breathable and warm, reversible styles combine statement prints with delicious softness. Plus, they're machine washable and kind to baby's skin with no nasties or wool irritants.
---
Bengali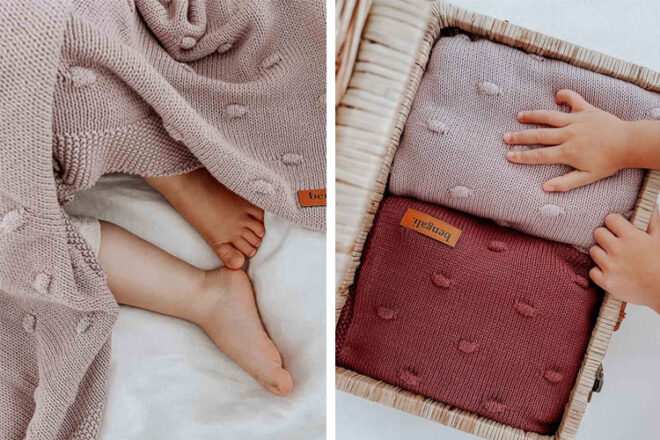 Lovingly made from certified and sustainable cotton, Bengali's range of drool-worthy and giftable blankets are lightweight, breathable and machine washable. Whether you choose a minimalist, frill or character design, these blankets will be treasured for years to come.
---
Aster & Oak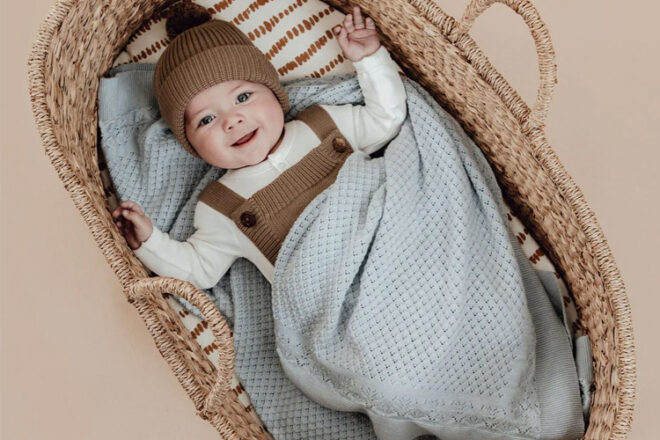 These exquisite heirloom knit blankets come in a choice of nine natural hues that will blend in seamlessly with any nursery colour scheme. Made with pure GOTS certified organic cotton and dyes, they are both environmentally friendly and gentle on baby's skin.
---
Di Lusso Living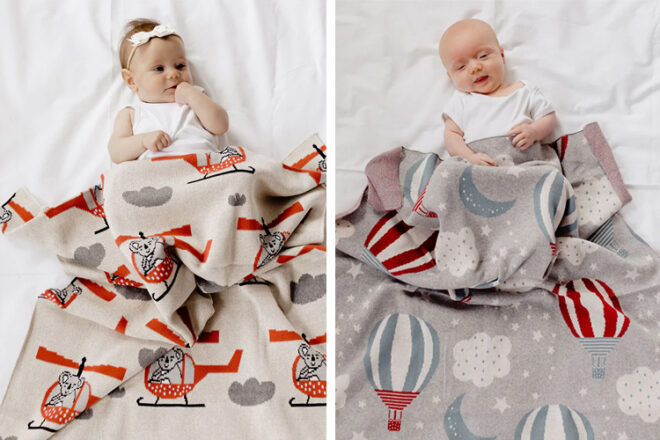 Ethically made in India from premium quality cotton, it'll be hard choosing between Di Lusso's range of too-cute designs. Machine washable AND dryer friendly, these blankets make for a memorable present coming packaged in their signature confetti gift box.
---
Minimink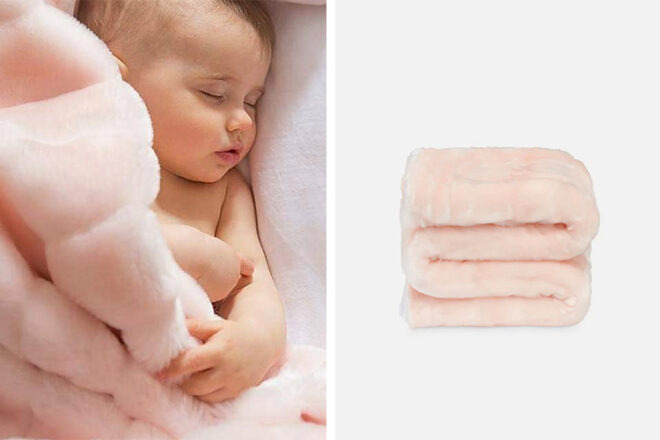 Luxuriously thick and warm, Minimink's snuggle-worthy faux fur blankets are lined with soft 100% cotton velour. Featuring a unique design with three corners and one rounded edge, they're designed to stand the test of time and make for a great gift.
---
Uimi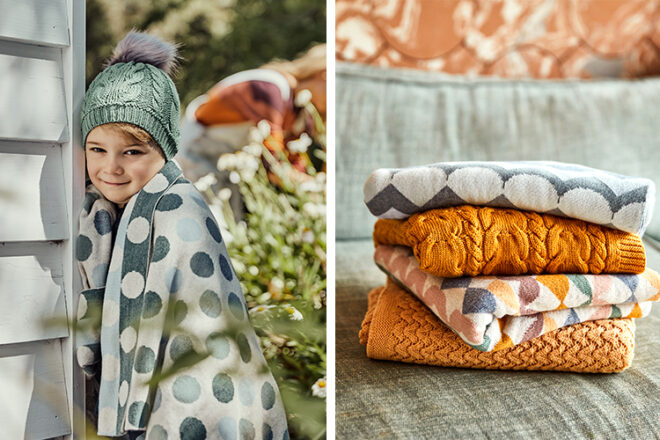 Proudly manufactured in Australia, Uimi kids blankets are made from natural and sustainable fibres that are biodegradable and breathable. Lush to touch, the Egyptian cotton and Merino wool have ideal properties for keeping little lambs warm snug.
---
Indus Design
Whatever your nursery style, there's an Indus blanket that will fit right in. Inspired by nature and made using the finest quality natural fibres, the range includes cosy reversible quilted designs, cotton weaves in adorable prints and classic textured knits in trending shades.
---
Mini & Me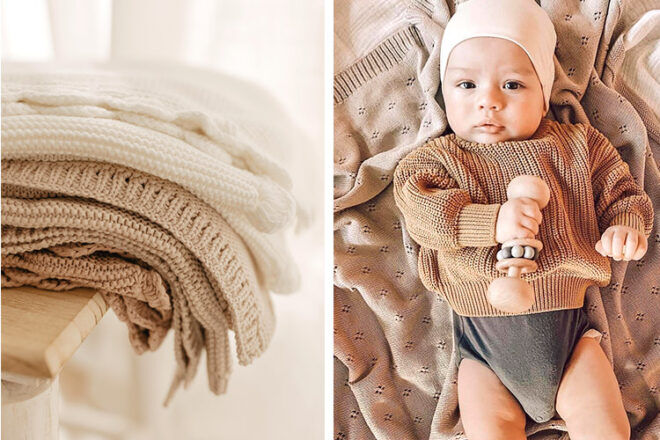 Crafted from 100% GOTS-certified organic cotton, Minie & Me blankets are breathable, soft and perfectly sized to go wherever baby goes. Choose from heirloom and cable knits, playful prints and the prettiest pompoms – the hardest part is choosing.
---
Branberry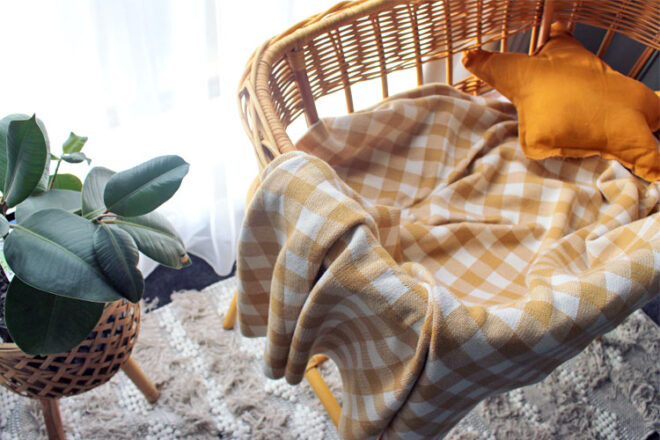 Ethically made in Ballarat from the finest natural fibres, Branberry has an exquisite blanket range for babies and kids. From cable knits and herringbone patterns to named blankets that make the perfect gift, there's something for every little snuggle bunny.
---
How many blankies does a baby need?
Many parents manage just fine with one special blankie for baby, others like to have one for the house and another for when they're out and about with the pram.
How do you safely use blankets in the cot?
According to Red Nose Australia, if you are using blankets in the cot, you should ensure baby's feet are positioned at the end of the cot and use lightweight blankets that won't cause put bub at risk of overheating. Loose bedding isn't safe in the cot, so blankets should be tucked in firmly so that they won't cover bub's face during the night.
How big is a standard baby blanket?
In Australia, sizes vary quite a bit between brands, but most blankets are approximately 100cm x 90cm and super convenient for bundling up bubs in the pram, keeping them warm in the car, or even popping on the floor as a play rug.
---
This list is loving curated by our Editors and may include affiliate and/or paid inclusions. See our Disclosure Policy.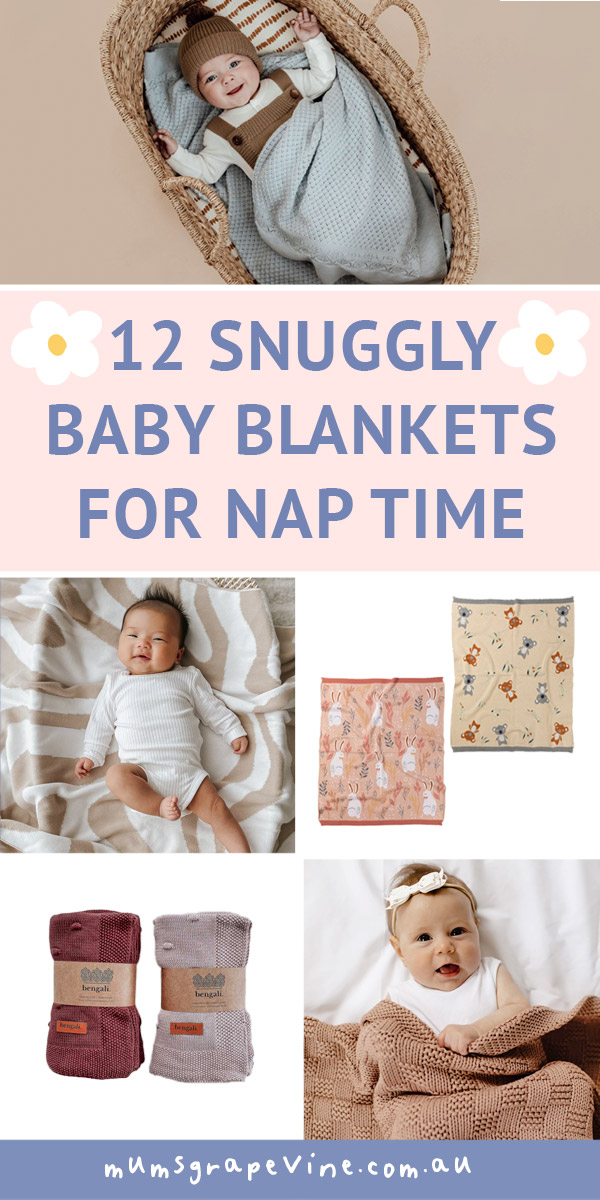 Seen an Australian baby blanket that we should add to our list? Contact us and let us know.
Read these roundups next …
Looking for more beautiful products for baby? We have Australia's largest suite of product roundups listing Australia's most coveted boutique brands – the ones you don't know about!
Read this: 48 tips for getting a babies to sleep