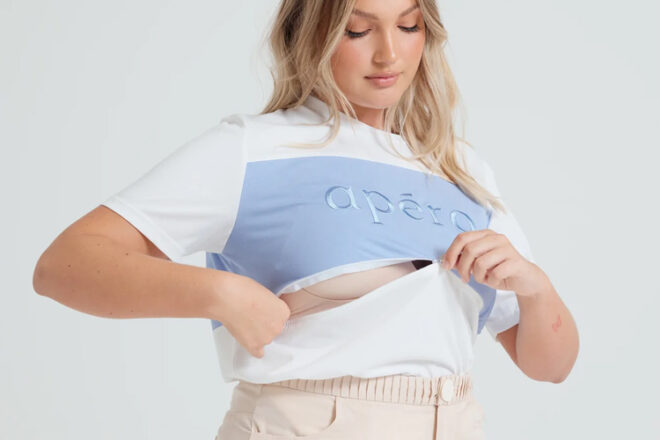 Breastfeeding clothes are designed for discrete and easy feeding or pumping without having to strip off completely. And the good news is, the best nursing tops in Australia come in fab styles for every kind of breastfeeding mum and all kinds of weather.
From winter breastfeeding clothes with hidden zips in hoodies to breezy tees with peek-a-boo holes, Australia's best brands of nursing tops cater to the style-savvy and modern mumma. Plus, many maternity garments double as nursing tops, so you can enjoy them right throughout pregnancy and beyond.
Best of all, nursing tops take the awkward fuss out of feeding time and go a long way in helping establish the perfect breastfeeding routine for you and your bub.
What to look for in breastfeeding tops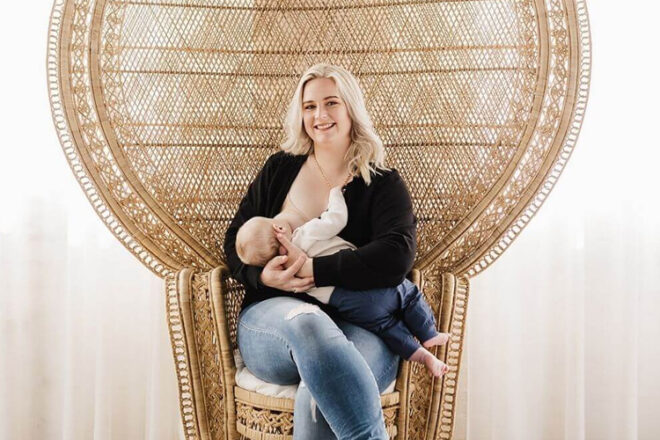 Comfort – You'll need to be able to move freely as you change up breastfeeding positions with your poppet, so avoid itchy tags and restrictive designs that inhibit comfort and ease of movement during your special feeding time.
Breathable fabric – With a tiny and rather toasty little human attached to you, breastfeeding can have you feeling quite warm, even in the cooler months. Allow air to circulate by choosing natural fabrics that breathe well to help to reduce sweating and overheating.
Longevity – If you're feeding or pumping often, your breastfeeding clothes are going to be on high rotation. Look for styles that are tough enough to stand up to heaps of wear and countless washes – as well as some tugging and pulling by curious little fingers.

12 designer nursing tops in Australia
To help you find a breastfeeding-friendly top for your lifestyle, we've compiled this list of fab brands available in Australia to get you started in your search.
Some brands have offered exclusive offers for Mum's Grapevine readers. These offers may include exclusions and expiry without notice. Please direct all inquiries directly to the linked website.
Here are 12 of the best nursing tops in Australia for 2022:
The Mylk Society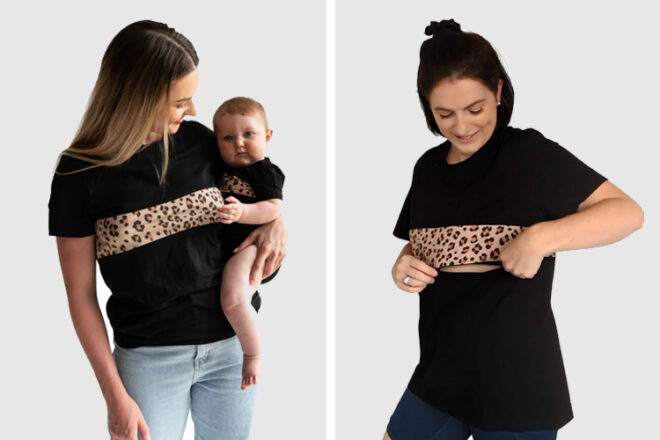 Designed and made in Australia, The Mylk Society nursing tanks and tees make it easy to achieve 'casual cool' – even after an all-nighter with bub. Crafted from gorgeous natural fibres, garments are lightweight and built to last well beyond the baby years.
---
The Milk Boutique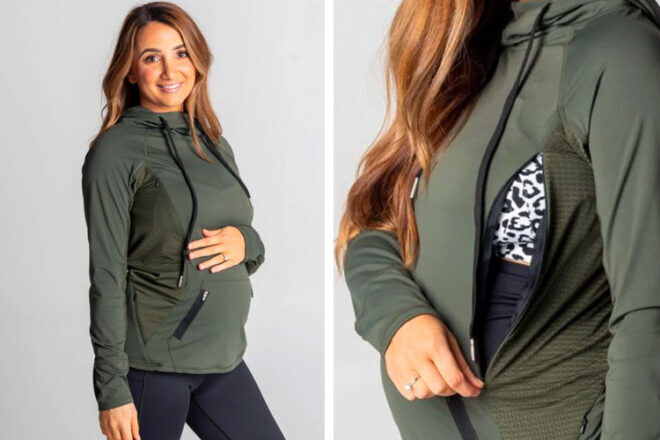 From long-line tees in 100% micro modal to nursing hoodies you'll want to show off, The Milk Boutique excels when it comes to uber cool nursing clothes for active mums. Each ridiculously comfy staple includes hidden side zips for easy feeding access.
---
Mamaway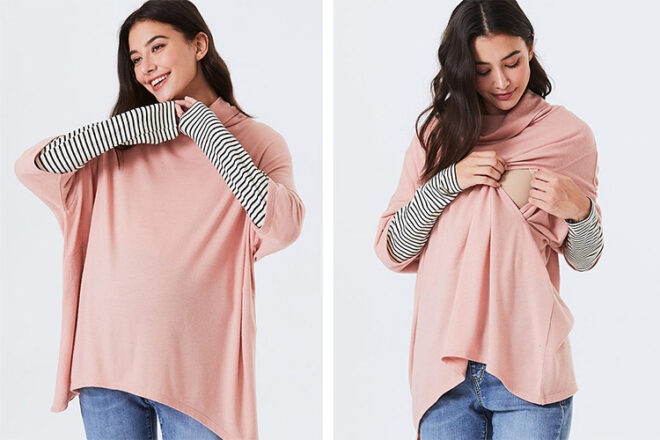 Comfy-cosy and perfectly discrete, Mamaway breastfeeding clothes come in a huge range of options to see you through your breastfeeding journey in style. The double-layered long-sleeve nursing top is a smart choice for all-season comfort.
---
OMM Label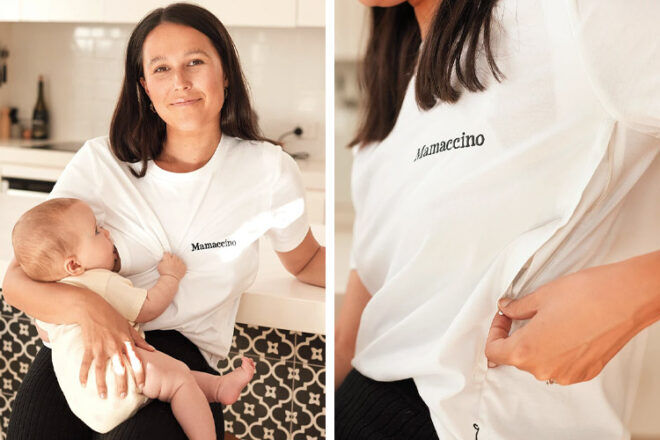 Expertly balancing casual-cool with function, Omm Label uses fun embroidered details to stand out in the crowd. Choose from tanks, tees, hoodies and dresses – all made using 100% GOTS certified organic cotton for a luxe feel you'll happily wear every day.
---
Palomino Maternity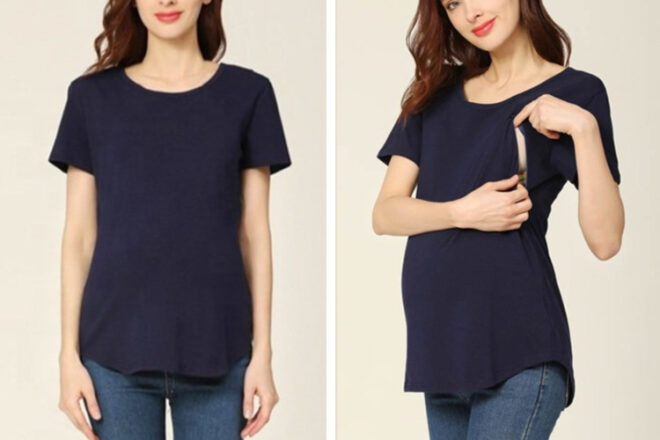 From comfy singlets and tees to roomy hoodies, Palomino nursing tops come with an affordable price tag to cover all mums no matter the season. Each piece is hand-picked to be on-trend and practical with just the right amount of stretch.
---
Apéro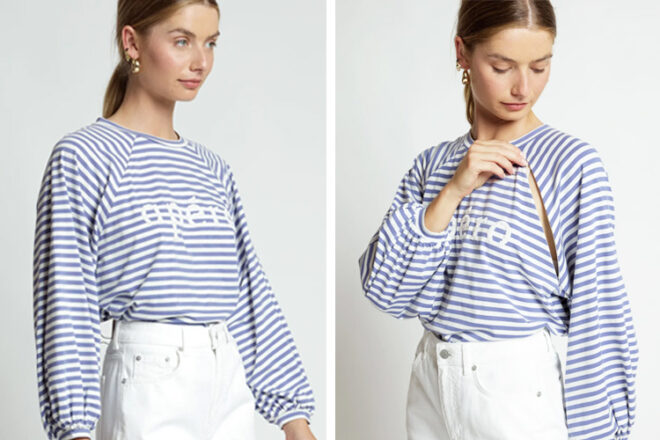 Creating french-inspired, chic pieces utilising natural materials, Apéro has tops that can be worn long after nursing as a wardrobe staple. With inclusive sizing, to-die-for colourways and very discreet zippers, options include jumpers, short and long sleeve pieces.
---
Mama Clothing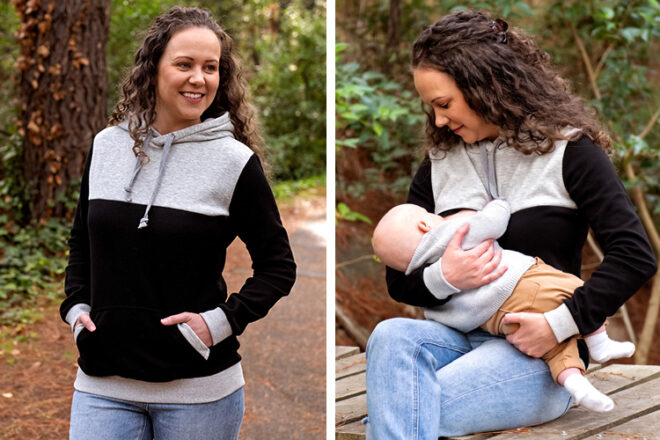 Designed by two nursing mums, Mama Clothing offers warm, soft, discreet and affordable breastfeeding hoodies. As well as an extensive range of other nursing tops for different occasions. Every mumma is covered with an impressive size range from 6 to 26.
---
For Mae Collective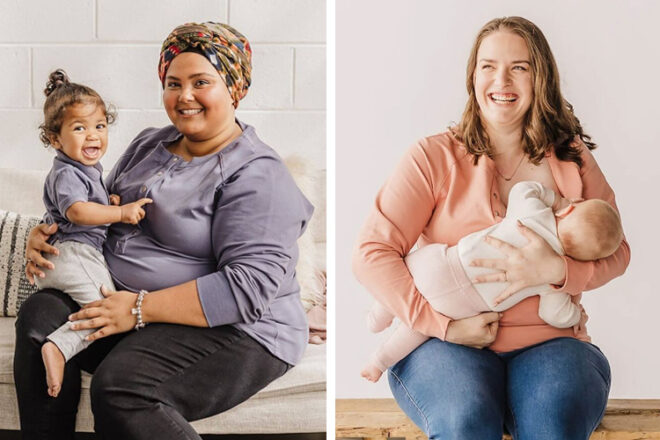 This practical range of pregnancy and breastfeeding clothes doesn't compromise when it comes to shape, comfort and style. Choose from long or short sleeve nursing tops, made from natural materials and fitted with innovative feeding features.
---
Angel Maternity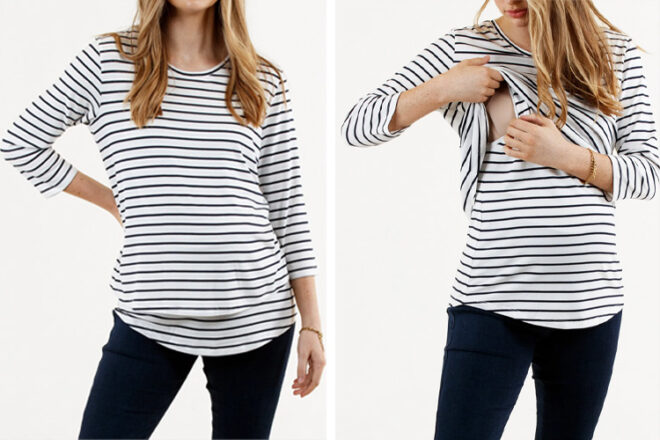 Carefully designed to make it easy for breastfeeding and pumping, Angel Maternity tops come in five different access styles including petal, snap buttons, pull-up, crossover and zippered. Choose from a wide selection of prints, colours and styles for petite to plus sizes
---
Maison Mabé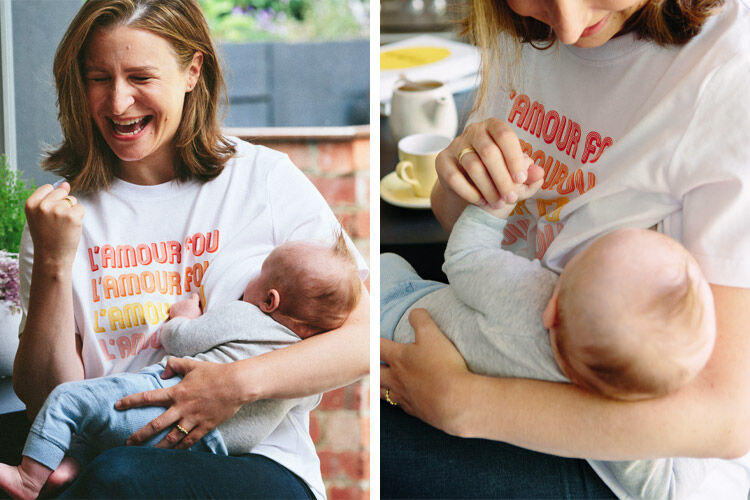 Designed, cut and sewn right here in Australia, Maison Mabe organic cotton nursing tees make one-handed feeding a cinch. With hidden side openings, styles include plain black, white and the L'Amour Fou slogan tee, meaning 'mad love' – perfect, right?
---
Mumma Bear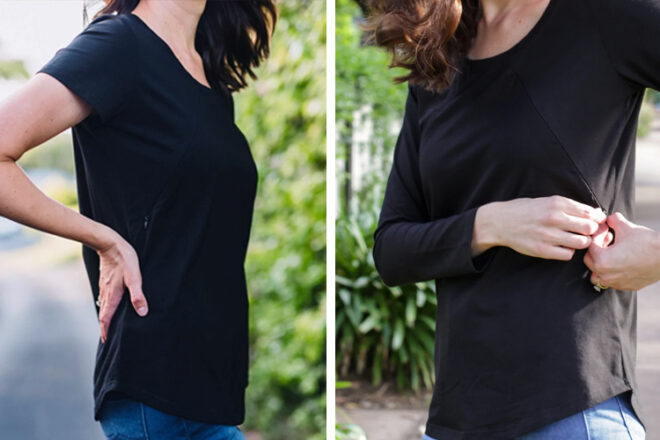 Comfortable basics for everyday wear, Mumma Bear nursing tops have a flattering cut that doesn't cling. Made from soft, stretchy breathable cotton, they feature invisible zips that open from bottom to top, clever!  Available in short and long-sleeve styles.
---
Breastfeeding Tops: Your questions answered
Buying any kind of maternity wear can be tricky, so to help you out, we've answered some of the questions that are asked the most when it comes to nursing tops in Australia.
Are nursing tops really necessary?
Nursing tops are specifically designed with button, zips or pull-apart layers to enable easy access to breastfeeding without having to remove clothes. If your regular clothes offer the same convenience, then you may not need breastfeeding tops. If you're out and about a lot of pumping while at work, nursing tops can be a godsend.
What are the best nursing tops?
The best nursing tops are gentle against the skin, easy to wash and so fab you'd never guess they're actually breastfeeding clothes. Look for natural materials, stretch where you need it and styles that will go well with the rest of your wardrobe.
Why are nursing tops also maternity wear?
Many brilliant Australian brands design feeding wear that can be worn from early pregnancy until well beyond the baby stage. Oversized tees and flowy tanks often have plenty of room to accommodate a growing bump, and later, a growing babe.
---
This list is loving curated by our Editors and may include affiliate and/or paid inclusions. See our Disclosure Policy.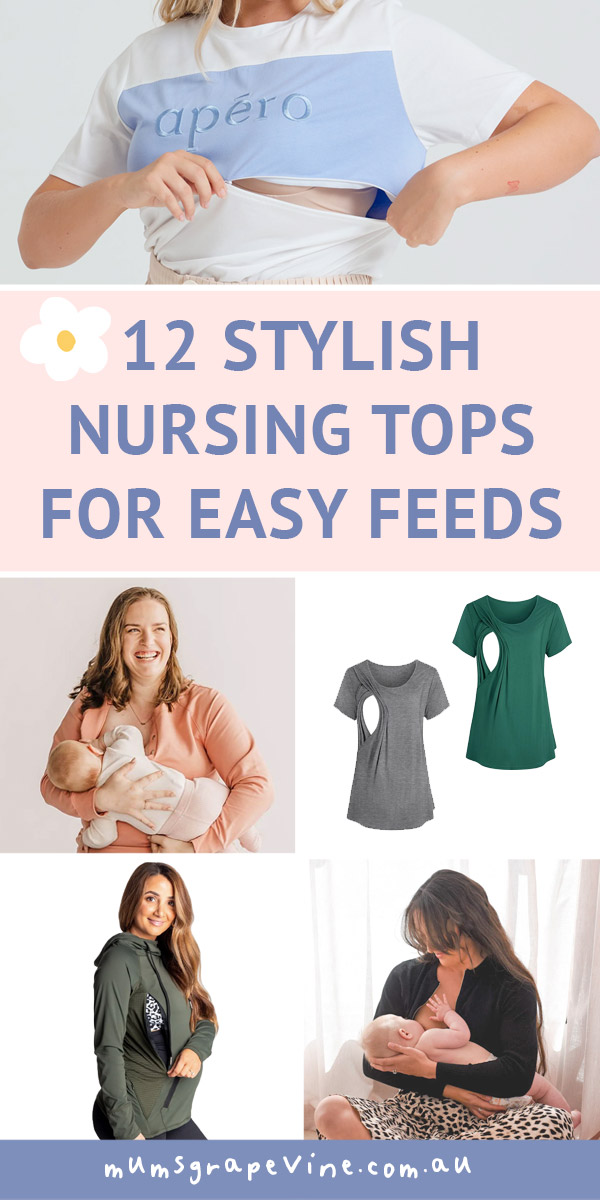 Know a brand of breastfeeding tops we should add to our list? Contact us and let us know, we've been collating Australia's best baby products into shortlists for over 14 years and we're always happy to support new brands and businesses.
Read this: 50 easy ways to increase breast milk supply
Thousands of Aussie mums in our Mum's Grapevine Facebook Baby Groups are asking each other for product recommendations right now. And you can too. Join our groups today!