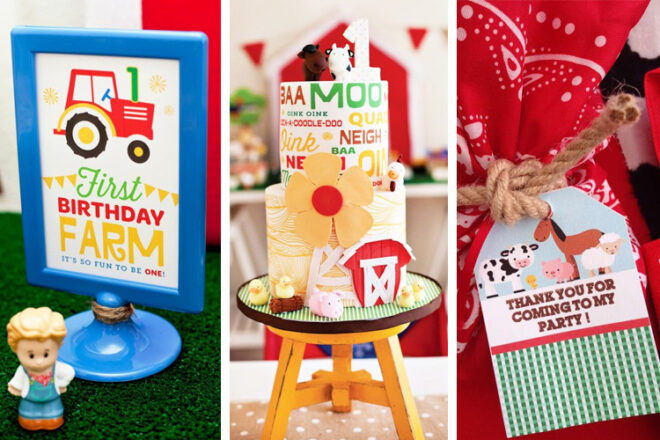 Old Macdonald had a… birthday! If your little one loves animals, tractors or just having a knees-up good time, then a farm party theme is an absolute must.
Apart from being made for fun times, a farm theme is one of the most flexible going around. Not just for first birthdays, a farmyard party can be easily adapted to different ages and is gender-neutral to boot.
To help inspire your little one's party, we've put together the ultimate guide to planning a farm party. E-I-E-I-O let's go!
(Images via Hostess with the Mostess and Catch my Party)
Top 5 farm party tips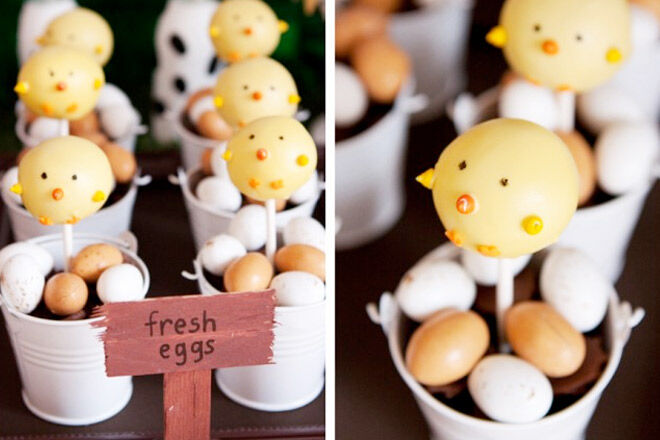 Think country classic when it comes to colours – cherry reds, grass green and sky blue will create a sunny colour palette.
Add lots of farm-y textures to your party – hay, hessian, grass and wheat are all great options. You'll create a sensory wonderland for tiny tots.
A farm party is really all about the animals, but they don't have to be of the real, live moo-ing, oink-ing or baa-ing type! Let your games, decorations and food choices bring the animal vibe.
If you are hosting at home, think about how your entrance can help transport party-goers (at least in their imaginations) to the farm. A "welcome to the farm" sign or crunchy hay bale by the door will set the scene.
When we think farm, we think friendly, cosy and homemade, so don't sweat the details. The beauty of a farm party is that you can embrace the rustic and kick up your heels for some good Old Macdonald times!
(Image via Pizzazzerie)
Farm party venues
With the option to host indoors during the winter months and outside when it's warmer, farmyard parties are incredibly versatile. Venue possibilities range from local working farms and petting zoos to hiring a mobile farm to come visit you and the tots at home!
Your garden
A local farm
Petting zoo
A park
Scouts hall
Working farm
Farm party decorations

With a colour palette featuring grass green, rustic brown and red-and-white gingham galore, a farmyard party is super easy to put together and can be completely gender-neutral too. We like the sound of that!
Hay bales
Blackboards with hand written signs
Homemade barn doors
Gingham bunting flags
Hessian sacks
Milk pails
Egg boxes
Hessian or bandana garlands
Bunches of wheat
Sunflowers
Pinwheels
Tractor tyres
Wooden crates
Cow print balloons
(Images via Call Me Lore)
Farm party games & entertainment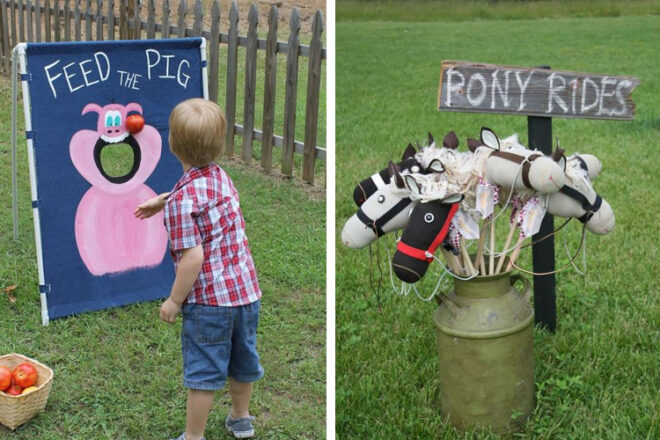 When we think of farm parties, we think good ol' fashioned fun, so why not re-invent some classic party games by giving them a farmyard twist.
Farm dressups: help guests get into the farm party spirit by providing a farmer dress up station – bandanas, cowboy hats and sprigs of wheat all round!
Barnyard beanbag toss: create a farm-themed target for guests to aim their beanbags at. A barn shape, tractor or animal shape would work.
Pin the wheel on the tractor: make everyone's favourite piece of farm machinery the star of the show with this easy twist on an old favourite. Don't forget the gingham blindfold.
Musical hay bales: just like musical chairs, only more farm-like!
Animal mask craft table: set up a table with paper plates and elastic to create the masks and plenty of decorations, like coloured paper, glue, pipecleaners, ribbons and glitter… anything you can think of really. Then let your kiddos get their craft on creating crazy animal masks.
Pony rides: party-goers can giddy-up and race around on hobby horses, which you can DIY with felt if you're handy with a sewing machine, or pool noodles if not! (felt via Lia Griffith and pool noodles via Pinterest)
And if you're lucky enough to be at an actual farm, milking cows, tractor rides and feeding lambs are all farm-tastic ways to entertain and excite guests.
Farm party cakes
A farm party isn't complete without a farm-themed cake. But if you're E-I-E-I-Out of ideas, then consider some of these.
Use your kiddo's animal figurines to decorate the top of the cake
Pop a toy tractor on top and ice on some plough marks
Use smarties to map out the shape of an old-fashioned red barn. Use kitkat sticks or ice on some fencing to complete the picture
Use black and white icing to create a cow patterned cake
Bake cupcakes and arrange them into the shape of a tractor or animal and decorate on theme
Farm party food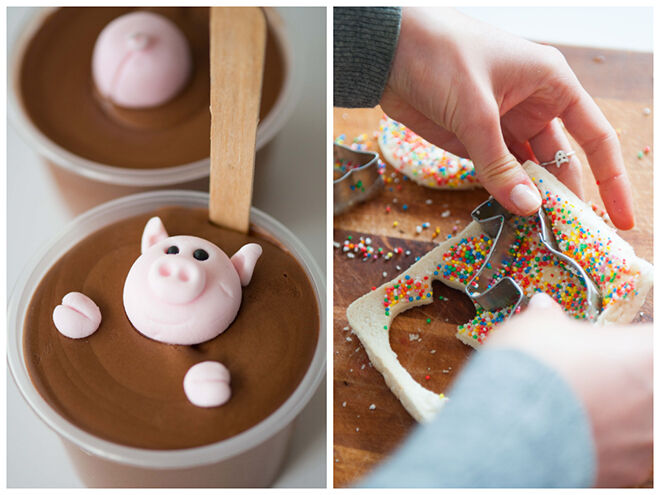 Farming is hungry work, so have plenty of food on hand to fill up your Young MacDonalds' bellies.
Pretzel "hay stacks"
Fresh fruit and veggie sticks in baskets
"Tractor tyre" chocolate dipped doughnuts
Mini sandwiches in animal shapes
Grilled corn (straight from the field!)
Animal-shaped cake pops or biscuits
"Chicken feed" chips or trail mix in mini buckets
Pigs in blankets
Fairy bread cut into animal shapes
A stack of rice bubble "hay bales" (e.g. LCMs)
Chocolate mousse "pigs in mud"
Old Mac-n-cheese pasta bakes
Farm party favours

Party bags can also be given the Farmer Joe/Josephine treatment. Stick with the theme set by your choice of colours and decorations and give your guests a fond farm farewell with these treats.
Use Egg boxes instead of bags
Wrap up goodies in farmer bandannas
Give jars of homemade (or bought) treats with gingham lids
Make delicious Farmer cookies
Fill mini pails with milk bottle lollies
Hand out colourful paper windmills
Bubble wands dressed as carrots
(Images via Call Me Lore and Catch my Party)
Read next …
Looking for more party ideas? From birthday cake inspiration to detailed party planners, there's a whole host of fun right here: