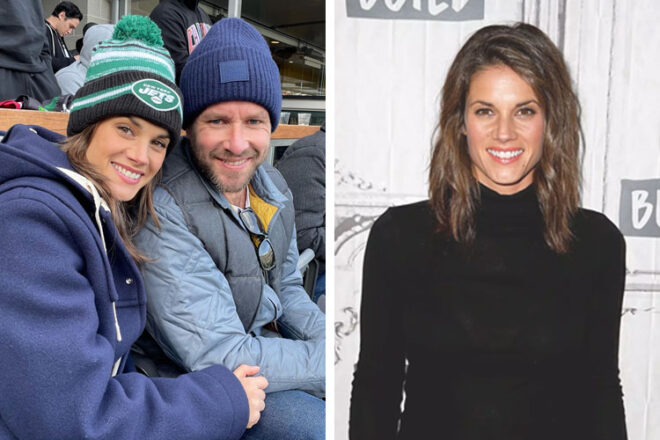 Actress Missy Peregrym and Australian husband Tom Oakley have welcomed their second child, a baby girl named Mela.
Posting to Instagram a couple of days ago, Missy, who is best known for her role on the TV show FBI announced that her second baby had arrived with a post on Instagram. The photo shared showed her two-year-old having a snuggle with his new little sister followed by a beautiful caption detailing her experience on how the couple's little Gemini entered into the world.
"Mela Joséphine Oakley arrived on 06/06 at 3:22am" she shared, divulging that their little girl arrived at the beginning of last month.
View this post on Instagram
Missy then went on to reveal that although she gave birth in the hospital for her first pregnancy, this time around she opted for a home water birth.
"I had the most profound experience – after a hospital birth with Otis, I chose to partner with Jo @nettlewellness and Alice @alnewby to have a water birth at home.
"It's usually all about the baby, but this time, I was also cared for in every way, before, during and after the birth. I was scared and supported, excited and cheered on, fully seen and heard. Lots of tears, questions and just as much laughter.
"I am so grateful I had the room to choose every step of the way, rewarded with the most calm, gentle entrance into the world for Mela. (I wouldn't describe MY part of the birth gentle 😂)"
She also made special mention of her husband Tom in the caption, thanking him for staying right by her side.
"I can't say enough about how much Tom stepped up to allow me to rest and do what I needed to be present. In no way has our journey been easy, but it has been full and I'm incredibly blessed that he's my partner. On my left, holding my hand throughout the birth was @priscillafaia, my best. She turned down work to be with us, choosing to share in the transformation of our family, which she is a part of. I feel loved. I want this for every mother, that they would be surrounded with strength."
View this post on Instagram
Earlier in the year, Missy announced her pregnancy in an adorable video posted to Instagram. She captioned it:
"My best effort at an "adorable" announcement 😂 Come on, I don't have time for that. What I will always have time for, is this family, and I'm psyched that we are adding a new babe this summer ❤️ #ripsleep"
View this post on Instagram
Missy and Tom who were married in 2018 and already have one son together, Otis who is an adorable little Pisces baby born on the 21st of March 2020. The Canadian actress announced the birth of Otis in a similar fashion to Mela, announcing his arrival over a month later with a very sweet Instagram. Missy captioned the photo:
"❤️Otis Paradis Oakley❤️ Born March 21st
These afternoon naps are the *greatest* feeling in the world
A huge thank you to Dr. Brennan & his wonderful wife, Jais, as well as the staff at Lennox Hill for helping us bring our son into this (crazy) world. Thank you for continuing to be there for new families during this time.
#blessed"
View this post on Instagram
Although two-year-old Otis isn't always featured on Mum's Instagram page, he does make small cameos every now and then – our favourite being this post from last year's Halloween custom where the super cute family of three all dressed up as the loveable football coach character Ted Lasso. Otis seemed to enjoy it very much…
View this post on Instagram
We want to wish a huge congratulations to Missy and Tom on their growing family. We can't wait to follow along on their journey as parents of two babies under the age of three.
Read next …
Missed the latest celeb baby news? Catch up with these articles:
Don't miss any celebrity baby and pregnancy announcements, subscribe to our newsletter and be first with the news.