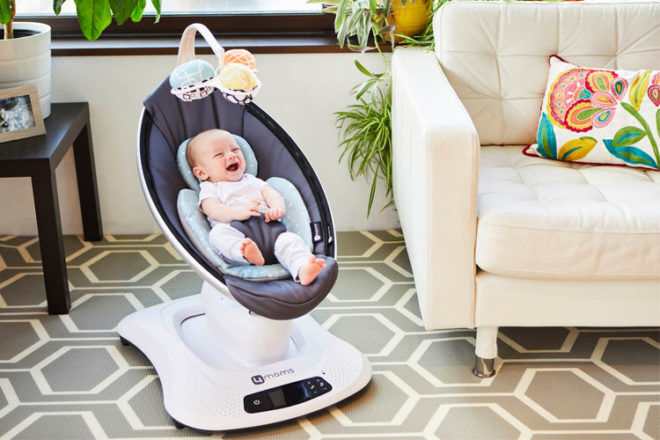 Holding a baby is pure bliss but as much we love to snuggle our little bears, there are times parents need a bit of hands free time too, and that's where a baby rocker swing is so convenient. It holds, entertains, soothes and settles infants so you're free to take a quick shower, make dinner, do some work or have a cuppa in peace.
Rocker swings are a gentle way to comfort babes through swaying or swinging motions and they distract fussy tots by playing sweet sounds or with hanging toys.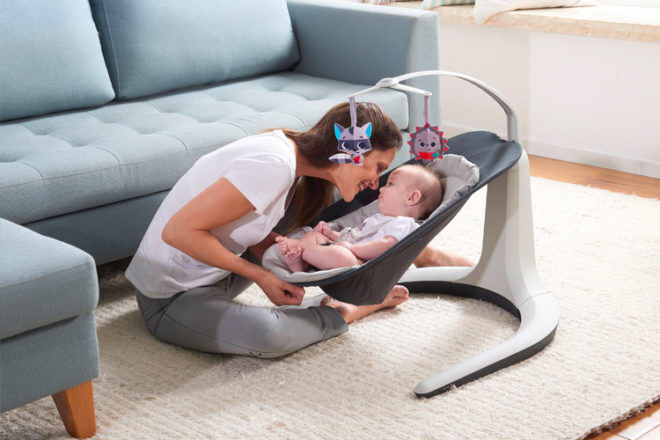 Tips for buying a baby rocker swing
Does it come with a in-built safety harness?
Can it be packed away and stored easily?
Does it swing side-to-side or front to back?
How is it powered? Is it battery operated, powered by electricity or does it only swing manually?
Does it come with extra features? (eg. glide, stream music, control swing settings via an app)?
Will you want to store it and use it for future children?
Are there different speed settings?
Does the cover come off for washing?
Have you tried a friend's first to see if your baby likes it?
Can you turn the music off when in use?
Got a tip we should add? Let us know contact us.
11 baby rocker swings in Australia 2022
To help you find a safe and soothing rocker swing, we've compiled this list of fab brands available in Australia to get you started in your search.
Here are 11 of the best baby rocker swings in Australia for 2022:
Tiny Love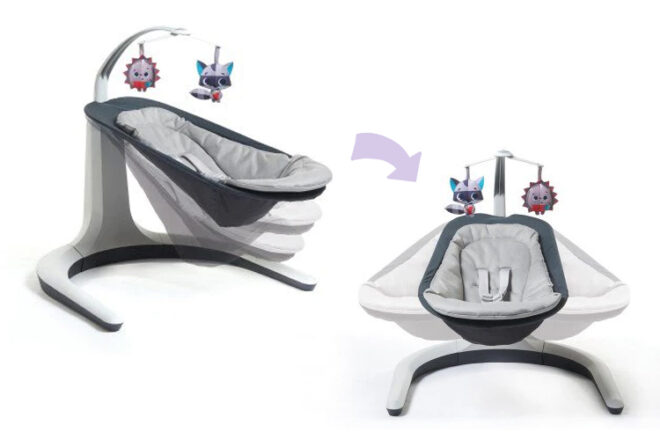 Soothing swaying and entertaining bounces make this baby swing a secret weapon when it comes to settling bub. The motion is completely created by either baby's own movement or a parent giving the seat a little push. There are 19 tunes to choose from, cute characters to play with as well as a soft, padded seat that's easy to wash.
---
Fisher-Price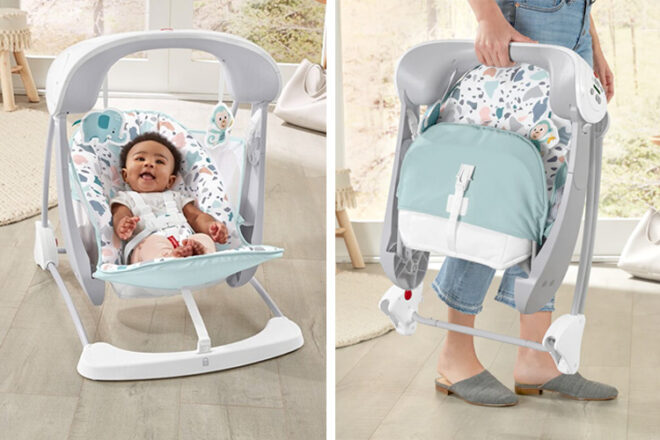 An easy-fold frame with handle means plenty of fun no matter where you are. The Take-Along is an infant seat and swing in one with calming vibrations, six swing speeds and 12 songs and soothing sounds. The seat pad is deep and comfy, and completely machine washable. 

---
4moms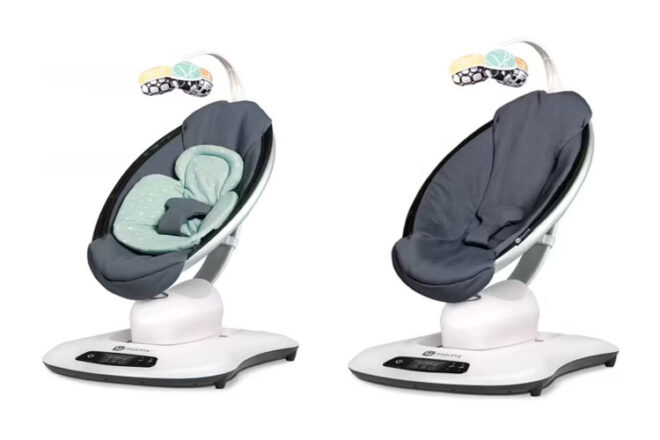 When it comes to tech-savvy swings, the MamaRoo is riding high. It sways from side to side, but also bounces up and down, mimicking a comforting parent's movements. With five different motions and five-speed options, it means there are 25 combinations to make sure bub is happy. Play one of the four in-built sounds or plug in your own device.
---
Childcare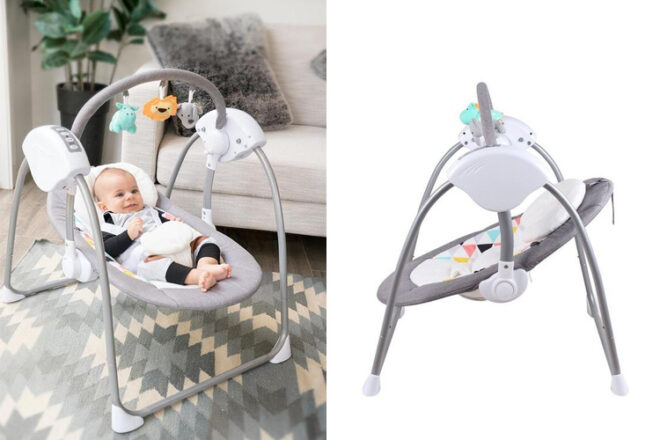 A light and compact baby swing, the Nesso Mini has five different speeds to choose from and sounds and melodies to entertain. The removable toy bar engages fine motor skills and the seat's two recline positions are perfect for getting babies in just the right comfy spot.
---
Munchkin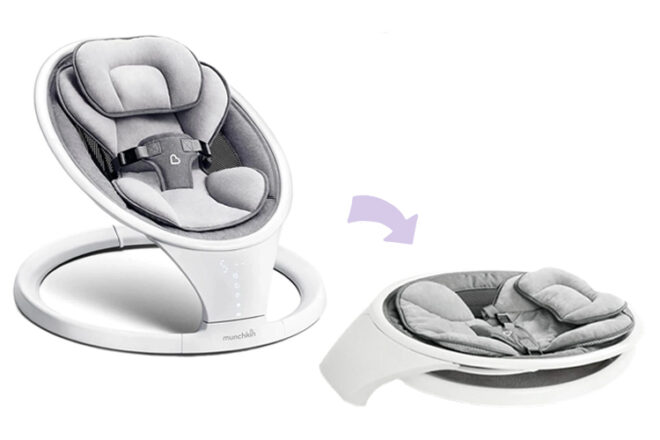 Weighing only 3.4kg, the Munchkin electronic swing collapses in seconds making it easy to tote around with you. With five side-to-side swing settings, you can choose one of the eight ambient sounds, four classical pieces or connect to bluetooth to help transport bub to lullaby land.
---
Ingenuity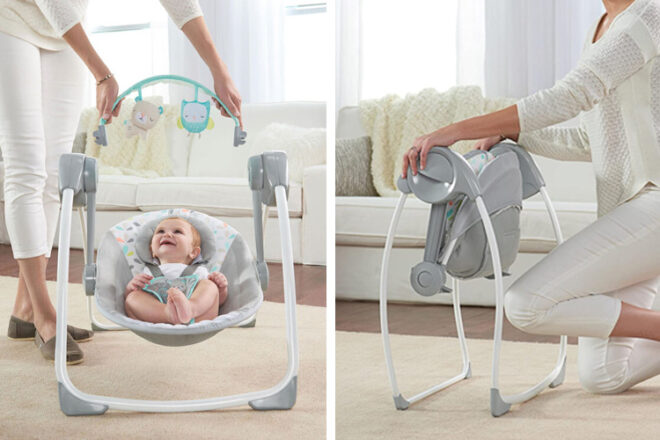 Everything you need in a baby swing in a petite package, the Comfort 2go has two recline positions, three timer settings, technology that makes it whisper quiet as well as eight melodies. And when you're done it folds flat for easy storage or taking on the road.

---
Joie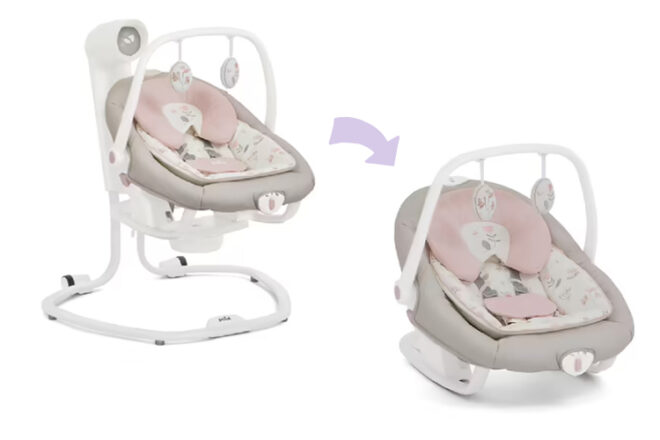 The Joie Serina does double duty as a swing and a portable rocking seat. Six swing speeds, a three-position reclining seat, two-speed soothing vibration, and ten different songs and sounds all combine for a handy hub to keep bub content.
---
Childcare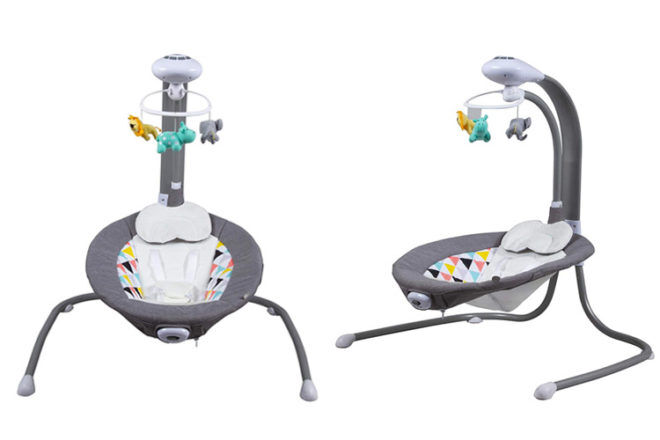 A reclining seat means premium comfort while the 12 melodies engage bub's senses as the Pendule Cradle Swing moves through one of five different speeds. The detachable mobile with three animal toys is the perfect distraction device during the witching hour.
---
Nuna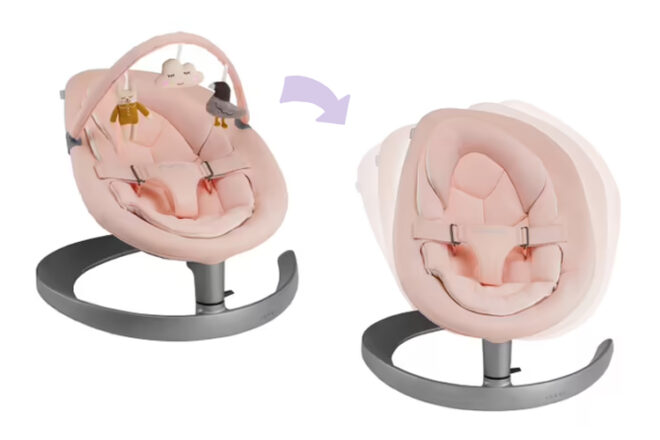 A little bit swing and a little bit rocker, the Nina Leaf Grow is as aesthetically beautiful as it is practical. Inspired by nature's gentle breeze on floating leaves, the smooth side-to-side motion just needs a gentle push to get it going for over two minutes of hands-free swinging. There are no motors, no batteries, no cords, just quiet swaying.

---
Oakleigh Home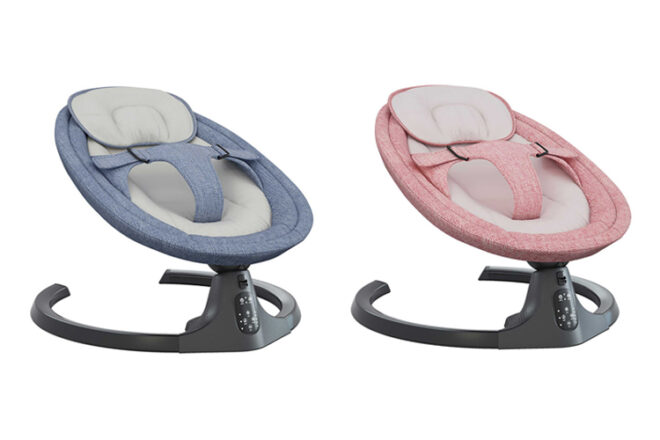 Available in blue, pink or grey linen, the Oakleigh Home battery-operated swing features 12 in-built lullabies and a gentle swing to calm and soothe. Fitted with a premium washable seat pad, other extras include an adjustable canopy with toys, bluetooth capabilities and timer function.
---
Tiny Love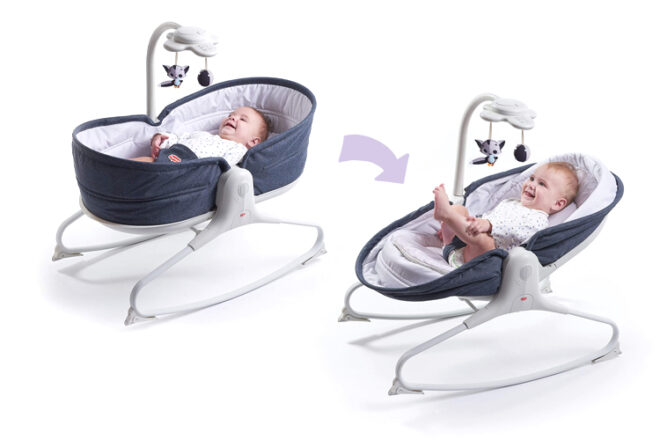 Easily converting from a comfy napper to a seat, this attractive Tiny Love number features three reclining positions and cute musical toys. Battery-operated, it's suitable from newborns up to 9kg as a rocker and 18kg as a seat.
---
Baby Rocker Swing: Your Questions Answered
Buying any kind of swing for your baby can be tricky, so to help you out, we've answered some of the common questions mums ask when it comes to baby rocker swings in Australia.
Is it safe to let a baby sleep in a rocker swing?
It is not safe to leave a baby to nap or sleep overnight in a rocker or swing. According to RedNose the incline of the seat causes a risk of positional asphyxiation. So long as your baby is awake and supervised at all times, they can safely stay in a rocker swing for up to 30 minutes. If baby falls asleep, remove your tot from the swing and place in their cot or bassinet.
What age can a baby start using a swing?
Babies can start using a baby rocker swing from around three months of age. However, some brands have inserts making them suitable for use from birth. Always check the age recommendations when purchasing and follow safety precautions when in use.
Do you really need a baby swing?
Baby swings help calm and soothe fussy babies by imitating parent movements, and while not classified as a baby essential, you may decide that a rocker swing will give you some much needed hands-free time. They help calm and soothe fussy babies by imitating parent movements, while added features such as in-built music, sounds or Bluetooth capabilities add to the soothing experience.
---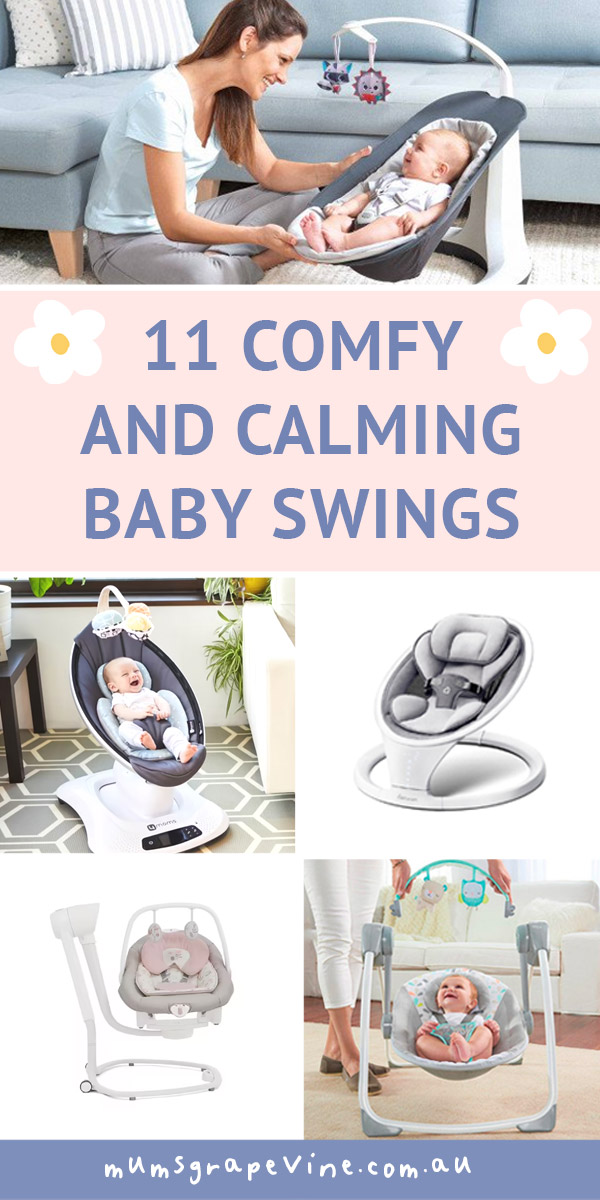 Know a brand of baby swing we should add to our list? Contact us and let us know.
Read these roundups next …
If you're after more helpful products for bub, you're in the right spot. From blankets to cloth nappies, our lists include Australia's most coveted brands and stores.
Read this: 9 ways to settle a crying baby