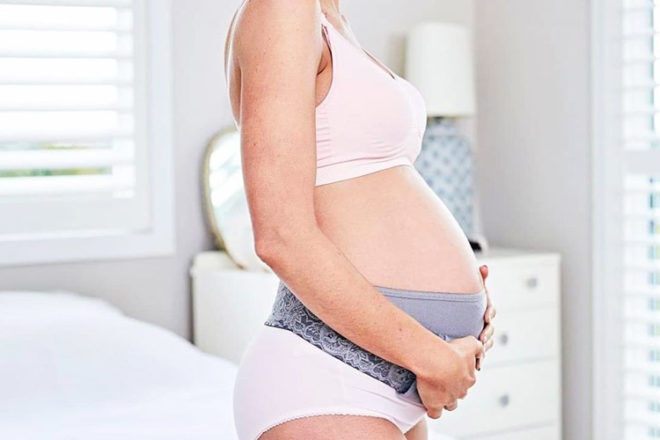 Before you hit the shops and invest in a pregnancy belt, read our list of Australia's best belly bands to help get you started in your search.
A great support belt or belly band helps ease pressure and back pain felt during pregnancy. And a beautiful round pregnant belly is the star of the show, so it pays dividends to look after the support acts: your neck, back, pelvis and hips.
Thankfully, buying a maternity belly band or pregnancy support belt could help ease some of the discomfort caused by a fast-growing belly during pregnancy – ahh, sweet relief. Like a great friend, they're there to lift you up. Whether you're feeling pressure in your back, pelvis or hips, there's a belly band specially designed to help.
There's a belly band available to suit your style seamlessly, whatever your shape and whatever your occasion.
Helpful tips for shopping for a belly band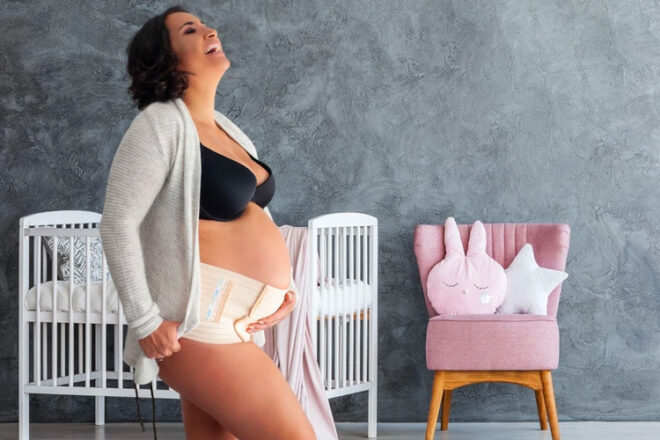 Comfort – The key to finding the perfect pregnancy belly band is finding one that's comfortable to wear all day. When researching what to buy look for one that's made from soft materials – you want one that's smooth and help you feel cool. They should feel like a pair of strong hands around your belly but still allow you to move without restriction.
Target areas – Different belts offer different benefits so it helps to identify what you're looking for. Some garments cleverly help relieve pressure or reduce body aches and pregnancy back pain. Some provide gentle compression or smooth over the bump to help clothes fit better.
Easy to clean – Whether it's for exercise or everyday wear, a maternity belly band sees a lot of use during a mama's pregnancy.
OUR PICK OF THE CROP
7 great pregnancy belly bands for supported growth
To help find the best support for a growing belly, we consulted our huge Facebook community of Australian mums and listed their most popular choices below.
In no particular order, here are 7 popular belly bands we recommend in 2023.
Belly Bands
Australian made and TGA approved, this clever 3-in-1 Pregnancy and C-Section Band is an award winner. Adapting to your changing body size, it's a fantastic pregnancy support belt then postpartum wrap and c-section surgical binder. Bonus: they custom-make plus-sizes.
---
Bubba Bump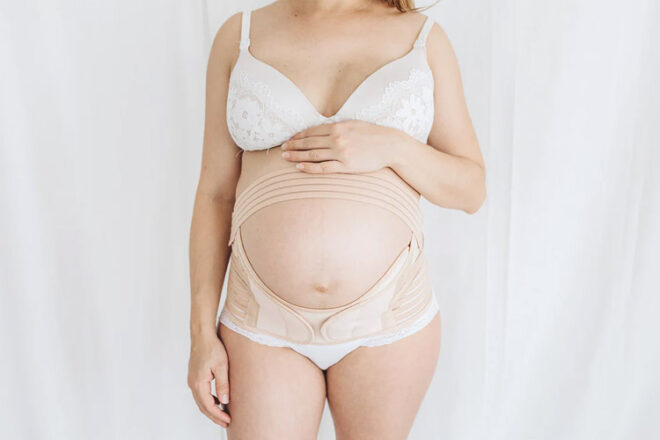 Made from anti-bacterial and eco-friendly materials, the Bubba Bump Support Belt distributes baby belly weight across the back and abdomen, helping relieve pain and pressure on the round ligaments while correcting pregnancy posture. Too good.
---
SRC Health
A great alternative to a conventional belly band, these triple-layer compression shorts are specifically designed to support mum's pelvis while carrying. Created in consultation with an obstetrician, they're cleverly designed to treat everything from girdle pain to varicose veins.
---
Pregnancy Pillow Co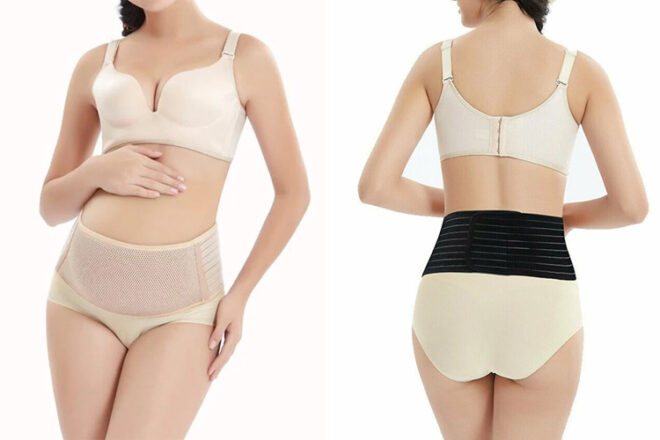 Cleverly concealed underneath clothing, this belly band provides compression relief to hips, back, and pelvis without unwanted bulk. It's lightweight, breathable, and adjustable – perfect for those pregnancy and postpartum pains.
---
Belly Bandit
Made with bamboo-derived viscose, the Upsie Belly provides excellent back and abdominal support throughout pregnancy. It also relieves pressure on the bladder, improves postural stability and comes with a hot/cold therapy pack that fits neatly in the rear pocket.
---
Mamaway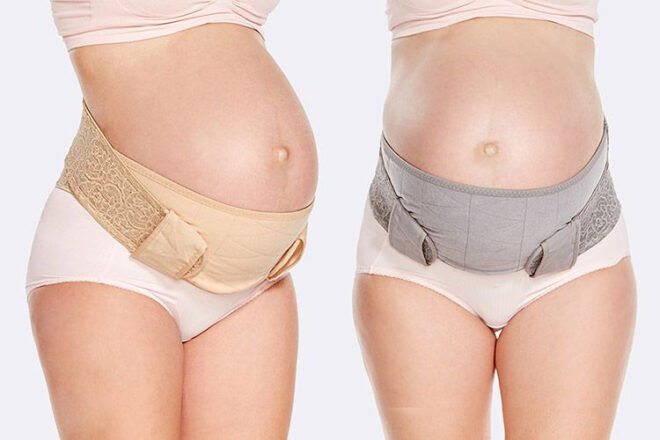 Designed to lift the weight of a growing belly this support belt eases the pressure on your back, pelvis, and spine at each trimester. The scoop-shaped front panel securely grips onto your belly without slipping and rolling up – hallelujah!
---
Solidea

Made from a 3D wave knit, these pregnancy shorts support the weight of your growing belly as well as your pelvic joints and floor. Helping to minimise strain around your lower back, the moisture wicking fabric prevents perspiration and build up of odours – too good.
---
FAQs: Your questions answered:
What is a belly band?
A belly band is a stretchy belt-like garment that cleverly helps distribute the weight and pressure of a growing bump. A support band also helps to improve posture and relieve pregnancy-related aches and pain.
When is it safe to start wearing a belly band?
Many mums-to-be start wearing a belly belt or band in the second trimester when bumps become noticeably heavier. You'll be happy to know that it's perfectly safe to start wearing a pregnancy support belt earlier, especially for second pregnancies when bumps may show earlier.
Can I wear a belly band after pregnancy?
The good news is that many pregnancy belly belts are suitable for use as postnatal support garments. In fact, some brands are highly versatile and even help in the repair of muscle separation, how good.
Does wearing a pregnancy support belt help?
We asked the huge Mum's Grapevine Facebook community why they started wearing a maternity belly band and did it help, and this is the valuable insight they shared:
"I just got a belly band at 32 weeks and it has already helped so much. I was getting really bad back pain at work but now it's basically gone as well as stomach pains since it holds everything in." – Annie
"I have one as my midwife suggested to wear it a couple hours a day and it's been so helpful" – Michelle
"I have a bad back and use a good belly band,  it's amazing I wear it at work on and off and also just at home if my back hurts" – Jacqui
"I use mine mainly for my hip pain and it feels good when it's on. Very supportive and comfortable." – Daniele
"I brought mine at 19 weeks because my psoas muscle swelled up and was blocking my ureter and my doctor recommended it and it's the best money I've ever spent takes away all the pressure and the pain" – Jess
"I've used a band for support from early pregnancy and it's helped so much and I mainly used it for pelvic pain.." – Sophie
"I use one to help support my back and prevent any injuries. My job is very physical job where I'm lifting 20kg feed bags, do a lot of raking, shovelling and pushing heavy wheelbarrows. I usually take it off halfway through the day when I'm done with the heavy jobs." – Brooke
"With my 2nd pregnancy, my physio fitted me because I was having hip and tail bone issues and it's amazing! Definitely recommend seeing a physio before using a support brace, even if it's just to show you how to fit it correctly." – Nadine
"I've been wearing one for a few weeks when I've been out and about and it really does help support my back. Sometimes I forget about the band and start doing things and can feel the pressure on my back. But when I pop the band back on my back is immediately a lot better." – Shelley
"I bought one to use when I go for long uphill walks to support my back, and it's been great" – Celene
"I use mine all day every day as per the recommendation of my physio, midwife and ob. For me, it was the pain from all my scar tissue in my lower abdomen but it also helps my hip and back pain." – Jade
"I use mine when my round ligament pain flares up and will be using it during my 3rd trimester for extra coverage and support towards the end." – Rebecca
"I've used one since 15 weeks helps with pelvic pain and holds you in." – Sharon

Know a pregnancy support belt to add to our list? Contact us and let us know, we've been collating Australia's best pregnancy products into shortlists for over 15 years and we're always happy to support new brands and businesses.
Read next…
From pregnancy pillows to maternity activewear, we have Australia's largest suite of product roundups for new and expecting mums.
Read this: How to shop for maternity clothes (a handy guide)
Ask other mums
Looking for a pregnancy support band and still not sure if any of these are right for you? Join the huge #MGVfam in one of our private Facebook due date pregnancy groups and ask thousands of other mums due at the same time as you which ones they recommend. Join today!
We want you to know
At Mum's Grapevine, we're a team of passionate mums (with 19 kids!) and over 15 years of experience researching and writing about all things baby and parenting. Our reviews of recommended products, like the ones in this post, may include paid inclusions, but we promise to only feature products that we truly believe in and have used or seen ourselves. We want to ensure that you, our readers have access to the latest and greatest products in the parenting world, and we're committed to maintaining our high standards of quality and honesty. See our Disclosure Policy.
Thank you for trusting us to be your go-to source for all things baby-related.
xoxo