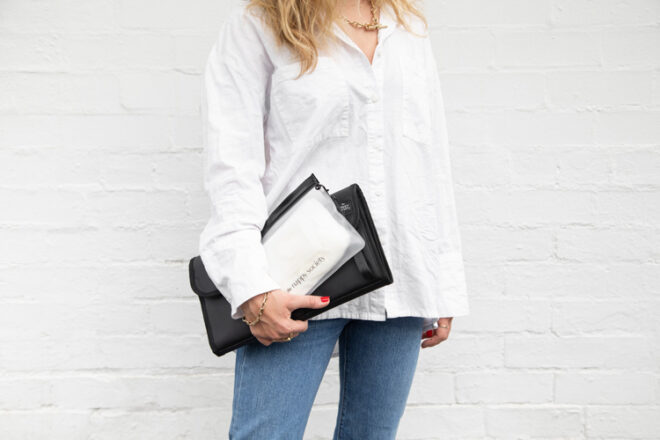 While changing your baby while you're out and about can be fiddly, the good news is there's help at hand when a 'code brown' arises. And you'll be happy to bid a sweet goodbye to rummaging through your nappy bag or pram basket for necessities. This is where purchasing a nappy clutch or wallet with a portable changing mat comes in so handy.
Complete with pockets for all your change-time essentials, portable change mats fold up into a compact and stylish nappy clutch or wallet, and they're a must for mums and bubs who love to travel and spend their days on the move.
Helpful features to consider when shopping for a nappy wallet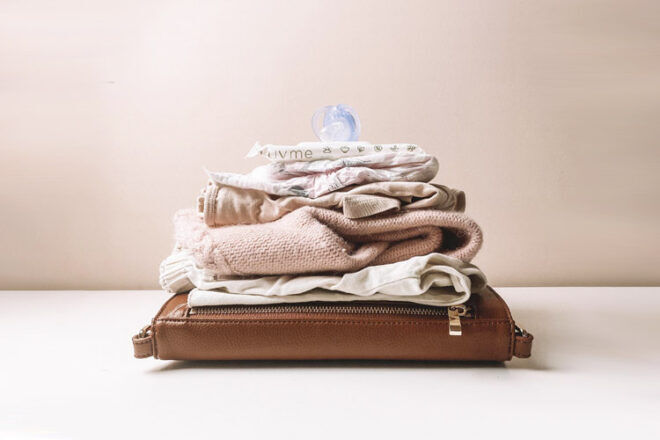 Size: The perfect sized portable change mat is one that's big enough to contain little accidents during change time and a cinch to clean and fold away. Nappy clutches in Australia vary in size, so it's smart to check each brand for the best fit for your child.
Secure fastening: The best travel change mats fold up into a handy nappy wallet and secure with a Velcro tab, press studs, or a loop fastening. This helps you keep your mat clean, compact and easy to store during family holidays and busy days spent on the go.
Waterproof interior: A waterproof interior not only stops any drips and dribbles from seeping through to the surface underneath (like your car seat), but it also makes it easy for you to wipe it down after change time.
Padding: A padded surface on your portable change mat will go a long way to ensure your baby is happy and comfy during nappy change time – wherever you may be. Their little bottoms will thank you!
OUR PICK OF THE BEST
11 nappy clutches to grab on the go
To help you find the perfect nappy clutch, we've compiled this list of fab brands available in Australia to get you started in your search.
In no particular order, here are 11 of our favourite portable changing mats for 2022/23.
OiOi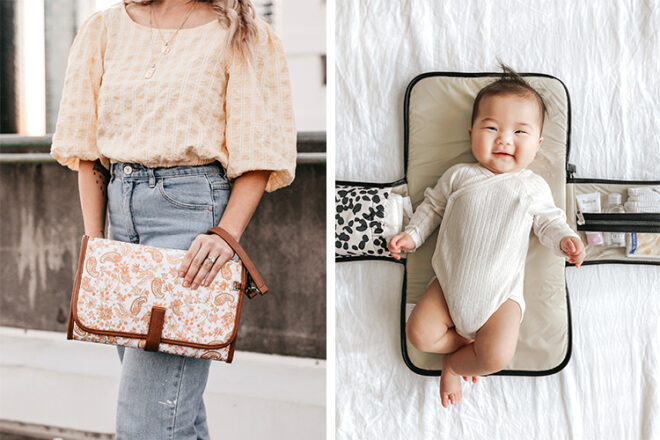 Stylish and practical, OiOi changing mat clutches feature sections for creams, nappies and accessories plus a handy zip pocket for securing your valuables. In a large range of stylish designs, each mat comes with a removable strap for attaching to your wrist or stroller.
---
Ben & Ellie Baby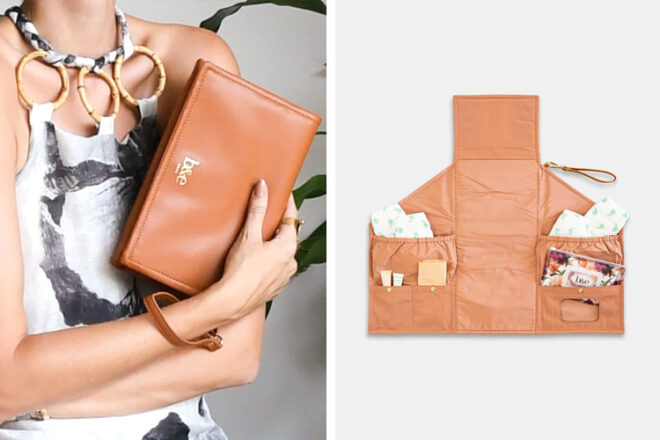 Designed for style conscious parents, Ben & Ellie change clutches are made from quality vegan leather that won't scuff or crack even after years of use. It boasts five clever pockets, comfy cushioning for baby's head and secure magnetic closure for one-handed opening.
---
Purebaby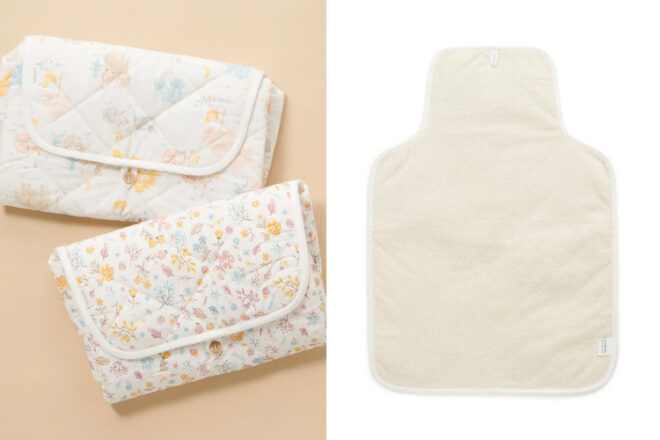 Made with organic cotton, Purebaby quilted travel changing mats come in delightful printed or pastel colourways and have deliciously soft terry-towelling interiors. A waterproof layer protects against little accidents and a single button loop closure keeps everything secure.
---
Jellystone Designs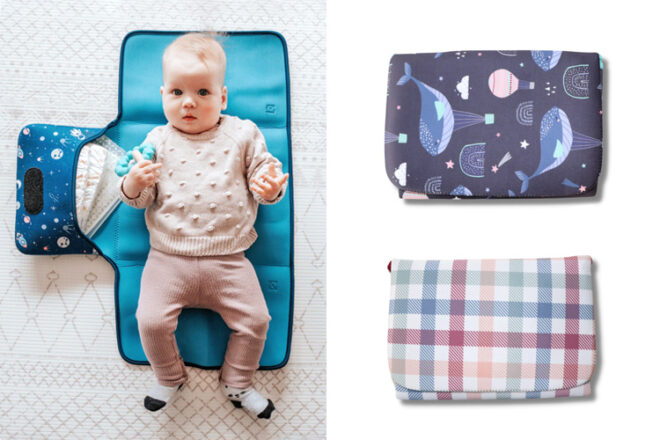 It's the helpful machine-washable nappy wallet with a roomy change mat and a home for all of your supplies. Made from waterproof neoprene fabric, it's well-cushioned for optimum comfort and comes with an adjustable strap for shoulder wear or attaching to the pram.
---
The Nappy Society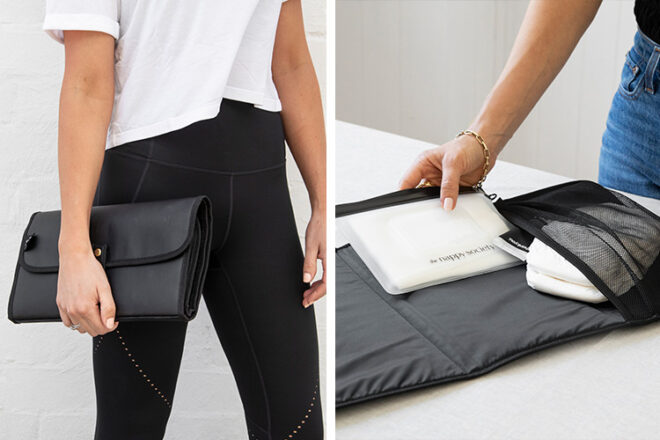 Lovingly crafted from coated cotton canvas, these Luxe change mats let you tackle code browns in supreme style. Lightly padded for comfort, the sleek, wipe-clean design features a convenient inner mesh pocket, secure velcro closure and polished gold tone hardware.
---
Milk & Poppy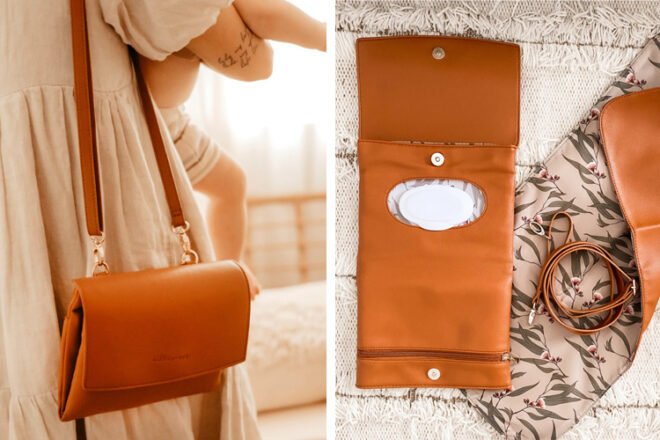 Small but mighty, Milk & Poppy Nappy Wallets feature an adjustable shoulder strap so you're completely hands free. With six compartments, gorgeous Euca print lining and included reusable wipes case, this vegan leather beauty is completely waterproof – hooray!
---
The Muse Edition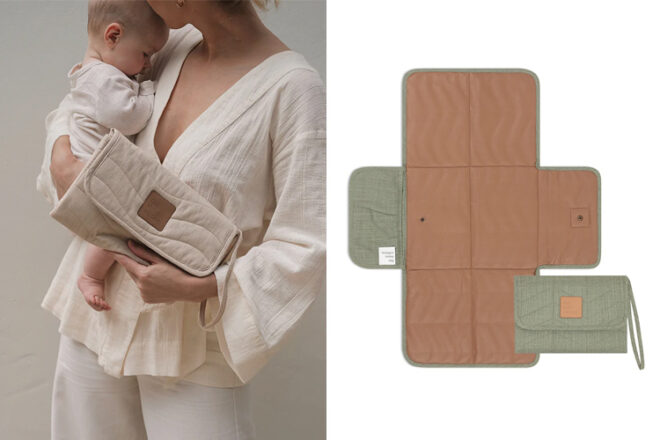 The combination of premium, hypoallergenic linen fabric and soft, easy-clean vegan leather is a perfect mix of style and function. Thickly padded and available in seven earthy colourways, a percentage of every purchase goes towards 1% For The Planet – too good.
---
The Somewhere Co.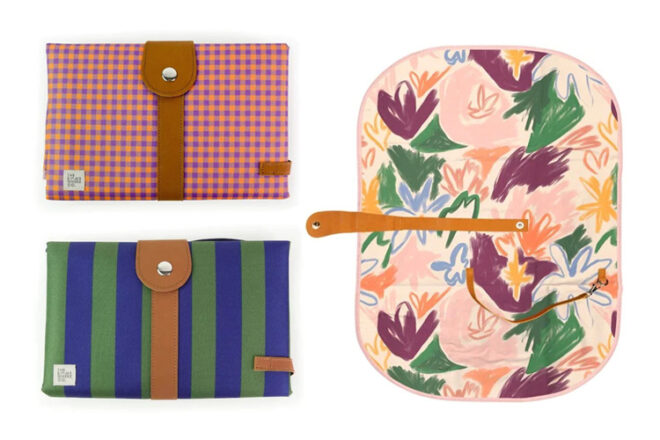 Injecting a beautiful pop of colour into your nappy bag, The Somewhere Co. change mats feature bespoke prints designed by local and international artists. Lined with BPA-free polyester, they're easily wiped clean and the strap can be used to attach to your pram or wrist.
---
Pretty Brave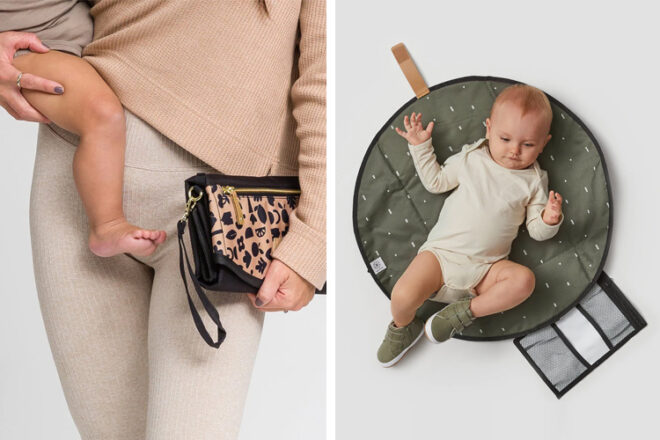 Disguised as a trendy accessory, the Pretty Brave clutch morphs into a padded, easy-clean change mat with mesh pocket. Free from PVC, BPA and other nasties, there are several gorgeous prints to choose from. Bonus: it doubles as a travel play mat – too good!
---
Bunnie Caddie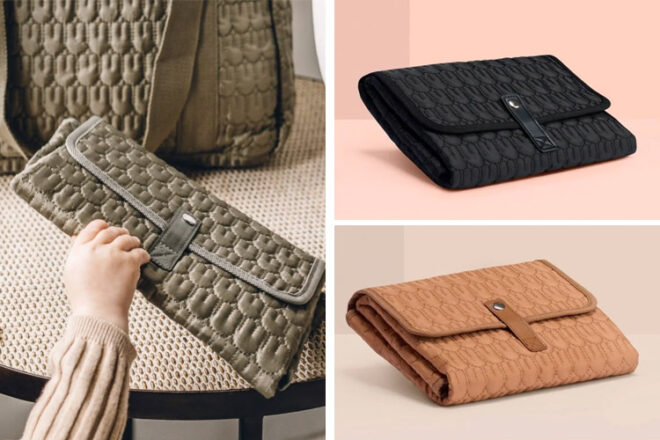 Oozing elegance, this water-resistant change mat has been carefully considered for optimum style and function. From the durable bunnie quilted fabric, to the handy storage pocket for all the baby essentials, this mat is portable and sleek.
---
Nappy Wallets: Your questions answered
Buying anything for a baby can come with its fair share of questions, so to help you with your search for the right portable changing mat, we've provided some helpful answers.
What is a nappy wallet?
Super handy for families who travel or spend a lot of time on the move, a nappy wallet is a small portable bag or pouch that is designed to hold and organise baby nappies and other essentials such as baby wipes, nappy rash cream, and changing mat. Compact and convenient, it folds up into a neat nappy clutch and often comes with an adjustable strap for attaching to your wrist or pram.
Do I need a nappy wallet?
Nappy wallets are cleverly designed to make life easier for busy parents and save them from lugging around a lot of bulky gear. Whether you're in and out of the house a lot or enjoy family travel, a nappy wallet means you have all your change-time essentials in a compact and accessible format. While not essential, it is definitely a baby item that comes in handy when you're on the move.
How much does a travel change mat cost?
In Australia, nappy clutches range from around $15 for basic styles to $100 or more for some designer models. The good news is that there is a wide range of options available, with designs to suit every personality and prices to suit every budget.
---
Know a portable changing mat we should add to our list? Contact us and let us know, we've been curating Australia's best baby products into helpful lists for over 15 years and we're always happy to support new brands and businesses.
Read next…
Ask other mums
Looking for a nappy clutch to grab and go and still not sure if any of these are right for you? Join the huge #MGVfam in one of our private Facebook Baby Groups and ask thousands of other mums with babies the same age as yours which ones they recommend. Join today!
We want you to know
At Mum's Grapevine, we're a team of passionate mums (with 19 kids!) and over 15 years of experience researching and writing about all things baby and parenting. Our reviews of recommended products, like the ones in this post, may include paid inclusions, but we promise to only feature products that we truly believe in and have used or seen ourselves. We want to ensure that you, our readers have access to the latest and greatest products in the parenting world, and we're committed to maintaining our high standards of quality and honesty. See our Disclosure Policy.
Thank you for trusting us to be your go-to source for all things baby-related.