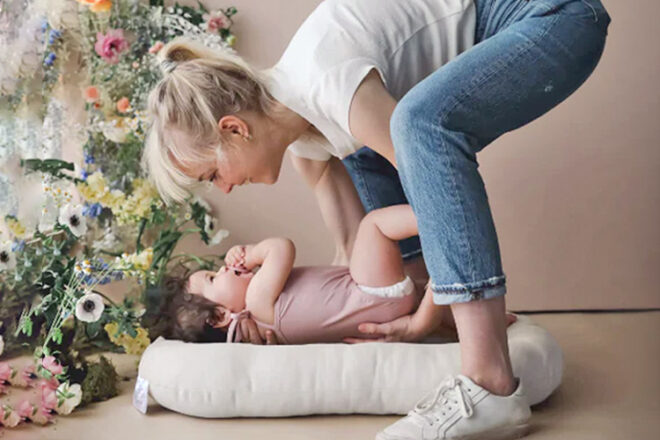 Before you hit the shops and invest in a baby lounger, read our curated list of Australia's best baby nests to get you started in your search
There are few things more precious than snuggling our wee babes in our arms, but we can't carry them all day, there are times we could really do with a couple of free hands. A baby nest gives us a safe space to pop bub, right next to mumma, while we get on with the hands-free tasks we've been putting off (looking at you unfolded washing basket).
Sometimes called baby loungers, baby nests are cosy little places specially designed to mimic the comfort of the being in the womb (bliss!). With raised, padded edges the lounger keeps babies safely on their backs without rolling.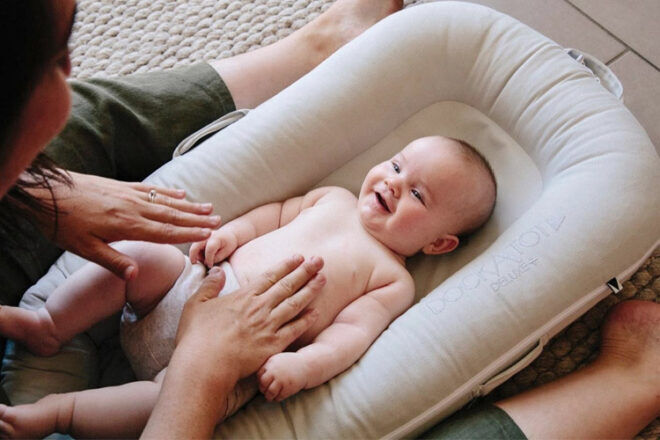 Helpful tips for buying a baby nest
Safety first – Baby nests aren't intended for sleeping and should only be used during supervised awake time.
Easy peasy washing – With freshly minted baes comes a rainbow of fluids, milk spew, blowouts and dribble for days! Choosing a nest you can toss in the washing machine, or at least give a good wipe down should be high on your requirement list and some nests come with removable covers and protectors.
Materials – Natural, breathable fabrics like cotton and bamboo allow air to flow through the lounger, helping moderate baby's temperature, reducing the risk of overheating.
Portability – Want to take your nest on your next family vacay or trip to grannies? Some nests come with carry handles or storage bags to make transporting super easy and convenient.

OUR PICK OF THE BUNCH
13 baby nests and loungers available in Australia
To help you find a super-cute (and safe!) nest for your baby, we consulted our huge Facebook community of Australian mums and listed their most popular choices below.
In no particular order, here are 12 of the most popular Baby Nests for 2023.
Cushii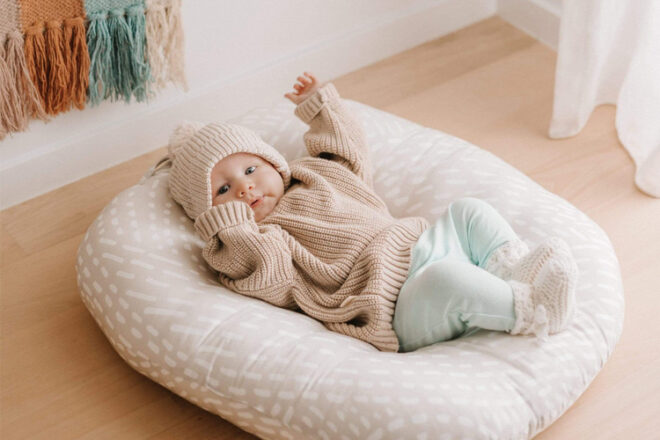 Made with temperature regulating certified Tencel fibres, the award-winning Cushii Lounger is machine washable, silky-smooth to the touch and ready to go on any adventure. Available in nine gorgeous prints and we love that it comes with a money back guarantee.
---
Audrey & Me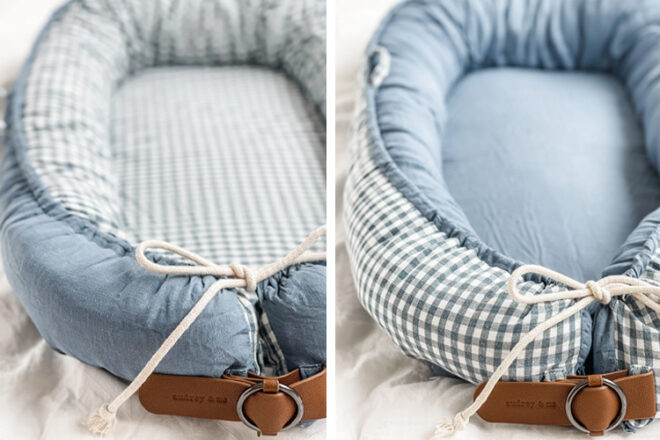 Available in eight earthy colourways, Audrey & Me baby nests are fully reversible allowing you to change up the look. Each one is handmade from linen which is naturally hypoallergenic, antibacterial and temperature-regulating. The carry handle and leather buckle are a sweet detail.
---
Bubnest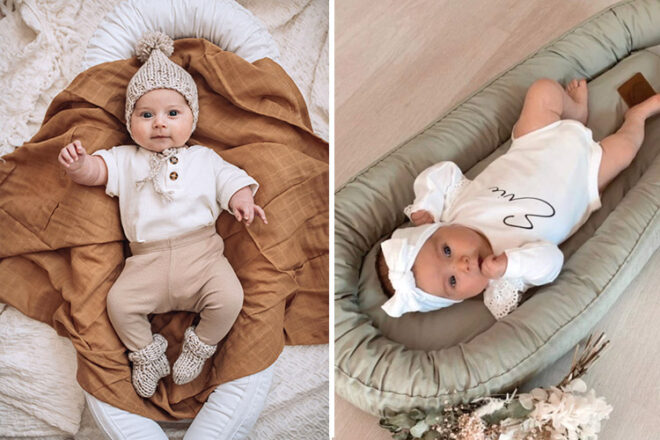 Not only is the Bubnest a healthy, toxic-free space for babes to chill, but it looks spectacular in the home. Perfect for supervised chilling and play, it uses completely organic and biodegradable materials to be as fab for your little human as it is for the environment.
---
Snuggle Me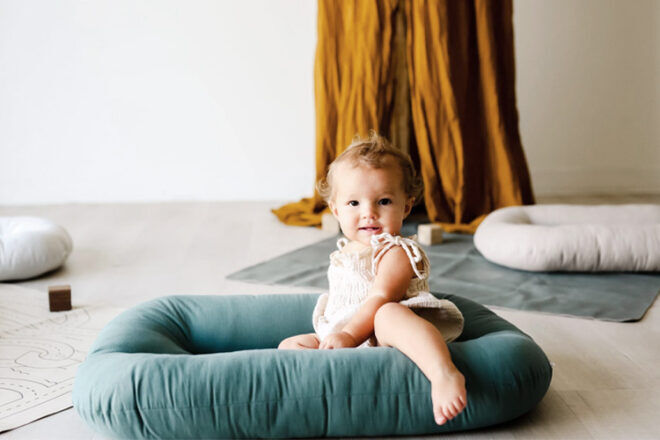 Purpose-built for lounging, the outer shell is made with 100% organic cotton, a non-toxic and breathable material. They come in eight different colourways and feature unique contouring to support bub's upper body as it grows.
---
Sable Bebe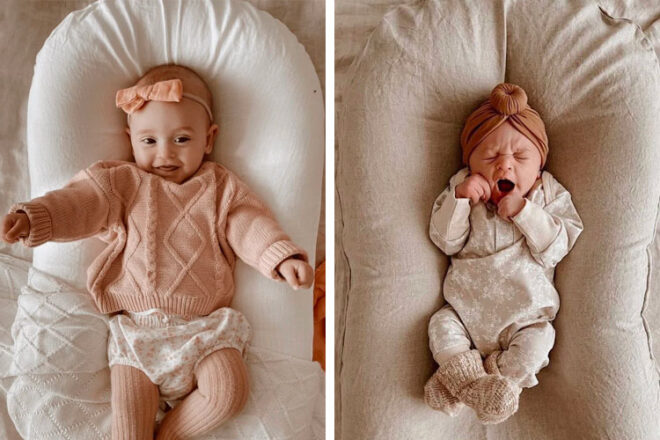 Lightweight and portable, Sable Bebe baby loungers use 3D mesh technology and Tencel fibres to create a safe space that absorbs moisture and prevents bacteria. We love that it's machine washable and comes with a complimentary carry bag. 100% pure linen covers sold separately.
---
Bubba Bump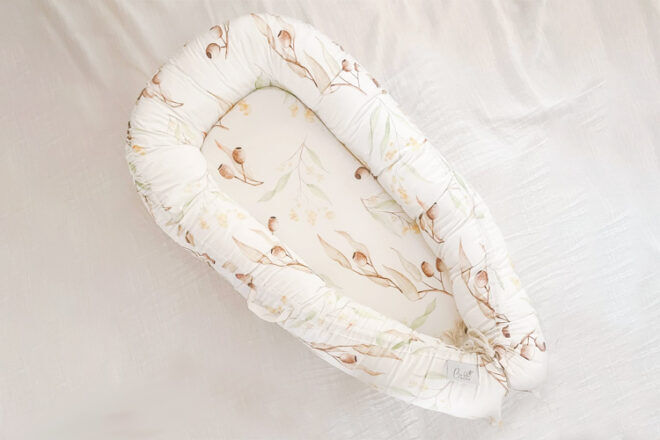 Recommended for little ones up to 12 months of age, Bubba Bump Organic Baby Lounges provide optimum comfort for precious babes. In a choice of styles, they use hypoallergenic organic cotton and are adjustable to suit growing minis.
---
Cocoonababy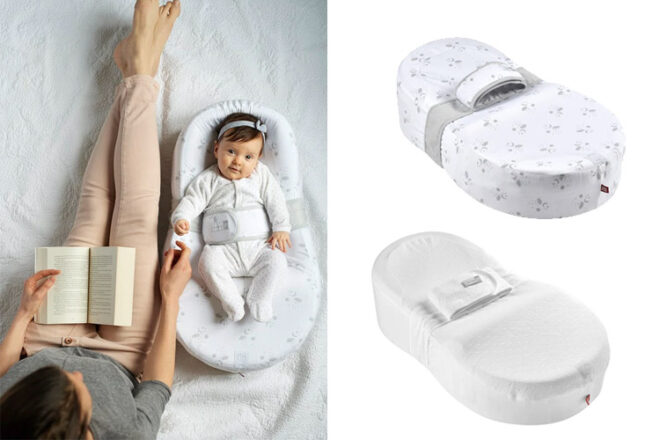 The ergonomic Cocoonababy enables bubs to rest in an elongated semi-fetal position and adjust easier to life beyond the womb. It comes with a waterproof sheet and wide safety strap, plus it features a 20-degree incline to reduce newborn reflux.
---
faemli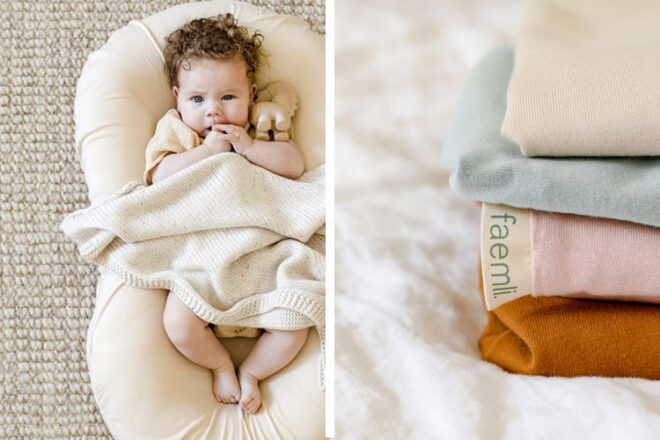 It's the 100% cotton baby lounger that gives you options! The raised end can be used for tummy-time or to help relieve reflux, while the flatter side has a gentle slope for comfy lounging. Plus, each side is made from material suited to either warm or cool days.
---
Done by Deer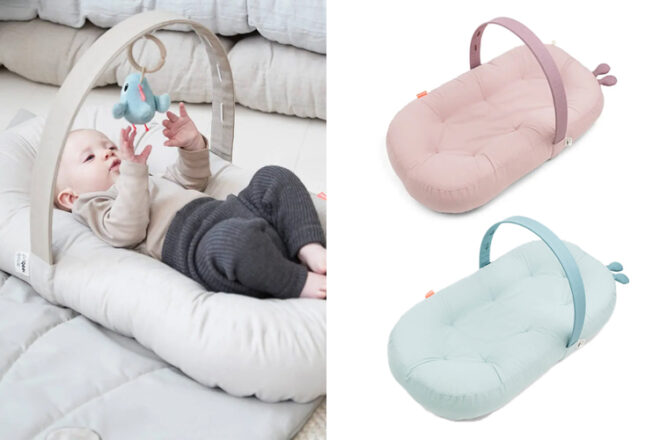 With a removeable activity arch for attaching your baby's favourite toys, the Done by Deer Cozy Lounger is perfect for play or tummy time. With washable organic cotton covers in a choice of three sweet shades, it's lightweight and portable from room to room.
---
Golden Child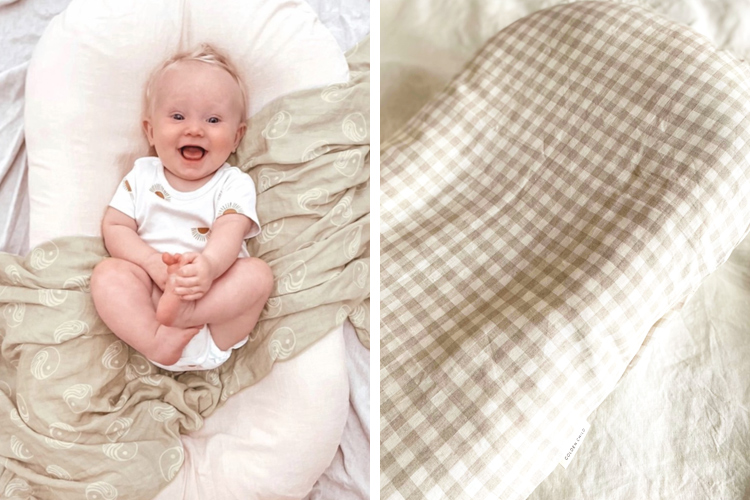 Lightweight, durable and multi purpose, this handy helper can be used for changing or lounging. It's crafted from super soft and sustainable Tencel fibres (made from eucalyptus) and 3D mesh to absorb moisture and prevent bacteria. Covers available in eight delectable shades.
---
Dockatot
Made with love in Sweden, these award-winners are lightweight, portable and available in all colours of the rainbow. Choose from the Dockatot Deluxe+ for bubs from birth to eight months, or the Grand for growing tots up to three years.
---
Purflo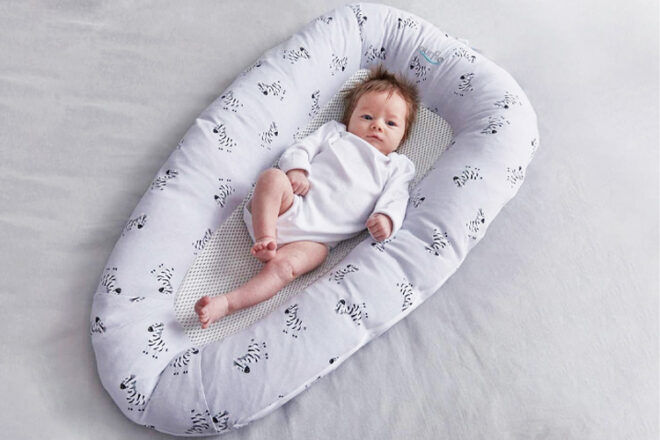 This multi-functional nest comes equipped with breathable mesh and ventilated sides for excellent temperature control. Suitable from birth, it also features a hypoallergenic Amicor Pure filling, which protects against allergens like dust mites.
---
Clevamama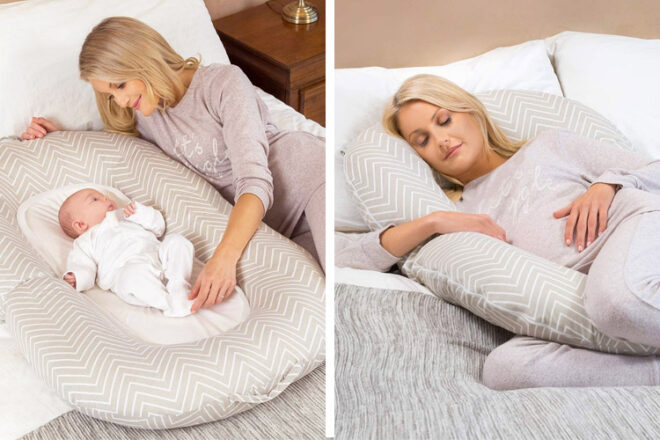 The ultimate two-in-one, the Clevamama Mum4Me gives pregnant mammas full-body support where we need it most. Once bub is born it cleverly transforms into a snug sleep pod for babies. Made with 100% soft jersey cotton, it's hypo-allergenic, breathable and machine washable.
---
FAQs
What is a baby nest?
A baby nest (also called a baby lounger) is a cocoon-like pod with raised sides that bubs use for resting and playing while mum is close by. Designed to mimic the comfort of the womb, they give parents a special spot to pop baby while freeing up two hands for a short while.
Are baby nests safe for newborns?
Provided they are supervised and used correctly, baby nests are a safe place for newborns to hang out for short periods while awake. Of course, medical authorities recommend babies sleep on a firm and flat surface, so stick to your approved cot, bassinet or co-sleeper for sleepytime.
How long do you use a baby nest for?
Parents typically use baby nests throughout the newborn stage (0 – 3 months), however many brands sell nests in larger sizes that cater to older bubs and toddlers. Even once your babe stops using the nest at home, it comes in handy for rest time when traveling.

Seen a baby nest we could add to our list? Contact us and let us know, we've been curating Australia's best baby products into helpful lists for over 15 years and we're always happy to support new brands and businesses.
Read next …
Ask other mums
Looking for a baby lounger and still not sure if any of these are right for you? Join the huge #MGVfam in one of our private Facebook Baby Groups and ask thousands of other mums with babies the same age as yours which ones they recommend. Join today!

We want you to know
At Mum's Grapevine, we're a team of passionate mums (with 19 kids!) and over 15 years of experience researching and writing about all things baby and parenting. Our reviews of recommended products, like the ones in this post, may include paid inclusions, but we promise to only feature products that we truly believe in and have used or seen ourselves. We want to ensure that you, our readers have access to the latest and greatest products in the parenting world, and we're committed to maintaining our high standards of quality and honesty. See our Disclosure Policy.
Thank you for trusting us to be your go-to source for all things baby-related.