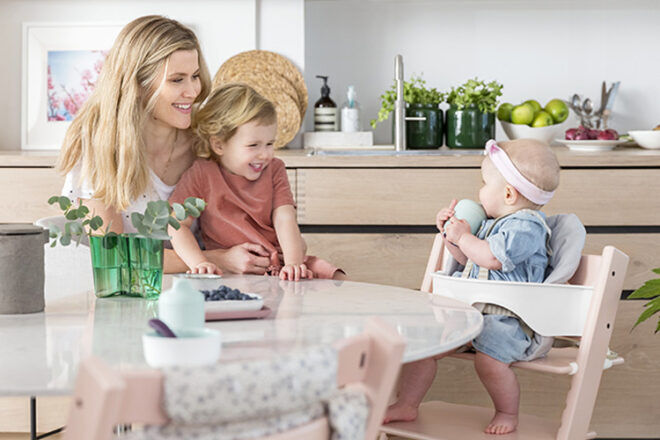 In the world of baby products, few items are as essential and multi-functional as a high chair. These versatile seats provide a safe and comfy space for our little ones to enjoy their first foods (and do crazy stuff with spaghetti!) and develop good eating habits.
With so many different ones on the Australian market, it can be overwhelming to choose the right one for your family's needs. In this product roundup, we will explore some of the best high chairs available, highlighting their unique features, benefits, and drawbacks.
Whether you are looking for a compact high chair for a small space or a versatile chair that can grow with your child, we have got you covered.
Types of High Chairs
There are a few different types of high chairs on the market, but they can be broadly divided into three categories: traditional high chairs, booster seats, and portable high chairs.
Traditional high chairs are the most common type of high chair. They are typically made of wood or plastic and have a high back and seat. Traditional high chairs often have a removable tray that can be used for feeding.
Booster seats are designed to be used on a regular dining chair. They are typically made of foam or fabric and have a raised seat that helps to keep your baby in place. Booster seats do not have a tray, so they are ideal for kids who are ready to seat at a table.
Portable high chairs are lightweight and foldable, making them easy to transport. They are typically made of fabric or mesh and have a simple design with a low back and seat. Portable high chairs are ideal for travel or for families who have limited space.
Helpful tips when buying a high chair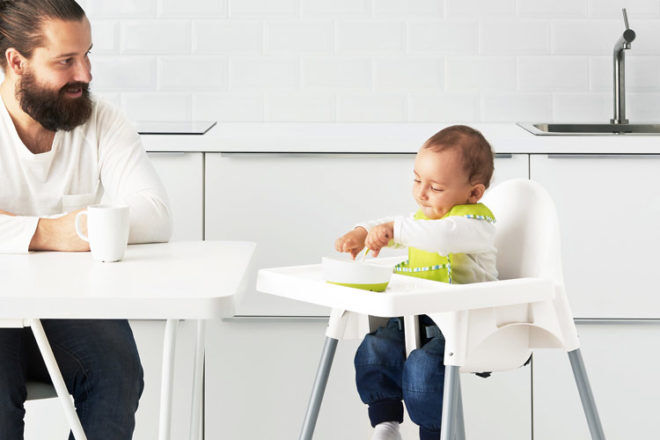 Safety first: Product Safety Australia states that all high chairs should be stable, have at least two lockable castors (fancy word for wheels!), and be fitted with a five-point safety harness (refer to the Australian standard AS 4684 – 2009 for detailed safety information).
Very easy to clean: Ever watched a six-month-old gleefully eat yoghurt? Mess is major when it comes to feeding time, and an easy-to-clean chair is a godsend for busy parents. A tray with raised edges helps keep the food (and bowl!) off the floor.
Fully adjustable: High chairs that are collapsible or have removable legs are easier to move around the house and travel with, so they're particularly great for families on the move.
Storability: If it's likely to be moved around a lot, look for a high chair made with lightweight materials and without excessive bulk.
OUR PICK OF THE CROP
9 of the best baby high chairs in Australia
Before you hit the shops and invest in a feeding chair for your baby, we consulted our huge Facebook community of Australian mums and listed their most popular choices below.
In no particular order, here are 9 of the more popular high chairs we recommend.
Stokke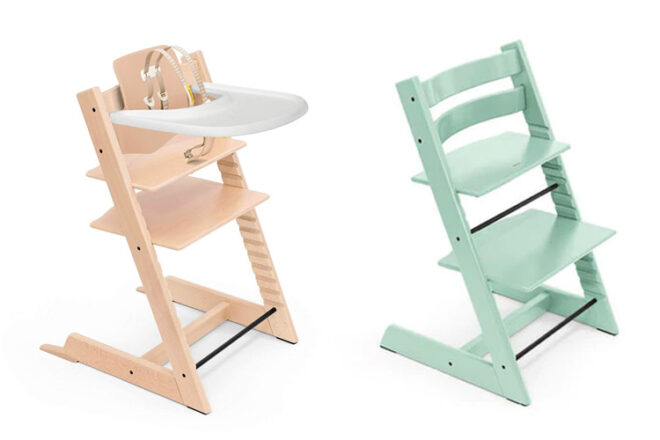 The award-winning Tripp Trapp Chair is cleverly designed for every stage from newborn and beyond. Available in 14 colours, the classic iconic design has a fully adjustable footrest and seat which holds up to 136kg. Baby set and tray sold separately.
---
Nuna Baby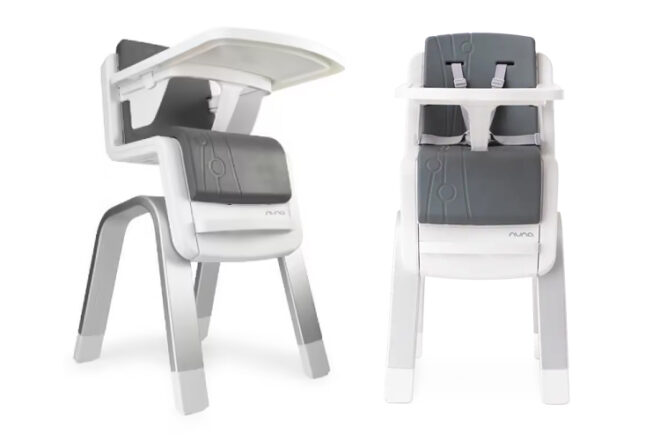 Compact and a cinch to clean, the ZAAZ boasts a hidden lift mechanism that easily adjusts the height so bub can join at the table. The clever no-crevice design outwits crumbs and sauce, and the unique air foam cushion keeps both big and little bottoms comfy. Bonus, it converts to a junior chair.
---
Leander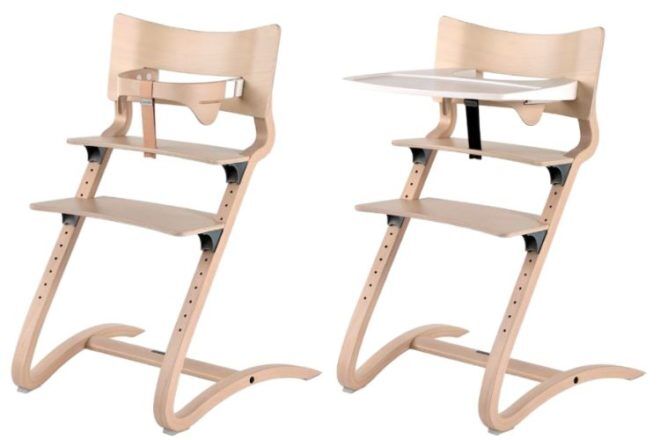 This European ergonomic chair is as striking as it is useful. Made of timber for a sturdy structure that holds up to 130kg, its sleek design lends itself to use throughout the many different stages of growth. Removable tray, safety bars and removable seat pad available separately.
---
Childhome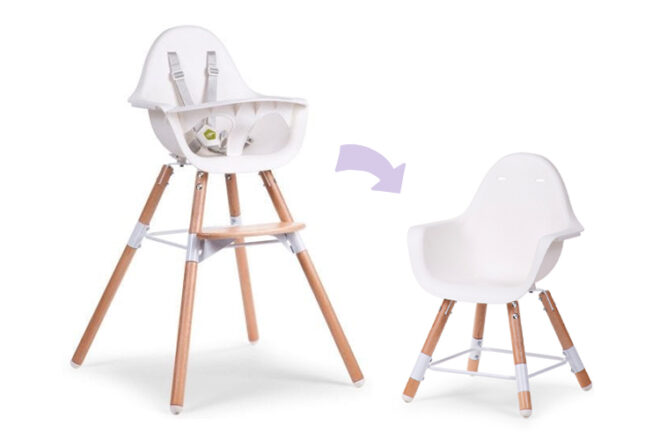 With an easy-clean chair, buckets-loads of style, and all the versatility families need, this award-winner is a standout. It's thoughtfully designed to serve three stages: infant feeding, dining table feeding, and play – so it's going to see kids through years of food-inspired fun.
---
Charlie Crane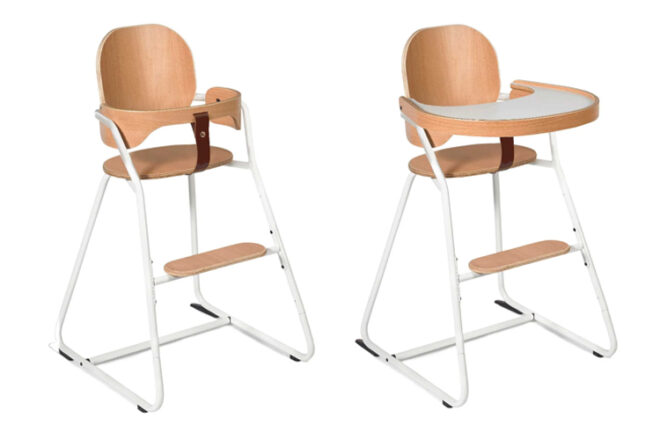 A statement in Scandi style, the Tibu evolving chair is inspired by the 1950s French Industrial design. Crafted from beech, birch, steel and leather, it converts to 10 seating configurations and is used from 6 months to 8 years and over. Tray table and seat cushion sold separately.

---
phil&teds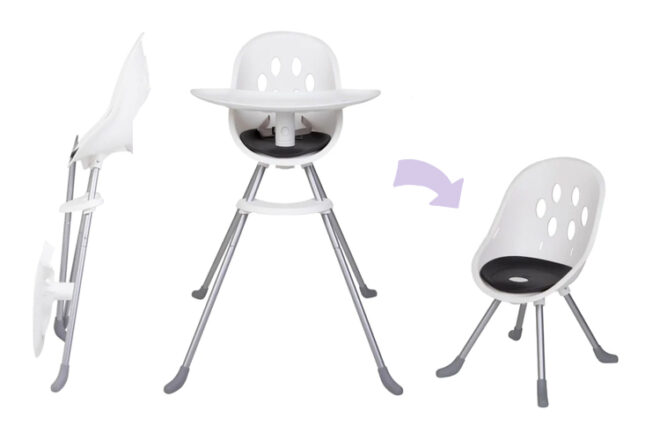 Safe, functional and extremely lightweight, this chair aces first foods to toddlerhood. The large, ergonomic tray wraps around to catch food, is removable with one hand and safe to go in the dishwasher – amazing. You can even buy varying colours of the hypoallergenic seat liner.

---
Baccani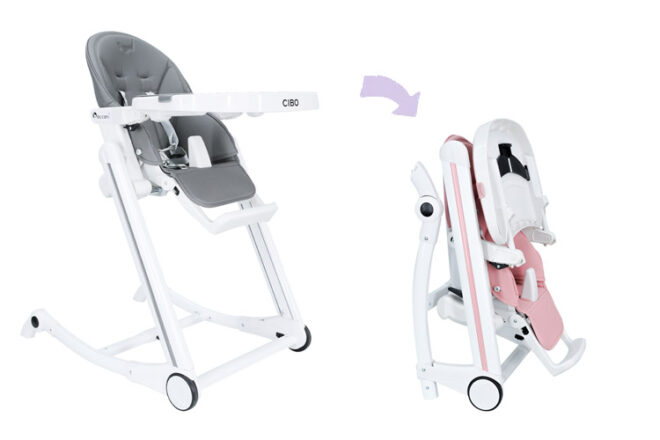 With a one-touch reclinable seat, the innovative CIBO is able to convert from a high chair to a rocker thanks to the quick lift rear stoppers. It features five-height adjustments, a removable food tray, lockable front wheels and we love the compact fold for easy storage.

---
Izimini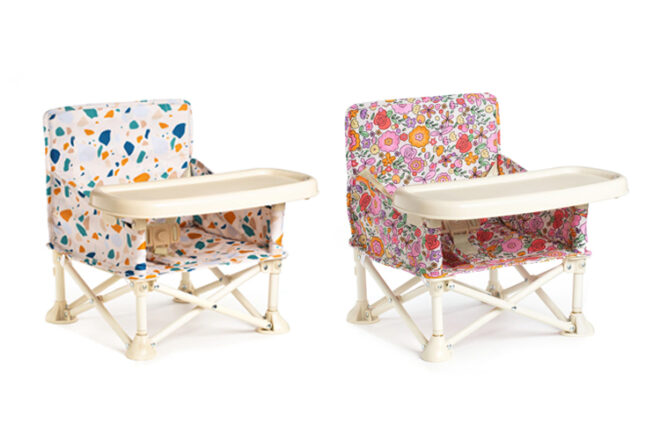 Seating minis up to 3 years or 15kg, the comfy Izimini baby seat comes in 5 gorgeous prints. Keeping bub safe with its built-in harness, it's easy-clean, lightweight and portable. Bonus, there's even a pocket at the back for extra essentials like bibs.

---
Mocka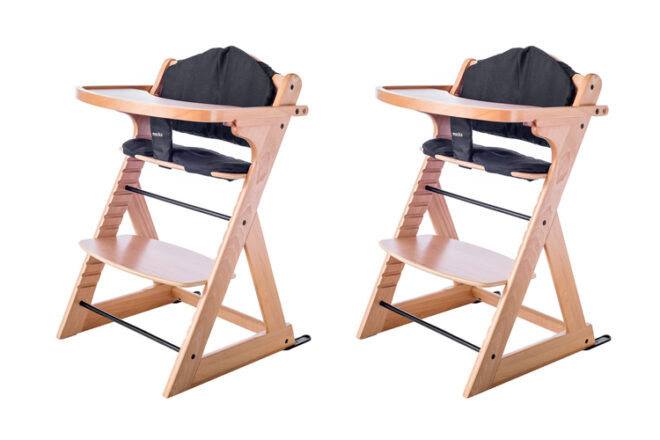 Crafted from sustainable (and good-looking) beech wood, the Mocka Original high chair features handy adjustable tray settings, seat and footrest heights – too good. It is easily wiped down, has a comfy non-slip cushion and cleverly converts to a junior chair once bub grows.

---
IKEA

It's achieved cult-like status around the world for the simple fact that it's such incredible value. It has removable legs, a kiddie-safe surface that is a piece of cake to wipe (or hose) down and an adjustable safety buckle. A padded cushion insert is available separately.


---
Baby Highchairs: Your questions answered
Buying any kind of baby feeding chair can be tricky, so to help you out, we've answered some of the most common questions.
What is the best age to start using a high chair?
Most babies can start using a high chair around 6 months when they start eating solids and are able to sit up with some support. Some babies might be ready as early as 4 months old, while others may not be ready until they are 7 months old or older, it just depends on when they are developmentally ready.
High chair vs booster seat?
A high chair is often preferred for younger babies still being fed by a parent because they're more sturdy and supportive. Once little ones become more confident sitting unsupported at the dining table and begin eating independently, booster seats or junior chairs are a great option for the family table.
How do you clean a high chair?
Nuf said.

Know a high chair to add to our list? Contact us and let us know, we've been curating Australia's best baby products into helpful lists for over 16 years and we're always happy to support new brands and businesses.
Read next …
From cutlery for little hands to trusty sippy cups, these next feeding essentials lists have everything you need to make starting solids a breeze.
We want you to know
We're Mum's Grapevine, a team of mums who've been there and done that (we have a combined 19 kids, so we know a thing or two about parenting!). We've been writing about all things baby and parenting for over 16 years, and we're passionate about helping new mums find the best products for their little ones.
Sometimes, we do include paid inclusions in our reviews, but we promise that we only recommend products that we truly believe in and have either used or personally seen. Our goal is to give you, our Grapeviner mums, the inside scoop on the latest and greatest parenting products, and we're always striving to maintain our high standards of quality and honesty. See our Disclosure Policy.
Thanks for trusting us to be your go-to source for all things baby-related!
xoxo