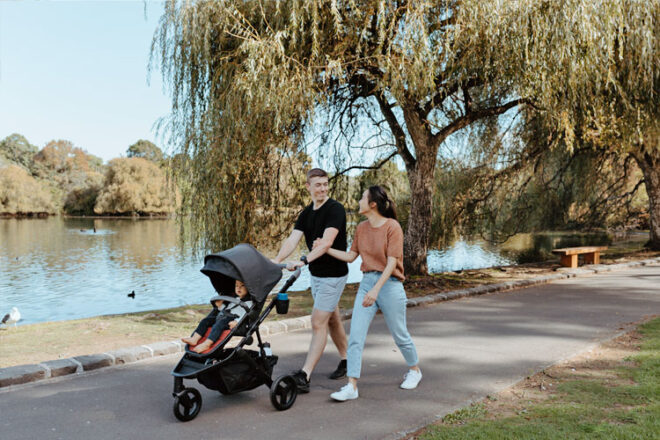 Just about all of parenting is learning on the job. And as you get to know what life with bub is like and what you need to survive and thrive, you might find yourself wondering "why isn't there a this" or "someone should invent a that". All those little things that you just know would make every parent's life easier.
The all-new Edwards & Co Oscar M2 three-wheel buggy has been designed by parents who have been there, done that. So it's packed with what they call 'thank God for that' extras, making this heavenly pram just what every parent is looking for.
The 3-wheel pram with 4×4 handling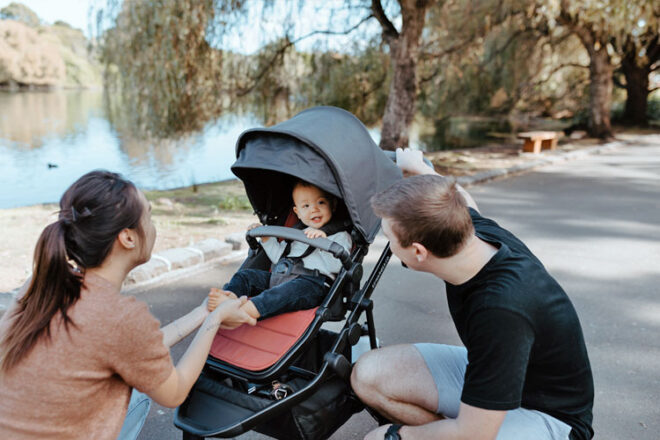 The Oscar M2 is ready for adventure, carefully designed to have all the benefits of a 3-wheel buggy but with the stability and reliability of a classic 4-wheeler. That means it's compact and easy to manoeuvre but sturdy and has a go-anywhere attitude, just like the family 4×4.
Your bub will enjoy a smooth ride, with the all-wheel suspension absorbing bumps and dips on and off the road. While the rubber puncture-proof tyres mean you can push this pram across all terrains with confidence.
And the dual ball bearing front swivel system means taking tight turns is a dream and you won't have to worry about any hardware maintenance during normal use. It's the peace of mind that every new parent needs because there's nothing worse than a pram wheel that goes rogue.
Surprising versatility for mums on the run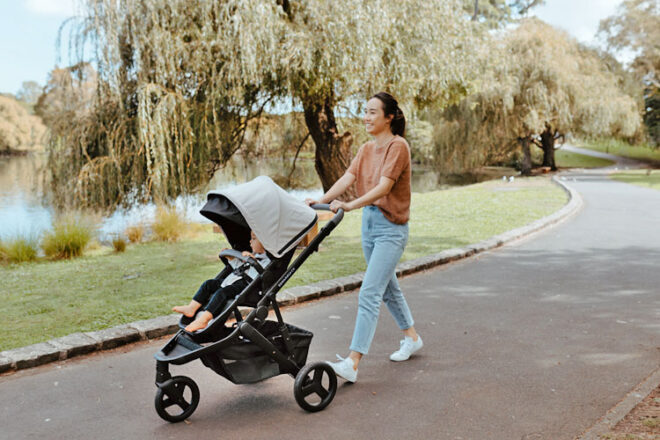 If you like to pick up the pace, the Oscar M2 makes for a great jogging partner. But what sets it apart from a lot of specialised jogging prams is its versatility. The seat is both front and rear-facing, so your tot can watch the world whiz by or your smiling (or sweaty) face as you clock up the k's.
The seat also easily swaps out for the Edwards & Co Carry Cot (no adaptors needed) or capsules with the Maxi Cosi Adapter, although the seat can be used from birth with the Newborn Insert Cushion. So whether you want to transfer bub from car to pram without disturbing them, or you like to take your angel's cot with you wherever you go as a sleeping sanctuary, the choice is yours.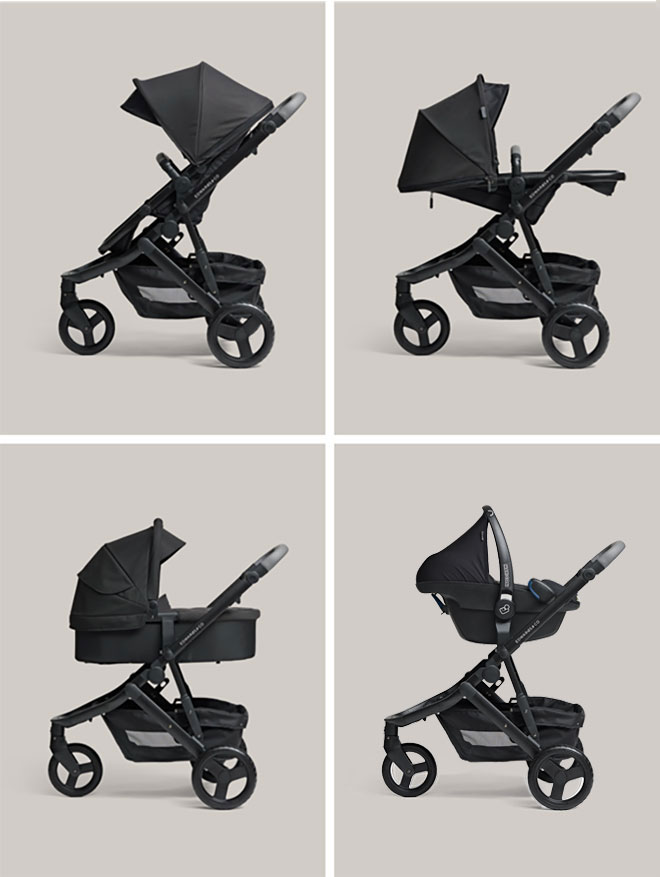 Or if you're happy for your munchkin to stay in their generously-sized seat all day, it will see you through naps on the go by reclining to three different positions at the push of a button.
Designed to make life easy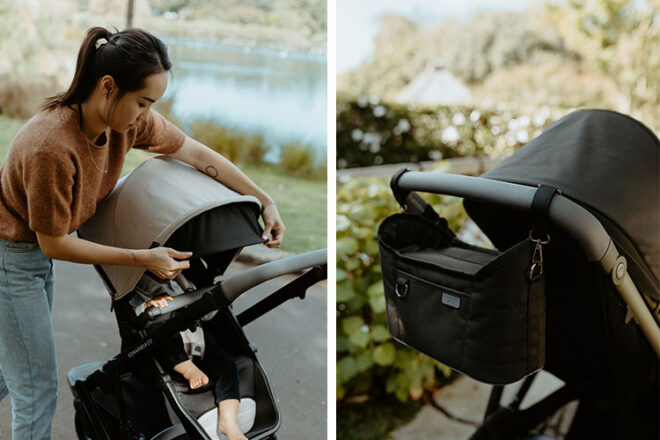 What really makes the all-new Oscar M2 stand out has to be the attention to detail. Based on user feedback, it's been redesigned from the ground up to meet the needs of modern families – making every little bit better without compromising on its affordability or fresh, modern style.
The ergonomic design means pure comfort for both baby and parent. The V-shape oversized grey handlebar gives you plenty of room to grip however it feels best for you. The frame is lighter than ever and it's completely fuss-free, with robust mechanics and no fiddly bits to drive you mad.
It also features a unique fold that can fold down without having to bend down – perfect for after a c-section or if the grandparents take your tot for the afternoon. The pram then easily stands upright when not in use, making it a breeze to store in the corner of your garage or wardrobe.
But wait, there really is more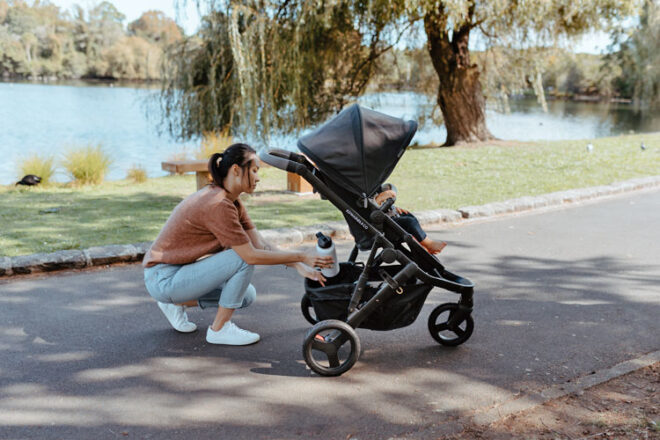 Of course, no pram is complete without storage. The clever placement of the rear wheels leaves plenty of room for a simply huge basket – just what you need to stow all of bub's bits and bobs as well as the family shopping.
And there's also a bunch extra available to help you prepare for any season, wherever you're going and whatever you're doing. For bub's comfort, you can add a sleeping bag or a luxe liner. If the weather turns you can keep them dry with a rain cover or shaded with a sun cover. And for you, there's a universal cup holder for that morning coffee or a travel bag if you're jetting off on holiday.
Oscar M2 3-wheel Buggy specifications:
Weight – Overall 10.9kg / Frame 7.6kg / Seat Unit 3.3kg
Height – 55cm seat bottom to canopy
Age range – newborn (using the Newborn Insert Cushion until 6 months) to 22kg (4 years)
Storage Basket Weight Capacity – 10kg
Handle – 110cm-90cm (from ground)
Sun protection – UPF50+ Canopy
Wheels – rubber with foam inner.
The Oscar M2 is available from Edwards & Co ($999).