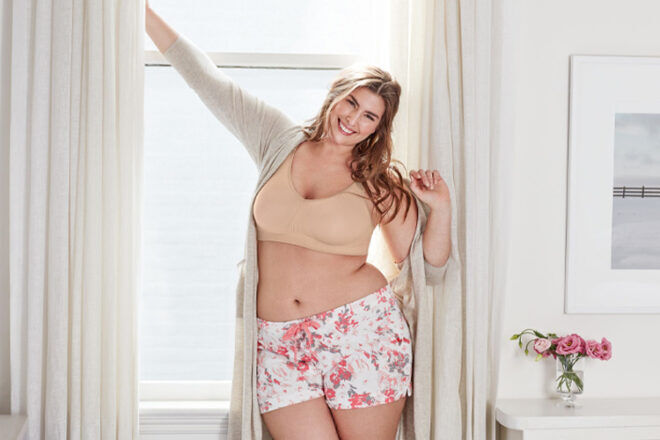 Every new mum needs support, especially while bodies are changing during pregnancy and recovering after childbirth. Finding a practical maternity and nursing bra that provides flexibility can make all the difference to your comfort as you welcome your new babe into the world and begin breastfeeding.
A maternity bra is a type of bra specifically designed for use during pregnancy and breastfeeding. They typically have features such as wider straps, extra hooks and eyes for adjusting to changing boob sizes, and cups that can be easily opened and closed for nursing.
With so many bras out there, it can be hard to know where to start when it comes to buying a reliable one to accommodate nursing. So to help a mumma out, we've listed some handy buying considerations and put together a handy list of leading brands available in Australia.
What to look for in a great feeding bra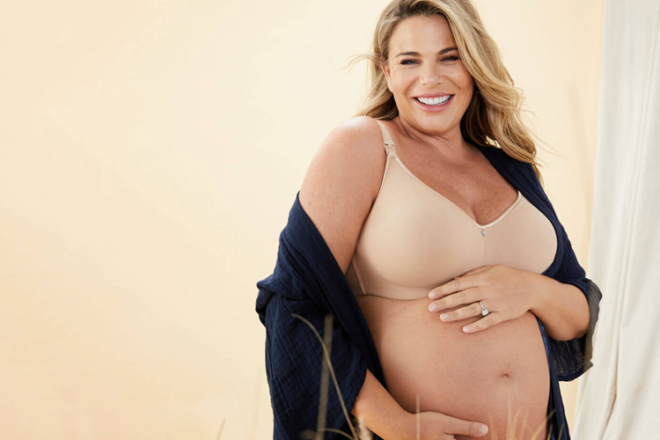 Support – Postpartum boobs need lots of support, so look for a band that is firm without being too restrictive and a cup size that's a snug and comfy fit. It's a good idea to measure yourself after baby arrives rather than before to get an accurate idea of your post-pregnancy bra size.
Breathable materials – With a toasty little human attached to you, breastfeeding can be a hot and sometimes sweaty task. Look for a bra made of gentle, breathable fabric that provides plenty of ventilation and helps keep you, and baby, cool.
OUR PICK OF THE CROP
10 of the Best Maternity & Nursing Bras
To guide you towards the right bra for pregnancy and breastfeeding, we've compiled this handy list to get you started in your search.
In no particular order, here are 10 of the best Maternity Bras in Australia
---
Cake Maternity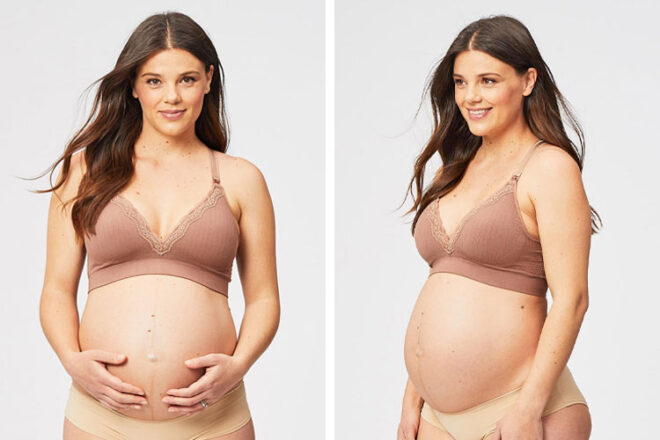 This luxuriously soft, wire-free bra from Cake Maternity takes you from day to night, pregnancy and beyond. The easy-feed drop-down cups and innovative racerback design gives support and comfort as you grow and expand along your breastfeeding journey. Sizes 10B to 16FF.
---
Medela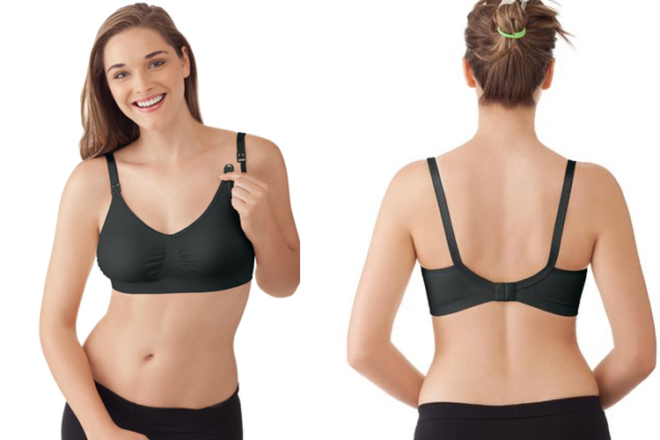 Seam-free, wire-free and tag-free, Medela's feeding bras provide a smooth contour that's perfect for everyday wear under t-shirts. And we love the handy one-handed release of the nursing clips for quick and easy access. Sizes 32B to 42F.
---
Hotmilk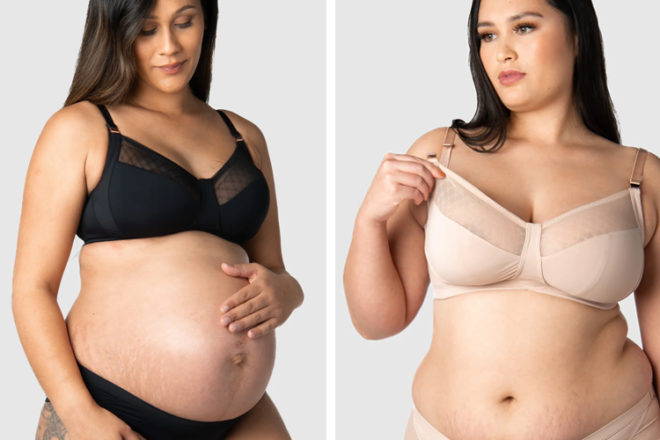 Finished with a contemporary 'clean edge' mesh and stylish magnetic clips, the wire-free Hotmilk Lunar Eclipse is all elegance. While the cotton-lined cups consist of four pieces that centre, lift, and support your changing breast shape. Sizes 10D to 20H.
---
Embrace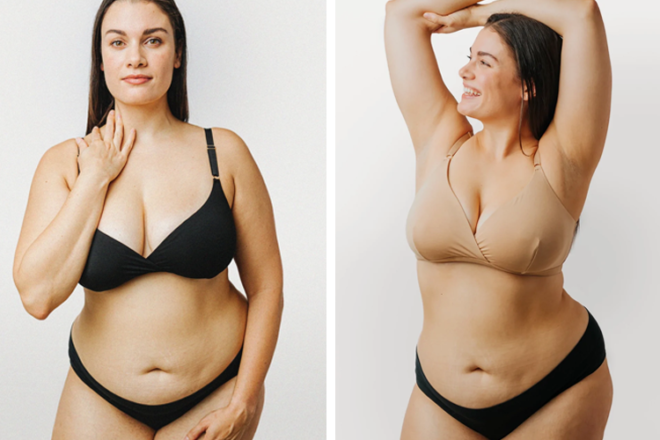 Wireless and clasp-free, the Embrace breastfeeding bra features micromodal fabric that gives superior softness and comfort. We love the plush straps, front adjusters and cups that pull aside for easy nursing. Sizes from 32A to 42G.

---
Mumma Milla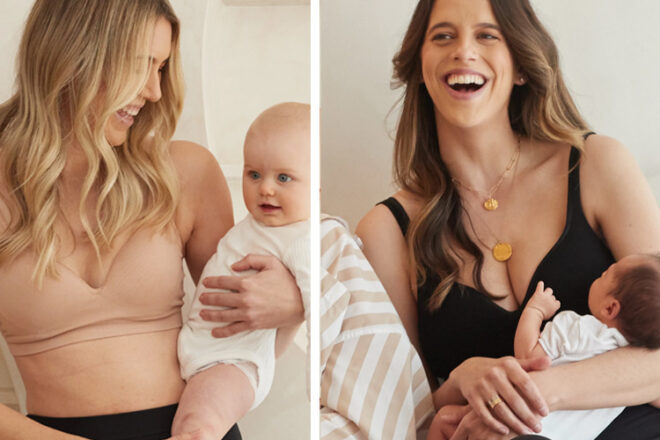 Available in a flattering bralette for day and a comfy crossover bra for night, Mumma Milla's range of nursing bras includes clever built-in, non-removable, leakproof layers for added protection. We love that they are wire and clasp free, and made with buttery soft, hypoallergenic bamboo.

---
Bae. The Label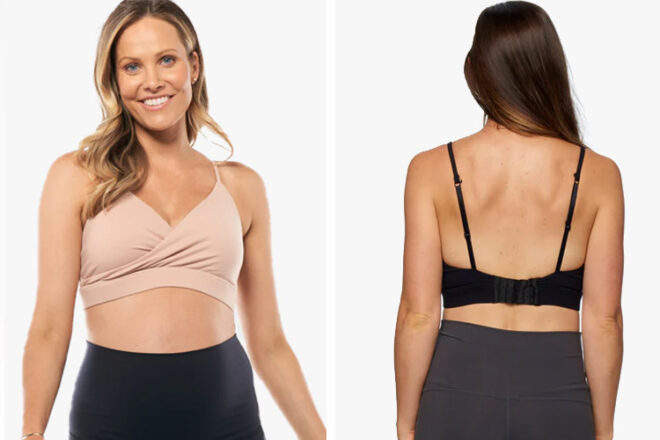 Designed with a cross front for easy nursing access, Bae the Label's comfy bra strikes the perfect balance between form and function. Made from soft and stretchy lycra, it has removable cups, adjustable straps and converts to racer-back for extra support. Sizes XXS to XL.

---
My Formation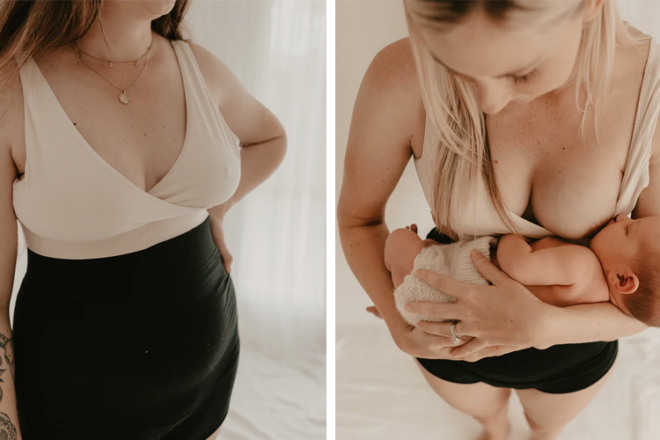 Made by mothers, for mothers, the My Formation pull-aside design makes for easy feeding. We love the double-lined back panels for extra strength and support where we need it, wide shoulder straps and plenty of room to comfortably fit a nursing pad. Sizes XS to XL.

---
Yummy Maternity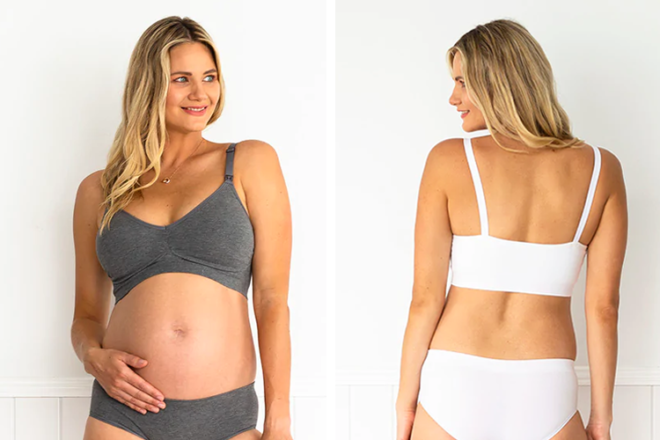 Comfy enough for sensitive pregnant boobs and supportive enough for nursing, this bra is perfect for transitional fits. We love the easy one-handed drop cup and moisture-wicking bamboo fabric that helps absorb milky spills.  Sizes 8A to 14DD

---
Rose & Thorne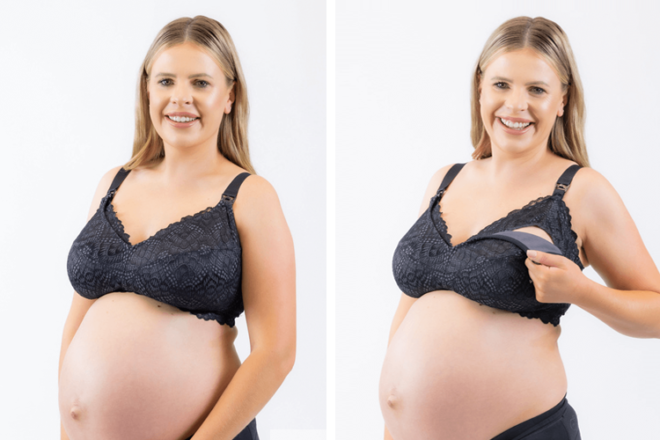 Designed for comfort and support, Rose & Thorne bras feature structured, non-wire cups and soft cotton lining that's gentle on tender breasts. We love the cami back and A-frame support within the clip-down cups for maximum coverage while feeding. Sizes 10D to 24J.

---
Bravado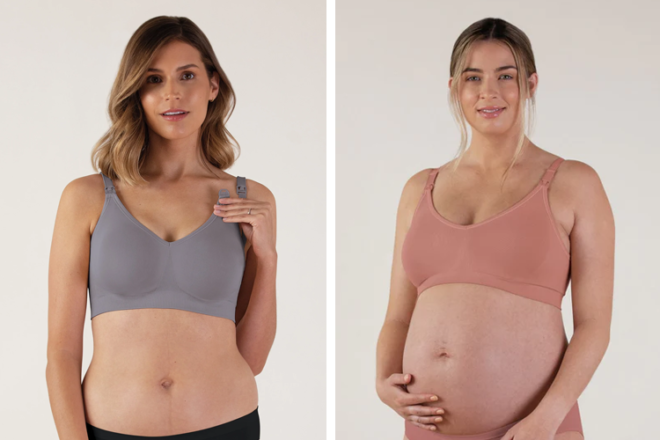 Luxuriously soft and incredibly supportive, this bra features a four-way stretch fabric that comfortably hugs changing bodies throughout pregnancy. The removable foam inserts provide a nice shape while drop-down cups allow for maximum skin-to-skin contact. Sizes 8A to 22G.
---
Is it safe to wear underwire bras when nursing?
An underwire bra compresses milk-producing breast and ducts, increasing the risk of blocked ducts and mastitis. It's best to avoid underwire bras from as early as 20 weeks of pregnancy when the body starts making colostrum.
How many maternity bras do I need?
According to the experts, three feeding bras are a good amount to have on hand. However, you could get away with just two, one to wear while the other is in the wash or drying.
Is a nursing bra essential?
A breastfeeding bra isn't essential but it goes a long way to making nursing babies convenient and comfortable. Also, breasts go through a lot during the nursing stage, from engorgement to blocked ducts, and the extra support that a purpose-built bra provides makes them worth their weight in (milky!) gold.
---
Know a breastfeeding bra we should add to our list? Contact us and let us know, we've been curating Australia's best baby products into helpful lists for over 15 years and we're always happy to support new brands and businesses.
Ask other mums
Looking for a breastfeeding bra and still not sure if any of these are right for you? Join the huge #MGVfam in one of our private Facebook due date pregnancy groups and ask thousands of other mums due at the same time as you which ones they recommend. Join today!
We want you to know
At Mum's Grapevine, we're a team of passionate mums with over 15 years of experience researching and writing about all things baby and parenting. Our reviews of recommended products, like the ones in this post, may include paid inclusions, but we promise to only feature products that we truly believe in and have used or seen ourselves. We want to ensure that our readers have access to the latest and greatest products in the parenting world, and we're committed to maintaining our high standards of quality and honesty. See our Disclosure Policy.
Thank you for trusting us to be your go-to source for all things baby-related.