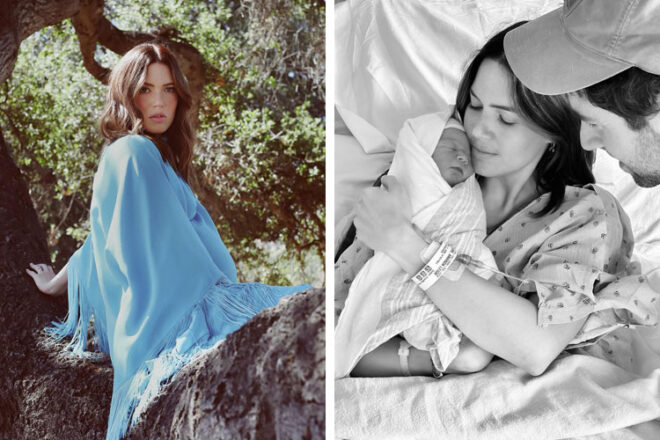 Actress Mandy Moore and her husband Taylor Goldsmith have welcomed their second baby together, a little boy named Oscar Bennett Goldsmith.
Taking to Instagram over the weekend, Mandy and Taylor shared that their little Libran baby had finally made his grand entrance. She captioned the set of very sweet black-and-white photos:
"Ozzie is here! Oscar Bennett Goldsmith arrived a little late but with much aplomb (and an easier/speedier delivery than his big brother, much to the delight of his parents). Every adage is true: our hearts have doubled in size and the immediacy of the love is astounding. He is beyond words and we are so grateful for our family of four!"
View this post on Instagram
Oscar has Irish and Norse origins and means 'champion warrior' whilst his middle name, Bennett has the meaning of 'blessed' stemming from English origin.
Mandy and Taylor both took to Instagram to announce the pregnancy in early June of this year, with a cute snap of the couple's first child, Gus donned in a t-shirt that read "Big Brother". In her caption, Mandy wrote:
"One incredibly seminal chapter of my life just ended and the next one, as a mother of two, is about to start… and are we ever so deeply grateful and excited. Baby Boy Goldsmith #2 coming this fall! Tour is gonna be slightly different than I expected but I can't wait and Gus is gonna be the BEST big brother!! Xo"
View this post on Instagram
And in his caption, Taylor gushed over how lucky he is, writing: "Gus is gonna be the best big brother. @mandymooremm is gonna be the best MomOf2. There's a good chance I'm the happiest, luckiest person you know (or just follow) and now we're gonna double it."
The 39-year-old star was on her 'In Real Life' tour when she found out she was pregnant, which she understandably had to cancel due to the amount of travelling and lack of sleep a tour brings.
Mandy expressed to fans that when she initially booked the shows she wasn't pregnant and although she thought she would be able to power through, the long hours and not getting proper rest took its toll. She wrote: "I know that I have to put my family and my health (and the health of my baby) first and the best place for me to be right now is at home."
The couple who may be one of the most loved-up pairings in Hollywood, constantly posting love and praise for one another on their social media, were married in 2018 and have one other child together, 18-month-old August 'Gus' Harrison. Born in February 2021, the little Pisces baby arrived right on time according to Mum.
"Gus is here 💙💙💙💙. Our sweet boy, August Harrison Goldsmith. He was punctual and arrived right on his due date, much to the delight of his parents. We were prepared to fall in love in all sorts of brand new ways, but it goes beyond anything we could have ever imagined.
M + T"
View this post on Instagram
Throughout her pregnancy, Mandy has shared some touching milestones with her followers on Instagram including her baby shower. Although she had stated she didn't want one this time around, her friends threw her a beautiful backyard affair. The actress wrote:
"Thank goodness for friends who don't listen to you and insist on throwing a beautiful celebration for baby #2 and completely go above and beyond. @whatsgabycookin, @ebfavs and @mollymcqueen1- you ladies are one in a million and I'm still so touched by everything it took to put such a remarkable evening together. I didn't get to have any in person shower or gathering before Gus arrived (because of Covid) so it was especially significant to be surrounded by some of my very favorite folks to toast this next chapter. Thank you @whoanellycaters for the insane spread and feast (and mocktails- peep the names)! And the most heavenly cake ever c/o @whatsgabycookin (a cookies and cream dream)… @mollymcqueen1 for opening her stunning home to us and of course @denniskwanphoto for capturing all the best moments."
View this post on Instagram
The This Is Us actress also shared in one of her last posts before Ozzie was born that she had a last-minute maternity shoot and we are absolutely obsessed with it.
Looking fabulous in her boho 70's style, Mandy posed wearing a very glamourous floor-length power blue dress with fringe and all. She also kept it real looking cozy and comfortable in a jumper and trackies.
"37+ weeks captured by my dear friend @photobyjennajones. Thank you, Jenna, for documenting so many moments (big and small) in my life and always being down for a last minute adventure (seriously- I brought some clothes from my closet, changed in the back of my car and we dodged a bunch of guys practicing frisbee at a park by my house to grab these shots… oh all in 90 degree heat lol). And a special thank you to @dendoll and @matthewstylist for coming last minute to make a very pregnant 🤰 lady feel glam. With a toddler and a husband on the road, it's been a challenge to find time to mark this season of my life but baby boy is more than worth it."
View this post on Instagram
We are so happy for Mandy and Taylor as their love bubble grows into a family of four. We wish them all the best and look forward to continuing to follow them on their parenting journey.