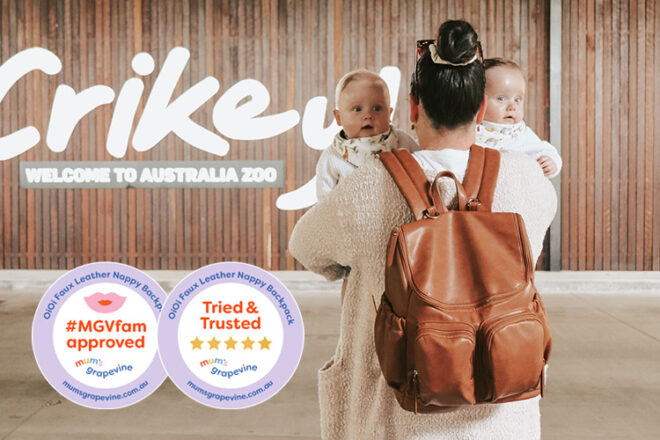 Mums recommend the OiOi Faux Leather Nappy Backpack
Intuitively designed by an Australian mum, the OiOi Faux Leather Nappy Backpack has a spot for everything thanks to the eight elasticated pockets and huge zip-around opening that allows you to see everything inside.
Stroller straps are also included making it a cinch to attach to a pram handle while you're on the move, and durable metal feet protect the base of the bag no matter how many pitstops you make. Insulated bottle holders keep baby's milk just right for up to two hours while the adjustable shoulder straps are soft and padded for extra comfort.
The perfect balance of fashion and function, OiOi have thought of everything to make travelling with babies fuss-free and super-organised.
Available online from OiOi ($199.95) in a range of modern colours.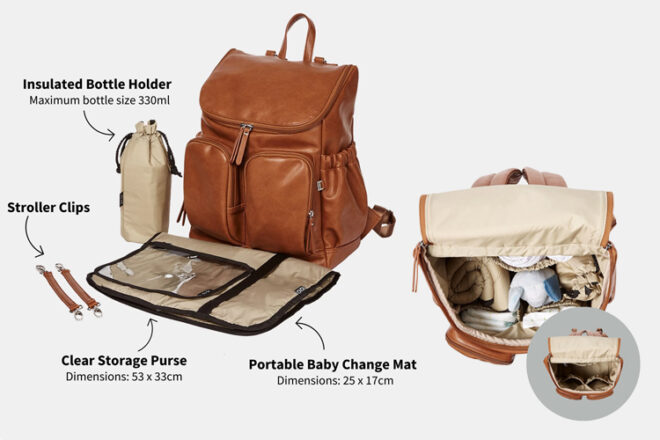 Five reasons we love the OiOi Nappy Backpack:
It's H.U.G.E inside
Babies come with a lot of stuff, and this nappy bag fits it all. Twins, no problem, two kids, no problem, cloth nappies, yep you get it, no problem, it fits it all.

 

There are pockets for everything
Forget the days rummaging around in your bag for a dummy or car keys with a crying baby on your hip. This bag has eight, yes eight, pockets for clever organising.
It's so easy to clean
There's a water-resistant finish on both the inside and outside so everything wipes clean! And the metal feet on the bottom stops it from getting dirty on the ground.

 

It comes with all the extras
Large padded change mat (that's machine washable!) insulated bottle holder, clear zip-top bag and stroller straps to hang it from the pram.

 

You can see everything inside
The stand-out feature for us was the zip-around opening allowing you to see everything deep inside.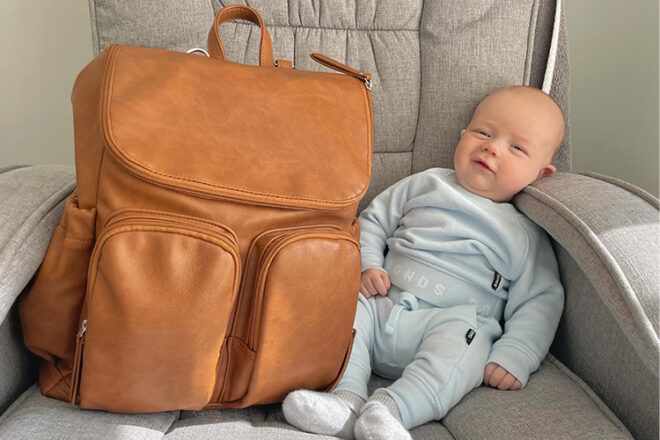 But don't take our word for it, we asked three mums from our Mum's Grapevine Facebook Baby Groups to try the OiOi Faux Leather Nappy Backpack and here's what they had to say:
100% would recommend OiOi Faux Leather Nappy Backpack to their friends.
OiOi Faux Leather Nappy Backpack received a 5 out of 5 star rating
Ashlee, mum of 3-month-old Charlie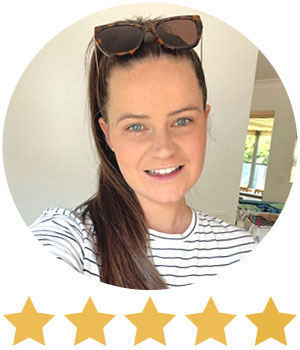 "Absolutely loved the OiOi nappy backpack!"
Having 2 under 2 can prove a challenge when trying to fit everything we need into one bag. After using the OiOi Faux Leather Nappy Backpack I can fit and organise so much thanks to the 8 internal pockets and its large opening making everything easily accessible.
My favourite feature would have to be the pram attachment straps as when I use my pram in double mode there often isn't much room for a bag underneath. The shoulder straps are also padded which makes it comfortable to wear on my back for long periods of time and even when I'm holding bub.
I have also received so many compliments because it just looks beautiful!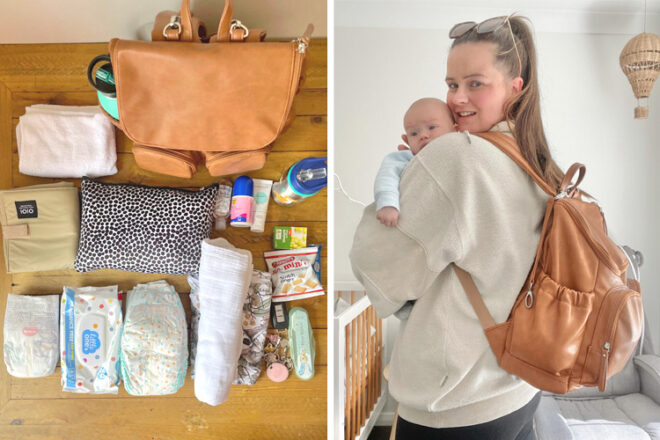 ---
Tessa, mum of 3-month-old Aria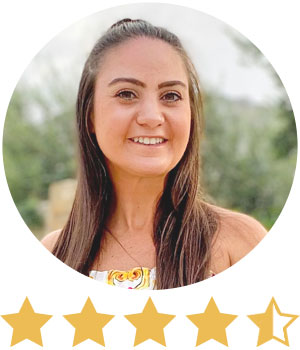 "I would definitely recommend this to other mums who are using cloth nappies and need the extra space"
The OiOi Nappy Backpack has so much room for me to fit everything I need for the day. As a first-time mum, getting ready for outings such as swimming lessons can be stressful, especially with everything you need to have prepared for bub for before and after. With the nappy backpack's 8 huge pockets and the massive zip-around opening, I feel much more prepared as it helps me see and access everything I need to be super-efficient for changes.
I love being able to utilise the different pockets and compartments, making it easy to locate exactly what I need. As a cloth nappy user, it's important that I have enough room to carry them with us. I could easily fit a day's supply of cloth nappies in the bag as well as my wet bag easily inside.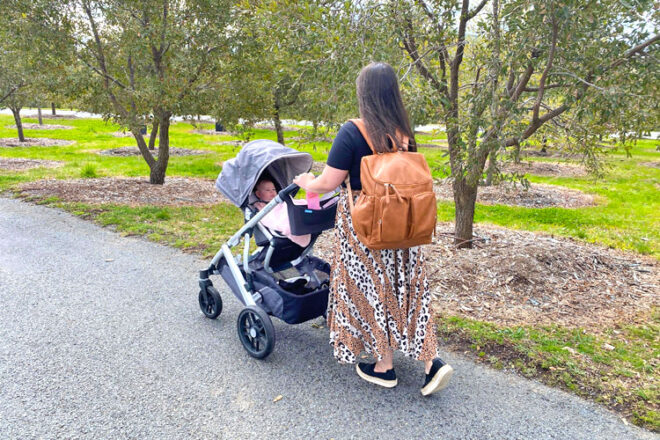 I also took this bag on a recent family holiday and loved having it with me throughout the airport, on the plane, and during our stay. I filled the front pockets with toys for my little one during travel and it was so easy to access and entertain her on the plane.
Using the clear wet pocket, I had everything I needed for a nappy change and it definitely came in handy when I needed to change her in the plane lavatory (which is tiny as it is)!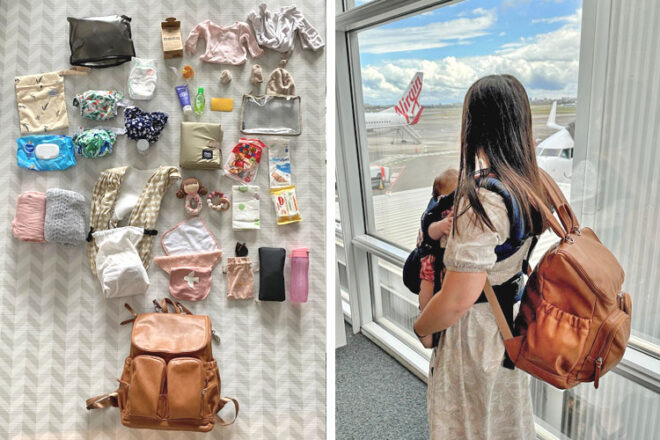 I also loved that I could roll up a blanket and have it on hand, knowing I was prepared for all situations. I was able to fit all my 'Mum' essentials such as my wallet, water bottle, and jumper in the bag, making it easy to carry everything I needed in one place. It was super lightweight and comfortable to wear during transit.
I was really surprised at how light it was despite how full I made it! I would definitely recommend this to other mums who are using cloth nappies and need the extra space, or if you're like me and tend to overpack for every possible situation!
Tessa has taken a great video showing how much you can pack into the OiOi Nappy Backpack.
---
Jessica, mum of 6-month-old Denver & Oakley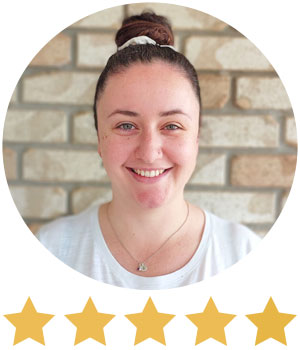 "Definitely a worthwhile investment, something you will get a lot of use out of."
As a mum of twins, you can probably already imagine how much stuff I need to squeeze into a nappy bag. I am also a Mumma of 4 under 4 with three of those still in nappies and the OiOi Nappy Backpack has been amazing for us!
Putting the bag to the real test, I took it with us on a family trip to the Australia Zoo and was pleasantly surprised that I was able to easily access everything I needed within the bag and was able to fit a fair bit inside to keep us going for the big day out.
As I was packing the bag for the twins, anything you'd ordinarily take I need to take 2 of. This left me with a pretty full nappy bag with the basics such as bottles, formula, bibs, spare clothes, nappies, wipes, sunscreens and hats.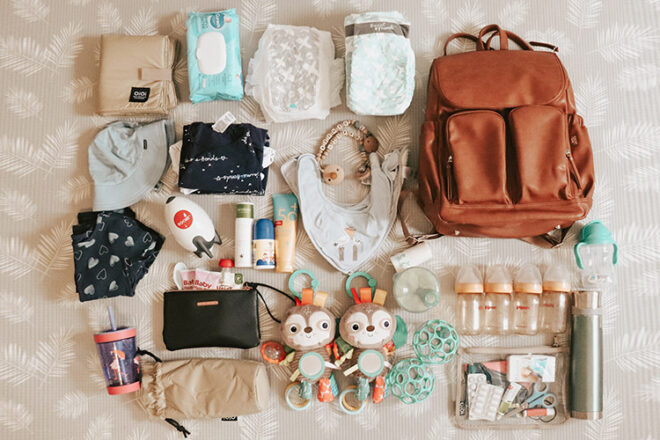 Even though the bag was quite full it was so comfortable to wear. Despite having our double pram and wagon with us, hubby and I still chose to carry the bag the entire day. I was also so happy to discover that it fits in the cargo net of my pram with no struggle, often trying to get our other nappy bag in and out was a constant battle! But I found the OiOi fit in with ease.
I absolutely love the soft-touch feel of the leather and how stylish the bag is as well.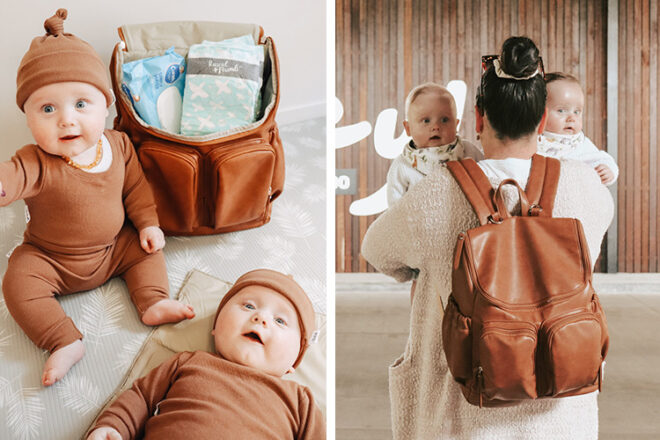 Jessica has taken a great video showing how much she was able to pack into her OiOi Nappy Backpack.
Available online from OiOi ($199.95) in a range of modern colours.
---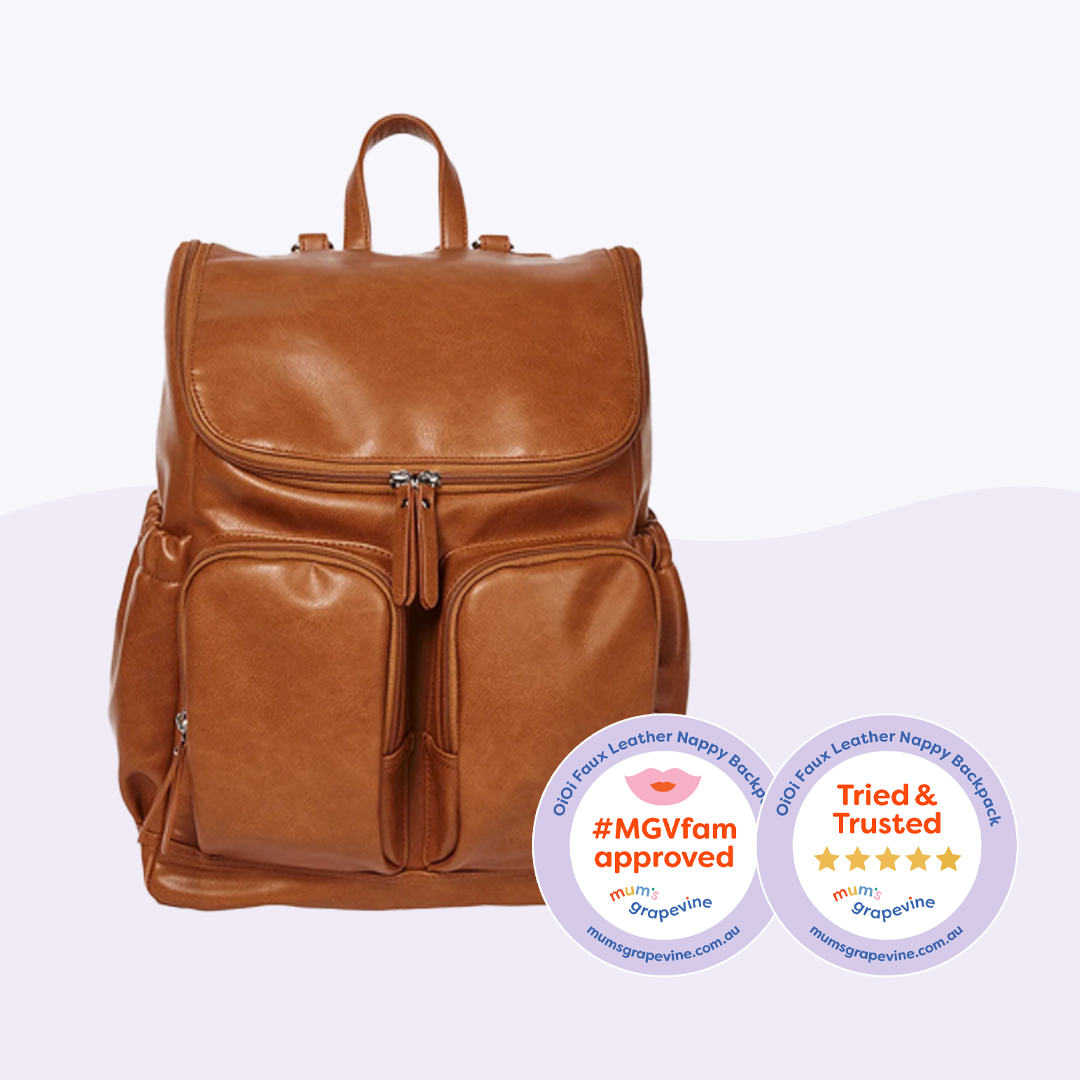 These nappy bags have been provided by OiOi for the purpose of trial and review. All reviews submitted are the honest, authentic and genuine sentiments of the Mum's Grapevine Facebook Group members (#MGVfam) participating in this trial.