Just when we thought a sleeping baby was the most adorable sight in the world, name blankets have come along and taken the sweetness to new heights.
A personalised blanket is a knitted, woven or fleecy piece of fabric adorned with a baby's name. In a spectacular range of styles, from neutral cotton knits to printed fleece, these special blankies are perfectly sized to take everywhere and keep baby toasty from the cot to the pram and back again.
Totally photo-worthy, they make beautiful props for birth announcements.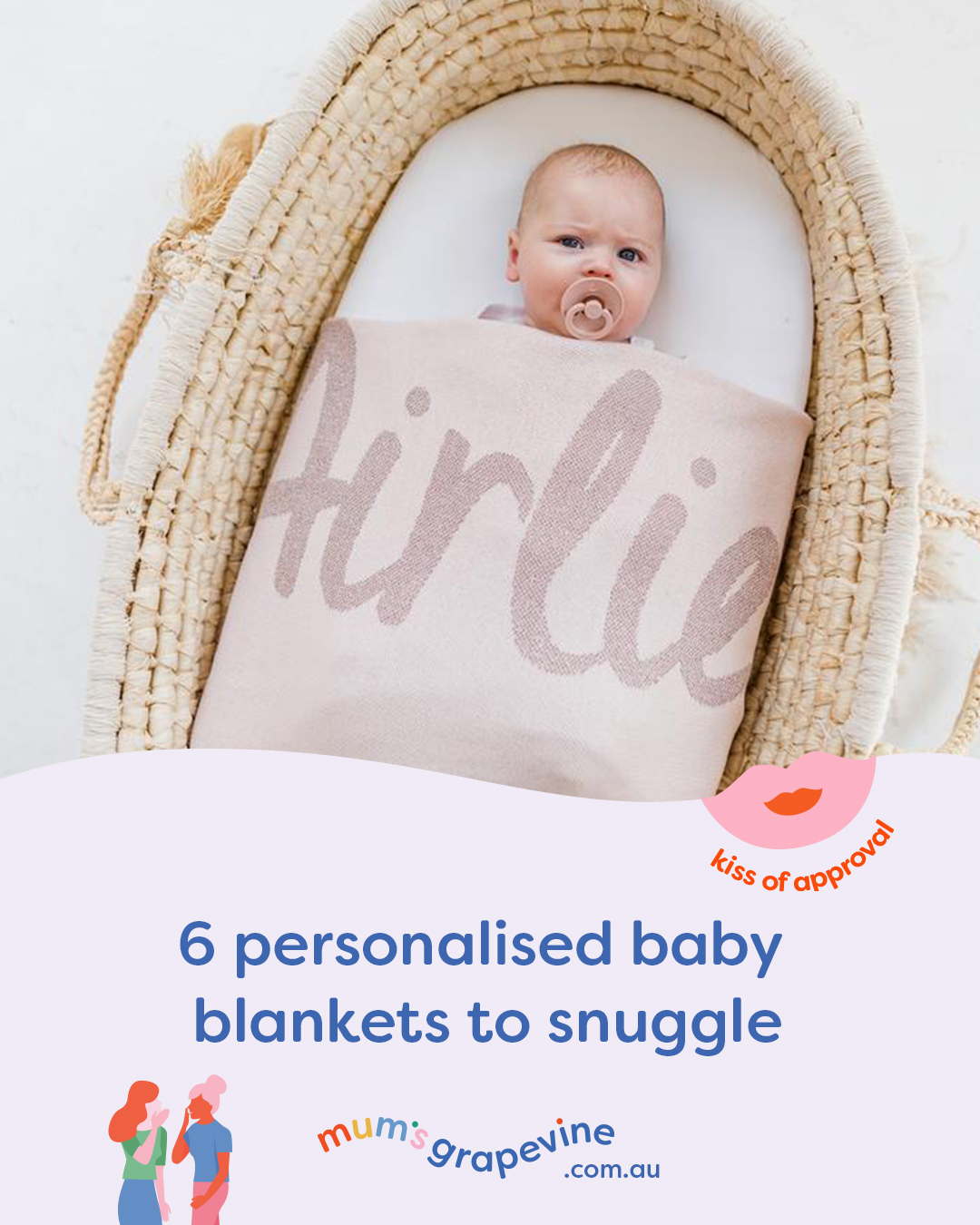 OUR PICK OF THE CROP
6 personalised blankets and naming rugs
To help you find an unforgettable newborn gift or special addition to the nursery, we consulted our huge Facebook community of Australian mums and listed their most popular choices below.
In no particular order, here are 6 of the most popular personalised blankets for 2023.
Blankids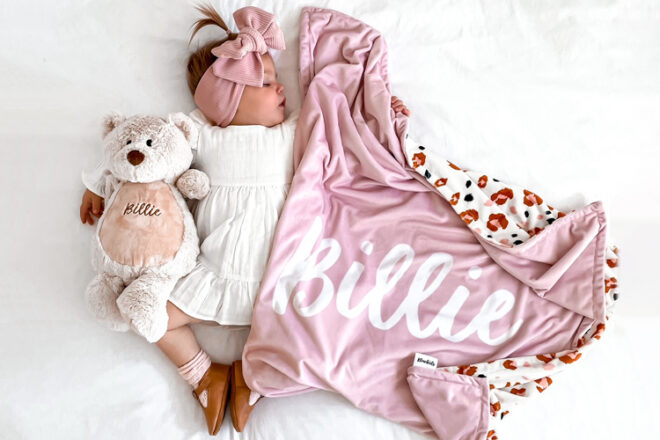 From trucks to toucans, there is a print in this range for every bub. Each double-sided blanket is made from stain-resistant Minky fleece that's tough enough to withstand years of use and washing. Locally made, they come in over 30 styles.
---
Thread The Word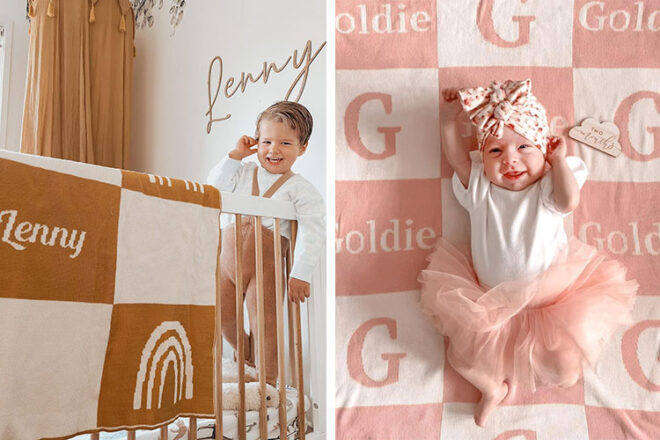 Available in four different sizes including bassinet and cot, Thread The Word blankets use pure, chemical-free cotton for a luxe finish that's gentle on baby's skin. From zigzags to checks, there are over 12 designs to choose from and 24 different colour combinations.
---
Namely Co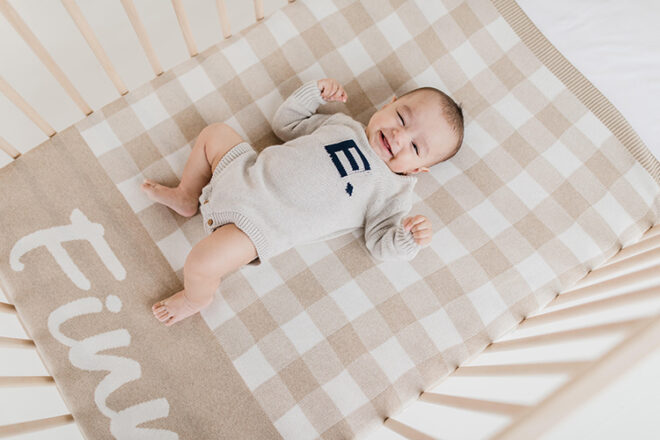 Dreamy treasures in timeless hues. Crafted from 100% organic cotton, these bespoke beauties are gentle on babies' skin and help to maintain a comfortable, healthy temperature as they snooze. Choose from bassinet or cot sizes in over 40 designs.
---
Koalour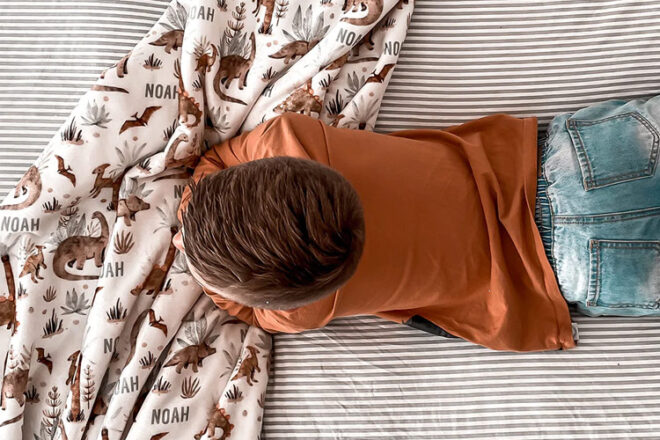 Designed and printed in Brisbane, Koalour blankets come in either Plush Mink or Lux Sherpa. Colourfast to withstand years of use, choose from three sizes and an array of beautifully curated designs. They're machine washable and perfect for play or sleep.
---
Little Poppet Store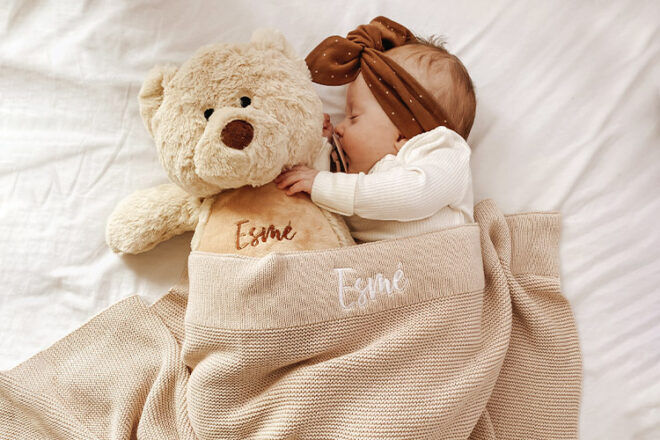 Beautifully crafted from 100% cotton, Little Poppet Store keepsake blankets come in classic hues and feature baby's name in stunning embroidered detail. Machine washable and perfectly sized to use in the pram or car, they measure 100 x 75cm.
---
Hunter & Oak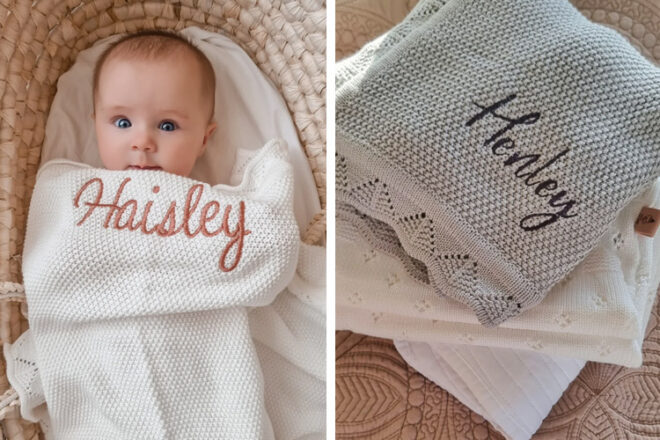 Designed as a special keepsake to treasure, Hunter & Oak's heirloom blankets are truly giftable and made of organic cotton. Soft, durable and for use in all seasons, choose from five dreamy colours and six different fonts. They measure 80 x 100cm.
---

Know a personalised blanket we should add to our list? Contact us and let us know, we've been curating Australia's best baby products into helpful lists for over 15 years and we're always happy to support new brands and businesses.
Read next …
If you're after more snuggly products for bubba, you're in the right spot.
Ask other mums
If you're expecting your own little miracle or already have a new babe in your arms, join one of our Mum's Grapevine Facebook baby groups and talk to other mums due or with babies the same age as you. Find your group today – don't miss out!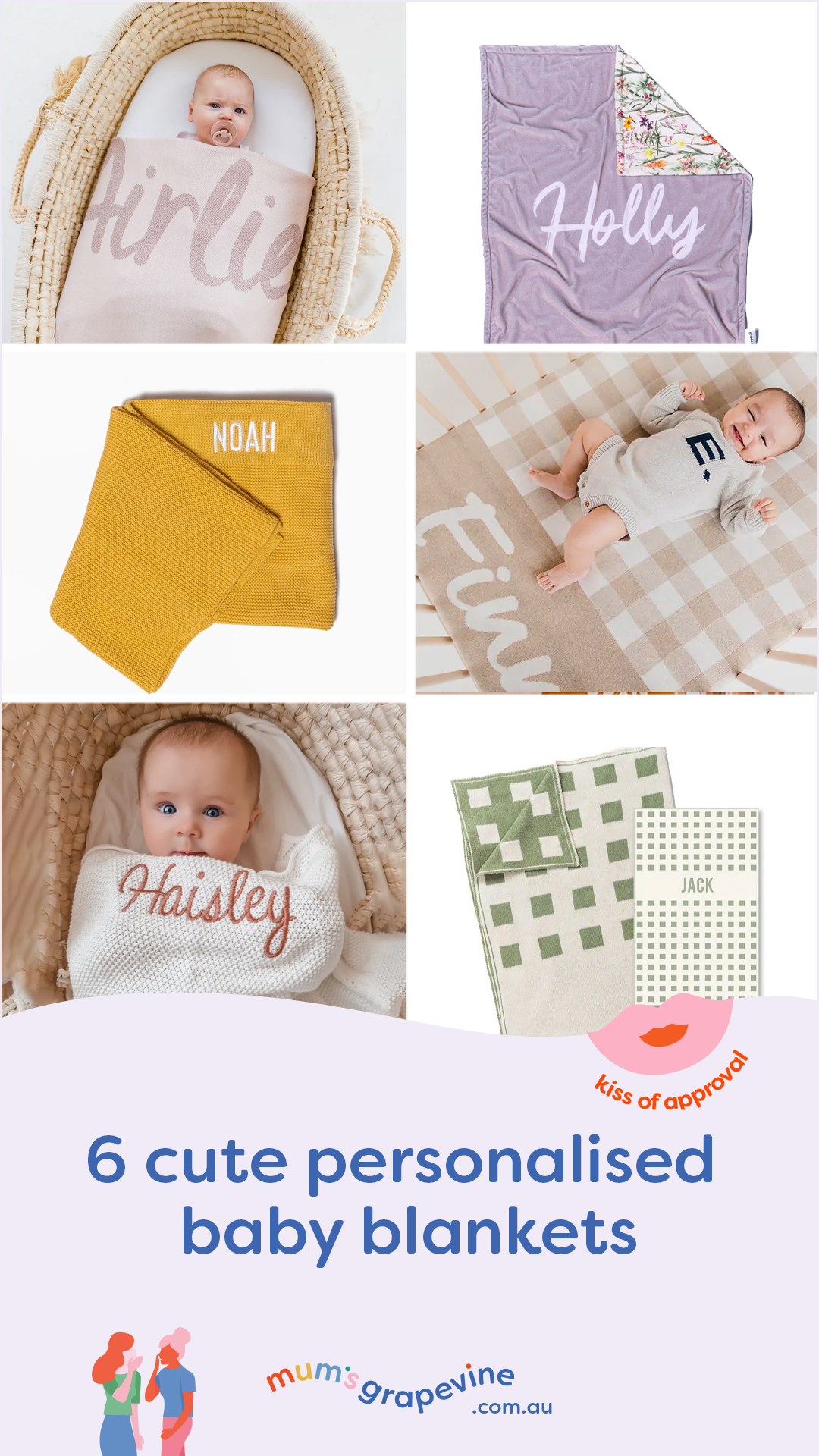 We want you to know
At Mum's Grapevine, we're a team of passionate mums (with 19 kids!) and over 15 years of experience researching and writing about all things baby and parenting. Our reviews of recommended products, like the ones in this post, may include paid inclusions, but we promise to only feature products that we truly believe in and have used or seen ourselves. We want to ensure that you, our readers have access to the latest and greatest products in the parenting world, and we're committed to maintaining our high standards of quality and honesty. See our Disclosure Policy.
Thank you for trusting us to be your go-to source for all things baby-related.