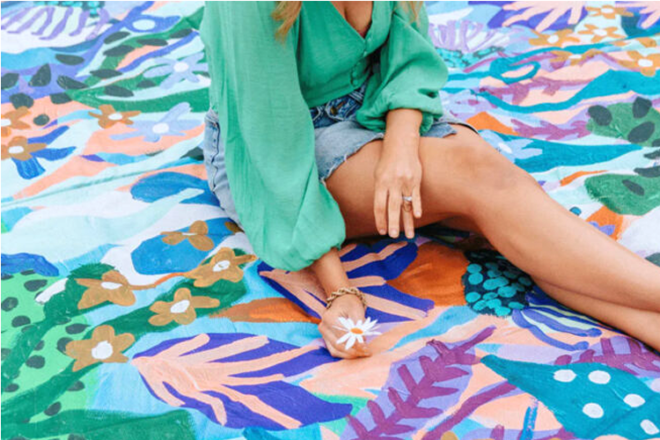 Before you hit the shops and invest in a rug, read our curated list of Australia's best picnic blankets to get you started in your search.
There are a few essentials you need to have on hand when it comes to enjoying the great outdoors with your minis, and a cosy picnic blanket or rug is one of them. Because soggy bottoms and sandy snacks are a fast track to meltdowns.
A picnic rug is a large fabric ground cover for sitting on while enjoying the great outdoors. Often finished with a waterproof back, these mats protect clothes from damp and dirty grounds and offer families a comfortable spot to relax with some snacks.
We've curated a complete list of picnic rugs that are perfect for Australian families. Not only will they set the scene for the perfect pit stop, but they'll help keep tushies dry and comfy all afternoon.
OUR PICK OF THE CROP
13 Aussie picnic blankets and rugs
To help you find a the perfect rug or blanket for your next outing, we consulted our huge Facebook community of Australian mums and listed their most popular choices below.
In no particular order here, are 13 of the most popular picnic blankets for 2023.
Saltwater Picnic Co
Machine washable, Saltwater Picnic Co rugs are made from 100% recycled fabrics. Utilising advanced water-resistance technology, any spills quickly bead up for easy wiping, leaving zero stains. We love that each design is limited to 250 and showcases local artists and designers.
---
Kollab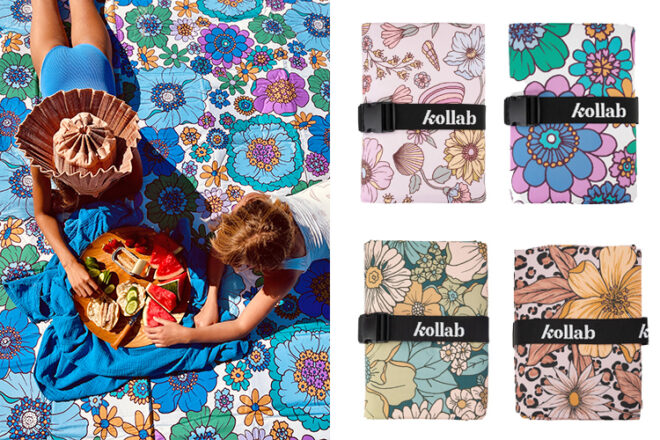 When they say these are big, they aren't kidding – at 2m x 2m, you'll fit the whole family plus friends on them. Water-resistant on both sides, they come with comfy foam lining and a handy strap for secure rolling. Smaller Mini Mats are available for $69.
---
Emro Designs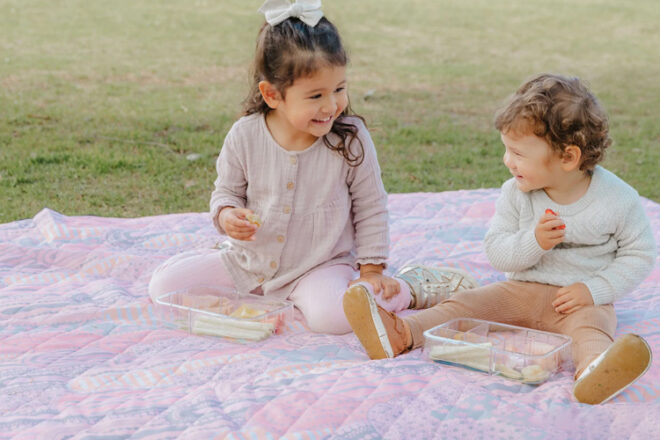 Featuring artwork by prominent Indigenous Australian artists, Emro Designs have reversible mats and rugs for any adventure. Choose from recycled plastic outdoor mats that are a cinch to clean or their UV protected, water-resistant, sandproof picnic rugs. Both come in handy carry bags.
---
Isla In Bloom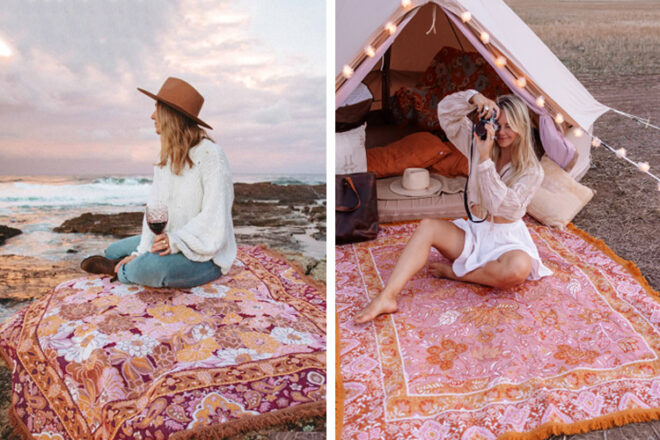 Beautifully designed here in Australia, Isla In Bloom bohemian floral rugs are woven from 100% recycled cotton. Thick, breathable and hard-wearing, they're big enough for up to four adults to enjoy and boast dreamy single-tone tassel trims.
---
oimmie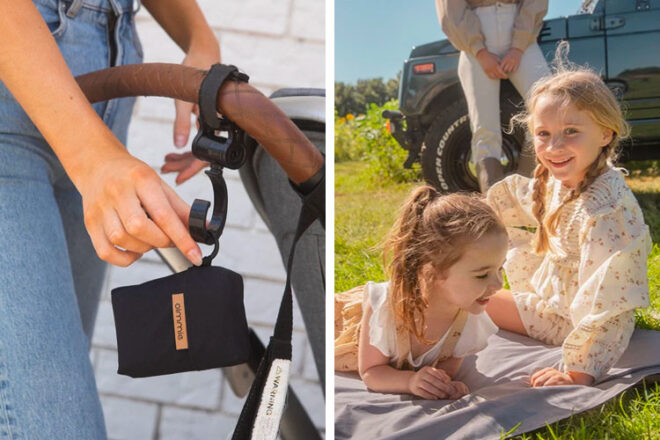 Introducing the ultra-compact but oh-so-roomy ClicMat from oimmie. Made from eco-friendly materials, it's like a huggable cloud of cuteness. With an attachable smooth zinc alloy clip and detachable anchors, we found it the perfect companion for any adventure. Plus, it's a breeze to clean.
---
Wandering Folk
Picnic blankets? More like magic carpets! Made from tough cotton canvas with a waterproof backing, each features stunning hand-drawn artwork that's treated to resist fading. Each rug has a brown strap and the most magnificent tassels you ever did see.
---
Picnic Season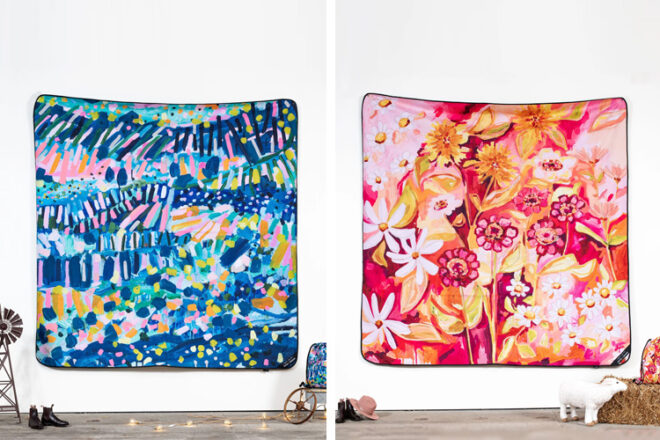 In a choice of 'Really Big' or 'Everyday' sizes, Picnic Season rugs are as functional as they are fun. Featuring original artwork each comes with waterproof backing, a stain-resistant top, ground pegs and a handy backpack for easy carrying.
---
The Tartan Blanket Co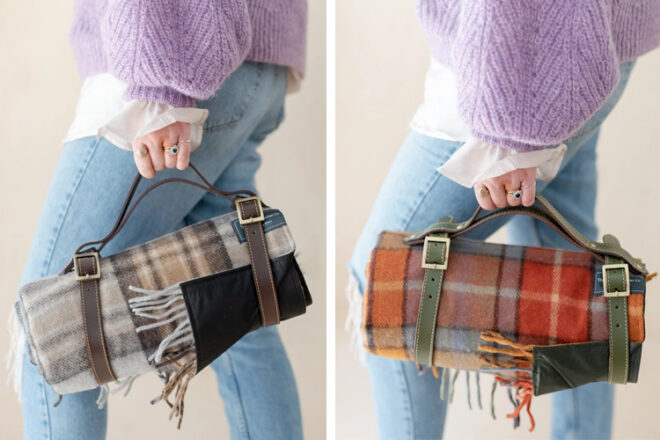 Both sustainable and luxurious, The Tartan Blanket Co combines 70% recycled wool with 3-0% mixed recycled fibres in each and every rug it creates. The waterproof backing protects from moisture and debris and the leather picnic strap makes travelling a breeze.
---
murph&murph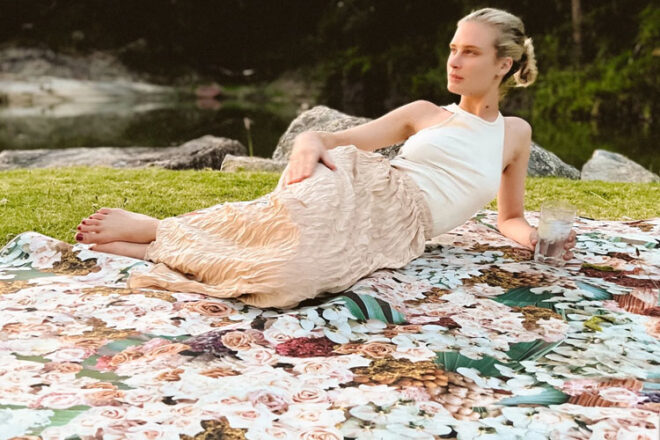 Australian owned and designed, murph&murph original neoprene picnic blankets are quick-drying, easy to clean and repel water like a wetsuit. There are eight designs to choose from by Western Australian Photographic and Floral Artists.
---
Joy Supply Co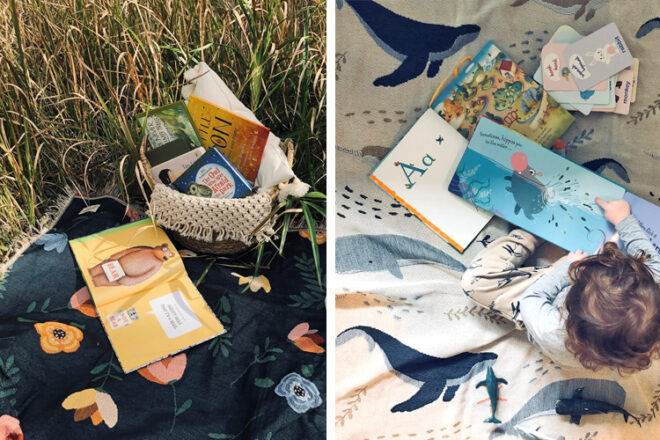 Kid-friendly and easy to fold, Joy Supply Co designs are woven right into the blanket making them super durable and much more resistant to fading. Machine-washable AND able to be tossed in the dryer, they're available in four stunning prints.
---
Oliochi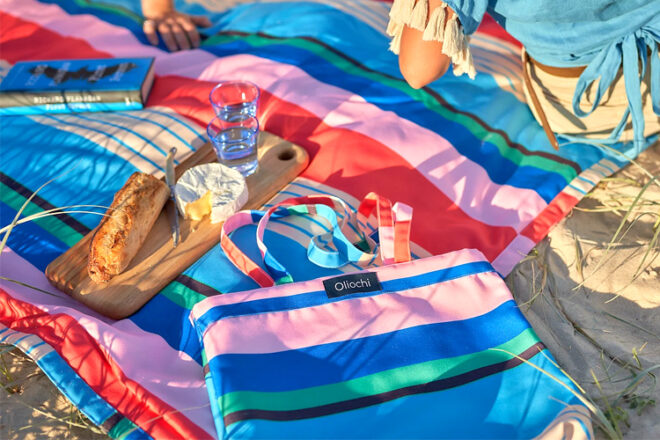 Designed in Australia for indoor and outdoor use, Oliochi blankets boast a water-resistant top, fully waterproof base and a padded middle layer for extra comfort on uneven, hard surfaces. It's so cushioned, in fact, that it doubles as a playmat for babies too.
---
Hendeer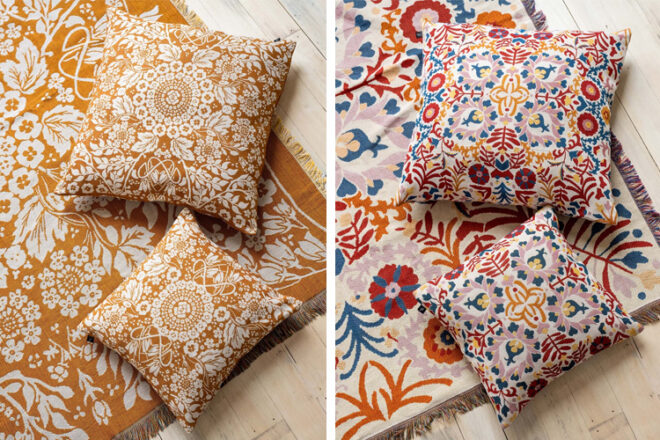 Designed in France, these earth-friendly woven picnic rugs are made from cotton and recycled polyester sourced from waste that would have otherwise entered oceans and landfills. Packing huge boho vibes, you'll use them inside and outside all year round.
---
Henlee
Crafted from premium 100% vegan leather, Henlee's range of picnic mats are luxuriously soft, extremely durable, scratch and water-resistant and easy to clean. Perfect for elevating your outdoor experience, they come in three sizes including the extra large village mat.
---
Can you use a normal blanket for a picnic?
Absolutely. However, regular and weighted blankets aren't usually made for outdoor use and don't have the stain-resistance and/or waterproof backing that picnic blankets usually have.
What should I look for when buying a picnic blanket?
Look for waterproof or water-resistance features to prevent moisture seeping through, an easy-clean composition and a fab design you'll spot in a crowd. Also, make sure the blanket is the right size for your family – because no one likes ending up on the grass.
Can you wash a picnic blanket?
Some rugs are machine washable, others are designed for spot cleaning or wiping down – it depends on the materials they're made with. Check your washing label carefully before tossing rugs in the machine.

Know a brand of picnic blanket we should add to our list? Contact us and let us know, we've been curating Australia's best baby products into helpful lists for over 15 years and we're always happy to support new brands and businesses.

We want you to know
At Mum's Grapevine, we're a team of passionate mums (with 19 kids!) and over 15 years of experience researching and writing about all things baby and parenting. Our reviews of recommended products, like the ones in this post, may include paid inclusions, but we promise to only feature products that we truly believe in and have used or seen ourselves. We want to ensure that you, our readers have access to the latest and greatest products in the parenting world, and we're committed to maintaining our high standards of quality and honesty. See our Disclosure Policy.
Thank you for trusting us to be your go-to source for all things baby-related.
xoxo