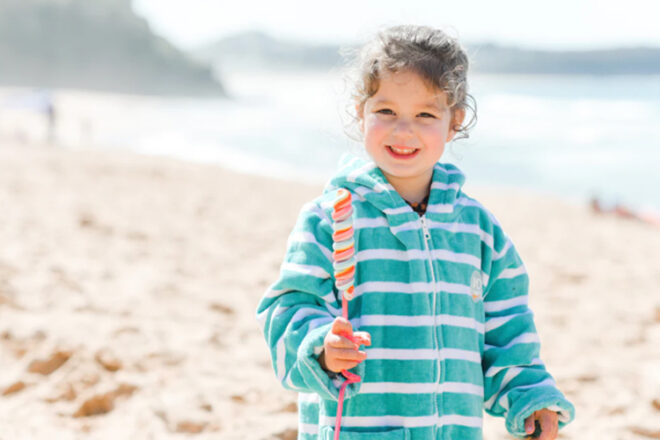 For fun-filled beach days with more smiles and fewer chills, hooded beach towels have returned from the '70s to keep a new generation of kids snug on a poncho between swims.
Kids' hooded beach towels are clever wearable towels that little ones can pull on like a poncho. The hood keeps wet heads warm and out of the wind, and because they don't have to be held, kids are less inclined to drop them in a pile of wet sand when adventure calls.
They're also perfect for bundling up tots for an afternoon sea-esta.
OUR PICK OF THE CROP
12 hooded beach towels, ponchos and robes
To help you find a super-cosy hooded beach ponchos and robes, we consulted our huge Facebook community of Australian mums and listed their most popular choices below.
In no particular order, here are 12 of the more popular hooded beach towels for 2023.
SAMMIMIS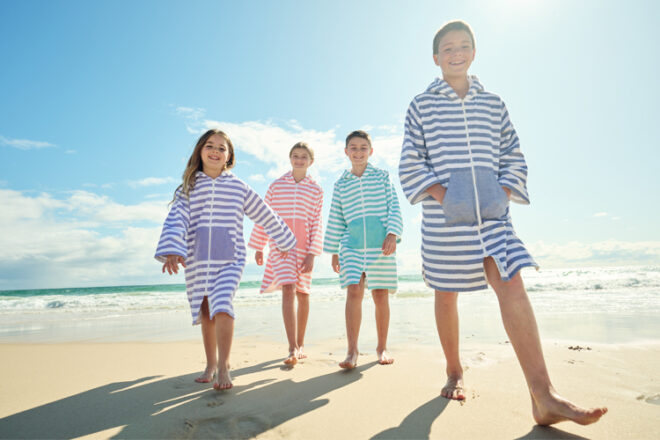 Extra long at the back, SAMMIMIS hooded beach towels are designed to make sitting more comfortable while keeping the car seat dry. Made from premium Turkish cotton these quality zip-up beauties come in a range of colours and styles and can be personalised on request.
Available in four sizes for 2 to 12-year-olds.

---
Blankids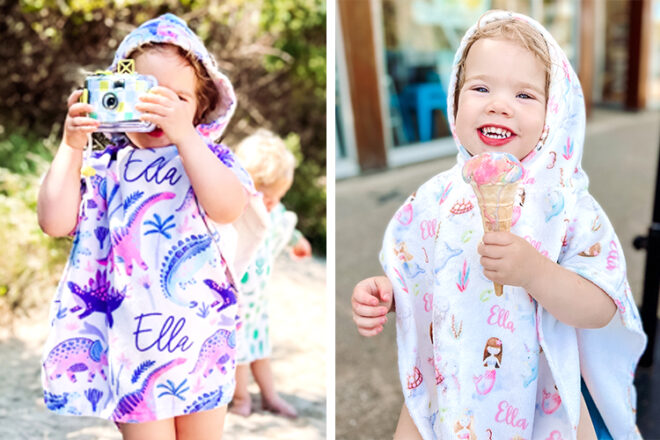 Printed and sewn in their Brisbane Studio, Blankids personalised hooded towels are made from highly absorbent microfibre towelling that's durable and stain resistant. Choose from heaps of too-cute designs and font combos that capture every little personality.
Available in five sizes for 1 to 10 year olds.

---
Zinc & Co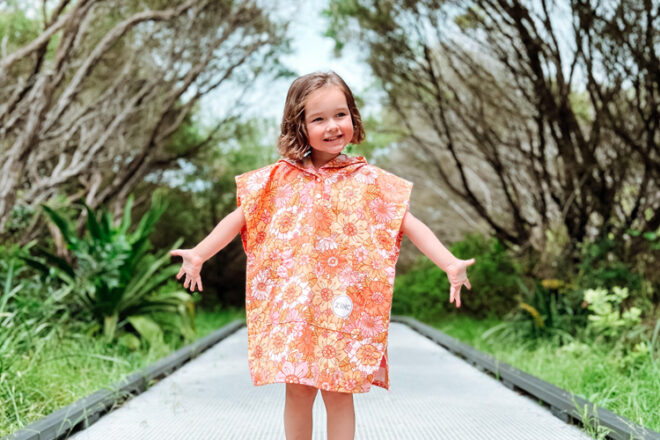 Made from premium microsuede fabric, Zinc & Co's hooded towels are sand-free, quick drying and have handy snaps for comfort. Available in a range of vibrant prints, each has been hand designed by local Melbourne artists and come with a matching drawstring bag.
Available in kids sizes (2 to 11 years), teens and adults.

---
Rad Kids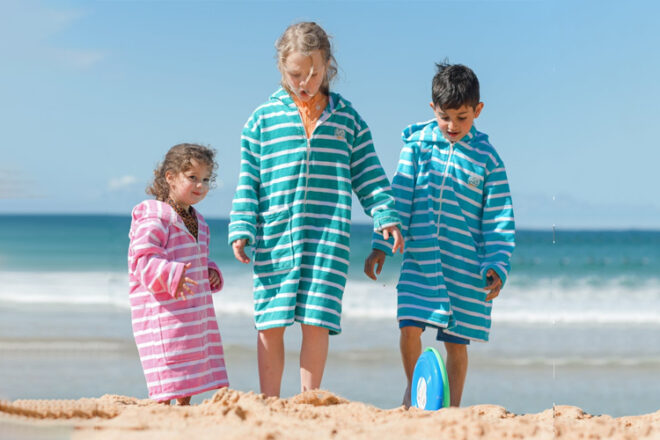 Lovingly designed in Australia, these hooded towels come in highly absorbent cotton, that can be comfortably worn the whole day. They also feature a hoodie for wet hair, a premium YKK zipper for easy on-and-off, long sleeves and a useful pocket for goodies.
Available in seven sizes for 1 to 12 year olds.
---
Chasing Sundays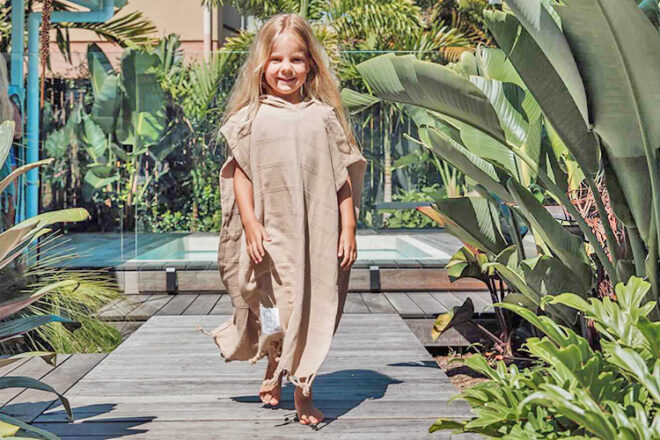 Artisan-made in Turkey using chemical-free OEKO-TEK cotton, Chasing Sundays' stonewashed ponchos are perfect for boho beach babes of all ages. Compact and lightweight these versatile poncho towels are available in five contemporary colourways.
Available in six sizes for six months to 10 years.
---
Novange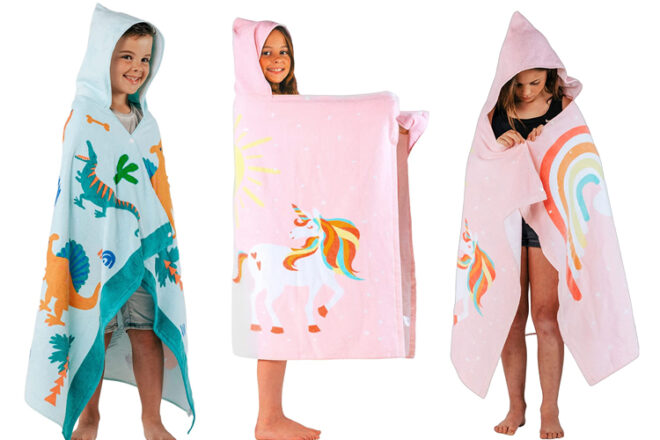 Soft and absorbent, Novange hooded towels are made of premium quality 400 gsm cotton with in-built fluff-shedding prevention. Available in two adorably designs, these quick-drying hooded towels also come with pockets and button snaps on each side.
Available in one size for 3 to 12 year olds.

---
Wovii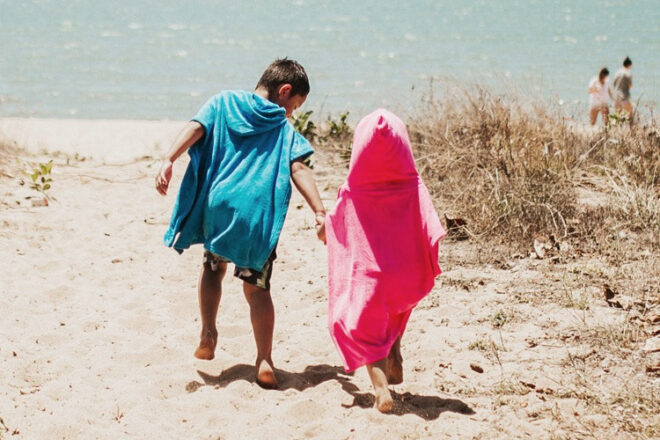 Fluff-free and as soft as can be, Wovii hooded beach towels use ultra-absorbent microfibre to dry waterlogged kids fast. They're sand-resistant, super compact and come in multiple fun colours including coral, sea green and lagoon.
Available in two sizes for 2 to 10 year olds.
---
Will & Wind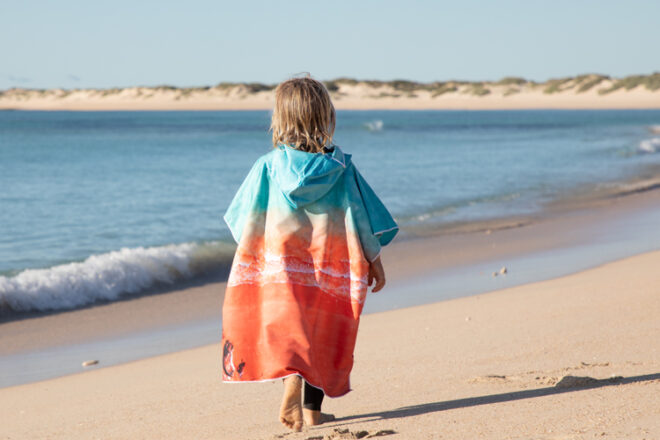 Sustainably made using post-consumer plastic bottles, Will & Wind hooded beach poncho towels are lightweight, quick drying and sand-free. Able to hold up to seven times their weight in water, each towel has an exclusive photographic design taken from travels across Australia.
Available in one size for 3 to 8 year olds.

---
Calf & Crew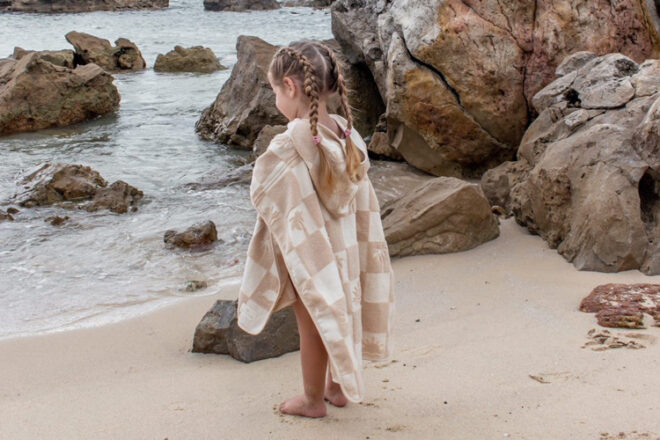 In a checkered design that gives us heart-eyes, Calf & Crew's 100% terry cotton hooded poncho towels have a stylish oversized hood designed to keep little faces shaded from the sun. This versatile towel is 500 gsm so it's extra absorbent yet lightweight and breathable.
Available in three sizes for 6 months to 8 years.
---
Swoodi
Fun, vibrant and certified UPf 50+, Swoodi's range of unisex hooded towels and beach robes are made from plush 100% cotton towelling. Featuring quality zippers, oversized hoods, long sleeves for extra protection and large handy pockets.
Available in six child sizes for 2 to 12 year olds, and adults.

---
Coast Kids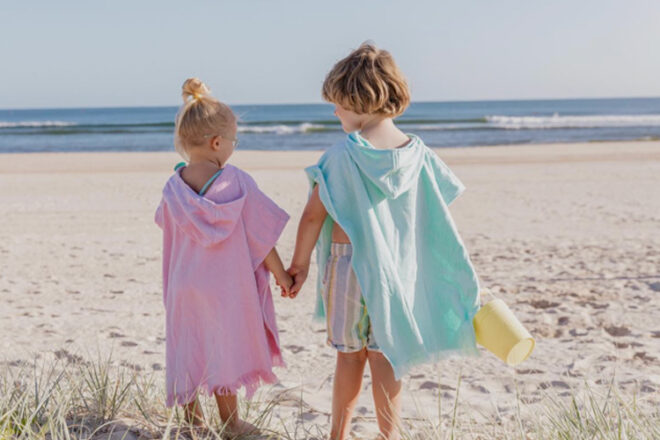 Featuring a generous hood, large front pocket and stylish frayed edge, these beach ponchos are perfect for swimming lessons or fun at the beach. Made from comfy cotton they come in gelato-worthy shades of mint and pink.
Available in two sizes for 1 to 7 years.

---
Back Beach Co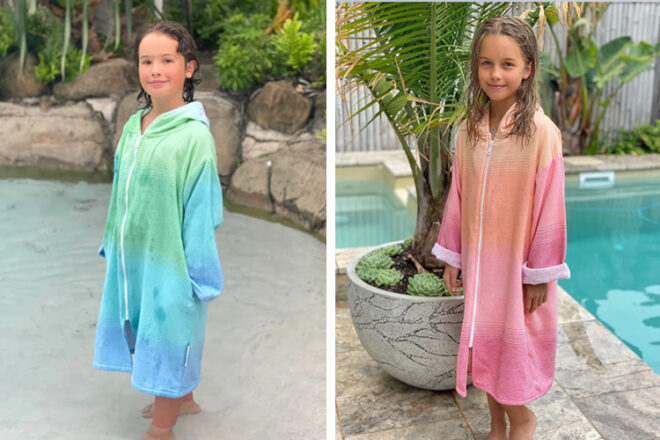 Designed with sturdy full front zips and long sleeves, these versatile towels are roomy enough for busy kids (and adults) to get changed under. Machine washable, choose from heaps of different colours and prints, all with a UPF50+ rating.
Available in four child sizes for 1 to 11 years.
And adult sizes up to size 22.
---
Hip Kids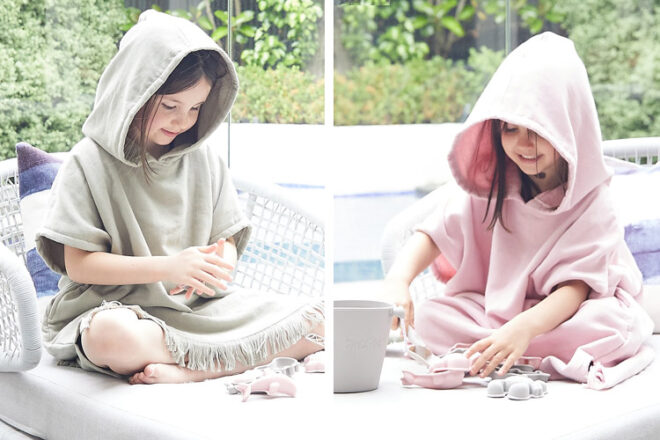 Created for little beach lovers, Hip Kids cotton ponchos are deliciously soft and quick to dry. They come in trending muted tones and feature fringed edging, handy side pockets and they can even be personalised with your child's name.
Available in one size for 3 to 6 years.

Know a fab kid's hooded beach towel we should add to our list? Contact us and let us know, we've been curating Australia's best baby products into helpful lists for over 15 years and we're always happy to support new brands and businesses.
Read next …
Ask other mums
Looking for a maternity sports bra and still not sure if any of these are right for you? Join the huge #MGVfam in one of our private Facebook Baby Groups and ask thousands of other mums with babies the same age as yours which ones they recommend. Join today!
We want you to know
At Mum's Grapevine, we're a team of passionate mums (with 19 kids!) and over 15 years of experience researching and writing about all things baby and parenting. Our reviews of recommended products, like the ones in this post, may include paid inclusions, but we promise to only feature products that we truly believe in and have used or seen ourselves. We want to ensure that you, our readers have access to the latest and greatest products in the parenting world, and we're committed to maintaining our high standards of quality and honesty. See our Disclosure Policy.
Thank you for trusting us to be your go-to source for all things baby-related.
xoxo