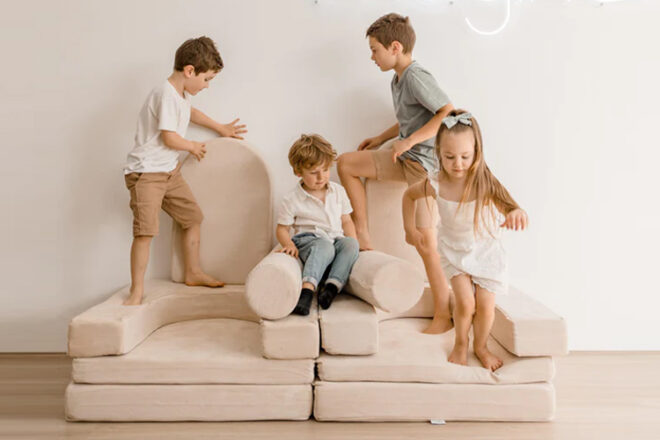 There are few sure things in life, but one of them is that kids love to climb and tumble on furniture. Oh and pull all the cushions off the couch.
A Play Couch is one of those investments that is as practical as it is purposeful. Like a Transformer, it morphs into anything the kids can dream up. It becomes a fort one day, digger the next. Not just for play, it's genius for sleepovers, quiet time, movie nights and even a comfy spot for you to relax, too.
A play couch is part-sofa, part-toy consisting of individual upholstered modular pieces used for play, building or seating. Often featuring washable covers in tough-wearing materials, this flexible and versatile item is the bees knees in any playroom.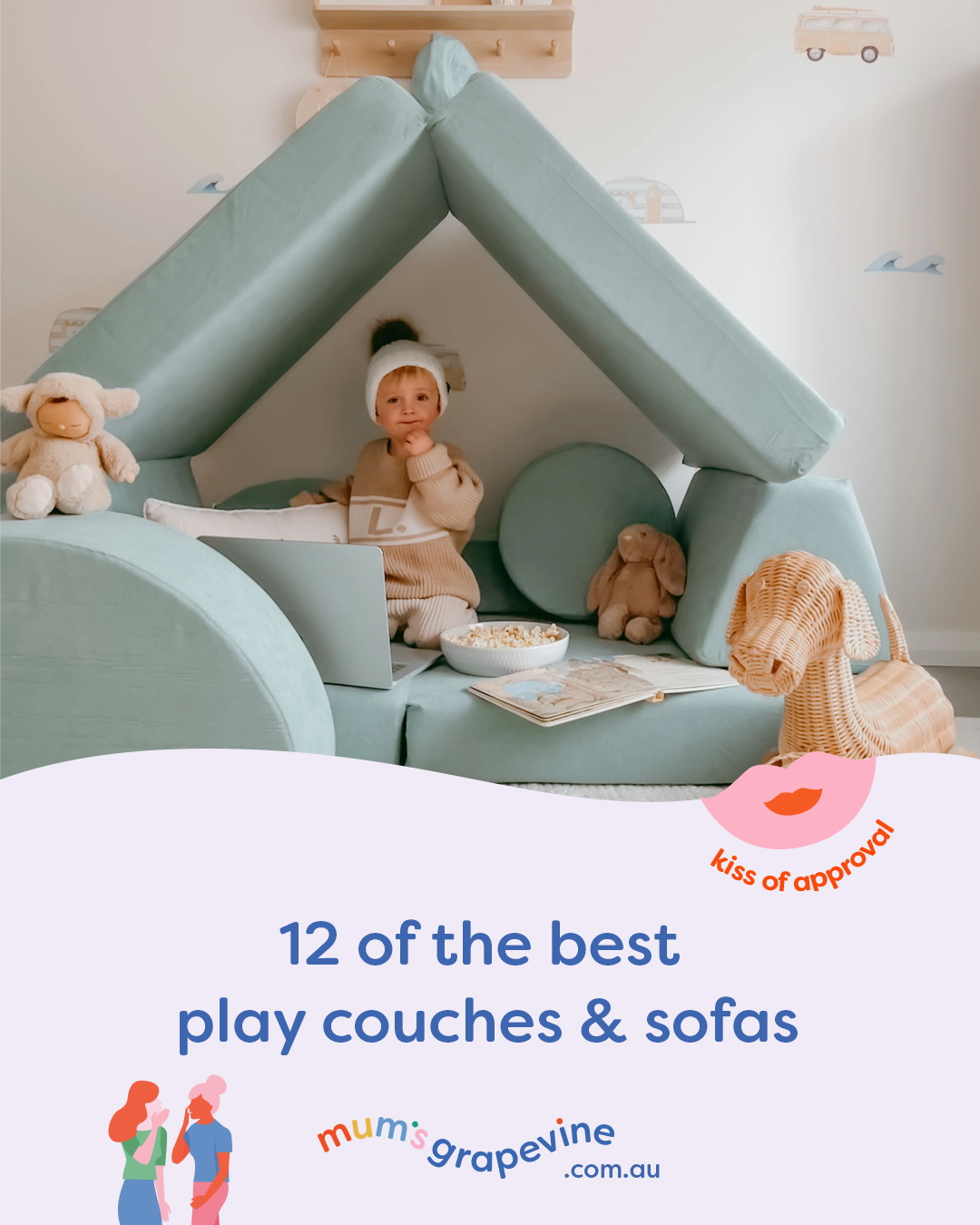 OUR PICK OF THE CROP
12 of the best play couches in Australia
To help you find the perfect modular couch for your little ones, we've compiled this list of fab brands available in Australia to help get you started in your search.
In no particular order, here are 12 of the best play couches available in Australia for 2023:
NooK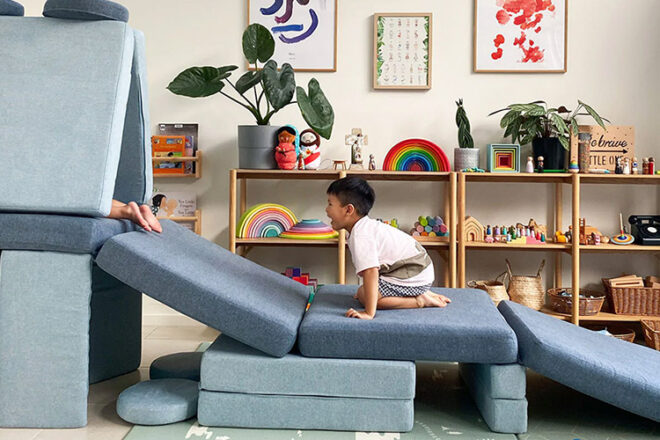 Australian made and owned, NooK couches come in no less than 36 colours, including outdoor fabrics. Durable, double-stitched seams and machine-washable covers are designed to take everything the kids can throw at it. We love the optional stylish wooden base (sold separately).
---
Whatsie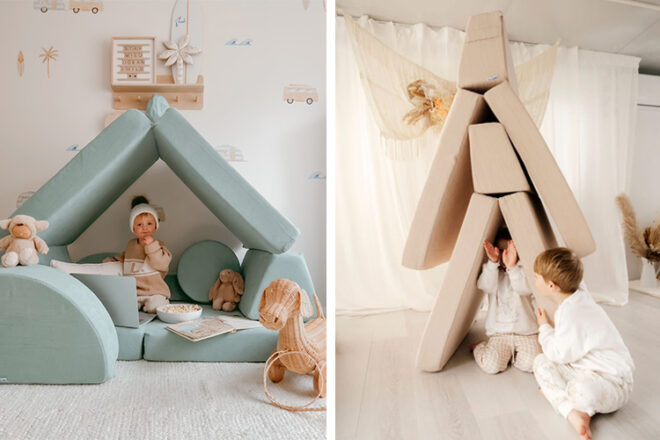 Created in conjunction with Paediatric specialists, the Whatsie encourages open ended play and exploring through climbing and tumbling – safely. Available in either microsuede or cotton, we love that the easy-to-clean covers are stain and water-resistant.
---
Possum Play Couch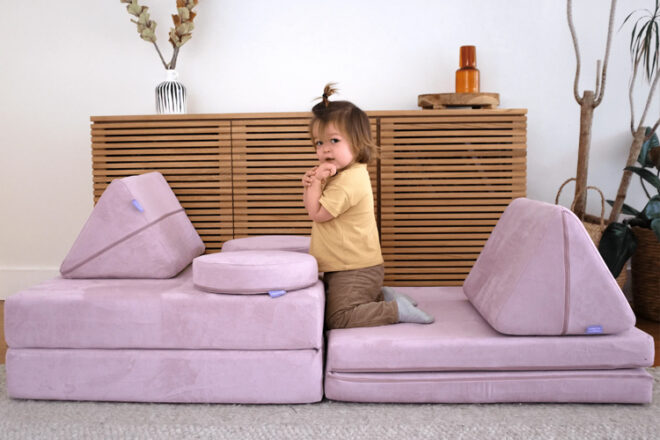 Made from durable and safe materials, Possum Play covers are stain resistant, machine washable, shrink-resistant – plus super soft and smooth. Details include zippers that prevent scratches and snags and you can choose from two types of bases.
---
Loungey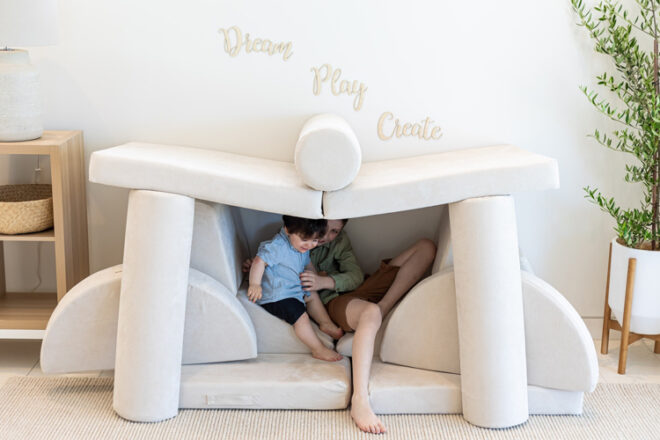 Crafted from quality, safe foam and certified brushed microsuede, Loungey Luxe chaise lounges combine comfort and play. Smart handles are positioned for easy folding and the range comes in five trendy colours. Extra cover sets and waterproof liners are also available.
---
Little Adventurers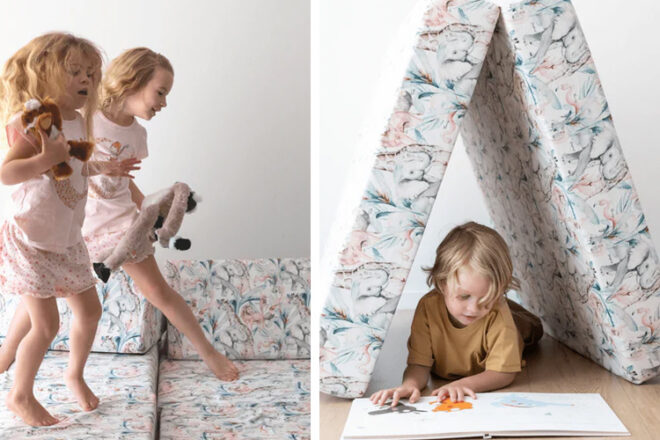 In a delightful wildlife print, the Little Adventurers sofas can create forts, cubbies, reading nooks and comfy place to crash after all that fun. The covers are made using high quality microsuede that's easy to clean and the foam that contains absolutely no nasties.
---
Membina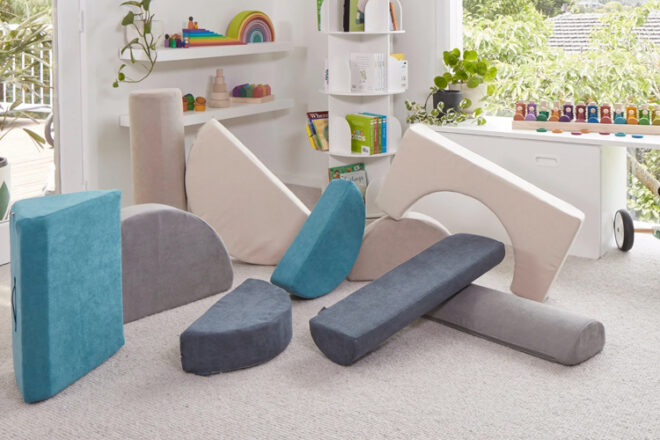 Comprising 14 carefully considered pieces, the Membina set features clever handles for little hands and zip-together bases. The textured fabric is comfy and soft, yet creates the right amount of friction to ensure 'grippiness' when kids build their masterpieces.
---
Baxii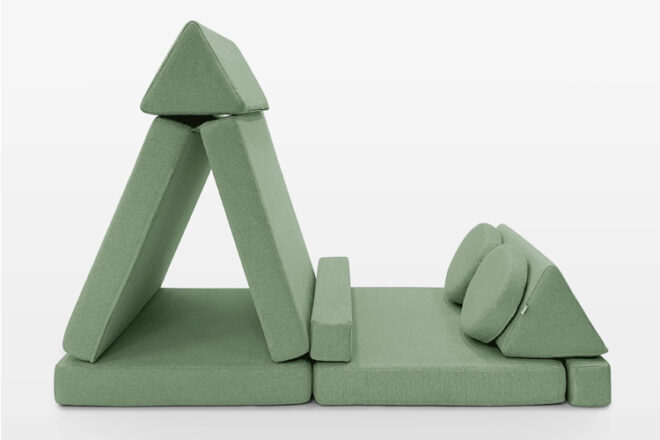 Versatile and flexible, the Baxii Play Sofa can be easily moved around the home for play or rest. Featuring multi density foam that's totally non toxic, the couch's removable covers can be tossed in the wash. Choose from an array of delicious colours in quality fabrics.
---
ARKi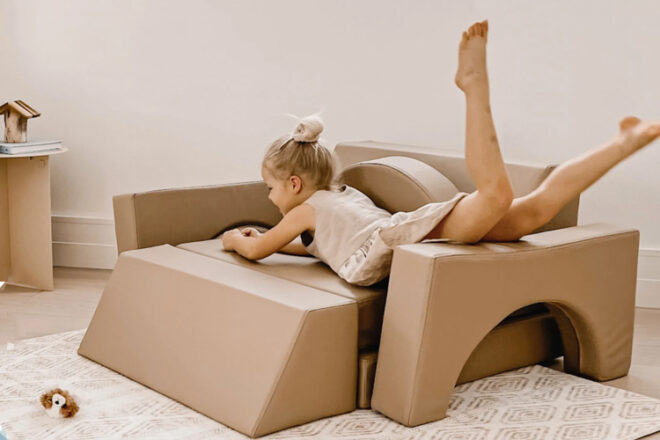 With different colour combinations and even vegan leather, these couches are cleverly designed with non-slip backrests and internal foam covers for extra spill protection. The base cushions velcro together for stronger builds and keeping pieces together for sleepovers.
---
Cubbi Buddi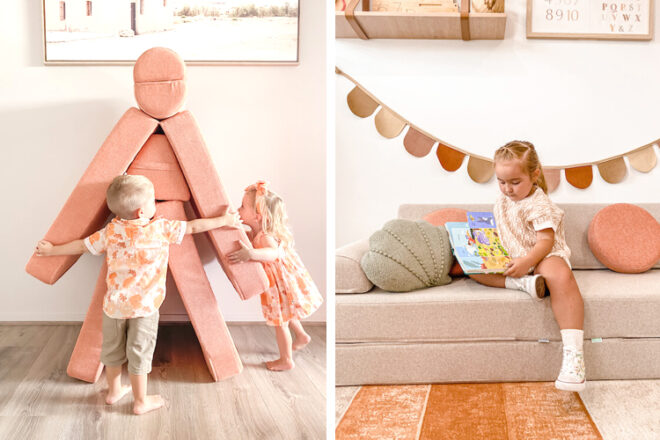 In plush, vinyl or fabric, the Cubbi Buddi is super hard-wearing and designed for heavy daily use. Comprising eight pieces with optional dot cushions, you'll mostly only need to spot clean due to the natural stain resistance. Covers can of course be washed for a deep clean.
---
Funsquare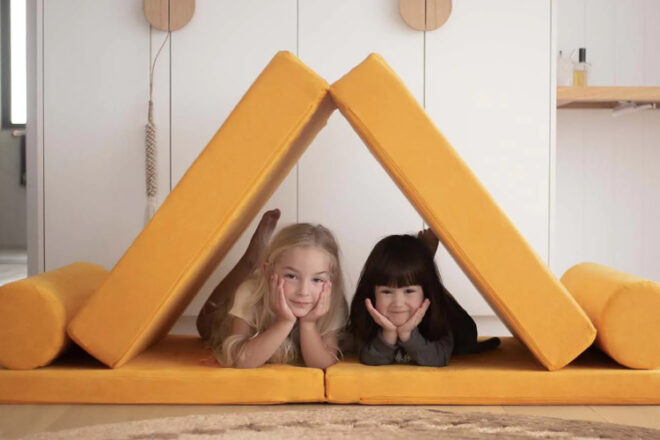 Using the 3D viewing tool, you can play with shapes, configurations and 14 colours to create a unique couch for playing that kids love. The microsuede fabric is water-resistant and soft and kind to their skin. Play is given, but the Funsquare can also be used for sleeping and reading.
---
Little Nation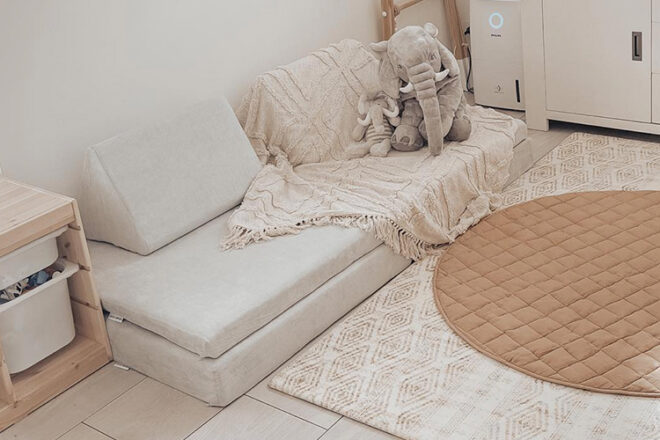 Designed to last for many years of creative play, the Little Nation one has foam cushions with the enough density for the perfect bounce. The soft polyester microsuede couch covers are built with premium zippers that make it removable and washable.
---
What should I look for when buying a play couch?
When investing in a kids modular couch, be sure to look for hard-wearing materials that stands up to whatever kids throw at it. Covers that are strong, stain-resistant, water-repellant that's machine-washed without shrinkage keeps your couch looking good for years to come. Extra features like handles on the cushions, inner foam protection covers and cushions that velcro or zip together add value to your set.
From what age is it safe to use a play couch?
A play couch can be used by all ages, including adults! Open-ended in nature, it's for building, playing make-believe, lounging, reading, watching movies, having sleepovers, and relaxing. The possibilities are endless.
Can't normal couch cushions be used for play?
You sort of can, but dedicated Play Sofas are specifically designed for play that's both safe and can be used to build many different configurations. Each modular piece works with each other. The covers are also removable for washing.
---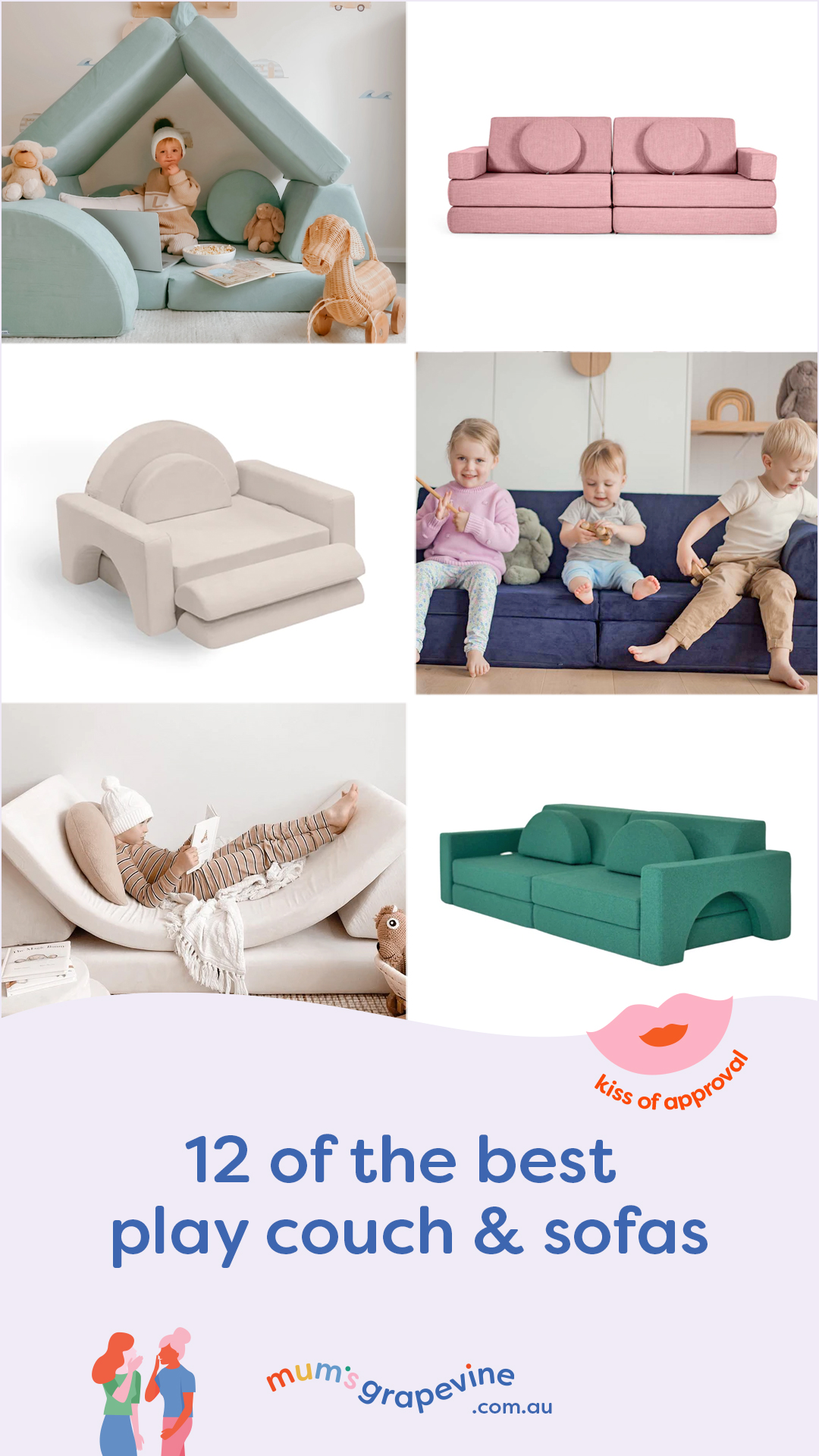 Know a kids modular couch we should add to our list? Contact us and let us know, we've been curating Australia's best baby products into helpful lists for over 15 years and we're always happy to support new brands and businesses.
Ask other mums
Looking for a maternity sports bra and still not sure if any of these are right for you? Join the huge #MGVfam in one of our private Facebook Baby Groups and ask thousands of other mums with babies the same age as yours which ones they recommend. Join today!
We want you to know
At Mum's Grapevine, we're a team of passionate mums (with 19 kids!) and over 15 years of experience researching and writing about all things baby and parenting. Our reviews of recommended products, like the ones in this post, may include paid inclusions, but we promise to only feature products that we truly believe in and have used or seen ourselves. We want to ensure that you, our readers have access to the latest and greatest products in the parenting world, and we're committed to maintaining our high standards of quality and honesty. See our Disclosure Policy.
Thank you for trusting us to be your go-to source for all things baby-related.