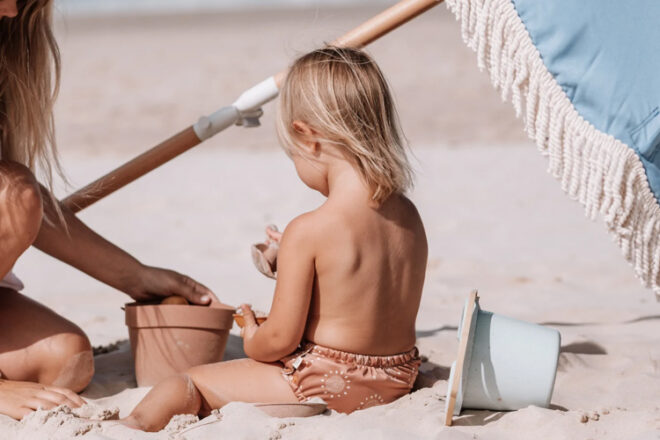 Not just an adorable accessory for baby tooshies, reusable swim nappies give parents peace of mind during water play – because if poop gets in the pool, hoo boy…
Swim nappies are secure, water-safe pants worn by babies and toddlers who aren't toilet trained. They are specially designed to hold and contain number twos long enough for you to get out of the swimming pool without leakage, and they come in both disposable and reusable styles.
We've listed several designer swimmer nappies available in Australia and answered some basic questions around what features to look for to avert an embarrassing pool-nami.
Types of swim nappies
Disposable swim nappies are single-use nappies designed to be worn by children to contain faecal leakage when swimming.
Reusable swim nappies are made of cloth and designed to catch and prevent faecal leakage when swimming. They can be washed and reused over and over again making them an eco-friendly option.
OUR PICK OF THE CROP
12 swim nappies for containing little accidents
To help you find a pair of reliable swim nappies, we consulted our huge Facebook community of Australian mums and listed their most popular choices below.
In no particular order, here are 12 popular brands of swim nappies we recommend in 2023.
Bare and Boho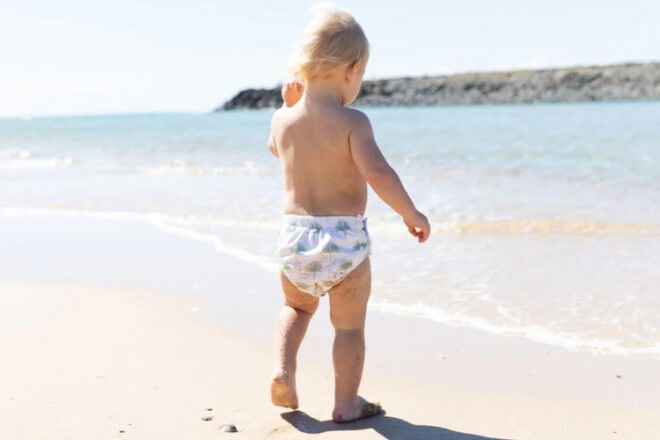 Our hearts skipped a beat over these little stunners – and the fact that they feature designer prints by Aussie artists makes them even more lovable. Lightweight and with a single gusset feature to contain number twos, they're made from 100% recycled polyester.
---
Ina Swim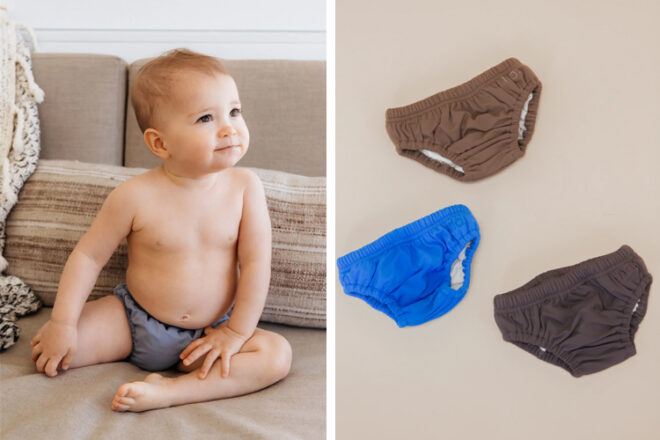 Coming in hot with ten swoon-worthy shades, Ina Swim Lumi range use a recycled blend of nylon and elastane with UPF50+ protection. Choose from easy-wear pull-up style briefs or soft-waisted shorts to fit extra snugly and prevent unwanted leakage.

---
My Little Gumnut
Available in prints that melt the heart, My Little Gumnut's are the perfect blend of simplicity and effectiveness. Free from absorbing elements that weigh bubs down, they have an inner mesh lining that captures solids but allows urine to flow through.

---
Baby BeeHinds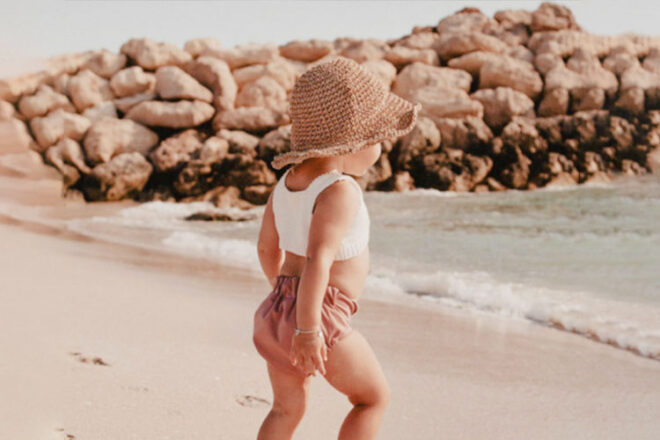 Thanks to a combination of Velcro tabs and snap buttons, these multi-award-winners are an absolute cinch to adjust to growing botties. Available in a range of unmissable styles, they fit kiddos right up to 22kg and pair perfectly with matching wet bags.

---
Bubba Bump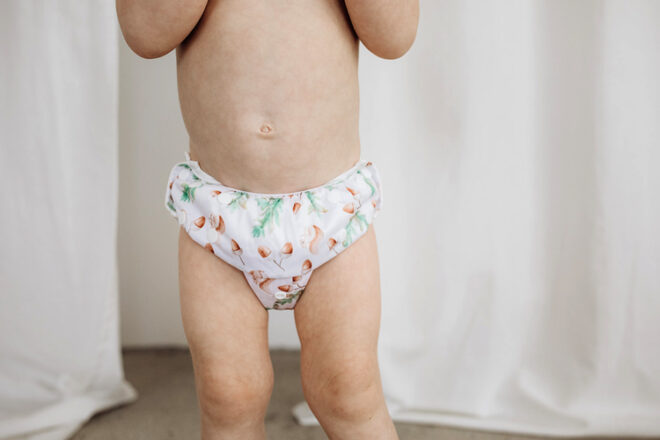 Suitable for bubs as young as three months, these machine-washable beauties boast a three-layer design using waterproof materials. Leak-proof, reusable and fully adjustable, they're swimming companions that will see them right through to toddlerhood.

---
EcoNaps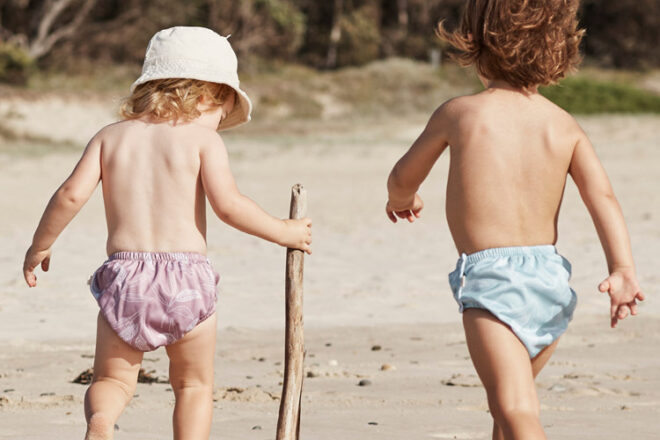 Designed with love in Byron Bay, EcoNaps are eco-friendly, deliciously comfy and easy to use. Engineered to capture number twos while allowing liquid to flow through, they're fade-resistant and feature an adjustable waist and side snaps for mess-free changes.

---
i play. by Green Sprouts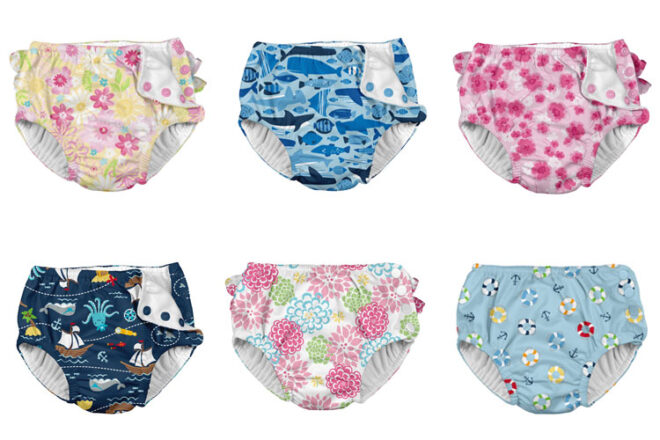 With a patented three-layer design, these little life-savers keep embarrassing accidents well contained. Available in a rainbow of colours and patterns, the wicking liner helps prevent nappy rash while the snug outer layer keeps the nappy (and its contents) firmly in place.

---
Itti Bitti
Light and breathable, Itti Bitti's award-winning swimming nappies cleverly include a discrete booster sewn in for extra protection. Fade and chlorine-resistant, they come in a huge range of beautifully hand-illustrated designs and are available in three sizes.

---
Splash About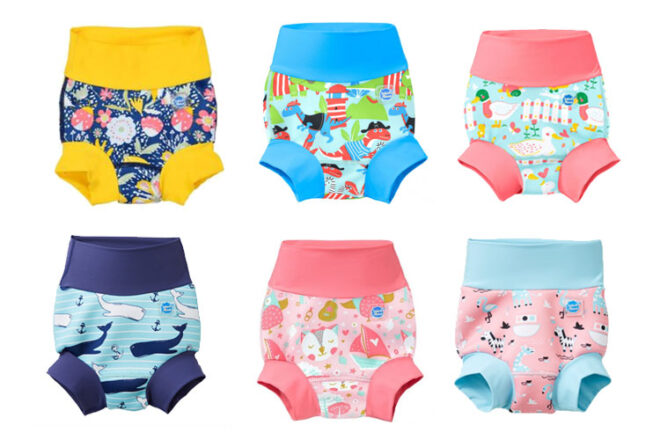 The double nappy system of the Splash About Happy Nappy Duo's includes a leak-proof outer layer and a unique silver inner layer developed with virologists to contain and kill pathogens. Approved by swim schools they are available in five sizes from 0 to 3 years.

---
Pea Pods

Sporting a contoured shape, Pea Pods Swimmers offer little ones complete freedom of movement in and around the water. Built-in absorbency helps soak up little accidents while comfy leg elastic keeps leaks well contained. Choose from six super-cute styles.

---
Tyoub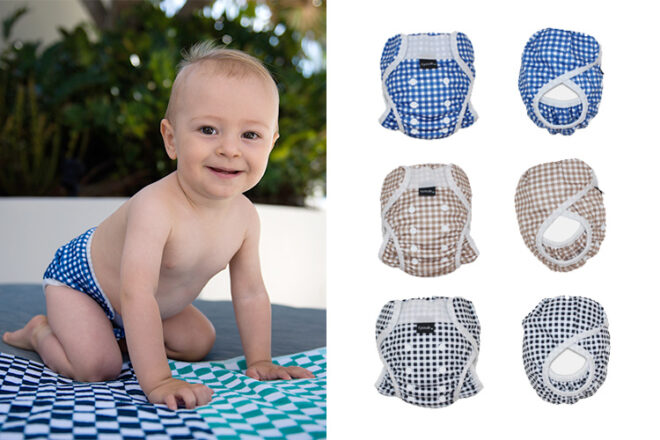 Eco-friendly and adjustable, Tyoub's one size fits most swim nappies are designed to adjust to babies fit from three months to three years. 12 months of research and development has created a comfortable, quick-drying swim nappy proven to keep solids contained in the water.

---
Cloth Bums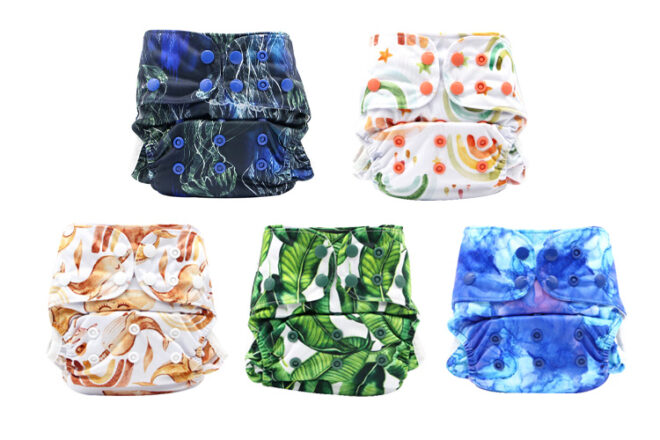 With bold prints on the outside, the real magic is on the inside thanks to the cool athletic wicking jersey lining. Soft outer elastics ensure your swimmer is comfy (yet contained). And the four settings of rise snaps and adjustable waist creates the perfect fit.

---
FAQs
Are swim nappies compulsory in public pools?
Children who are not toilet trained are required to wear suitable swimmer nappies at most Australian public swimming pools and water parks. Always check with the pool before you arrive.
Can regular nappies be used for swimming?
No. Everyday disposable nappies absorb and hold liquid, so not only will they be extremely heavy, but they're also ineffective at containing faecal leakage in water.

Know a brand of swim nappies we could add to our list? Contact us and let us know, we've been curating Australia's best baby products into helpful lists for over 15 years and we're always happy to support new brands and businesses.
Read next …
If you're after more fab gear for a fun-filled summer, you're in the right spot. From gentle sunscreens to family-sized picnic rugs, our roundups include Australia's most coveted brands and stores.
Read this: 13 clever ways to keep baby cool in summer
Ask other mums
Looking for reliable products for your little ones and still not sure if any of these are right for you? Join the huge #MGVfam in one of our private Facebook Baby Groups and ask thousands of other mums with babies the same age as yours which ones they recommend. Join today!

We want you to know
At Mum's Grapevine, we're a team of passionate mums (with 19 kids!) and over 15 years of experience researching and writing about all things baby and parenting. Our reviews of recommended products, like the ones in this post, may include paid inclusions, but we promise to only feature products that we truly believe in and have used or seen ourselves. We want to ensure that you, our readers have access to the latest and greatest products in the parenting world, and we're committed to maintaining our high standards of quality and honesty. See our Disclosure Policy.
Thank you for trusting us to be your go-to source for all things baby-related.
xoxo