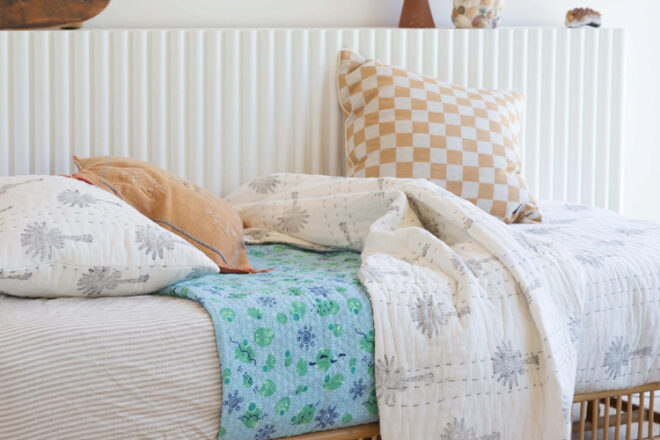 There are a few essentials you need to have on hand when it comes to toilet training toddlers – especially overnight. And a waterproof bed pad will save you stripping and changing a full bed at 2am. Designed to hold a large amount of liquid, you simply swap out the wet bed pad for a dry one and you're done in 30 seconds.
Positioned on top of your kids' mattress, these reusable pads catch any overnight accidents saving your mattress and countless amounts of washing. Often with the option of 'wings' to tuck under the mattress, these mats have a soft top that makes them comfy to sleep on and a waterproof backing to catch any accidents.
Not only will they help eliminate having to strip and change the whole bed, but they're also handy for the couch, or when the kids are sick – looking at you gastro vomit!
What to look for in a reliable kid's bed pad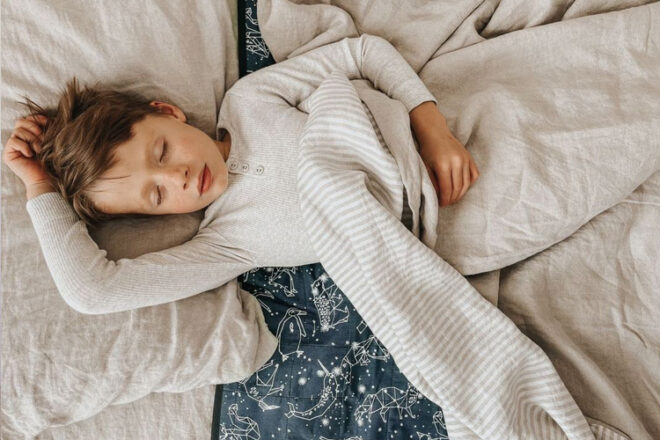 Before you decide what to buy, you need to know what you can buy and why. We've answered some basic questions for you to help you understand what's available, and what you might need.
Is it essential: No
How much will it cost: $50 to $100
How long will you use it: 1-7+ years
What will you use it for: Bottle spills, toilet training, bed wetting, vomiting
Available sizes: Cot, single, king single, double, queen and king sized beds
Types of waterproof bed pads
Waterproof bed mats are small, reusable, highly absorbent, multilayered pads with a waterproof backing layer that sits on top of the bed sheets to catch liquid before it reaches the mattress.
Bed pads with wings are waterproof bed mats but with the addition of side 'wings' that tuck under the mattress to keep the bed pad in place.
Disposable bed pads are small, single-use pads designed to catch liquid and be thrown away after soiling.
Mattress protectors are removable, fitted pieces of bedding, with or without waterproof backing that covers the whole mattress.
OUR PICK OF THE CROP
6 of the best waterproof bed pads in Australia
To help you find the perfect waterproof bed pad for your little one, we've compiled this list of fab brands available in Australia to get you started in your search.
In no particular order, here are 6 of the best bed pads with wings in Australia
Brolly Sheets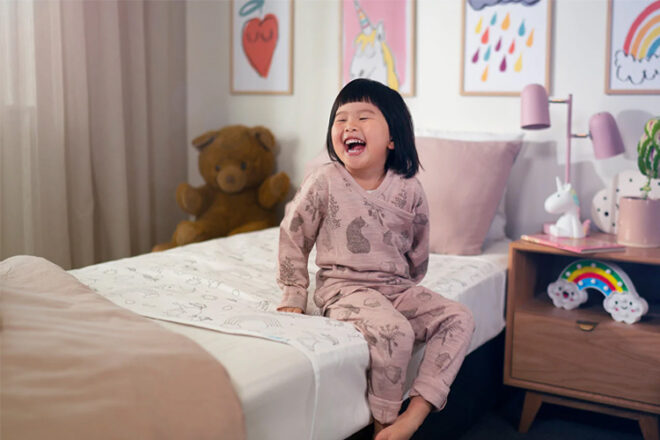 100% waterproof, yet breathable and quiet, Brolly Sheets let you change a wet bed in less than 30 seconds. With tuck-in wings and a soft cotton top, they're environmentally friendly and contain no nasty chemicals. Lots of modern and fun prints to choose from.
Available in: Single, King Single, Double, Queen and King
---
Spewy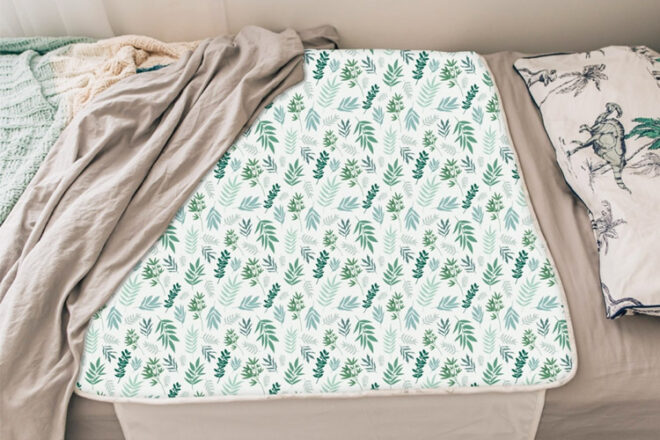 Absorbing up to two litres, Spewy bed mats have a waterproof backing and a super soft topping in a choice of prints that kids love. They've got extra long wings that tuck under their mattress to keep it in place, yet it's a cinch to change at 2am without stripping the bed.
Available in: Single/King Single and Double
---
Conni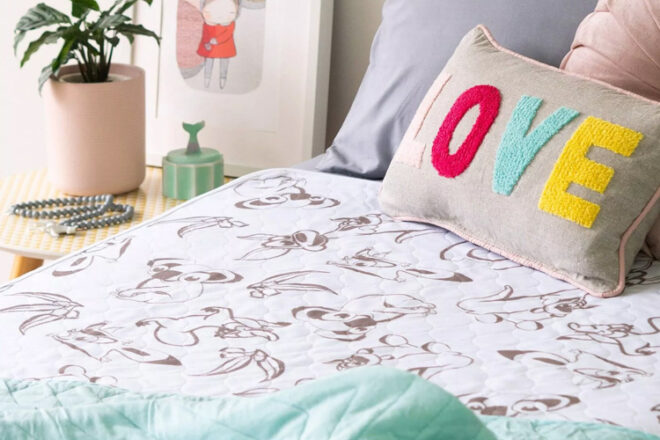 Extremely lightweight and breathable, Conni Reusable Bed Pads hold 2.5 litres and are quick and easy to wash. The soft stay-dry fabric is comfy and quiet, ensuring a restful nights sleep. Designed to be washed and reused countless times, they come with or without tuck wings.
Available in: 85×95 cm, 100×100 cm and 153 x 85cm
---
Night n Day Comfort
With a huge capacity of 3 litres for a Single, the Joey Kids Bed Pad features tuck-in wings to keep everything secure and in place. Made with super soft brushed polyester, it has a 100% waterproof backing and sports a fun and colourful joey print.
Available in: Short Single, Single, King Single, Double, Queen and King
---
The Midnight Gang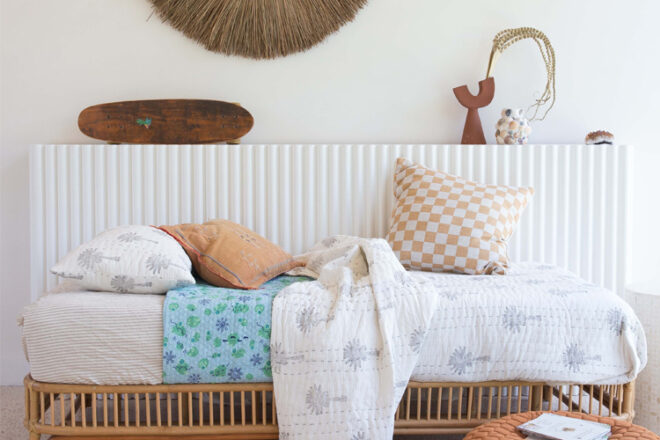 In fun and gorgeous prints for girls and boys, The Midnight Gang Bed Wetting Mat are absorbent, breathable and 100% waterproof. With a 100% cotton top and bamboo bottom, the mats are naturally antibacterial and hypoallergenic as well as machine AND dryer safe.
Available in: Single, King Single, Double and Queen
---
Bambella Designs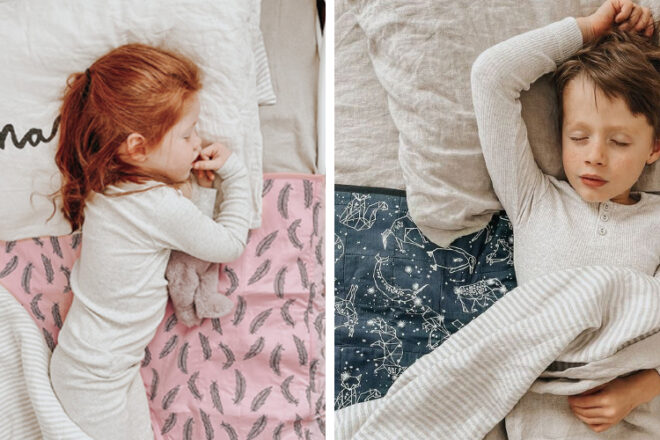 Made with three layers, Bambella Designs training sheets have a soft and breathable cotton top, an absorbent inner layer, and a waterproof bottom layer. For extra ease and peace of mind, these training sheets are made with wide wings that tuck under the side edge of the mattress.
---
What is a waterproof bed pad?
A waterproof bed pad is a reusable, highly absorbent mat with an impermeable layer that won't allow liquid to pass through. Most pads come with side wings which are used to tuck under the mattress and keep the pad in place.
How many bed mats do you need?
It's best to have at least two waterproof bed pads on hand. That way when one pad gets wet, you have another one on hand to replace it with.
How to wash a waterproof bed pad?
Thankfully, most good bed pads are machine washable and able to be tumble dried so there is minimal time needed to get them ship shape and ready to be used the following night.
---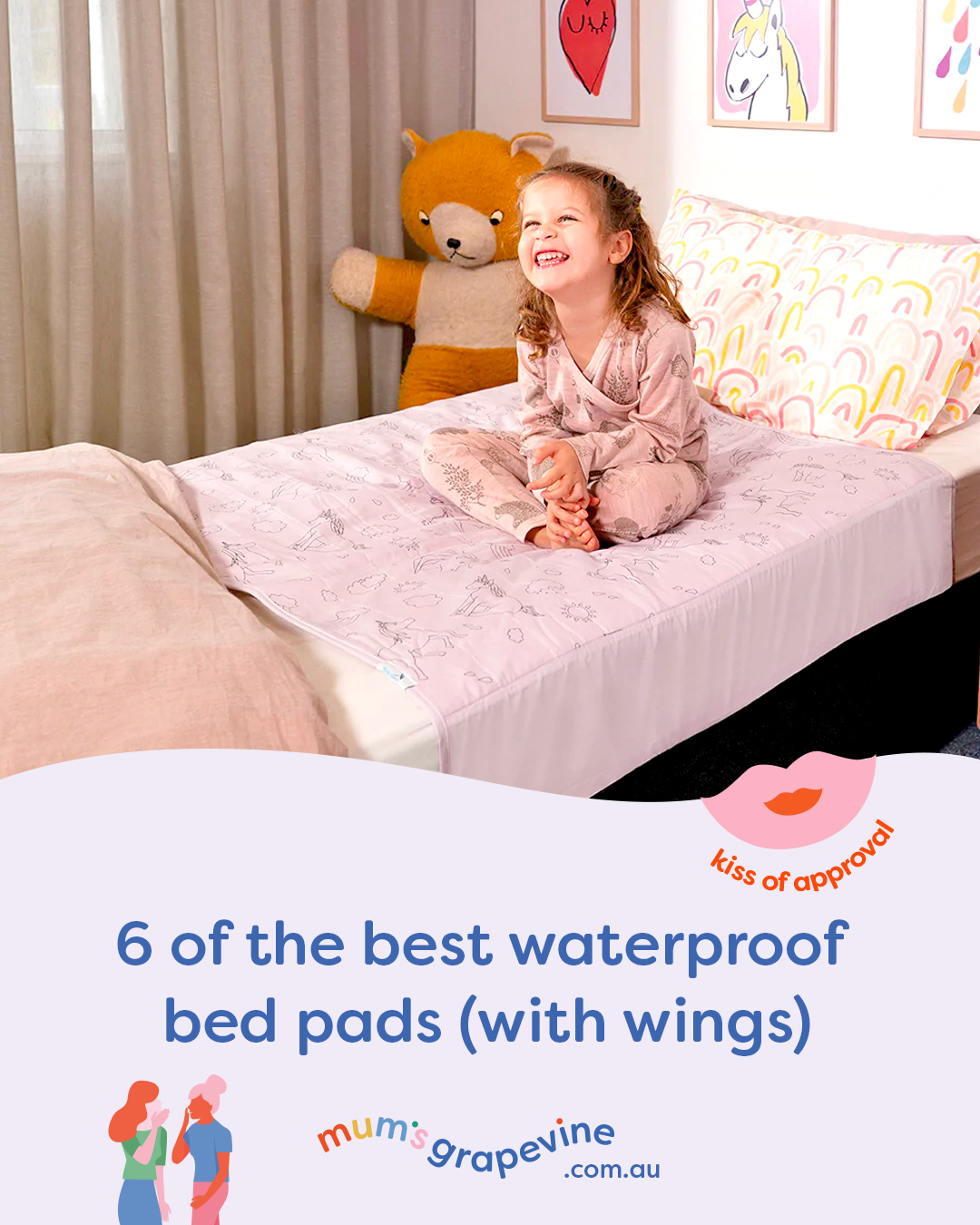 Know a reliable and easy-to-use brand we could add to our list? Contact us and let us know, we've been curating Australia's best baby products into helpful lists for over 15 years and we're always happy to support new brands and businesses.
Read next…
Read this: Signs to look for that say it's time to start toilet training
Ask other mums
Looking for a waterproof pad for your little ones and still not sure if any of these are right for you? Join the huge #MGVfam in one of our private Facebook Baby Groups and ask thousands of other mums with babies the same age as yours which ones they recommend. Join today!
We want you to know
At Mum's Grapevine, we're a team of passionate mums (with 19 kids!) and over 15 years of experience researching and writing about all things baby and parenting. Our reviews of recommended products, like the ones in this post, may include paid inclusions, but we promise to only feature products that we truly believe in and have used or seen ourselves. We want to ensure that you, our readers have access to the latest and greatest products in the parenting world, and we're committed to maintaining our high standards of quality and honesty. See our Disclosure Policy.
Thank you for trusting us to be your go-to source for all things baby-related.