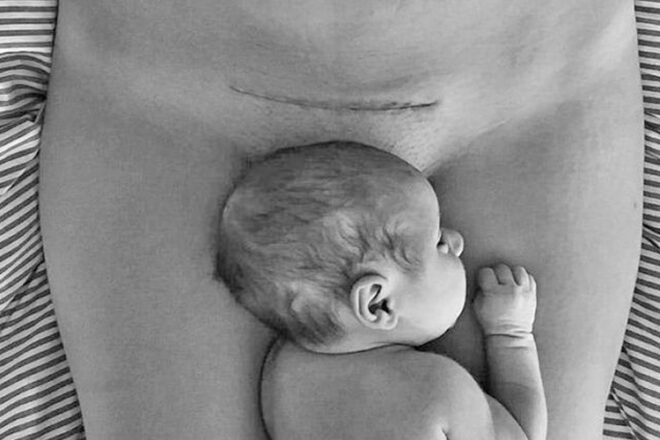 Counting down to a c-section is equal parts butterflies-in-the-belly excitement, anxious nerves and wondering what is going to happen afterwards.
We've asked the experts – #MGVfam mums who have had c-sections, about what they wish they'd known before having their belly birth. You know, questions like how to stop your wound from hurting when you sneeze to which knickers to wear post birth, our mums have spilled the beans on what you need to know to be prepped for the big C ahead.
Here are the 22 most important things mums want you to know before having a c-section.
Post c-section wound care
From shaving down there to using a blow dryer on your wound, our mums have come up with some ripper tips to keep you comfy after a c-section.
The tape they use is so sticky, worth having tea-tree oil or similar in your hospital bag to get rid of the residue in the first few showers! – Mary B.
If you need to cough or sneeze, hold a pillow over your belly. It hurts otherwise! You honestly don't realise the stomach muscles you use for certain things. And be mindful of getting in/out of bed. It's honestly not as bad as you think though. – Elyse W.
Blow-dry the wound to help keep it clean. Even the tiniest person who has a cesarean will have a little pooch of skin that will fold over a bit and it is important to keep it dry (dressed or not). – Kristy M.
Place a rolled up towel on your incision when coughing, sneezing or laughing. Keep on top of pain meds and be gentle on yourself. The first week is hard but it does get better! – Sarah Curran
Sounds weird but place a pad on your undies along the wound line to protect it. – Elizabeth B.
Shave your pubes! I didn't with my son and was an emergency c-section and the wound dressing was stuck over a large part of my pubes. That hurt more than anything coming off the next day when the nurse changed it. – Kim B.
Move it, baby!
Some mummas say getting up and at 'em helps the healing process. Try not to overdo it, and think about taking some different clothing options.
"Get up and walk ASAP, the longer you take the worse it will be." – Krysta P.
"Moving helps with healing, even if it's just getting up to walk around the room. I forced myself to get up and walk every day and a week after my caesarean I was walking around the markets." – Tegan C.
"Get moving ASAP. It hurts but push through, take the pain meds when offered. I'm two weeks post and feel fine now and forget but if I lift something too heavy I know about it so don't push yourself, even when your feeling better." – Madelaine F.
"Move, move, move and take both tight and loose clothes if you'll be in for a while. With bub I wanted the security of tight clothes holding me in, my sister wanted loose and couldn't stand having anything tight – so options are good." – Julie B.
"You'll most likely have an electric bed in the hospital. One of my midwives raised the bed fairly high, so that when I hung my legs over the bed my feet only JUST touch the ground. That way I could slide off the bed rather than using abdominal muscles to push upwards." – Grace L.
Rest up
While some movement is helpful, just remember to balance it out with taking it easy.
"Rest! And rest some more. Accept help in the early days to allow you to recover completely. Healed on the outside doesn't mean even nearly healed on the inside!" – Aymie S.
"Rest as much as you can and don't decline any help people offer." – Angela B.
"My biggest piece of advice is to take it easy! I'm now five days post-op and was feeling amazing the next day. The pain wasn't as bad as I thought it would be and I was able to get up and move around pretty freely over the next four days in the hospital. But coming home in all my excitement yesterday I overdid it way too much and am paying for it today. You might feel like you're recovering well, and that's awesome, but do remember you've had major surgery and your body needs time to heal." – Kim N.
Fuel your body (and relieve yourself)
Your body has been through a lot and will need to replenish. Also, making sure you keep up good nutrition will also help in the bathroom!
"Drink LOTS OF WATER when you get back to your room. You won't want to strain doing your first post-baby poo!" – Jodie M.
"Don't leave your first poop for too long … sounds gross but you don't want to be straining because you are constipated." – Tegan C.
Get your granny knickers on!
Hike those big knickers up over your wound for ultimate comfy – it's time to unleash your inner granny!
"Granny knickers help! Huge knickers that can be pulled up over your cut, anything else is too painful." – Irini K.
"Giant high waist granny undies, eat lots of fibre (I was ordering prunes with my muesli every morning & made my own all bran high fibre muffins as snacks for hospital), get up and moving as soon as possible, stay on top of your meds even if you don't think you need them because once the wound has started being painful it takes a while for them to kick in, Push/pull yourself up with your arms so you don't use any stomach muscles and press a pillow to your stomach when you need to sneeze or cough." – Emma D.
"Comfy knickers and clothes that don't have hems/seams etc that are over the incision. Some kind of proper support pants or band sooner rather than later also. I wish I had used one and will be this time if another c-section." – Hayley M.
 "A U-shaped pillow is the best to sit on your lap to protect your incision and hold bub comfortably … my second kicked me in the stomach." – Pia I.
Handy hints
Mums who have been there and done that recommend getting the right care after your birth and thinking about how you'll cope at home.
"I wish we already had a bassinet. Hubby had to go buy one when I was in the hospital as we figured out I wouldn't be able to get her in and out of the cot."  – Clare S.
"Go see a physiotherapist who specialises in pregnancy. See him/her before birth to understand the aftercare and do everything they say. The physio I saw was incredible and was spot on with knowledge. I followed everything she said and my pain was gone in under a week! I also helped exceptionally fast as I did all the right things. (I'm not usually a fast healer!)." – Grace L.
"Get lots of birth photos! It's really an amazing experience and because you can't see or feel anything it's nice to look back on photos. Good luck!" – Pippa F.
---
Join the Conversation
We asked the huge Mum's Grapevine Facebook community what they remembered most about their c-sections and boy did they have some great, and not-so-great memories. Check it out.
---
About to have a baby?
You're nervous, excited, worried, terrified and counting down the hours, minutes and seconds till you meet the love of your life. You're not alone, in fact, thousands of other Aussie mums due at the same time as you are already supporting each other in our private Pregnancy Groups – and you could too.
Be matched to your Mum's Grapevine Facebook group today!