Change of clothes? Check. Water bottle? Check. Extra jacket? Check. Random treasures collected on the way? Also check. When a toddler starts daycare or preschool, they also start needing their own backpack. And at the end of day, you want everything to fit without bursting the zips.
Enter the toddler backpack. It's compact, yet roomy. Fun, yet practical, with a special place for all the essentials. Yes, that includes pebble they found next to the bus stop.
Here are some of the things to consider when looking for the best toddler backpack for daycare or preschool:
Tips for buying a bag for toddlers
Does it have some way to hang on a hook off the floor?
Is it easy for little hands to open and close the zips?
Is it big enough to carry everything they need for the day; lunchbox, change of clothes, book/toy, soiled clothes/nappies, jumper etc
Is it lightweight so it's still comfy to carry when fully loaded?
Does it have a drink bottle holder on the outside?
Is the drink holder large enough to fit your drink bottle? (or do you have to buy a matching one?)
Does it have a separate pocket on the outside for notes?
Will the backpack fit into the cube storage box at daycare?
Is it a unique design or have personalisation to help them find their bag easily?
How do you clean it? (they will get filthy)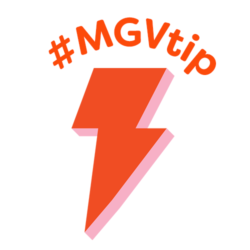 Tie a ribbon or tag something to the ends of the fiddly zips so it's easier for little kids to open and close the zippers.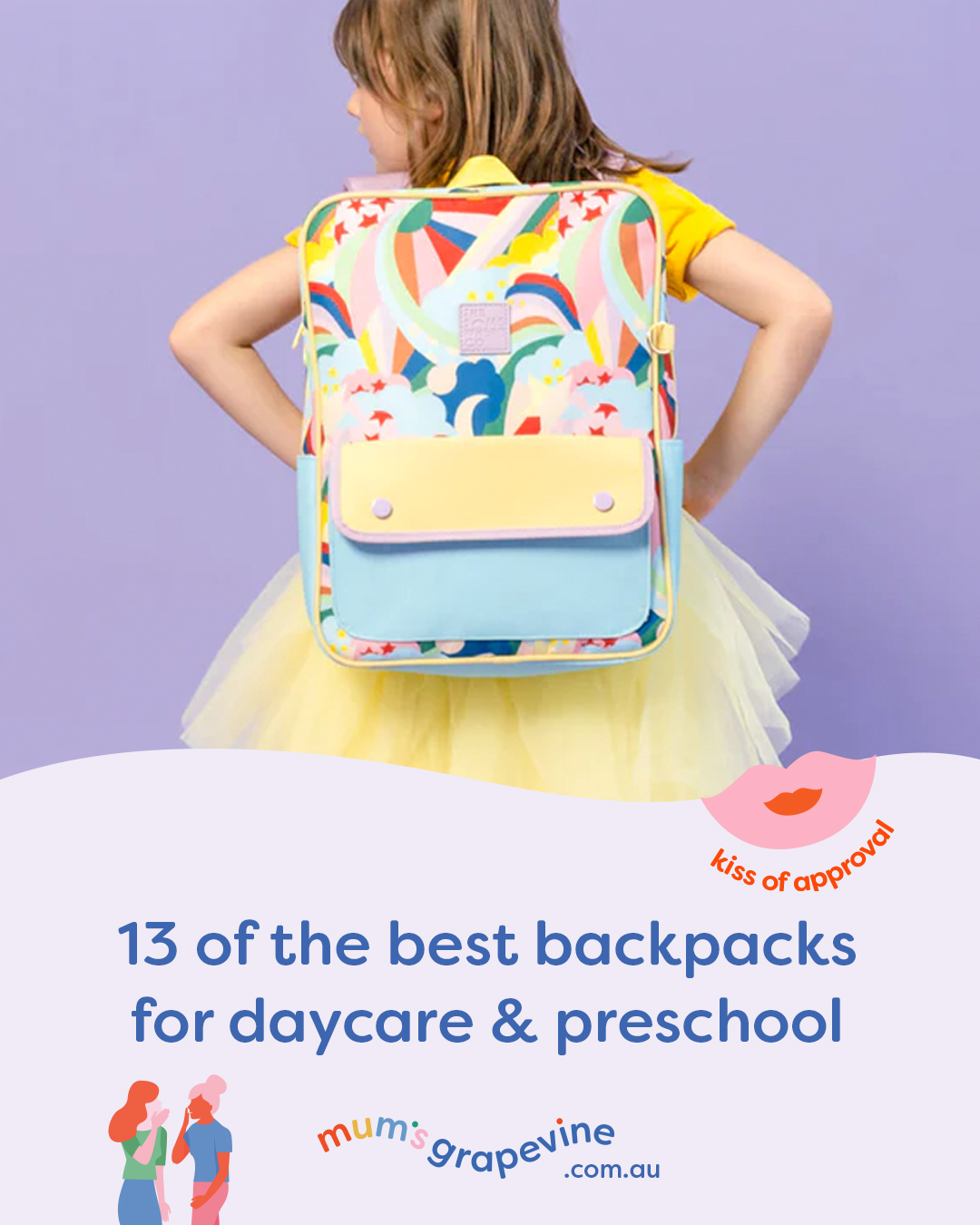 OUR PICK OF THE CROP
13 Toddler Backpacks for Daycare and Preschool
To help you find the perfect backpack for your toddlers starting daycare or kindy, we've compiled this list of fab brands available right here in Australia to get you started in your search.
In no particular order, here are 13 of the best Toddler Backpacks in Australia for 2023:
Penny Scallan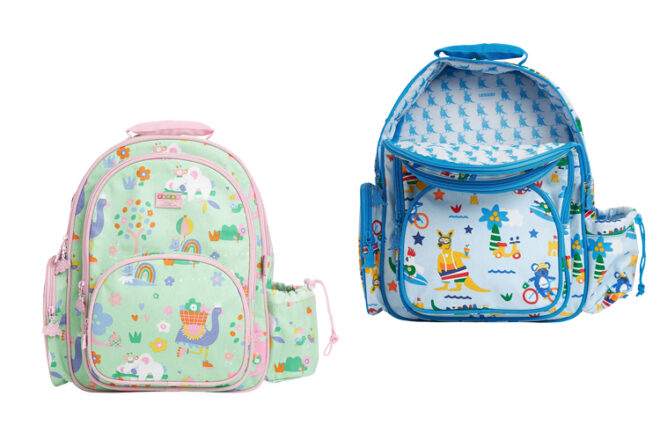 Bursting with colour and cuteness, Penny Scallan backpacks have a roomy central compartment and adjustable shoulder straps. We love that they come in three sizes and feature a scratchproof and water-resistant coating to withstand years of use.
---
Wonderland4Children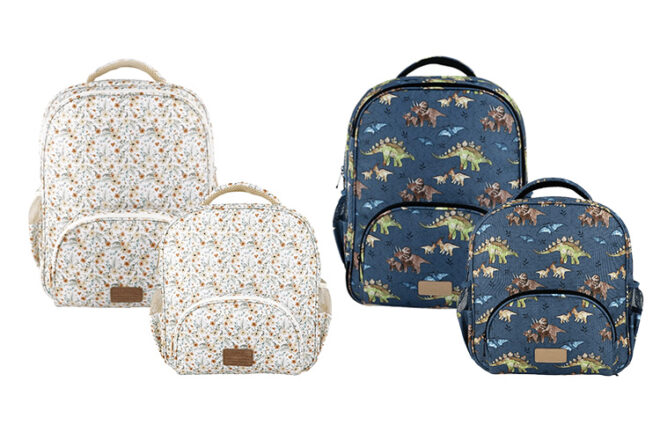 Available in two sizes for daycare and school, siblings can be matchy matchy in style. Featuring adjustable straps, comfy padded back panel and roomy pockets, these bags are lightweight and more comfortable to carry when fully loaded. Choose from four gorgeous prints.
---
The Custom Co.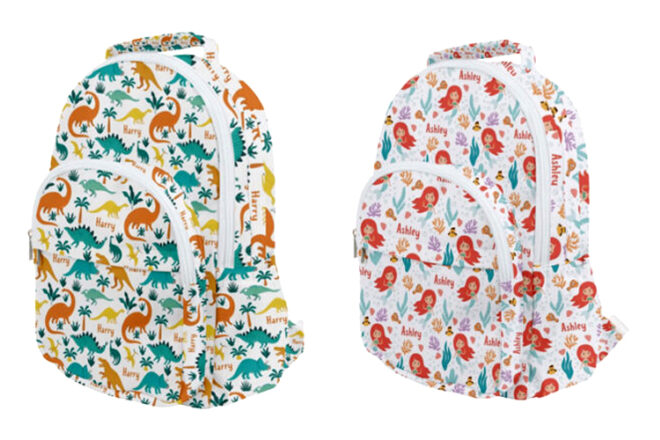 With a huge choice of prints, The Custom Co. backpacks are a great way for littlies to identify their bag and stand out from the crowd. Made from quality anti-fade canvas, they have padded adjustable straps, inner zipper compartments and are machine washable. Hurray!
---
Marmalade Lion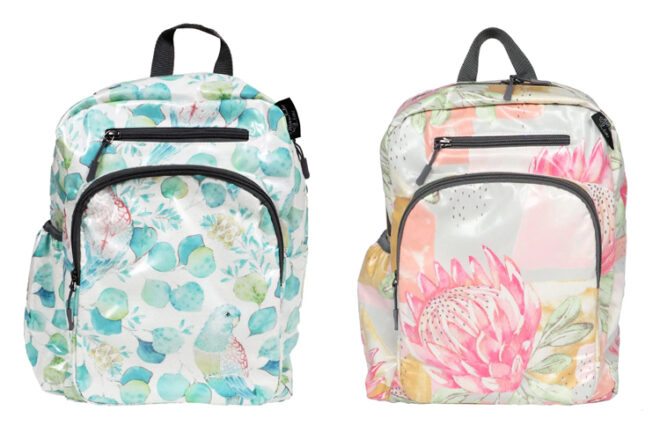 Practical and oh-so-pretty, Marmalade Lion backpacks feature a hardy zipper system and handy insulated front and side pockets for keeping drinks and snacks cold. We love that they come with Expect-A-Spill protection for easy cleaning inside and out.
---
Wolf Gang Designs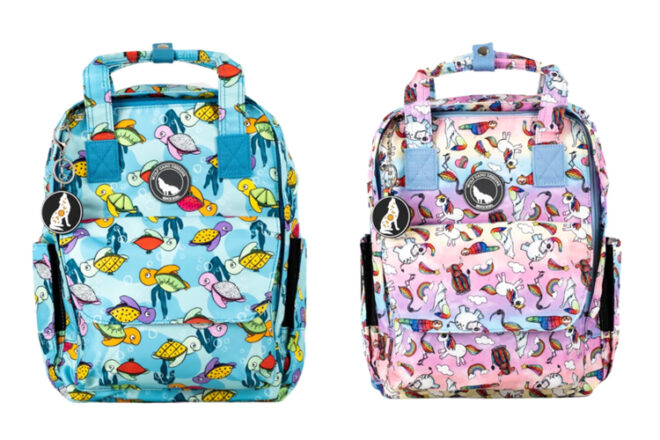 Lightweight and bulk free, Wolf Gang Designs wolfpacks are designed to hold a lot. Featuring water resistant outer fabrics in unique, hand-drawn prints by Australian artists. We love that the elasticised side pockets fit most drink bottles.
---
Little Nation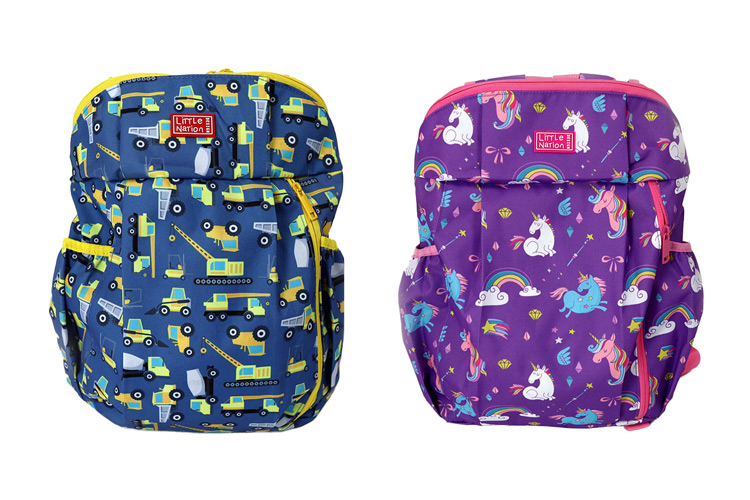 With a design based on a mountaineering backpack, Little Nation bags are ultra lightweight for comfort. Made of super strong canvas with a water resistant lining, little explorers are equipped with spacious pockets, a waist strap for extra security and wide padded straps.
---
Bare Love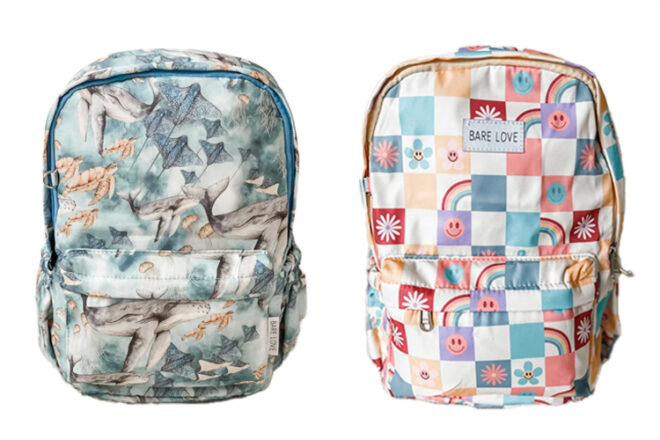 Buttery soft and available in three sizes, Bare Love backpacks are easy to wipe clean. The adjustable drink bottle pockets fit most drink bottle sizes, and the chest clip and padded mesh back add extra comfort. We love the adorable retro-inspired prints.
---
The Somewhere Co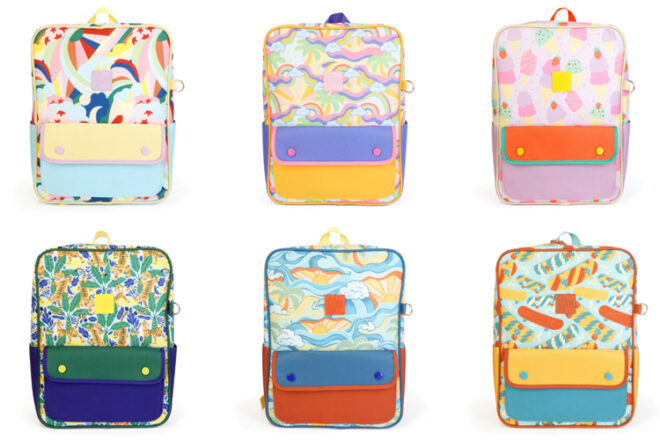 Bursting with colour and fun, The Somewhere Co mini backpacks pack a punch with storage. There's plenty of pockets to fit all their stuff, including a padded laptop pocket. Made from recycled bottles, we love the gold D-ring sewn in for a key ring.

---
Alimasy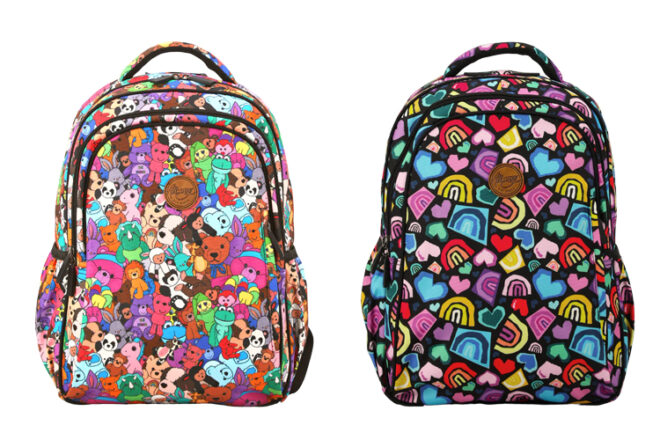 Sure to stand out with colour galore, Alimasy medium backpacks are built to last with a lifetime guarantee. Made from 100% waterproof fabric and zips, they feature two spacious pockets and two deep elasticised side pockets. We love the padded base and handy hook for keeping it off the floor.
---
Sticky Lemon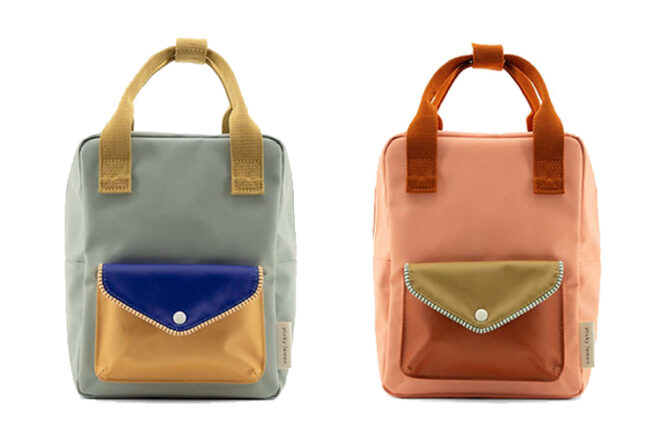 Made with love from recycled PET bottles, Sticky Lemon kids' backpacks are as friendly on the planet as they are on little backs and shoulders. We love the addition of waterproof lining for easy clean-ups and the adorable Velcro front pocket for special finds.
---
Dabbawalla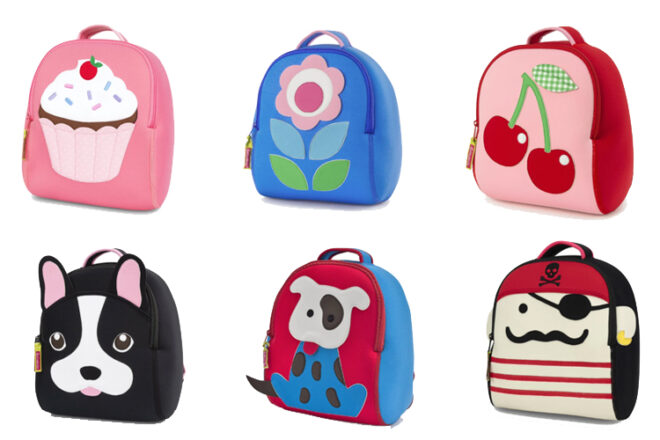 Functional and oh-so fun, Dabbawalla bags feature three mesh pockets inside and one outside to cart all their stuff. Insulated and made from 100% toxic free materials, it has a wide base to allow snack boxes to be packed flat for less leaks. Plus, it's machine washable.
---
Spatz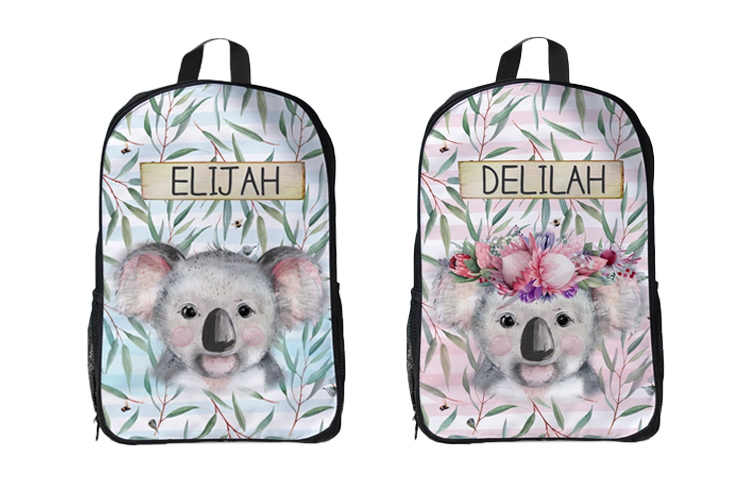 Featuring beautiful hand illustrated designs, Spatz backpacks can be personalised for easy identification. Made from super durable black canvas to withstand rough use (and hide the dirt), they're easy to clean and have a padded back and adjustable straps.
---
Josie Joans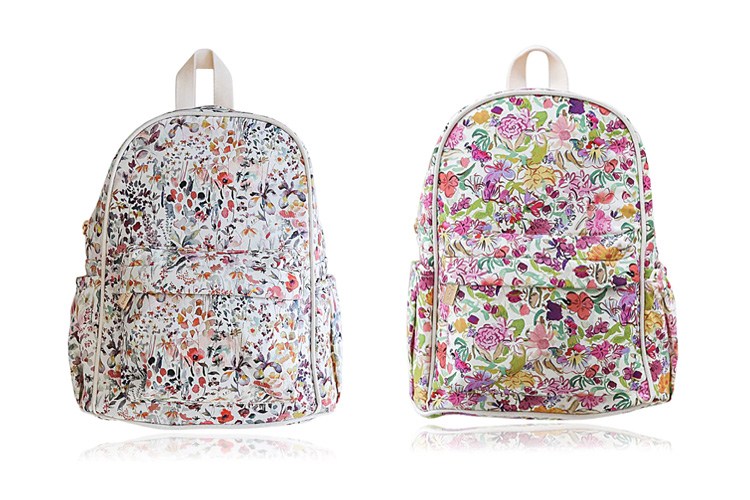 Exquisitely designed with signature fabrics, Josie Joans kids' adjustable backpacks feature a spacious water-resistant interior for easy care. We love the handy side pockets that make toting a drink bottle and an umbrella a cinch.
---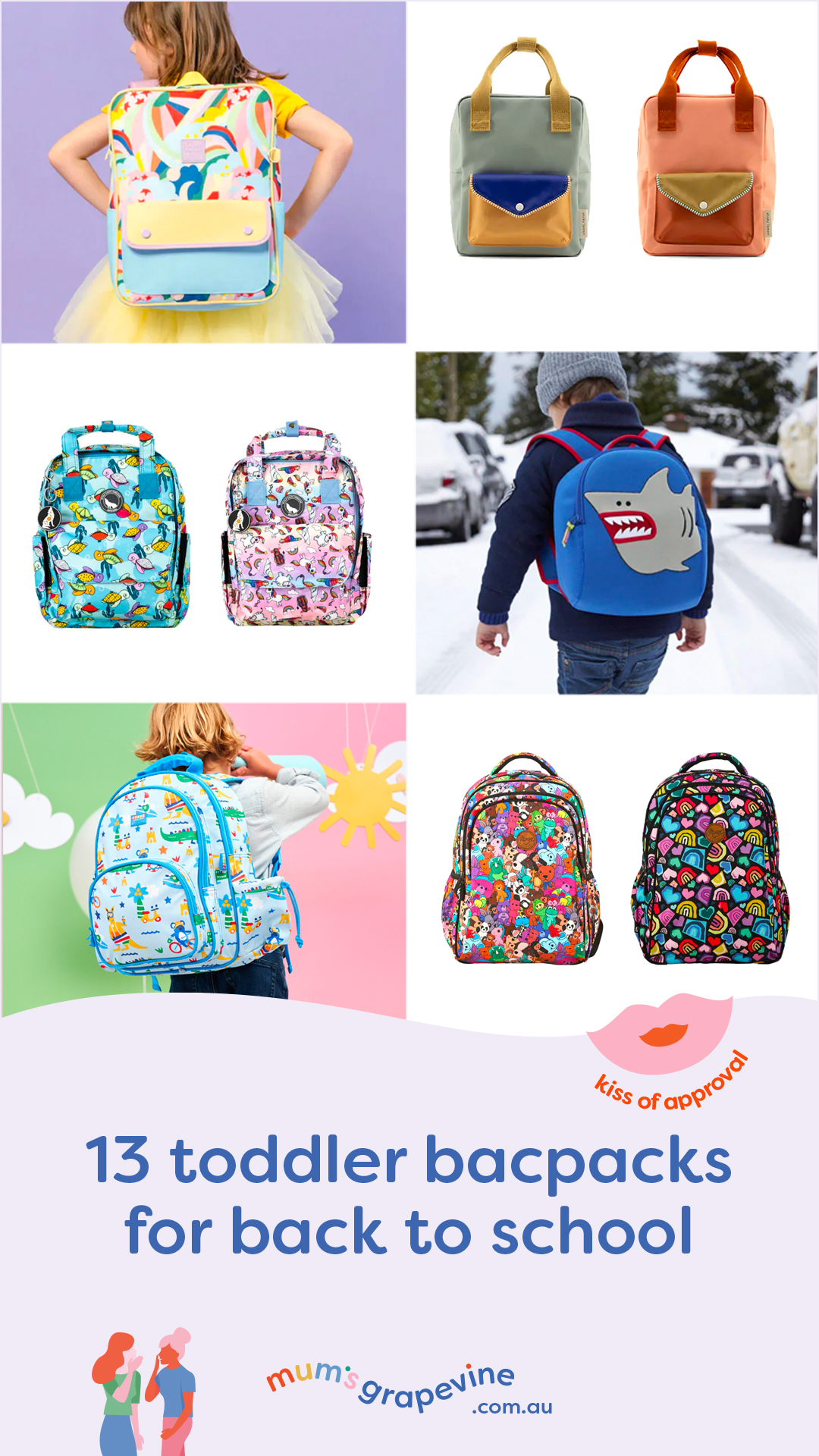 Know a daycare backpack we should add to our list? Contact us and let us know, we've been curating Australia's best baby products into helpful lists for over 15 years and we're always happy to support new brands and businesses.
Read next…
Ask other mums
Looking for a backpack for your little one and still not sure if any of these are right for you? Join the huge #MGVfam in one of our private Facebook Baby Groups and ask thousands of other mums with babies the same age as yours which ones they recommend. Join today!
We want you to know
At Mum's Grapevine, we're a team of passionate mums (with 19 kids!) and over 15 years of experience researching and writing about all things baby and parenting. Our reviews of recommended products, like the ones in this post, may include paid inclusions, but we promise to only feature products that we truly believe in and have used or seen ourselves. We want to ensure that you, our readers have access to the latest and greatest products in the parenting world, and we're committed to maintaining our high standards of quality and honesty. See our Disclosure Policy.
Thank you for trusting us to be your go-to source for all things baby-related.