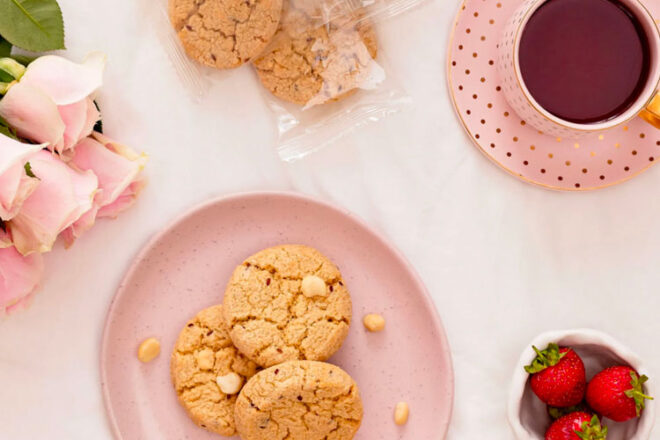 Calling all milk-making mamas and cookie connoisseurs. If you're a nursing mumma looking for a tasty and convenient way to support lactation, lactation cookies are the perfect treat for you. These sweet delights are loaded with ingredients that are believed to help boost milk production, and they're also a delicious way to satisfy your cravings.
From classic chocolate chip to inventive flavours like oatmeal raisin and peanut butter, lactation cookies are a convenient and delicious way to give your body the nutrients it needs while satisfying your hunger at the same time.
In this product roundup, we'll take a look at some of the best lactation cookies available on the market and highlight what makes them stand out. Whether you're a new mum or looking for a thoughtful gift for a breastfeeding friend, these lactation cookies are definitely worth considering.
Helpful tips for buying Lactation Cookies:
Are they individually packaged so you can pop a few in your bag?
Are they ready to eat or do you have to bake them at home?
Is there a discounted subscription option so you won't run out?
Are they safe for the whole family to eat (should you let them)?
Can you stock up and freeze them?
Do they also contain healthy fats to enrich milk quality?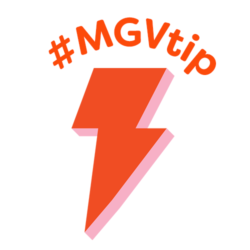 Keep some cookies beside your bed or in your breastfeeding kit – you'll appreciate them when the 2am munchies strike.
OUR PICK OF THE CROP
13 Lactation Biscuits for a healthy milk supply
To help you find a delicious snack for boost milk supply, we consulted our huge Facebook community of Australian mums and listed their most popular choices below.
In no particular order, here are 12 of the most popular lactation biscuits we recommend for 2023
Made to Milk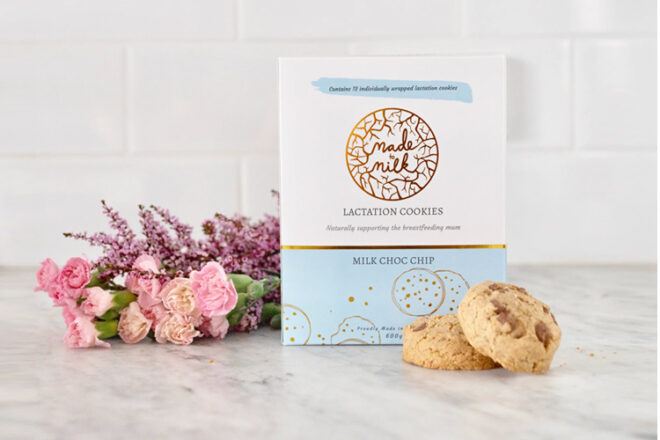 They're the timeless favourites packing a lactation punch. In a choice of milk-choc, white-choc and triple-choc flavours, these babies are jam-packed with flaxseed, oats and brewers yeast to get your liquid gold flowing. Each box contains 12 cookies.
One online customer commented "I purchased the white chocolate and macadamia and I was blown away by how delicious they were! The best part was my milk supply increased on day two! I now just eat one a day and still notice an increase in my supply."
---
Milky Mothers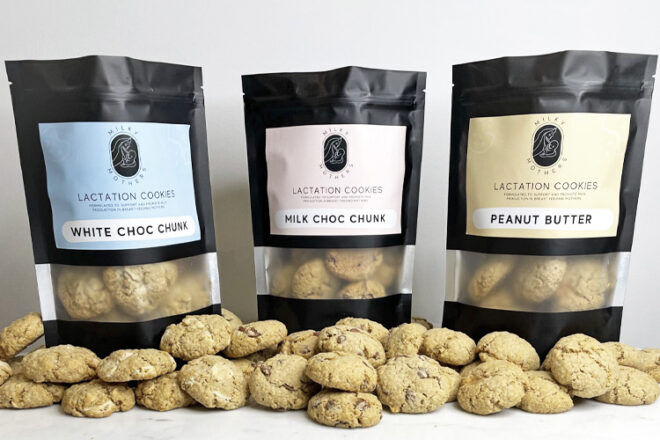 Formulated alongside health professionals, Milky Mothers use specific vitamins and minerals in their cookies to meet the nutritional needs of breastfeeding mums. We love the added goodness of stabilised wheat germ, natural oats and brewers yeast.
"These cookies are amazing – they taste delicious and were super helpful at increasing and maintaining my supply." commented one happy customer.
---
Mama Goodness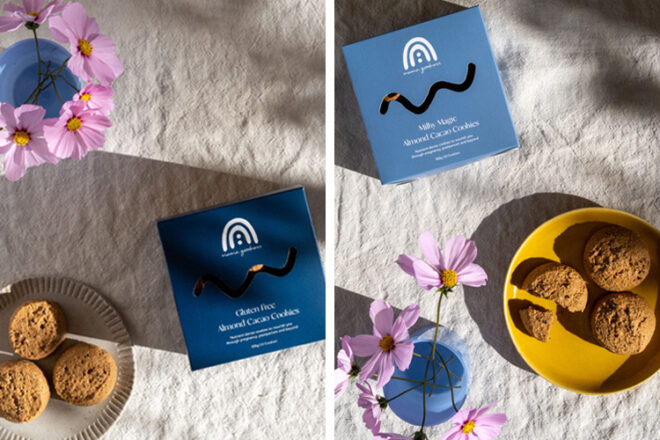 Plant-powered and packed with lactation-inducing ingredients, Mama Goodness Cookies provide all the essential nutrients needed when breastfeeding. We love the combination of their signature seed trio for a whole food boost of healthy fats.
"So yummy! And easy to grab one-handed while breast feeding. Has saved many as hangry moment!" said one reviewer.
---
Franjos Kitchen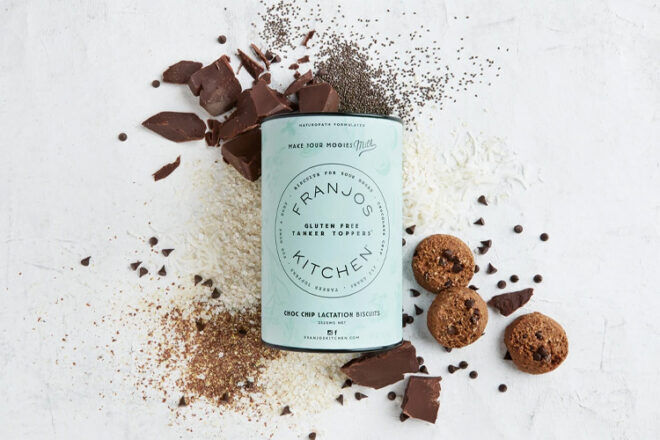 Nourishing and utterly delish, Franjos Kitchen Tanker Toppers are 100% natural and loaded with important vitamins and minerals. Developed by two mums with a passion to support breastfeeding women, you can eat these morsels with one hand and repurpose the tin after.
One review wrote "I purchased these cookies when breastfed my older child until 17 months. Great taste and work effectively to boost my milk supply so I'm continuing to take this delicious goodness for my second baby."
---
Milky Goodness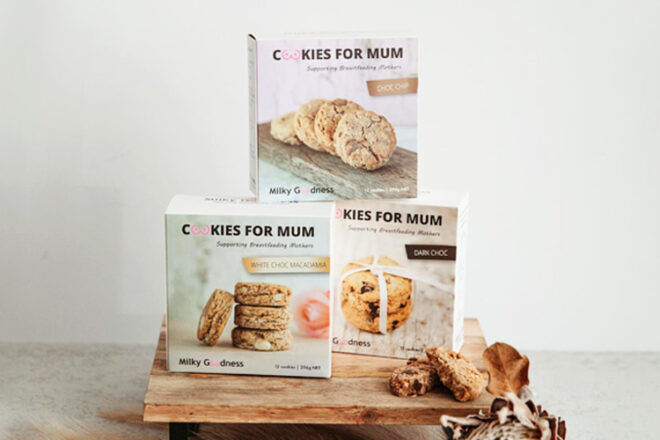 The brainchild of an Aussie mum of three, Milky Goodness cookies uses natural oats and brewers yeast to stimulate milk production and help get feeding on track. And if cookies aren't your jam, there's also chocolate brownies and nourishing granola on the menu.
"I received my cookies in two days, and I was amazed at the flavour and freshness of the cookies. I was struggling with my supply, and I swear the cookies have everything to do with how much I am producing now. Highly recommend!" said one happy customer.

---
Fill Your Cup
Enough to make 12 generous cookies, the Fill Your Cup Cookie Mix combines chocolate and goji berry with chia, maca and flax to nurture hormone regulation, digestion and milk production. Totally organic, we love that they're ready in just 15 minutes.
One reviewer said "Best lactation cookies ever! So delicious and helpful for increasing supply."
---
The Whole Bowl Co.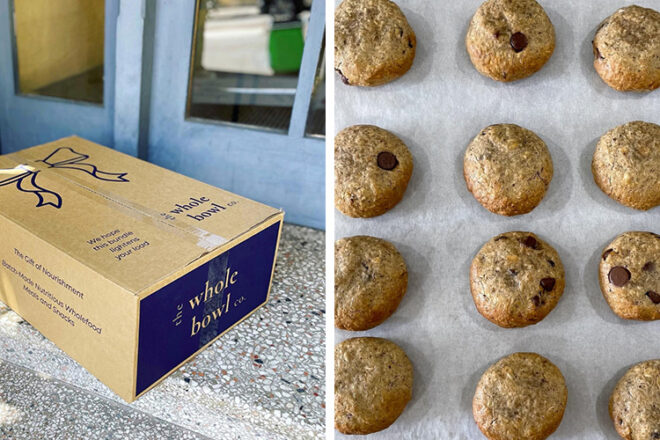 The Whole Bowl Co. delivers freshly made cookies (plus nourishing postpartum meals) to NSW, ACT, VIC and QLD mummas. Dairy-free and vegan, their breastfeeding biscuits are full of nutrient-rich ingredients including oats, flaxseed, cinnamon and tahini.
---
The Milk Collective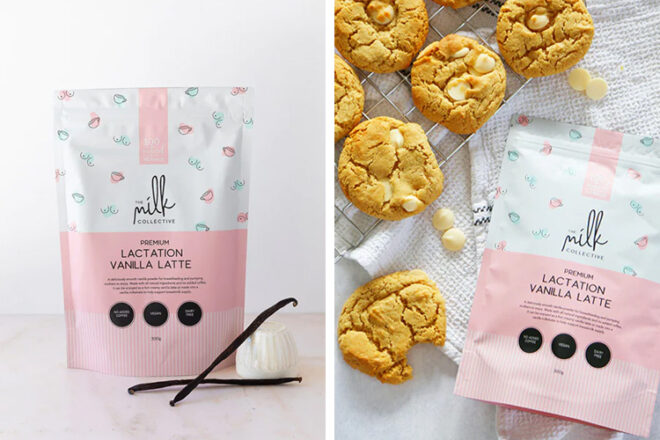 Versatile and delicious, The Milk Collective's smooth-textured powders can be used to make cookies, smoothies, frappes and more. We love, that in addition to boasting ingredients for milk production, they also contain healthy fats to enrich milk quality.
One happy customer posted online "I brought the chocolate lactation blend and my goodness it's amazing! I wish I had known about this amazing product from the start as I struggled with a thyroid issue which effected my milk hugely, thank you so much!"
---
Bubba Delish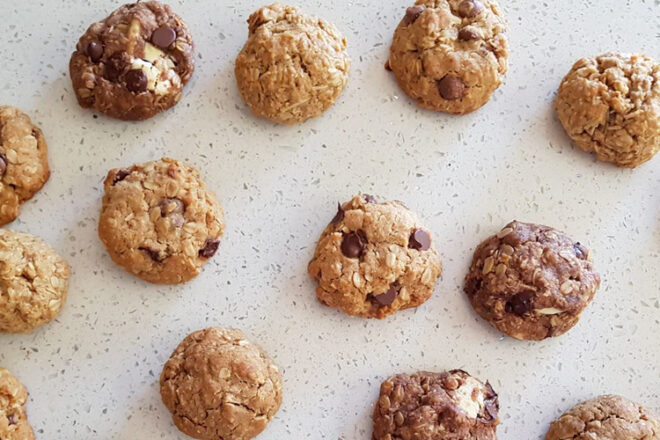 With flavours like Biscoff, Chai Spice and Vanilla Coconut, Bubba Delish cookies make for tasty milk makers. Containing galactagogues oats, brewers yeast, malt, flaxseed and cinnamon. And because they're available in a mixed pack, you can try all the flavours.
One reviewer wrote "Delicious cookies that helped me get into the groove with a newborn. I ordered three flavours and by the end of the batch still hadn't decided which was my favourite, they were all amazing."
---
Motherhood With Keturah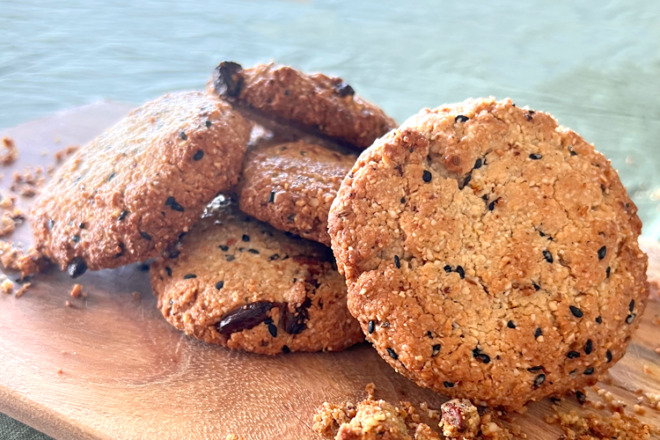 Wholesome and comforting, Motherhood With Keturah biscuits boost milk supply with oats, flaxseed, brewers yeast, black sesame and goji berries. Available in packs of 6 or 12 (and also in a gluten-free version), we love that they contain spices that aid digestion.
---
The Milk Mumma Co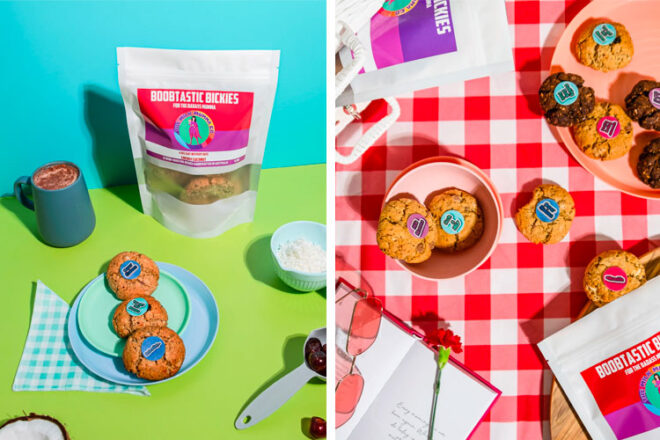 Individually wrapped and heat sealed for freshness, these handmade bikkies from The Mumma Milk Co contain the powerhouse of oats, brewers years and flaxseeds. We love the cheeky little message on each bikkie and that they have a sample pack that lets you try all the flavours.
Online one mum wrote a review " Delicious gluten and dairy-free bickies! Would definitely recommend these to any mama/mama to be. Also the cheeky little messages definitely put a smile on my face."
---
The Yummy Mummy Food Company

Containing natural herbs and handpicked galactagogues like coconut oil, linseed and oats, Boost Bikkies encourage a healthy flow of breast milk. With no dairy, wheat, refined sugar or preservatives involved, they're guilt-free and easy on tender tummies.
"These cookies are not only delicious they actually work! I had them after lunch and an hour later my milk supply was great." said one happy customer

---
What are galactagogues?
Galactagogues are foods that are believed to increase milk production in lactating women. Some common examples of galactagogues include fennel, oats, chickpeas, almonds, ginger and alfalfa. However, it is important to note that while some mothers may find these substances helpful in increasing milk production, there is limited scientific evidence to support these claims.
What makes lactation biscuits different?
Though they may look like regular cookies, lactation snacks contain galactagogues (pronounced ga-lac-ta-gog) ingredients that are thought to boost milk supply. These include brewers yeast, oats, coconut oil, cinnamon and flaxseed. And many include healthy fats that improve the quality of the milk too.
Can anyone eat cookies for lactation?
Absolutely. While a nursing mum gets first dibs on lactation cookies, their nutritional benefits usually make them suitable for the whole family. In addition, there's no chance they'll cause anyone to suddenly start lactating! Just be sure to check the contents for allergens before diving in as many contain wheat, eggs and nuts.
Lactation cookies are considered a complementary food and should not replace a balanced diet for nursing mothers. It is always recommended to consult a healthcare provider before trying any new food or supplement while breastfeeding.

Know a cookie brand we could add to our list? Contact us and let us know, we've been curating Australia's best baby products into helpful lists for over 15 years and we're always happy to support new brands and businesses.
Read next…
Ask the other mums
Looking for cookies you don't have to make and still not sure if any of these are right for you? Join the huge #MGVfam in one of our private Facebook Baby Groups and ask thousands of other mums with babies the same age as yours which ones they recommend. Join today!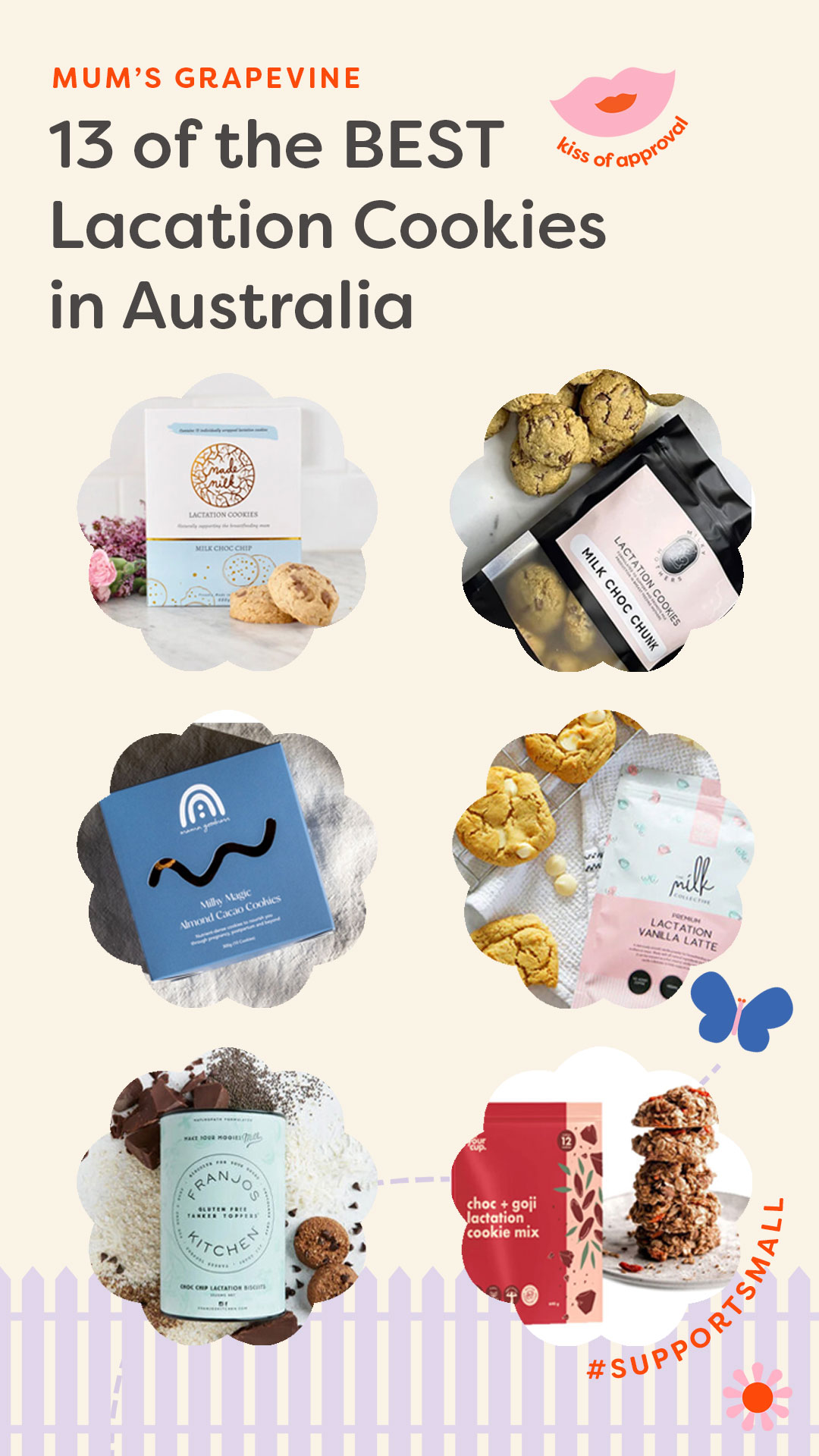 We want you to know
At Mum's Grapevine, we're a team of passionate mums (with 19 kids!) and over 15 years of experience researching and writing about all things baby and parenting. Our reviews of recommended products, like the ones in this post, may include paid inclusions, but we promise to only feature products that we truly believe in and have used or seen ourselves. We want to ensure that you, our readers have access to the latest and greatest products in the parenting world, and we're committed to maintaining our high standards of quality and honesty. See our Disclosure Policy.
Thank you for trusting us to be your go-to source for all things baby-related.
xoxo