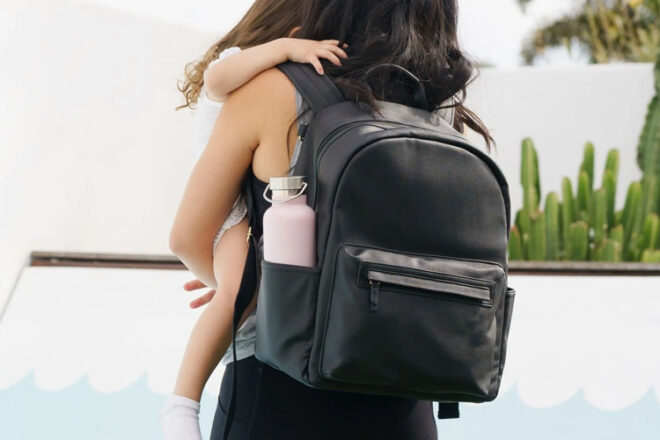 As a parent, it can be a challenge to carry everything you need for your baby while on-the-go. That's why backpack nappy bags have become a popular choice for parents who want a hands-free and convenient way to carry all their baby essentials.
A backpack nappy bag is a backpack-style baby bag designed with multiple compartments and pockets to keep all your baby's items organised and easily accessible. From bottles to nappies and everything in between, these backpacks offer ample storage space – perfect for parents who want a stylish and practical way to carry their baby gear.
In this product roundup, we'll take a look at some of the best backpack nappy bags available, with features and benefits to help you find the perfect one for your needs.
Helpful tips for buying a nappy bag:
Are the straps adjustable?
Is there an insulated pocket for bottles?
Does your water bottle fit in the drink bottle pockets?
Is the inner lining waterproof?
Can you open the zips with one hand?
Are there external pockets for keys and phones?
Does it come with a change mat?
Is there a pouch for baby wipes?
Are there "feet" on the bag to protect the bottom?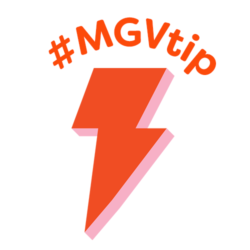 Don't forget dad! If your partner will be carrying the bag on outings pick a style he'll be proud to swing over his shoulder too! Or get two!
OUR PICK OF THE CROP
19 backpack baby bags recommended by mums
To help you find a practical, yet stylish baby bag for everyday use, we consulted our huge Facebook community of Australian mums and listed their most popular choices below. Read what other mums had to say in the Facebook post!
In no particular order, here are 19 of the most popular backpack-style nappy bags we recommend.
OiOi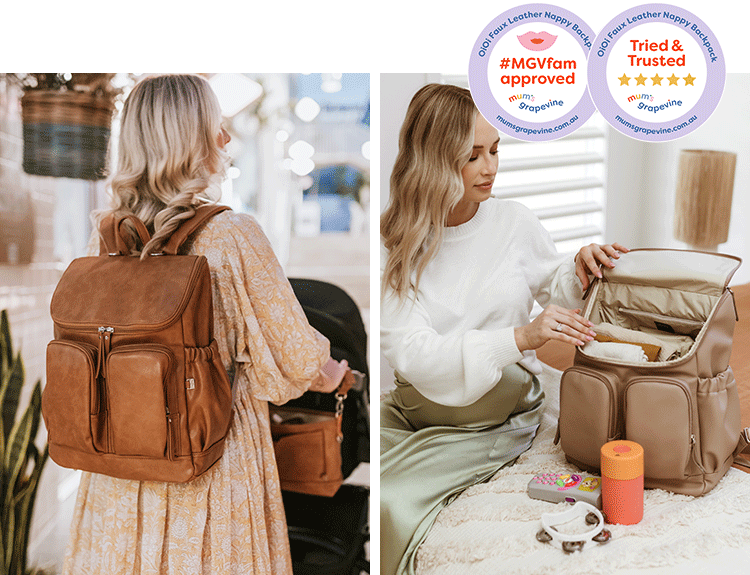 Designed by mother and daughter duo in 2019, the award-winning OiOi nappy backpack features a huge zip-around opening, eight roomy pockets and protective metal feet. Available in faux leather, nylon, canvas and genuine leather – with 15 colours to choose from.
---
Arrived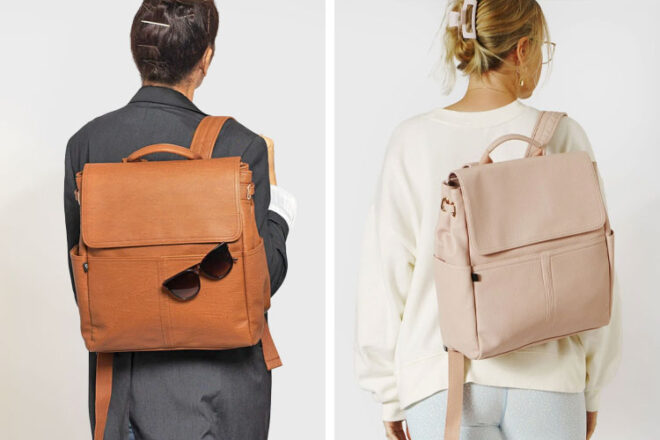 With a sleek silhouette and dialled-up luxe, Arrived bags are perfect for the mum who wants an elegant solution for carrying nappies and gear. But it's not all about looks; the Hayes bag has a functional interior with insulated pockets for bottles and room for your tablet.
---
Ben & Ellie Baby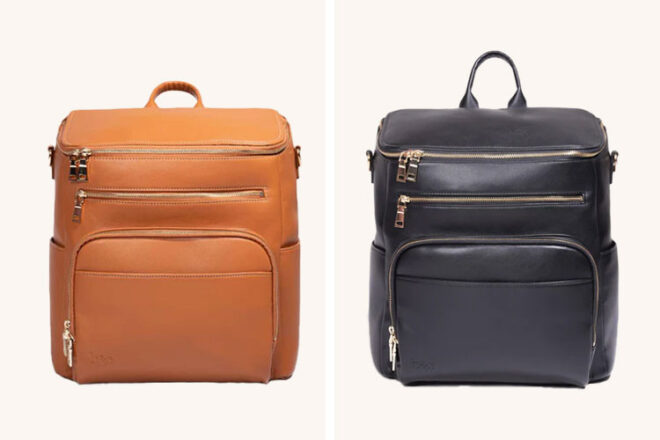 Crafted in high-quality vegan material that looks and feels like leather, the Ben & Ellie Nappy Bag Backpack is a piece made to last through the seasons of motherhood. We love that it has a spacious centre compartment and eight internal pockets – two that are insulated.

---
L&M Boutique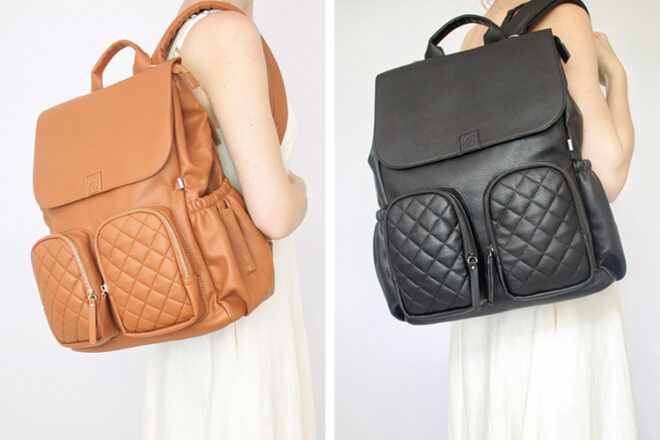 Designed to bridge luxury and accessibility, the L&M Boutique Nappy Bag is the ultimate carry-all backpack with a total of thirteen compartments. Made from premium microfibre pebble leather that is 100% ECO Vegan, the bag is durable, lightweight, and water-repellent.

---
Mumma Bear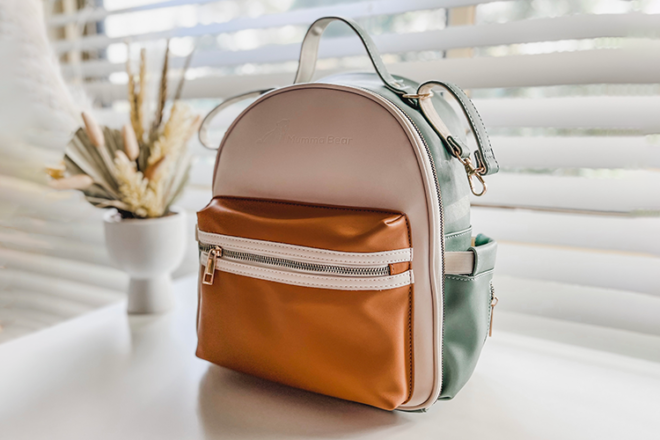 Lightweight, compact, and gender-neutral the Mumma Bear Nappy Backpack is designed to effortlessly complement Aussie families. We love the generously sized insulated pockets that fit any size bottle as well as the detachable mini wallet – perfect for any Mumma on the go.

---
Joey + Grace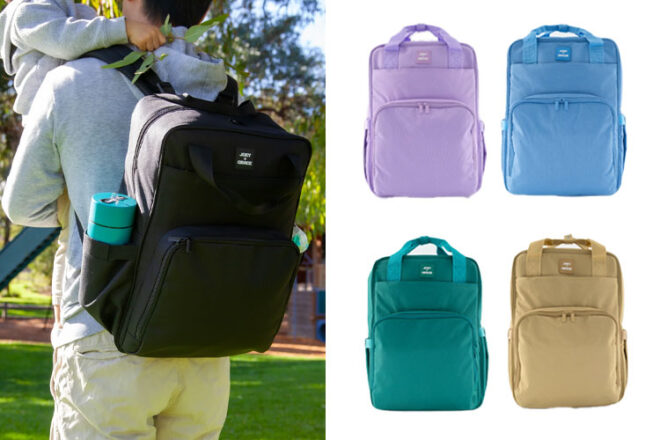 Waterproof inside-out, minimalist and practical, the Joey + Grace nappy backpack is the perfect accompaniment for all families on the go. The multiple utility pockets and compartments made it perfect for staying organised and we love that it comes in five different colourways so that there is something for every parent.
---
Storksak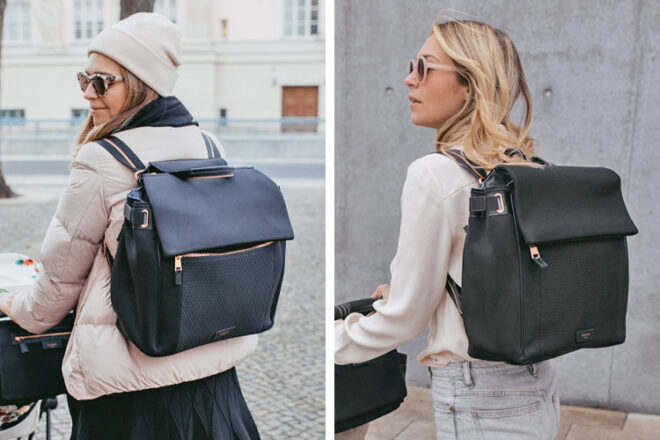 Made from durable Scuba material, the St James Nappy Bag is a convertible bag that oozes sports luxe while giving mum all the pockets and storage she needs. With metal feet and adjustable side panels to increase capacity, they really have thought of everything.
---
ARCH Bags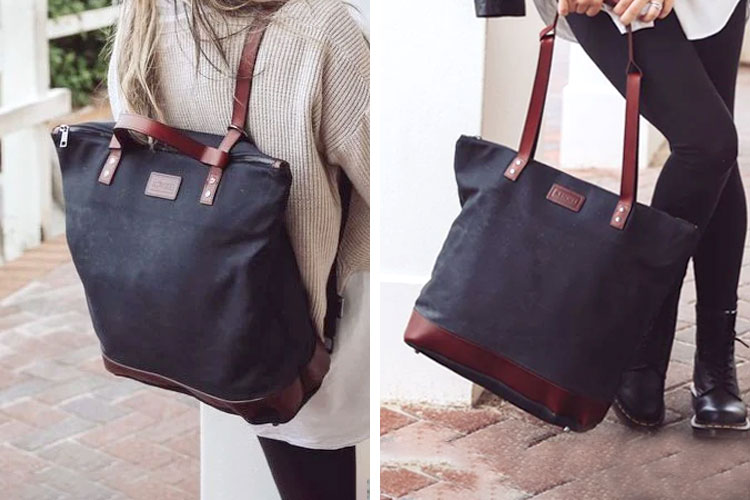 Designed to give parents a bag that doesn't compromise on function, this beauty has it all. The unique strap easily converts the bag from a tote to a backpack when tired arms set in and a roomy main compartment with pockets means essentials have a designated space.
---
Babymel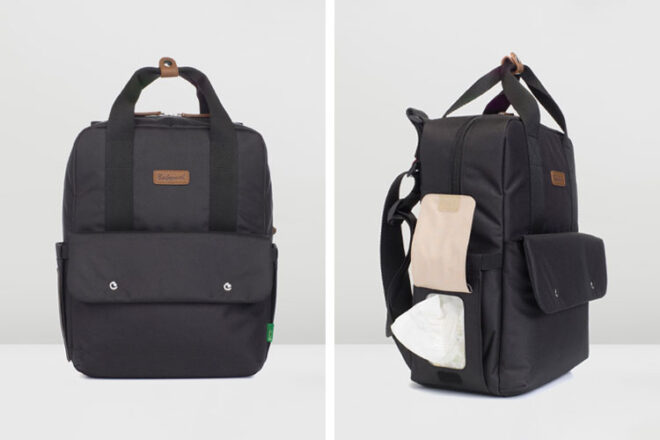 Need more versatility? Made from recycled plastic bottles, the Georgi Eco Convertible Backpack is wearable in four different ways. Use the multiway strap to wear it as a backpack, shoulder bag, cross-body or handheld. With seven pockets, it's got you covered.
---
H&N Label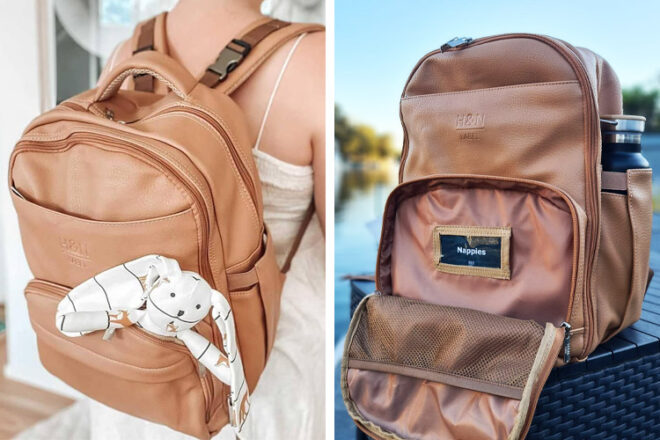 Cleverly designed to see you through the baby years and beyond, H&N Label backpacks are practical, reliable and versatile. Available in waterproof poly-canvas or vegan leather, each comes with labelled compartments that make essential items quick and easy to find.
---
Done by Deer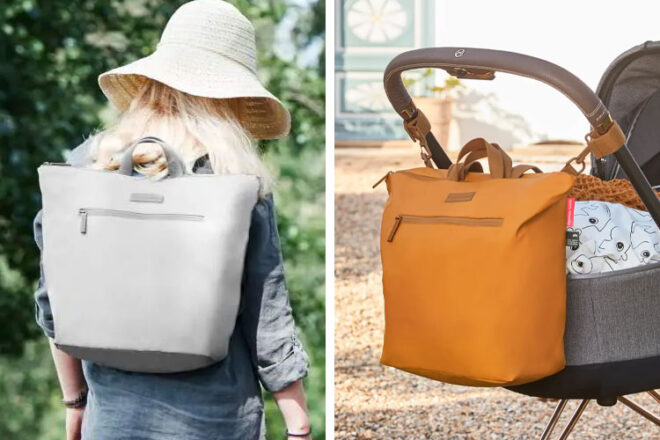 Combining functionality, durability, and sustainability the Done by Deer Nappy Backpack makes organising a breeze. We love the wide opening that allows for easy access with seven inner pockets and one outer zipper pocket to ensure you have all your baby essentials.

---
LeQueen Bags Australia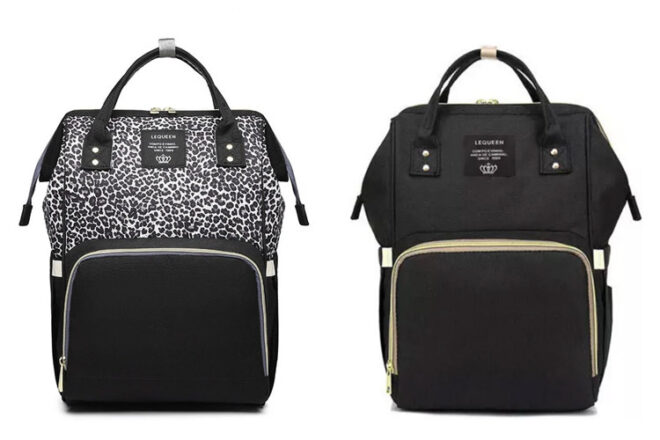 From bags with USB ports to practical backpacks you'll use for years, there's a bag at LeQueen Bags Australia for every type of parent. Each style comes with insulated pockets for baby bottles, a wipes pocket and secure zip pockets for your valuables.
---
Apostl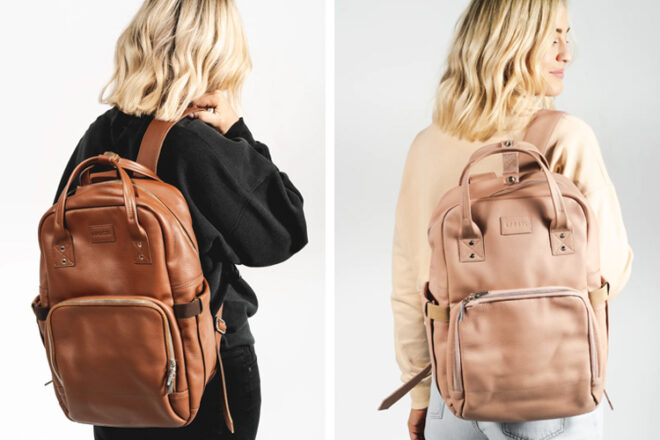 Handcrafted from premium Pebble leather for maximum durability, the Apostl Nappy Bag is designed with the busy parent in mind. We love the front, side, and back pockets allowing space for everything you need on the go and that available in black, tan and nude.

---
Hannah & Henry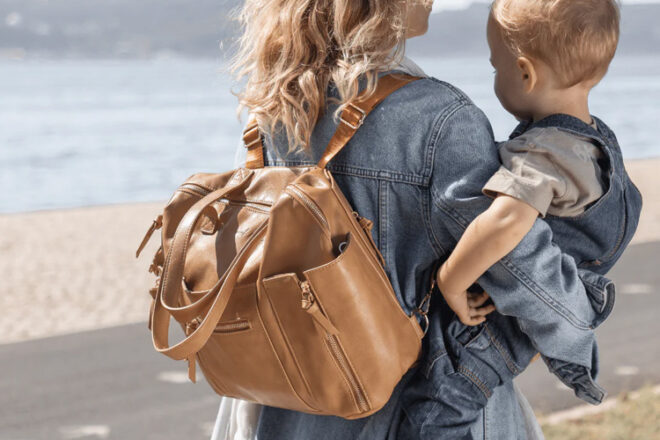 With a total of 13 pockets inside and out, this designer leather bag will see you through every adventure with a baby in tow. The vegan leather outer and durable nylon lining can be wiped clean with ease and there's a nifty privacy pocket to keep valuables safe.
---
ONE NINE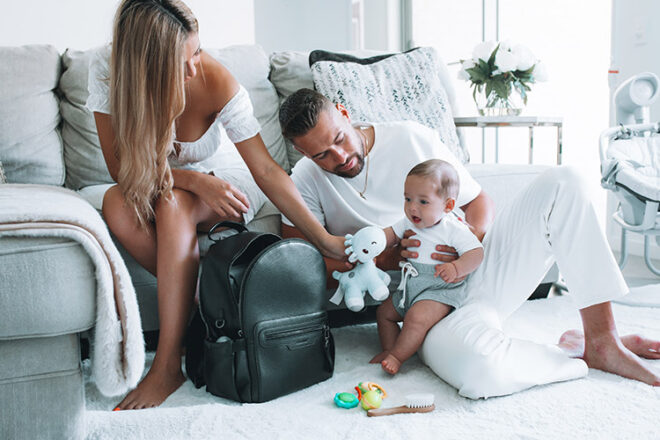 This stunning nappy backpack is the brainchild of two professional athletes. Designed for modern mums and dads, it's gender-neutral and crafted from highly durable top-grain leather. You can even have it monogrammed with up to three letters for free.
---
The Nappy Society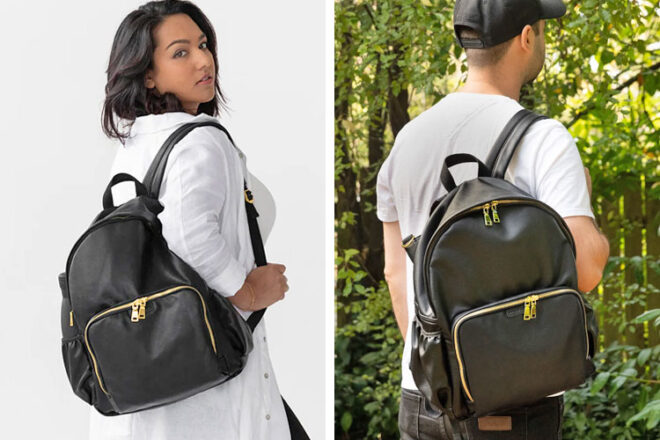 Cleverly maximising space with thoughtfully placed pockets and compartments, The Nappy Society Vegan Leather Nappy Backpack is an ideal choice for parents to share the load. We love the sleek black leather look with the beige interior designed for better visibility.
---
From Day Dot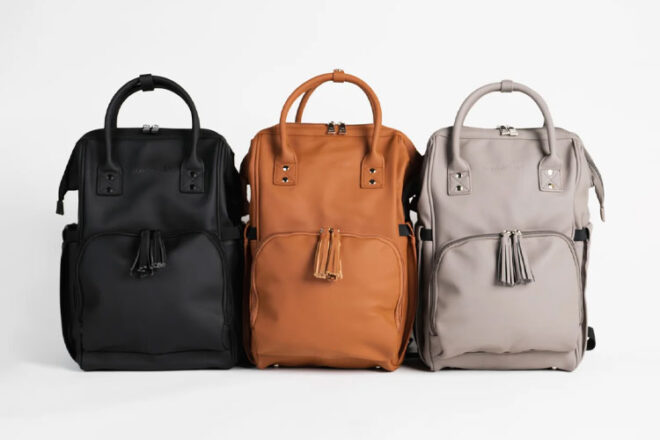 Including a smart organising system, padded laptop compartment, and anti-theft magnetic pocket, the From Day Dot Backpack is the ultimate bag that every modern mama wants.  We love the convenient USB port for phone charging or even using a bottle warmer.
---
Bonnie x Kind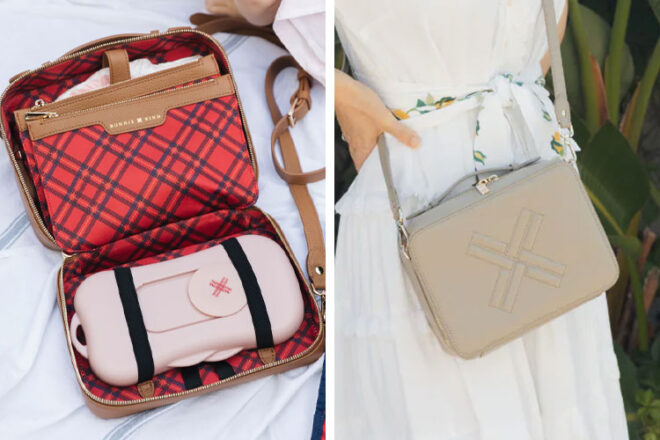 Crafted from luxurious-grained leather, this heavenly duo is a stylish and clever choice for the modern mum. Store bulkier items in the tote, then grab the smaller crossbody Kit come change time. Long after your little one has grown, the Ensemble lives on for everyday use.
---
Toots & Co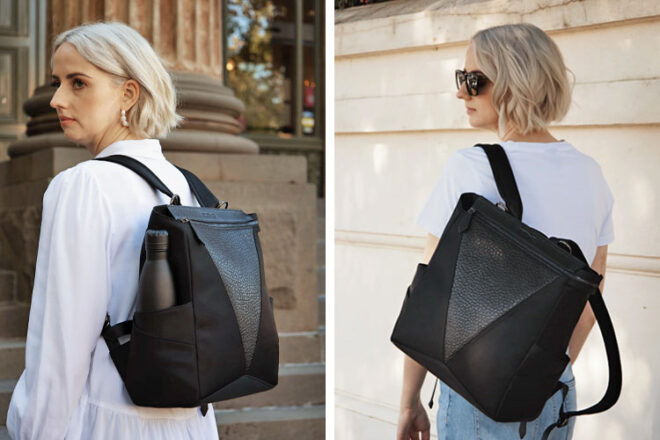 Made from lightweight nylon with genuine leather feature panels, the Toots & Co Backpack is the perfect accompaniment for your everyday nappy-changing essentials. With a variety of pocket sizes, we love the super soft straps that make it a dream to carry with you all day.
---
Are baby bags necessary?
Unless your regular handbag happens to come with an insulated bottle holder, multiple pockets and room for nappies, a designer nappy bag is super handy. Babies and kids come with a lot of gear and a practical baby bag or backpack will keep you well organised and ready for anything. Trust us, you'll be glad you have one.
What should I pack in a baby nappy bag?
Nappy supplies, wipes, a changing mat, spare clothes and hand sanitiser are must-haves for your nappy bag. You might also like to pack spare baby dummies (they often end up on supermarket floors), nappy cream if baby is prone to rashes, and of course, toys. The right baby bags have space for everything you need.
How long will I use my baby bag?
Many parents use their baby bag right through the baby stage and well into the late toddler stage after toilet training you no longer need to carry as many nappy supplies. But with so many colour options and how stylish modern baby bags are, there's no limit to how many years you'll use one.
---

Know a baby backpack we should add to our list? Contact us and let us know, we've been writing Australia's best product roundups for over 15 years and we're always happy to support new brands and businesses.
Read next …
If you're looking for baby products that make life a little easier, you're in the right spot. From baby carriers to teethers, we list the most coveted products in the country.
Read this … Baby Poo: The good, the bad and the yucky
Ask other mums
Looking for a backpack style baby bag and still not sure if any of these are right for you? Join the huge #MGVfam in one of our private Facebook due date pregnancy groups and ask thousands of other mums due at the same time as you which ones they recommend. Join today!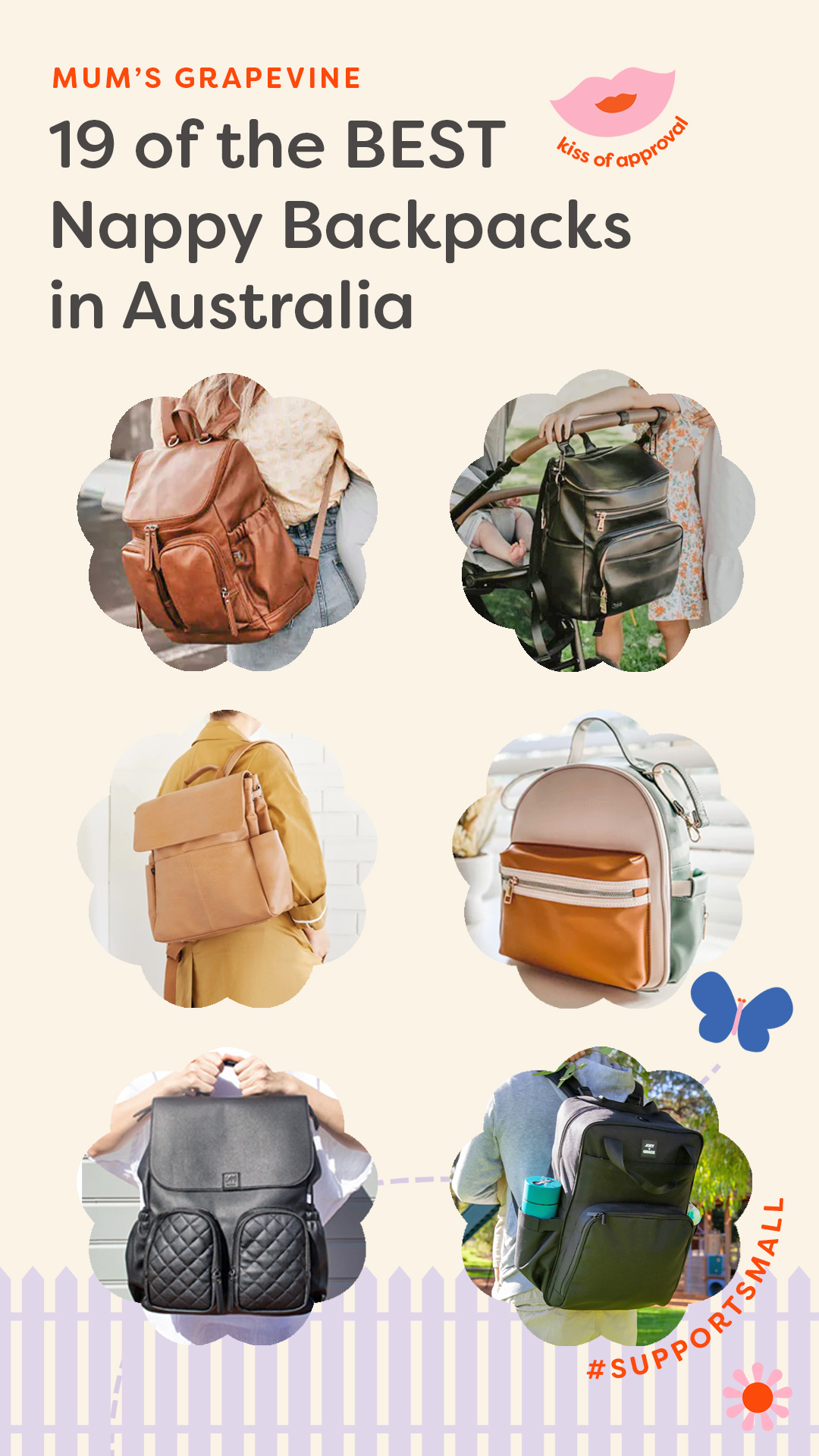 We want you to know
At Mum's Grapevine, we're a team of passionate mums (with 19 kids!) and over 15 years of experience researching and writing about all things baby and parenting. Our reviews and recommended products, like the ones in this post, may include paid inclusions, but we pinky promise to only feature products that we truly believe in and have used or seen ourselves. We want to ensure that you, our readers have access to the latest and greatest products in the parenting world, and we're committed to maintaining our high standards of quality and honesty. See our Disclosure Policy.
Thank you for trusting us to be your go-to source for all things baby-related.
xoxo