We've personally selected these products to make your shopping experience easier. Just so you know, we may get paid for sharing this information with you and you decide to buy something through the links in this article. 

Learn more

.
Thank you for trusting us to be your go-to source for all things baby-related.
---
Easter can be just as sweet without the need for chocolate. And to help you celebrate your baby's first Easter, we've hopped from shop to shop and gathered our favourite baby Easter gift ideas.
From personalised baskets and adorable plush bunnies to classic Easter books and crazy-cute keepsakes, these gifts are sure to make your child's Easter memorable for everyone.
OUR PICK OF THE CROP
50 (choc-free) baby Easter Gifts
To help you in your search for the perfect Easter gift, we've curated a handy list of gift ideas to help get you started.
In no particular order, here are 50 choc-free baby Easter gifts in Australia for 2023.
Perfect pals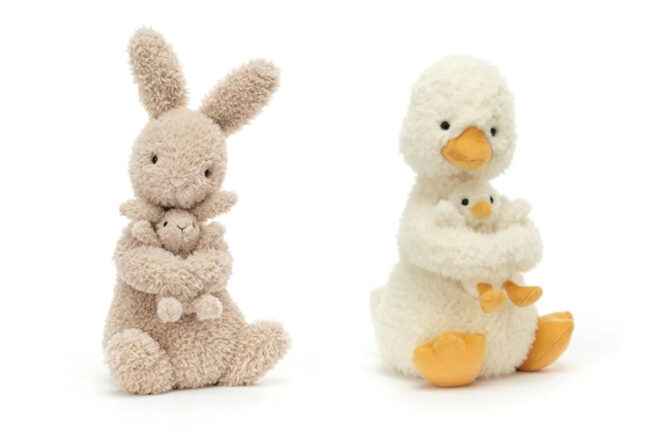 Whether bub is trying to wiggle away to fit in some extra playtime before bed or has just been scooped up for a big snuggle these baby-and-parent combos would love to join in.
---
Easter ensemble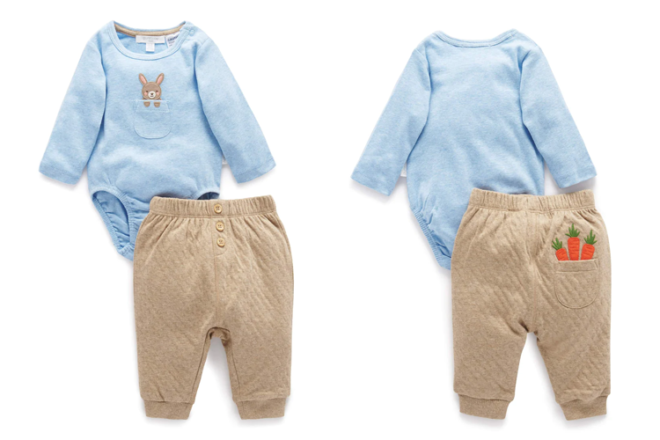 Easter outfit sorted. Made from 100% GOTS certified organic cotton, it features a peek-a-boo bunny on the front and carrots on the back. Adorable.
---
Bunny-eared baskets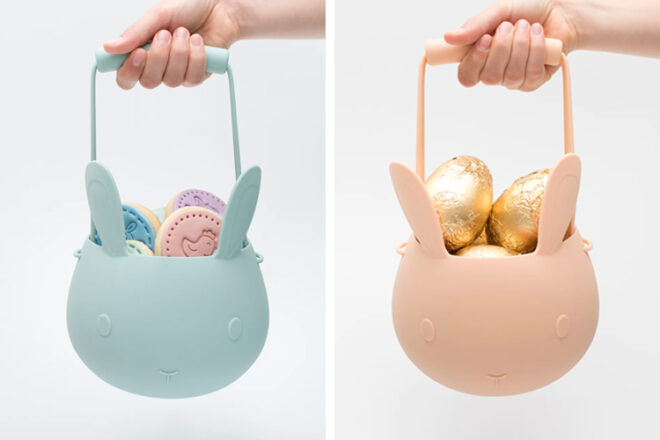 With room for even the biggest Easter haul, these limited editions, food-grade silicone baskets are the ticket. Half eaten eggs? No problem! They're dishwasher safe.
---
Cute critters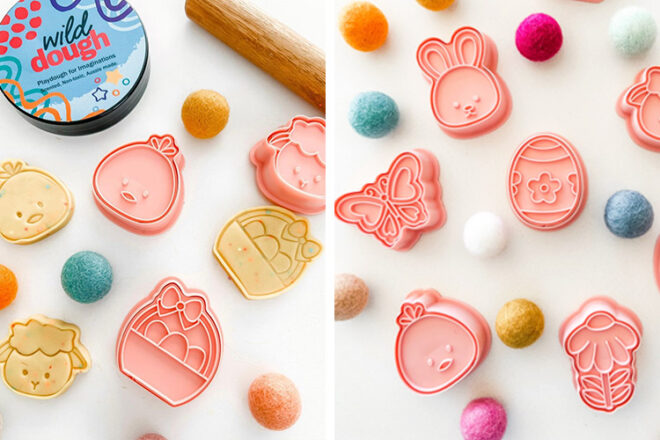 Designed for little hands, kids can use these stamps and cutters with playdough, cookie dough, kinetic sand and more. Made from BPA free plastic, they're easily cleaned in the dishwasher.
---
Sweet dreams, every bunny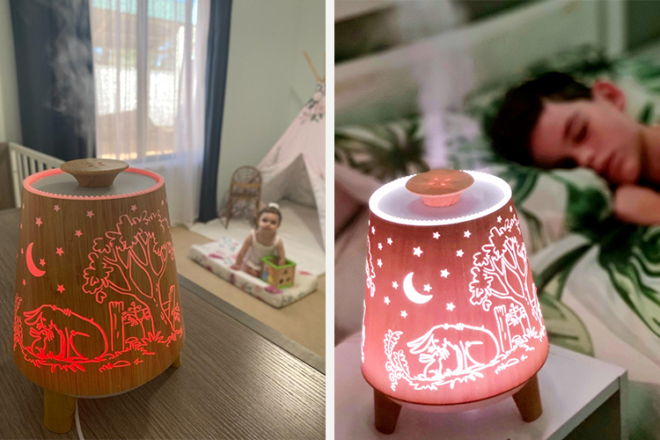 Help little ones nod off to sleep easier and dream of Easter bunnies with Hush Vaporiser, featuring a sweet reversible/removable bunny-themed cover.
---
Bunny prints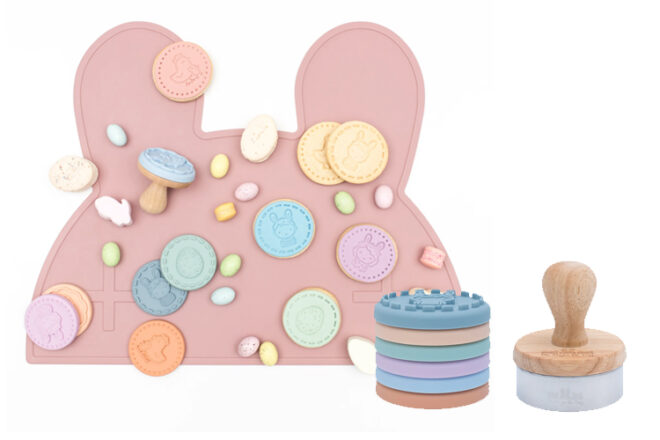 Guaranteeing too-cute cookies, the Easter Stampies set includes six interchangeable, food-grade silicone stamps, a stainless steel cookie cutter and a wooden stamper.
---
Eggcellent art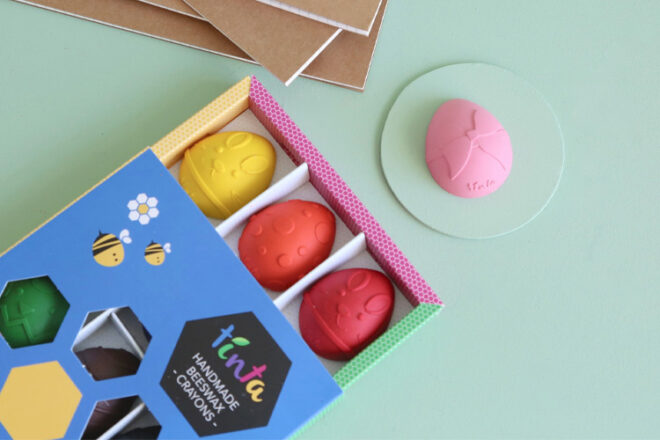 Perfect for sugar-free hunting, these colourful crayons are sure to delight. They're handmade from beeswax and ready for crafty Easter fun.
---
Bunny hop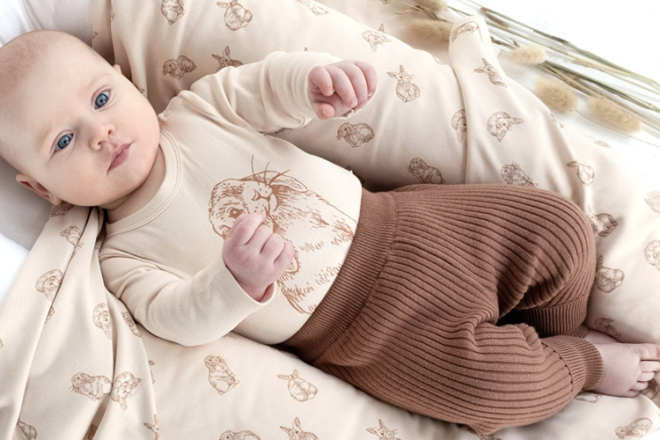 Curl up in the sweetest bunny knits, overalls, ruffle dresses, onesies and rompers. Inspired by nature each piece is beautifully hand illustrated.
---
Caddie cool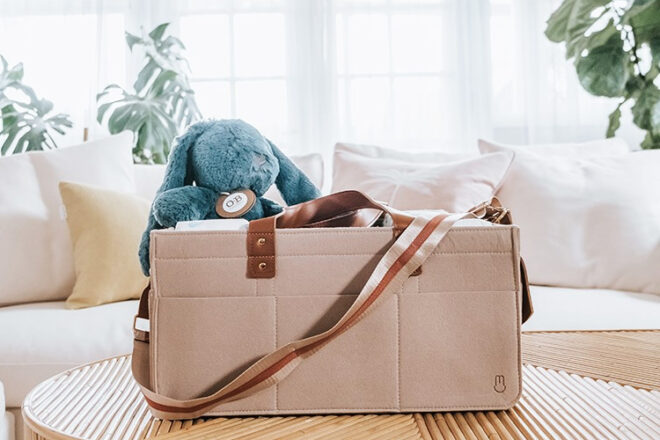 Fit all the essentials in the ultimate changing caddy with extra room for their cuddly bunny. You can even take it on the Easter picnic.
---
Clever egg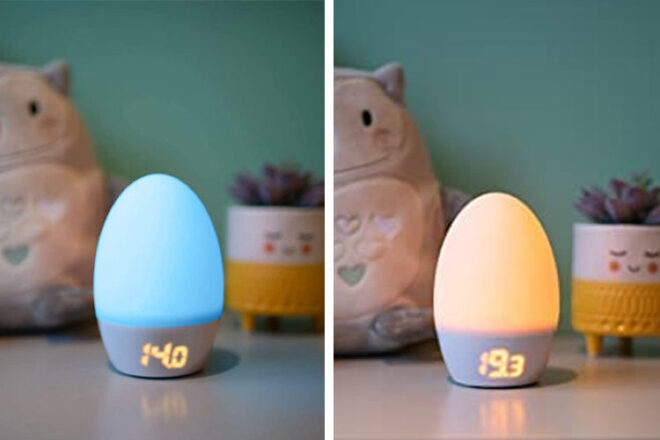 This clever egg is colour coded to tell you the ambient room temperature of your nursery at a glance. Nightlight included it even coordinates its colours to match the TOG rating of Grobags. Eggscellent.
---
Cozy companion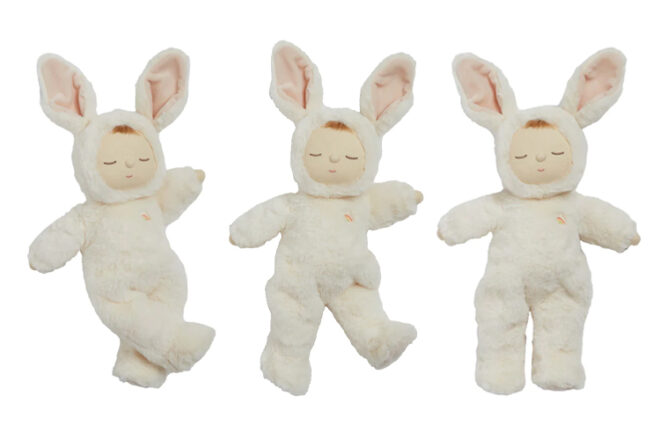 Gently weighted for added calm, Bunny Moppet can be posed in multiple sleeping positions. Suitable for the tiniest of tots, this wonderful companion even comes packaged in a biodegradable bag – perfect for gifting.
---
Sweet basket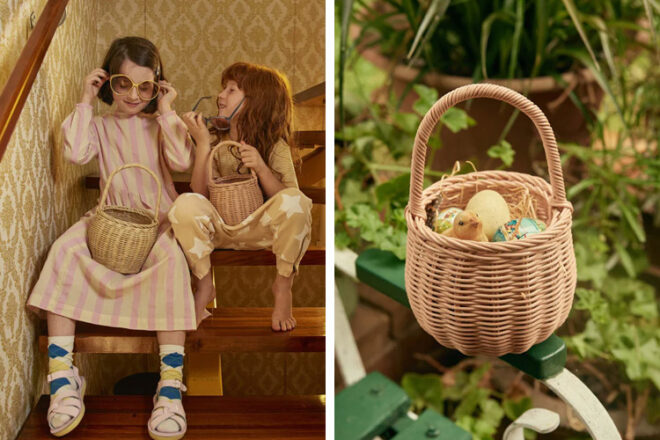 Handwoven from 100% natural rattan, these pretty baskets have a multitude of uses long after the Easter treats have been eaten. Available in two vintage colourways; straw and rose. 
---
Attention, Easter Bunny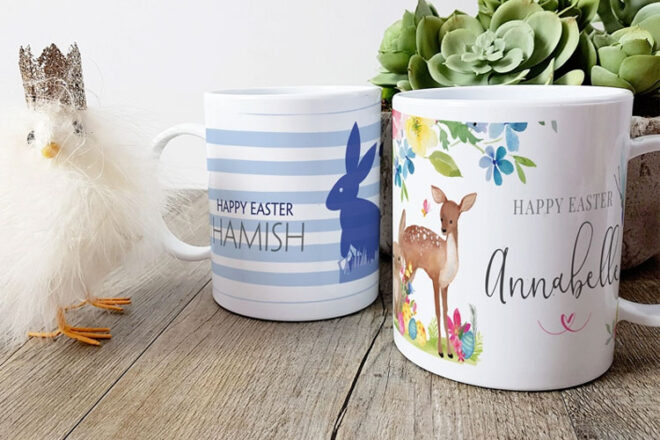 Kids will love these personalised Easter melamine mugs. Available in a huge range of designs and fonts, they're drop-proof and BPA free.
---
First game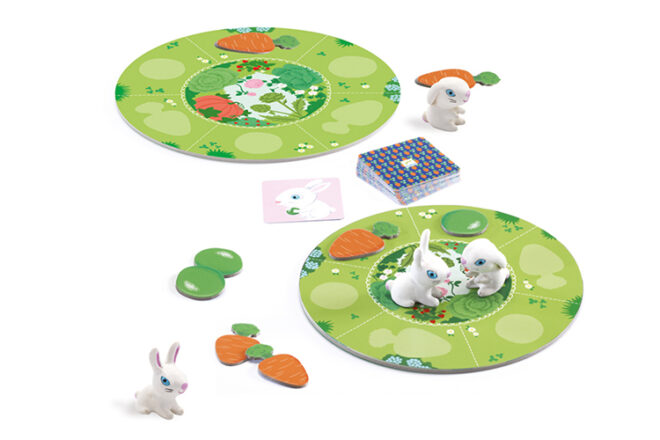 With the sweetest lil bunnies to play with, this first game for toddlers teaches the basic skills of taking turns, following rules and matching shapes.
---
Sweet n' soft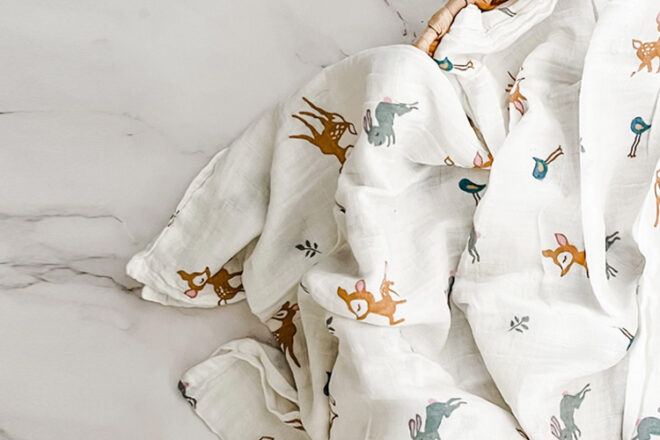 Scrupulously soft, Mumma Bear muslin wraps helps regulate wee little babes' temperature and is so kind on delicate skin. Designed in the sweetest prints they're the perfect baby Easter gift.
---
Egg-stra egg hunt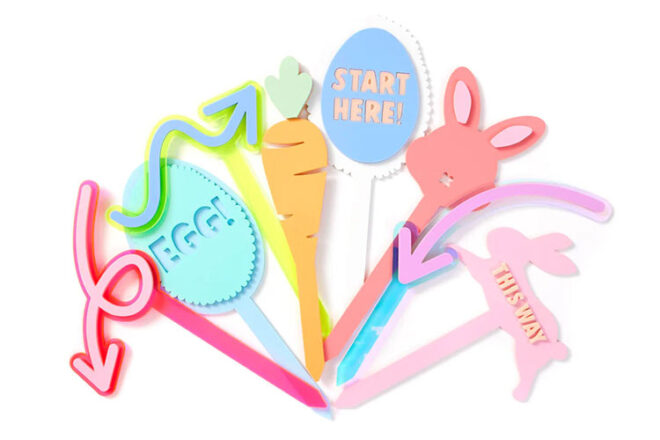 Brighten up Easter with these funky acrylic stakes. Strong enough to pop into soft gardens, lawns or potted plants, they have a matte finish on the front and gloss on the back.
---
Egg-thical eggs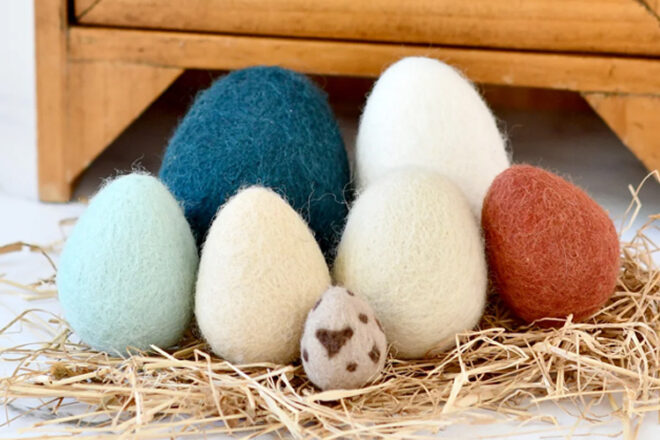 These Easter eggs with-a-difference help kids learn about emu, goose, duck, Araucana hen, Maran hen, chicken and quail eggs. Ethically made by artisans in Nepal from 100% New Zealand wool.
---
Veggie garden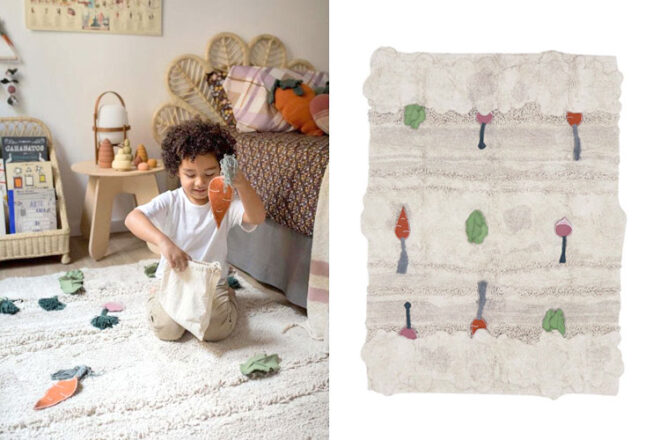 This super cute machine washable cotton rug is covered in hidden pockets for "planting" the 15 canvas veggies into your pretend garden. Carefully designed and handmade to the highest quality.
---
Bunny booties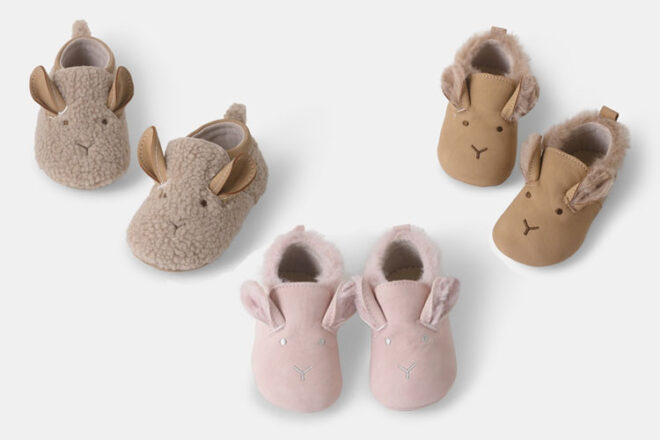 These adorable bunny booties from Walnut Melbourne are the perfect pair to help your little bunny hop around. Made from soft nubuck and a faux fur trimmer collar they're a great winter accompaniment.
---
Craft time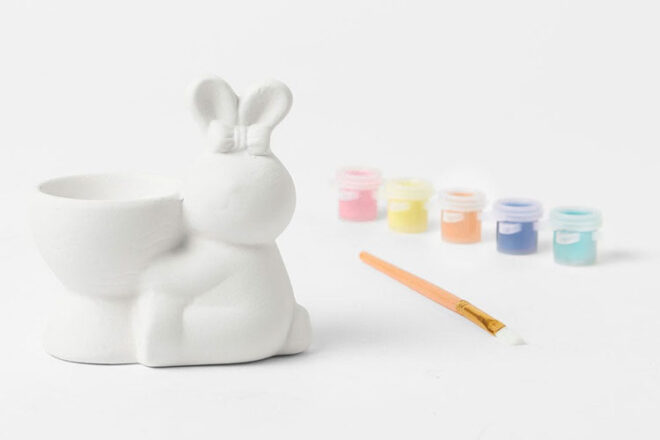 Get creative and crafty this Easter with these adorable painting sets. With heaps of designs to choose from, everyone can make a keepsake to treasure.
---
Cuddly carrots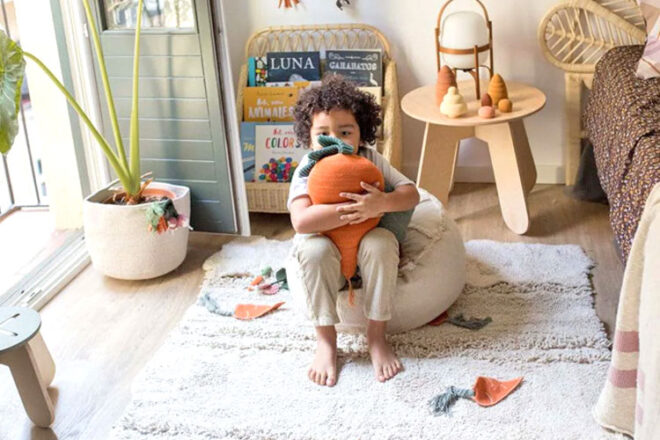 The quintessential Easter accessory, Cathy the Carrot is made from soft knitted cotton filled with soft polyfill making her perfect for cuddles. A toy to treasure for years to come.

---
Pretty puzzle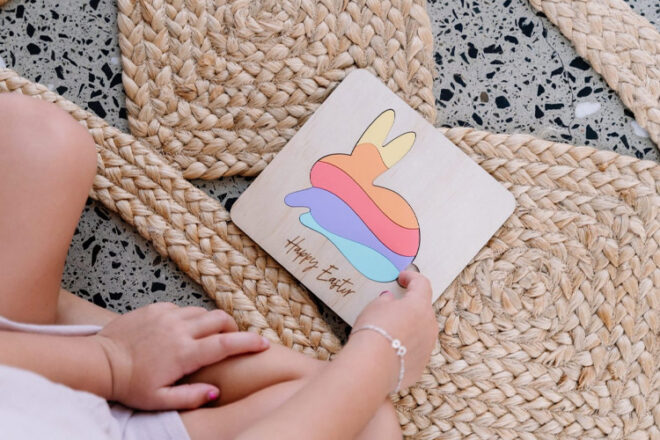 In fun gelato colours, this simple yet striking wooden puzzle is truly giftable, especially since you can personalise it with the lucky recipient's name.
---
Arty Bub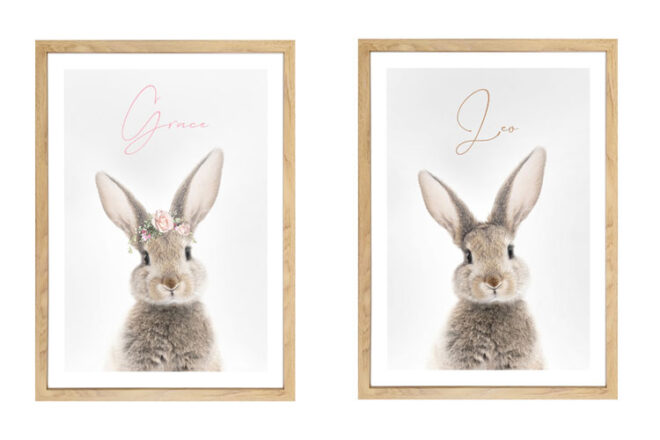 It's bunny, with personality. Pop these up on their wall for a nursery with that something egg-stra. Available framed or unframed, in many sizes.
---
Bunny BBF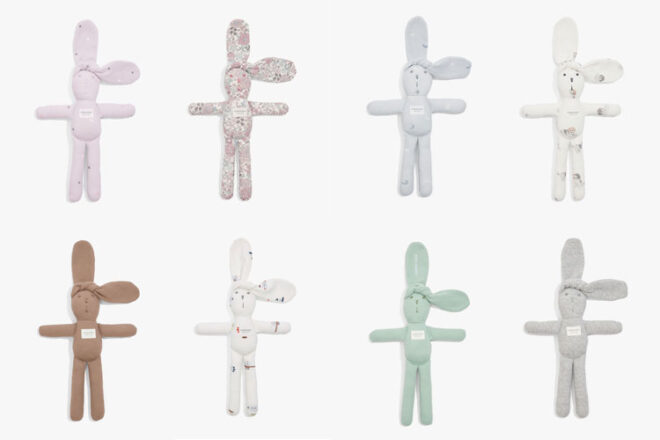 With its beautifully crafted rib finish the Country Road Bunny is the perfect soft and cuddly friend to give a loved one this Easter. The question is, what print will you choose?
---
Bunny posse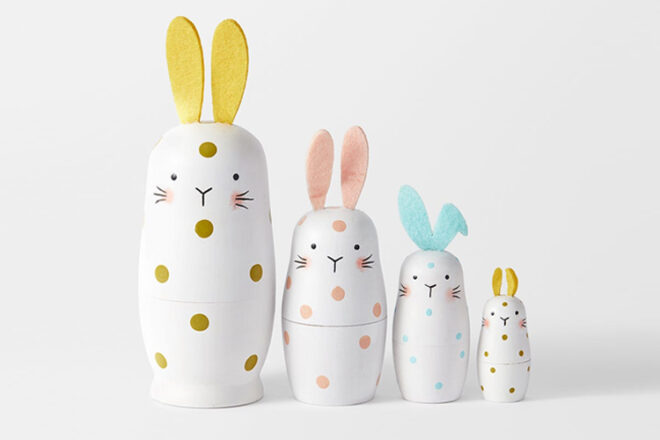 Add a touch of whimsy to the nursery with this sweet family of babushka bunnies. Featuring adorable felt ears, the largest bunny stands at 19cm tall. Cute baby Easter gift idea.
---
Secret keeper

Perfect to hide all the Easter treats away from pesky siblings, the Colour & Spice Easter Bunny Keepsake Box is personalised with your littlies' names and has a sliding lid for easy opening and closing.
---
Pocket bunnies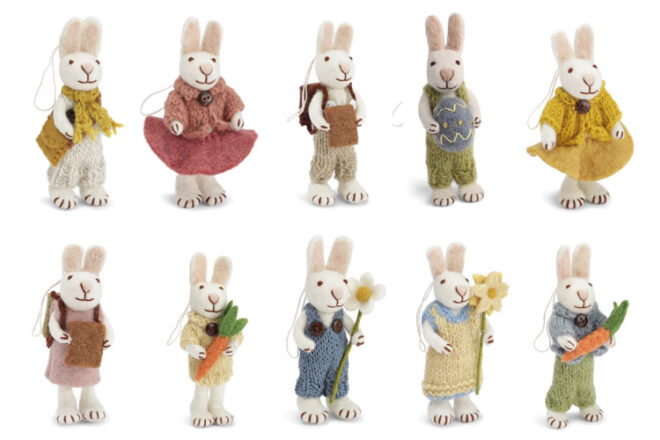 Handmade felted and made for hanging or standing, these sweet little bunnies will make playtime eggs-traordinary for every bunny.
---
Wood you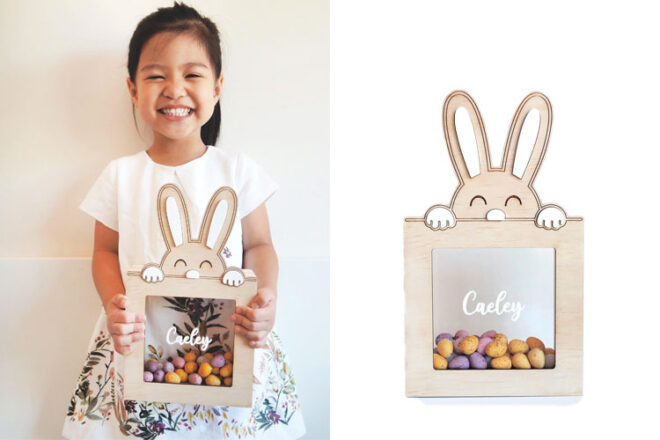 A great accompaniment for the big Easter egg hunt, these Easter Egg Holders from Wouldyoubuy can even be repurposed after Easter to hold pocket change and things alike.
---
Breakfast bunnies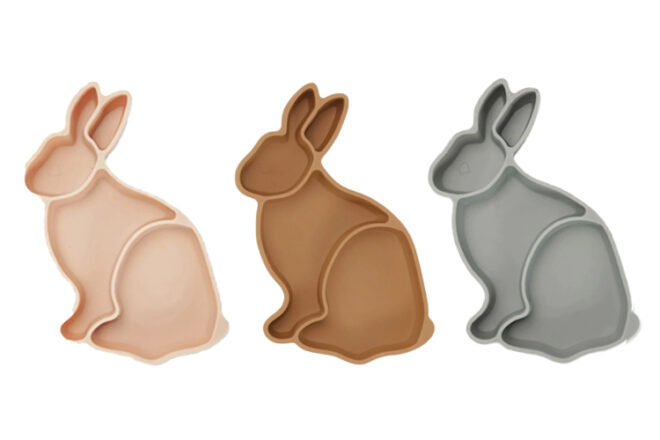 We can just imagine Easter breakky served in these darling bowls. It's got deep sides for easy scooping, a suction base and can be hop in the dishwasher.
---
Happy haul

Perfect for little hands to gather their eggs in one place, Marlie & Me Personalised Easter Buckets come in a number of adorable colourways with your youngster's name front and centre.
---
Bobby the bunny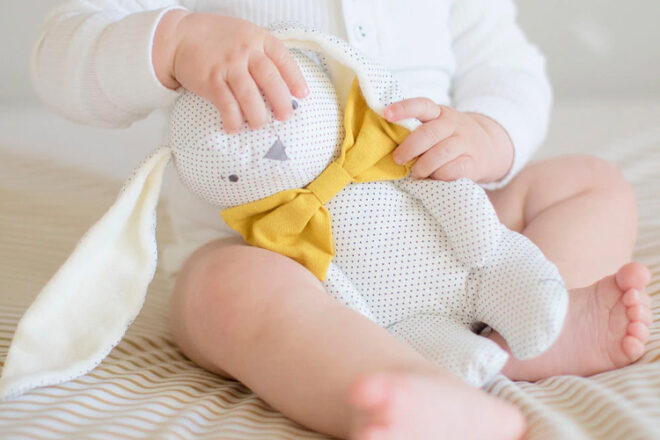 Will Bobby be bub's first Easter bunny? In three smart colourways, he's a perfect addition to the nursery. Made from lovely linen and the perfect size to cuddle.
---
Bedtime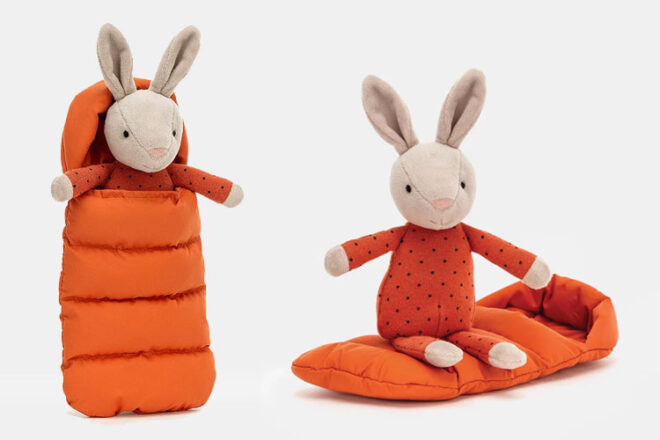 Nuzzly-neat and simply sweet, this Jellycat Snuggler Bunny is ready for every slumber party in PJs and its removable carroty-coloured sleeping bag.
---
Miffy and me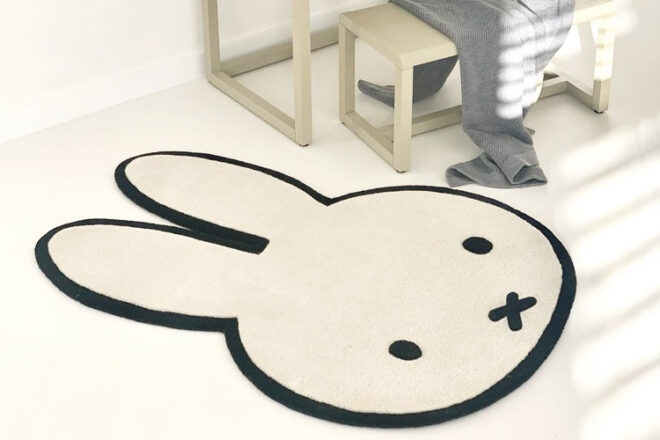 Appealing to all ages, the ever-popular Miffy makes an appearance as the cutest floor rug in town. Made from 100% New Zealand wool, this high quality statement piece features 3D texture.
---
Sweetest socks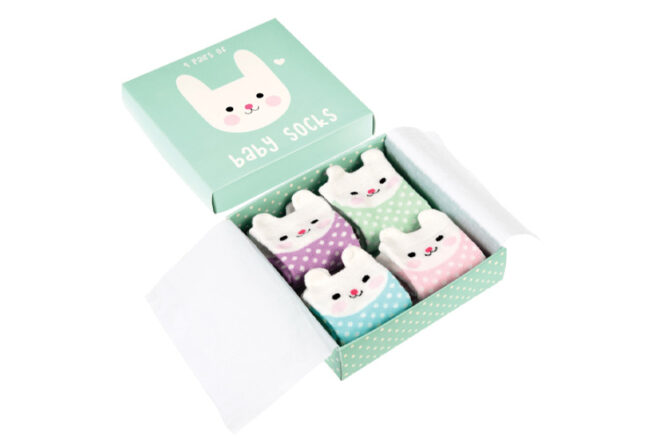 A sweet set of socks makes an adorable baby Easter gift with four pick-of-the-crop colours. Perfectly packaged in a lil box, they'll sit pretty in the Easter basket.
---
Hop to it!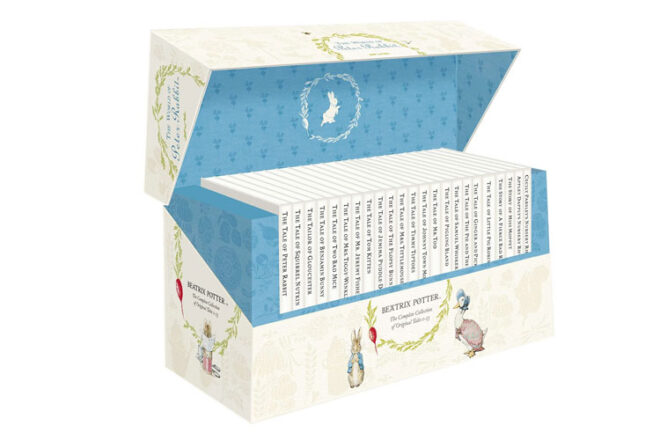 Loved by children around the world, this collection of classics contains 23 tales from The World of Peter Rabbit. With the timeless stories and beautiful box, this is something that can be handed down to generations to come.
---
Who's carrots

Um, how fun are these? Made from birch plywood with a leather cord, these personalised carrot tags can be used year after year. They're so cute they might even inspire little ones to eat their veggies.
---
A gorgeous group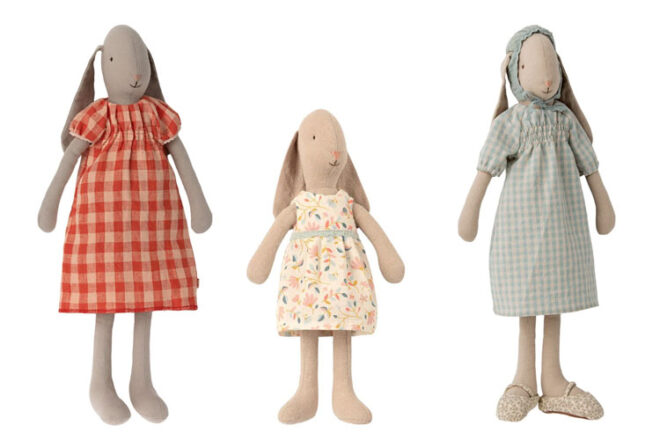 Toys to treasure year upon year with personalities and outfits to delight, it's hard to go past the Maileg gang of bunnies. The fun part is choosing one to match your youngster's personality.
---
Some bunny's welcome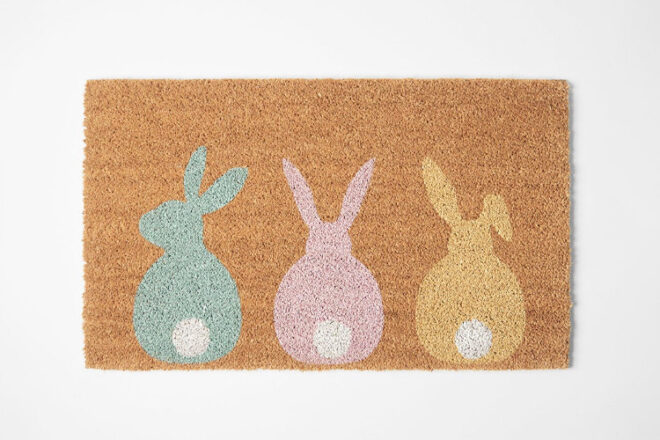 Guaranteed to put guests in a good mood, placing this mat at your door means every bunny is welcome. Simple and sweet, you could leave it there post Easter, no problem.
---
Bunny, stop here!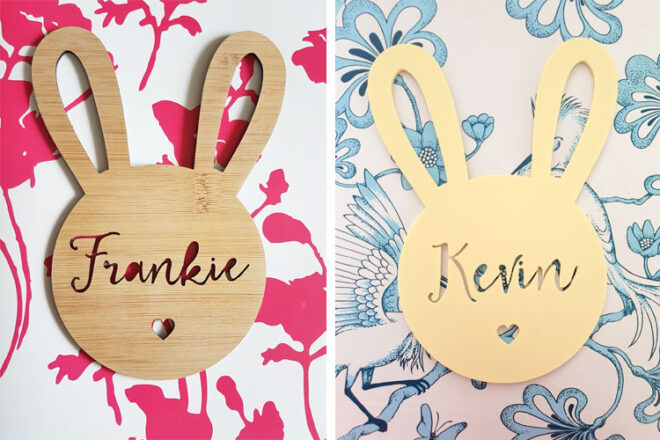 Start your Easter traditions early and hang a sign on their door ready for the Easter bunny. Personalise with their name, of course.
---
Flippy friend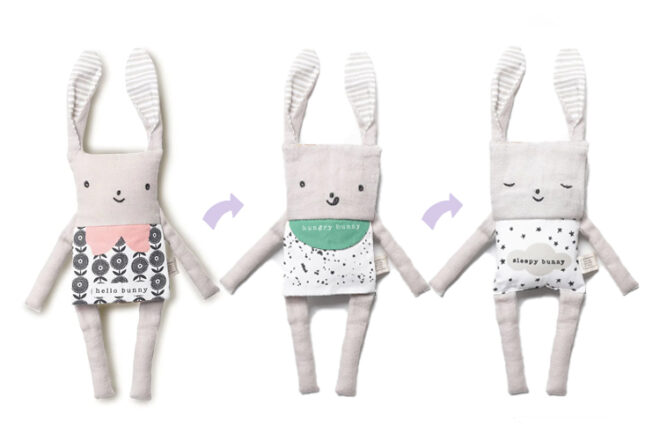 Made from GOTS certified cotton, this flippy friend changes their outfit and facial expression as you flip through the 'pages': Hello, Happy, Hungry, and Sleepy.
---
Easter eggs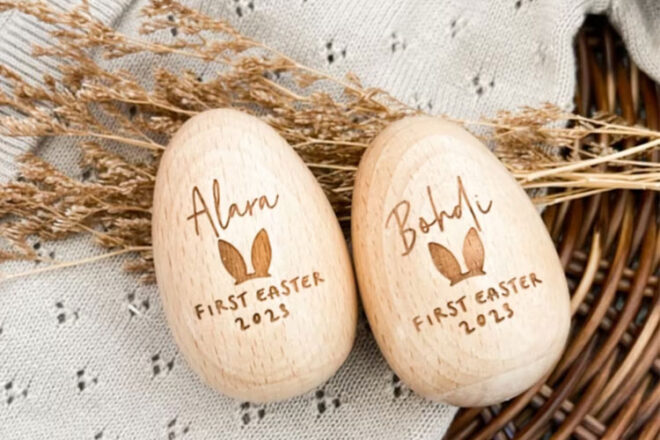 A great shape to have, hold and shake, it's eggstra-cute personalised with their name and the year. What a sweet, non chocolate addition to the Easter basket.
---
Bespoke bunnies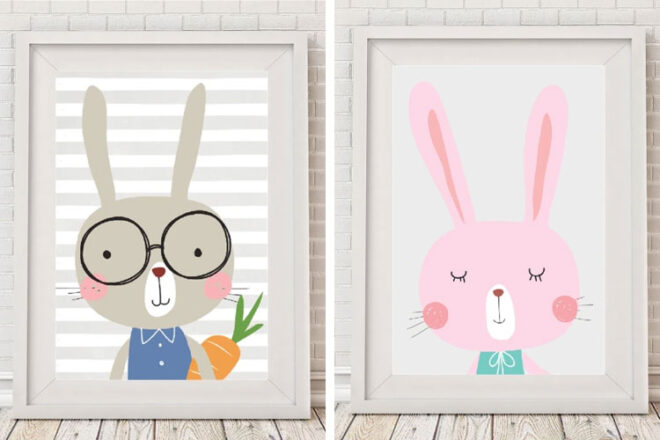 Their walls will never be boring when you've got these cuties up – the more the merrier. In fun designs with bright pops of colour, they'll sit pretty on their walls long after Easter.
---
Too-cute tags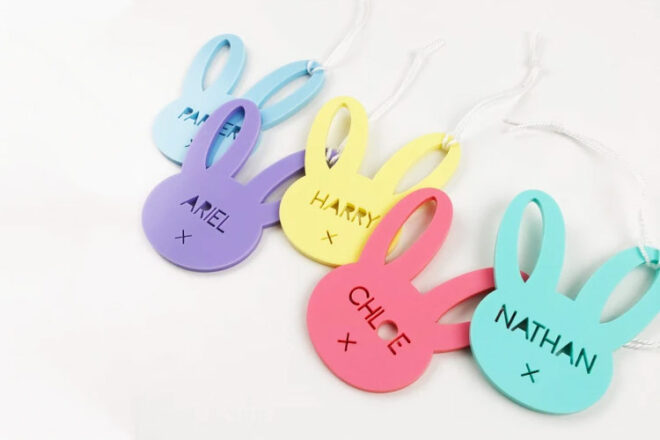 These durable tags are perfect for the Easter basket and can hop over to their backpacks for the rest of the year. Win-win! Choose from five eye-catching colours.
---
Lloyd Rabbit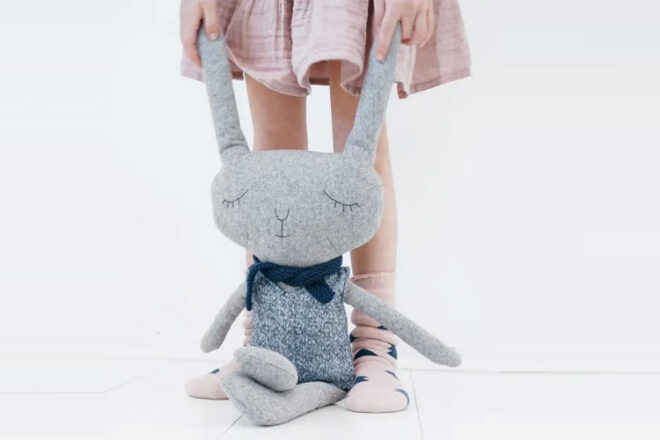 When you're gifted a rabbit called Lloyd you know he'll be a friend for life. The knitted scarf is the coolest touch and we love his calm demeanour.
---
Bunny hutch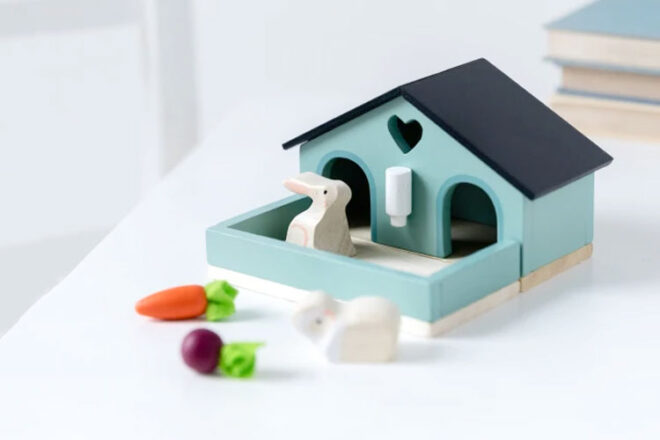 We're not sure what's sweeter – the veggies, hutch or bunnies themselves. Made from sustainably sourced wood, this adorable play set is a timeless Easter gift and can be added to an existing doll house for even more fun.
---
Light up the night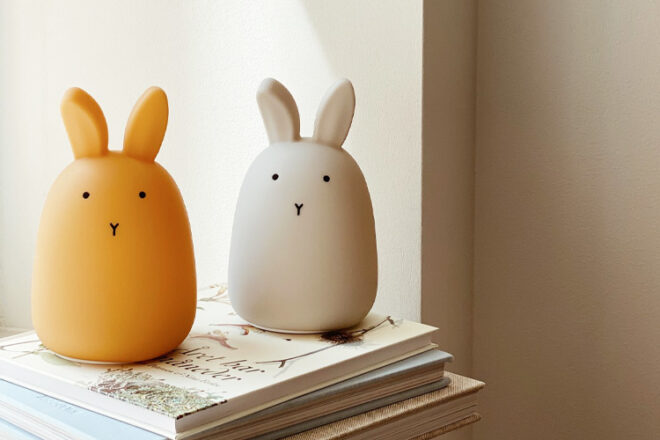 Whether lamp or night light, these critters add instant glow (and glam) to their space. Standing at 14cm tall, they are rechargeable and whilst minimalistic, still have personality.
---
Racing rabbit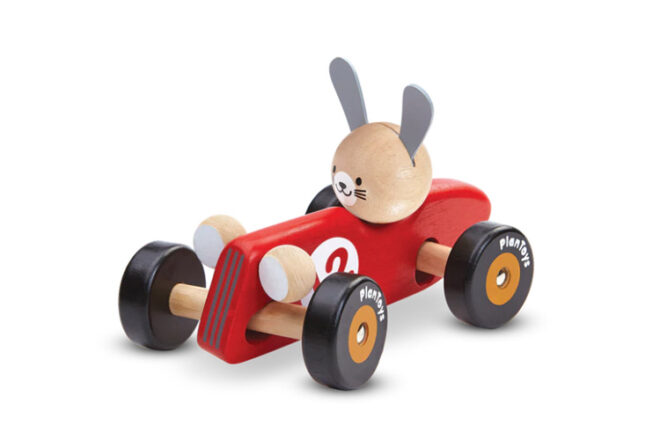 Get their hearts racing with wooden toys designed to delight. With vintage vibes, this sustainable rubberwood rabbit will be a winner all year round.
---
Stacks of fun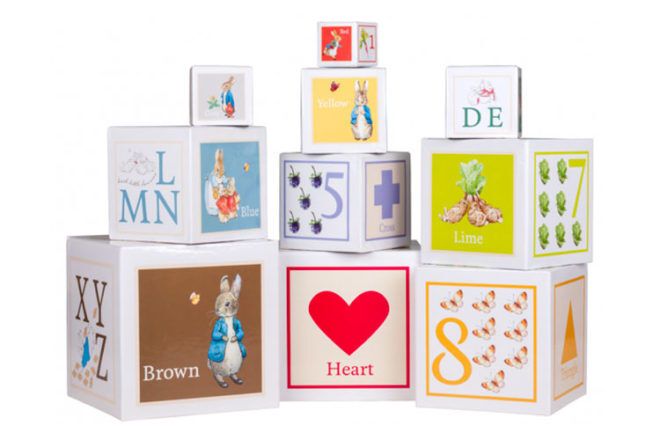 Play and learn with your dear friend Peter. These stackable building blocks make a classic Easter gift for baby, showcasing letters, numbers and illustrations on every side.
---
Carton of eggs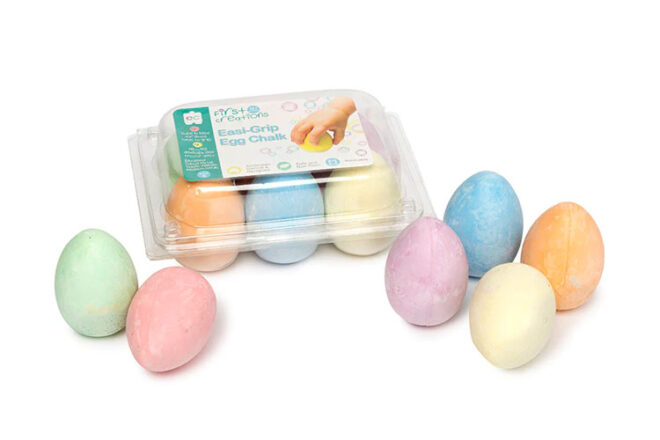 Designed specifically to fit into the palm of little hands, this carton of chalk eggs can be used on blackboards, pavement and other concrete surfaces. They're non-toxic and last for ages.
---
Hop a long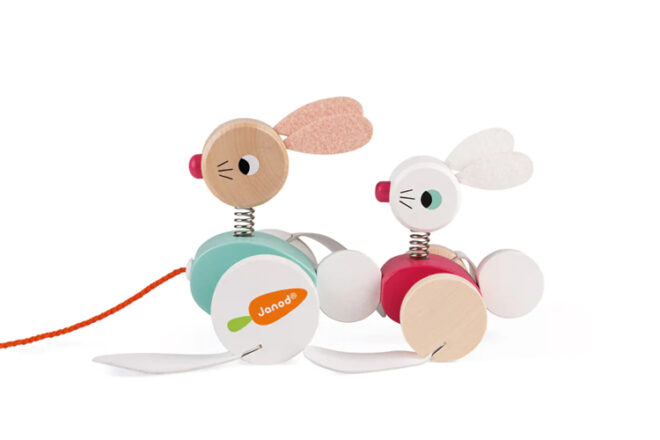 With stacks of personality, these loveable wooden rabbits have legs that flap as you pull them along – meaning actually looks like they are chasing after you!
---

If you're looking for fun ways to celebrate Easter with kids, including choc-free Easter gift ideas you're in the right spot. From Easter Egg dying tips to the best Easter PJs for the whole family, here are more helpful articles to check out next.
Thank you for trusting us to be your go-to source for all things baby-related.
Happy shopping 😀