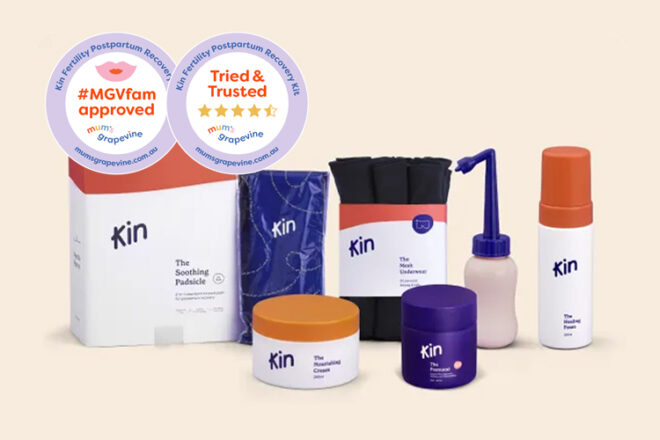 Mums recommend Kin Fertility Postpartum Recovery Kit
It's no secret that your body is put through the absolute wringer during childbirth, Kin Fertility's Postpartum Recovery Kit helps to make the transition from labour to postpartum recovery as easy as can be. Designed to help speed up the healing and recovery process the kit combines six simple steps to look after you while you look after baby.
Everything included in this six-step care pack is exactly what you need to help you through your childbirth and postpartum journey. The mesh panties are soft, breathable and reusable, providing the ultimate comfort with their 'fits most' stretchy style. The soothing padsicle, which fits perfectly into the mesh panties, has an instant crack-and-cool design so they're perfect for on-the-go, no refrigeration required.
Also included in the kit is the healing foam to help fight bacteria and reduce swelling, a peri bottle, nourishing cream and postnatal vitamins designed to address the symptoms of postpartum depletion.
Available online from Kin Fertility ($189)
Four reasons we love the Postpartum Recovery Kit:
Everything you could possibly need is included
In the tender days during and post birth, you'll be reaching for this kit more times than you think.  With six steps covered, it's like a helpful friend who has everything under control.
You don't need a fridge close by
Forget fussy postpartum care – Kin's padsicles have a clever crack-and-cool design so you can experience soothing relief within arm's reach. Perfect for when you're on-the-go.
It soothes the sore spots
Everything in this kit is designed to turn argh to ahhhhh, from the soft mesh undies and cooling padsicle, to the healing foam and peri bottle.
It's compact and easy to pack
Pack your hospital bag with a smug smile as you toss in this kit. Compact and easy to pack, there'll be plenty of room for other hospital essentials. Like snacks.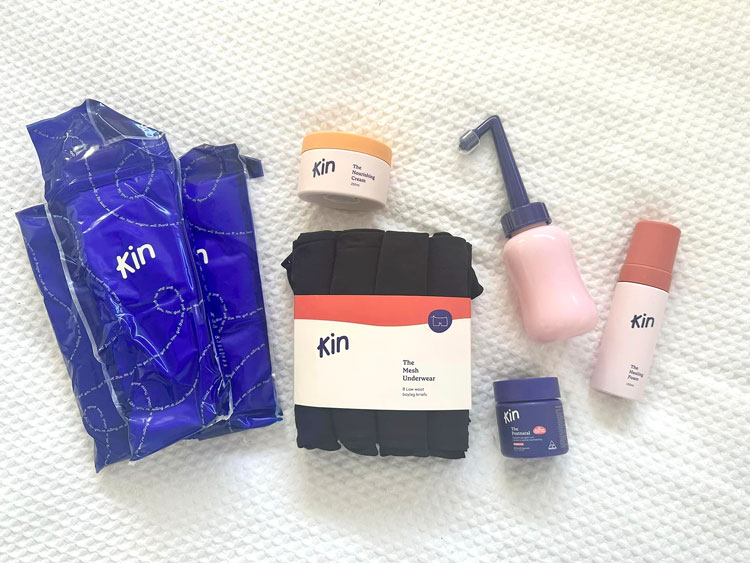 But don't take our word for it, we asked three #MGVfam mums from our Mum's Grapevine Facebook Baby Groups to try the Kin Fertility Postpartum Recovery Kit and here's what they had to say:
100% would recommend Kin Fertility Postpartum Recovery Kit to their friends.
The Kin Fertility Postpartum Recovery Kit received 5 out of 5-star rating
Cait, mum of 2-week-old Georgia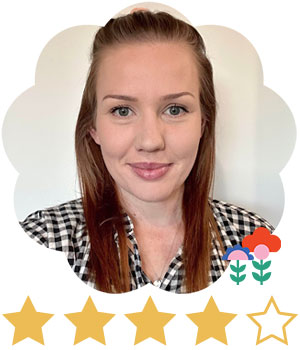 "This is definitely something I would purchase to have in my hospital bag again."
The Kin Fertility Postpartum Recovery Kit is a great kit for those who like to order from one place and have all the essentials delivered together ready for after birth. After using these products for 10 days postpartum I can honestly say I am so glad I was able to have them packed into my hospital bag.
The peri bottle has the perfect flow and I've been able to ensure that things stay clean down there, I ended up with a couple of stitches so it's been great to know I am able to keep them clean with ease.
I keep the healing foam in the fridge and apply it to a pad, so far I haven't experienced any itching during recovery and I have loved not having to prepare padsicles in advance as I just put the foam on at each change.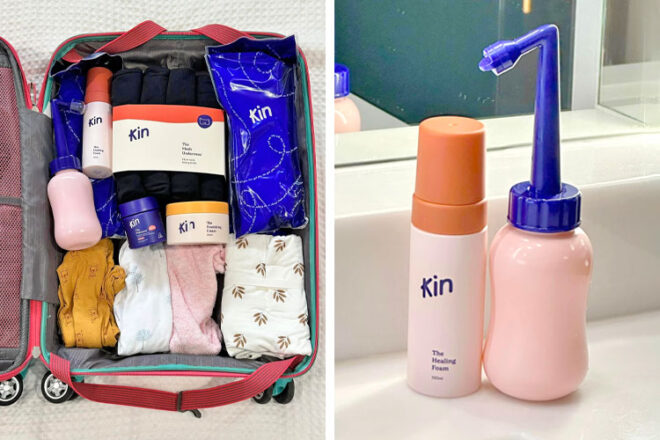 I first tried on the mesh underwear before giving birth to see how supportive they were and they did not disappoint, they held the pads in place and nothing slid around.
The soothing padsicles included in the kit were especially great for the 5 days I spent in the hospital, fold in half and instant ice! AND they stayed cool for the perfect amount of time. It was a relief knowing that I didn't need to layer pads with ice packs as they are all in one!
Combined with the mesh panties, it was all held together while providing support to all the right areas.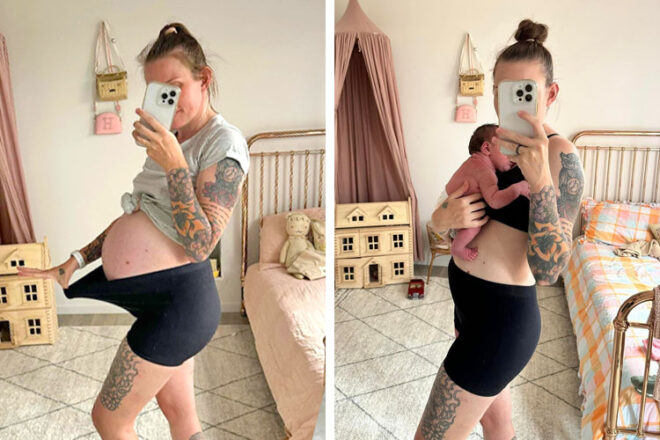 I've also been using the nourishing cream every night on my belly while I've been feeling a bit dry post-birth. It smells divine and it's now part of my evening self-care routine.
If I were to have any babies in the future this is definitely something I would purchase to have in my hospital bag again as I just found it so useful! It's now also on my list of gift ideas for baby shower presents!
---
Chloe, mum of 2-week-old Woodsie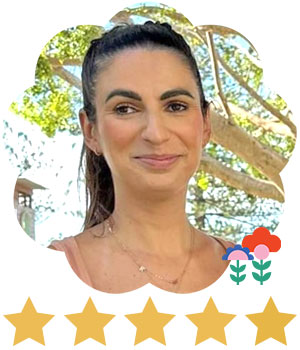 "I wish I had known about this type of thing with my firstborn, would have been so helpful!"
Overall I loved all of the products that came in the Kin Fertility Postpartum Recovery Kit but the stand out for me was the mesh undies.
After having an unplanned cesarean, the mesh panties were the only underwear that I wore – even two weeks postpartum I'm still wearing them.
They've been perfect to prevent anything from rubbing my scar as they are so stretchy and soft, and they hold my pad in really well.
I've been recommending them to all of my pregnant friends.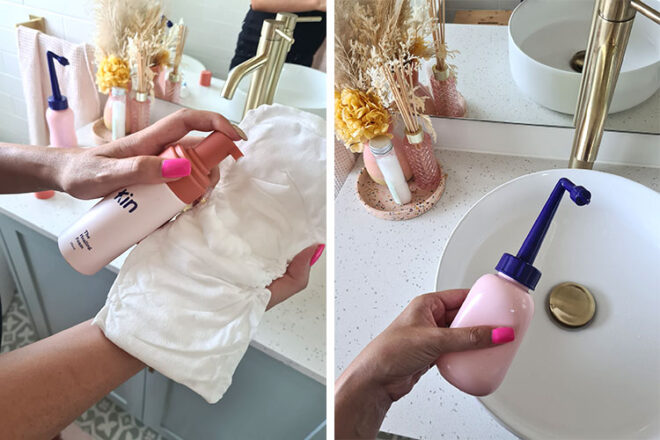 I am still taking the Postnatal Vitamin and definitely felt like I have way more energy this time around – I feel great.
The peri bottle took away the fear of wiping and any pain when going to the bathroom. And made the whole bathroom process directly after labour so much easier.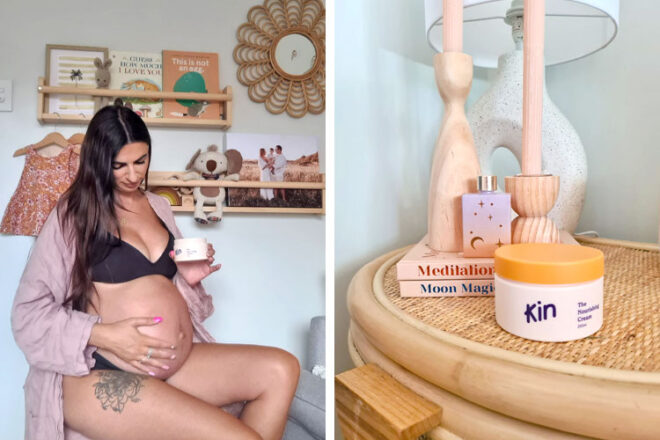 I began using the Nourishing Cream consistently throughout the last trimester of my pregnancy. The cream is lovely, fast-absorbing, light and smells amazing. I didn't end up with any stretch marks this pregnancy.
---
Rachael, mum of 8-week-old Bailey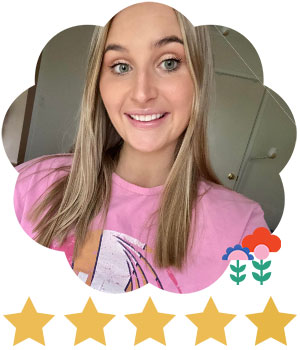 "I don't think I would have recovered as quickly without the padsicles"
This postpartum pack was exactly what I needed after delivering my beautiful baby boy via forceps and episiotomy. This pack is curated and considered with all the necessities to help mummas post-birth heal comfortably and discreetly.
The Peri Bottle was so simple to use for the management of postpartum hygiene and healing downstairs and took away the anxiety I had about going to the bathroom as my body heals. The flow of the water as you squeeze was super gentle but strong enough for a thorough clean.
The padcicles were my favourite! In the early days after my birth, I experienced some pretty severe perineal swelling. After receiving some pretty questionable homemade "Padcicles" in the hospital, these were a godsend when I returned home for my recovery. They were easy to use, and comfortable to sit on while providing instant soothing relief. I honestly do not believe I would have healed as quickly without these, as they helped reduce my swelling in a matter of days.
Rachael has created a great video demonstrating how the padsicles work.
I loved the relief that the Nourishing Cream gave me, particularly in the last couple of weeks from my pregnancy. As my belly rapidly stretched, I found it became super dry, itchy and uncomfortable. This lightweight cream helped to sooth my skin with minimal product, so this tub has lasted me months even though I apply it daily after I shower.
I would suggest that this pack is a very necessary "push present" for any mother post-labour. After the baby comes, a lot of the attention goes to the health and happiness of the baby and excited visitors can unfortunately not consider the mother's healing. This is a period where mums need to be able to focus on their own healing so they are able to provide love and care to their new bub. This pack gives new mothers all the tools to do just that, both comfortably and discreetly.
Kin's Postpartum Kit is a must-have for both your hospital bag and postnatal recovery at home.
Available online from Kin Fertility ($189)
---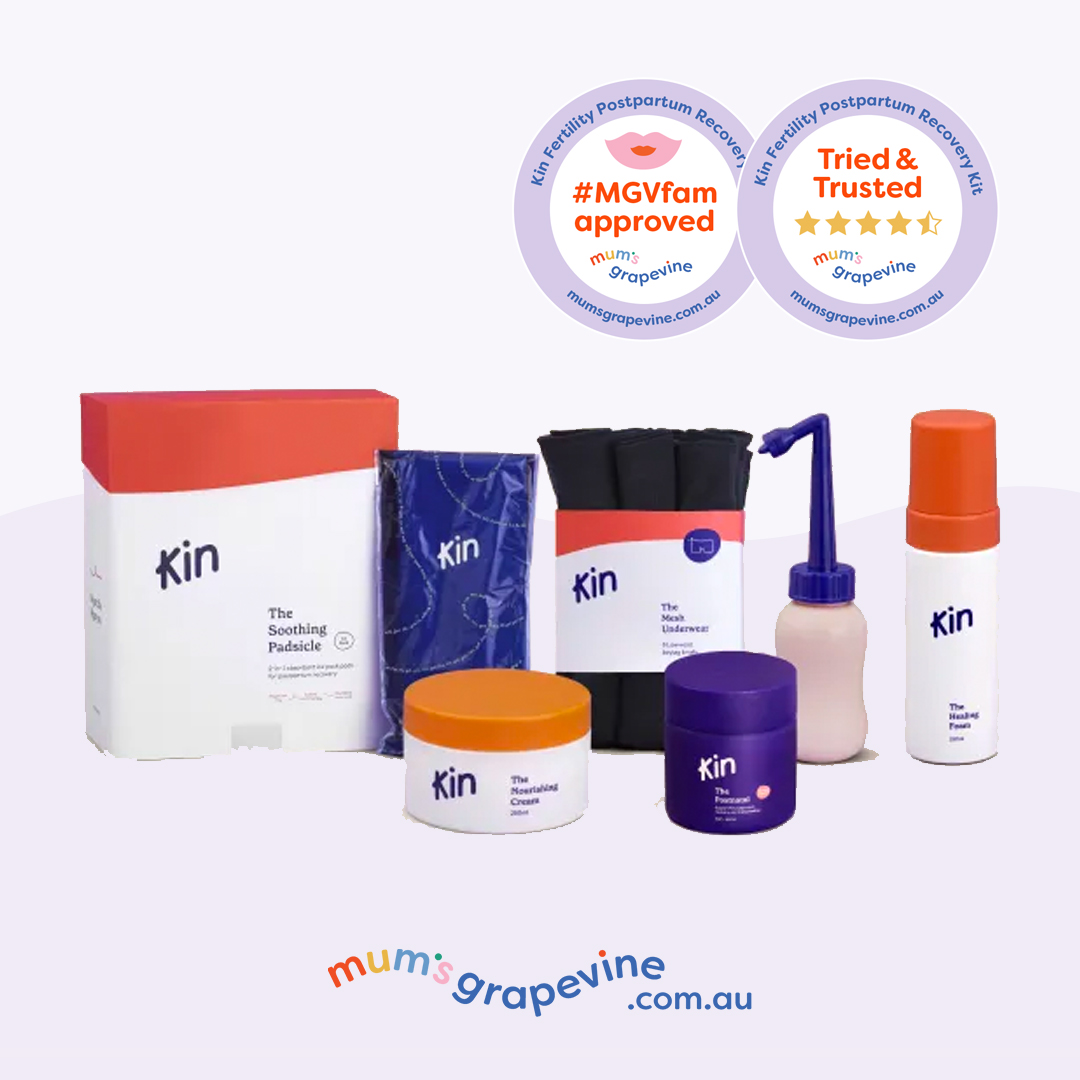 These postpartum recovery kits have been provided by Kin Fertility for the purpose of trial and review. All reviews submitted are the honest, authentic and genuine sentiments of the Mum's Grapevine Facebook Group members (#MGVfam) participating in this trial.