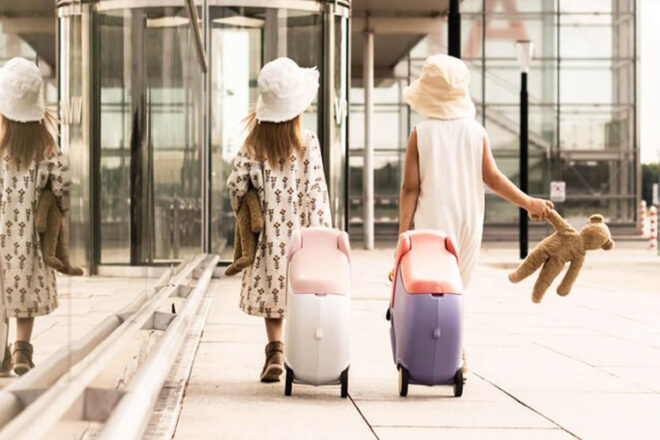 Whether vacays mean jetting overseas or pitching tents on the coast, kids' suitcases make family travels smoother for everyone – because it's not just the destination that matters, but how you get there.
Kids' suitcases are compact and lightweight pieces of luggage, perfectly sized for storing must-haves and treasures travelling. From zippy wheelie bags to feature-packed ride-on cases, kids' luggage is designed to be easy for little ones to pack and carry all by themselves. And that's a big win.
We asked the huge Mum's Grapevine Facebook Baby Group members what they wish they knew before investing in a suitcase for the kids and which style they recommend. And this is what they had to say…
Helpful tips for buying a kids' suitcase:
Will you or your child be pushing/pulling it?
Can your child reach the handle?
Can your child open and close it by themselves?
Are you packing all their things or just activities and snacks?
Are you able to take it onboard as carry-on luggage?
When it's fully packed can your child still handle its weight?
Do you want one that's also a ride-on to get through airports in a hurry?
OUR PICK OF THE CROP
6 Suitcases Made for Kids That Travel
To help you find the perfect piece of luggage to get you on your way (super organised!), we consulted our huge Facebook community of Australian mums and listed their most popular choices below.
In no particular order, here are six of our favourite suitcases for Aussie kids.
JetKids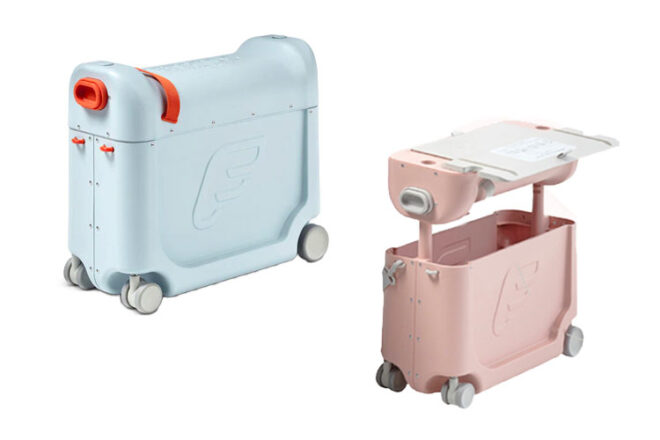 Officially approved by most airlines, the BedBox is a world-first for ride-on suitcase with the addition of an inflight bed and leg-rest feature (yes, it folds out to an onboard bed for kids!). We love that there's ample storage for all the essentials, and how easy it is to zip through the terminals thanks to the smooth front swivel wheels.
---
Trunki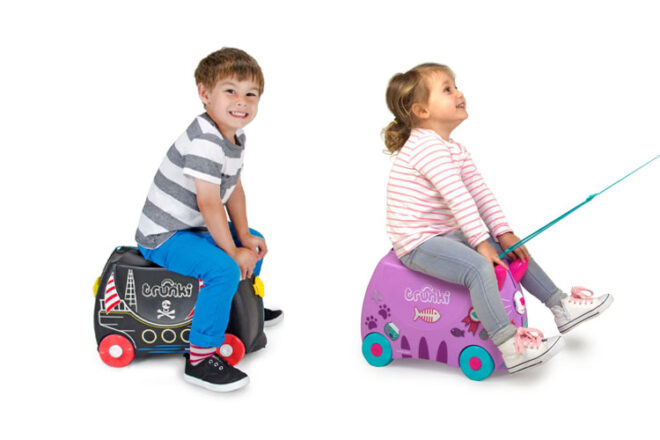 Innovative, practical and seriously fun, Trunki ride-on suitcases are more than just luggage – they're travel companions. Each of the adorable styles features secret compartments, an internal pouch, very handy carry handles and a parent strap for pulling the littlies along.
---
Penny Scallan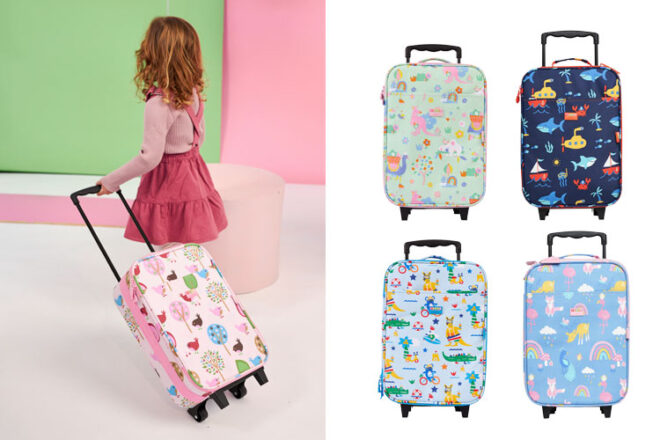 Spacious and pretty as a picture, Penny Scallan suitcases stand out in a crowd. Made from durable 100% cotton canvas with a water-resistant coating they are so easy to keep clean. There's plenty of space in the large central compartment for all their clothes and we thought the fun zipper pulls was a nice touch.
---
Zinc Flyte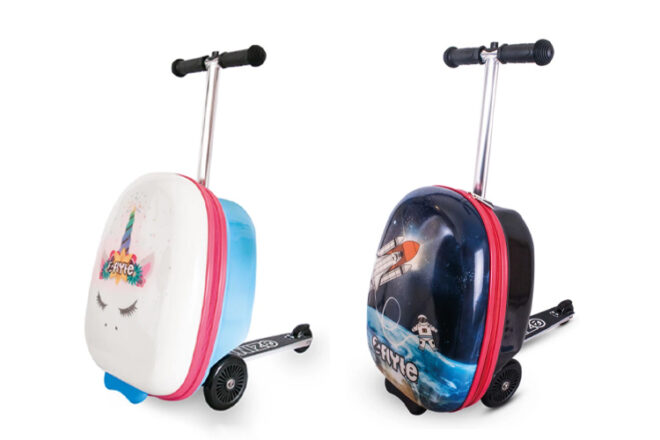 Why walk when you can scoot? The adaptable Zinc Flyte works as a 25-litre suitcase, pull-along trolley AND a zippy children's scooter. Cabin-sized, it comes in nine designs so all personalities are catered for. We love the splash-proof exterior and stable steering system for added safety and durability.
---
Samsonite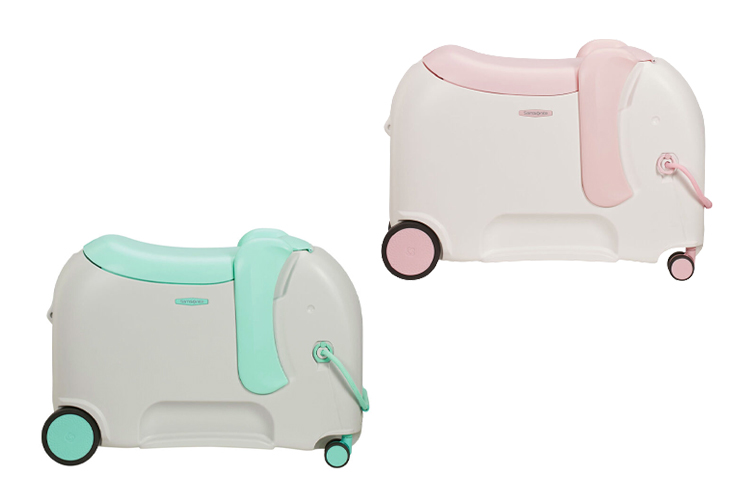 Dream by name, dreamy by nature. Made by the experts in luggage, these contemporary kiddie ride-ons tick all the boxes for convenient travelling: ergonomic straps, interior cross ribbons, a retractable handle and four wheels for a rolling good time.
---
Stephen Joseph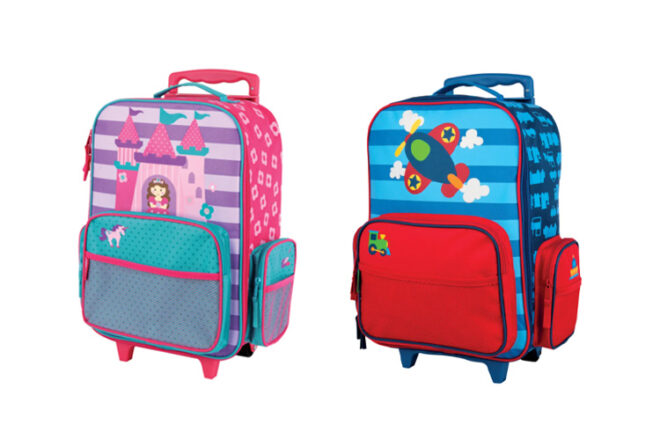 In sweet themes and bright colours, these will be a cinch to spot on the luggage carousel. Chemical-free and expertly made to go the distance, they have extendable handles, and handy pockets for keeping treasures organised and they even fit in most onboard overhead compartments.
---
FAQ: Your questions answered
Buying any kind of family suitcase can be tricky especially one designed for kids, so to help you out, we've answered some of the most common questions.
What is a kids' travel suitcase?
A kids suitcase for travel is a piece of luggage specifically designed to be easy for children to handle and maneuver. They are usually smaller and lighter than adult-sized suitcases, and feature adjustable handles, rolling wheels, and compartments that help children organise all their treasures.
What is a kid's ride-on suitcase?
A kids ride-on suitcase is a type of luggage that can be ridden on by children. It has a seat on the top and four wheels at the bottom, allowing children to ride on it like a toy. It can also be used as a traditional suitcase to store clothes and other items for travel.
Are kids' suitcases allowed as carry-on luggage?
Most airlines allow kids to take a suitcase as carry-on luggage. But always make sure to check with your airline's specific restrictions and requirements before arriving at the airport – just in case!

Seen a kids suitcase we could add to our list? Contact us and let us know, we've been curating Australia's best kids products into helpful lists for over 15 years and we're always happy to support new brands and businesses.
Read next …
Ask other mums
Looking for a suitcase the kids can use and still not sure if any of these are right for you? Join the huge #MGVfam in one of our private Facebook Baby Groups and ask thousands of other mums with toddlers the same age as yours which ones they recommend. Join today!

We want you to know
At Mum's Grapevine, we're a team of passionate mums (with 19 kids!) and over 15 years of experience researching and writing about all things baby and parenting. Our reviews of recommended products, like the ones in this post, may include paid inclusions, but we promise to only feature products that we truly believe in and have used or seen ourselves. We want to ensure that you, our readers have access to the latest and greatest products in the parenting world, and we're committed to maintaining our high standards of quality and honesty. See our Disclosure Policy.
Thank you for trusting us to be your go-to source for all things baby-related.
xoxo