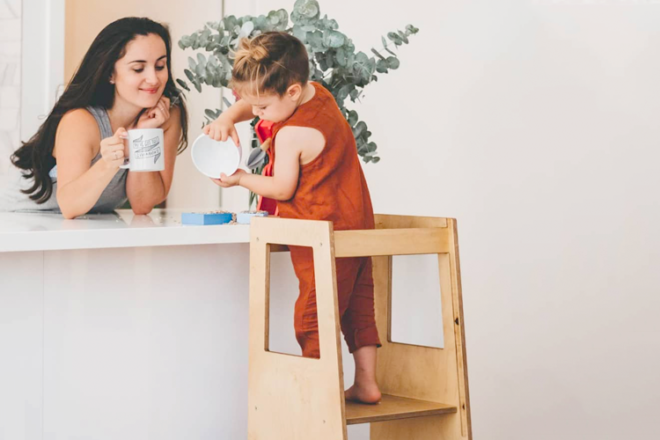 As parents, we understand the importance of encouraging our children's independence and creativity, while also ensuring their safety. That's where learning towers come in – these freestanding structures allow children to safely stand on a platform and participate in activities at a higher height, such as helping in the kitchen, playing, or reading.
In this roundup, we'll be sharing some of the top toddler learning towers (AKA kitchen helpers) available on the market, as well as the benefits they offer for both parents and kids. Not only do these towers provide a safe and stable platform for children to explore and learn, but they also promote confidence and independence, as children are able to participate in activities at an adult level.
We asked the Mum's Grapevine Facebook Baby Group members what they wish they knew before buying a kitchen helper and which ones they recommend, and this is what they said…
Helpful tips for buying a Kitchen Helper:
How long until your child's weight range exceeds it's capacity?
Where will you store it when not in use?
Can it take two children comfortably?
Does it have a board or rail at the back for safety?
Does it come with cool accessories?
Is it light enough so the kids can push it around the house?
Or is it heavy enough that the kids CAN'T push it around the house?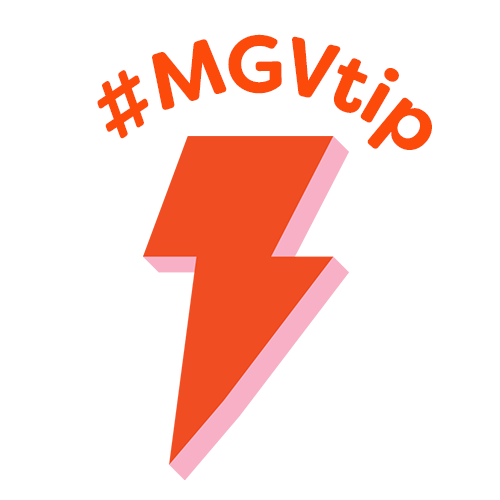 Don't just limit their use to the kitchen, learning towers are just as handy in the bathroom, setting up Christmas trees, dining table, and playing cubbies.
---
OUR PICK OF THE BEST
7 safe and stable Learning Towers
To help you find a super sturdy and safe kitchen helper (aka learning tower), we consulted our huge Facebook community of Australian mums and listed their most popular choices below. Read what the other mums had to say in the Facebook post!
In no particular order, here are seven of the more popular Toddler Learning Towers we recommend.
My Happy Helpers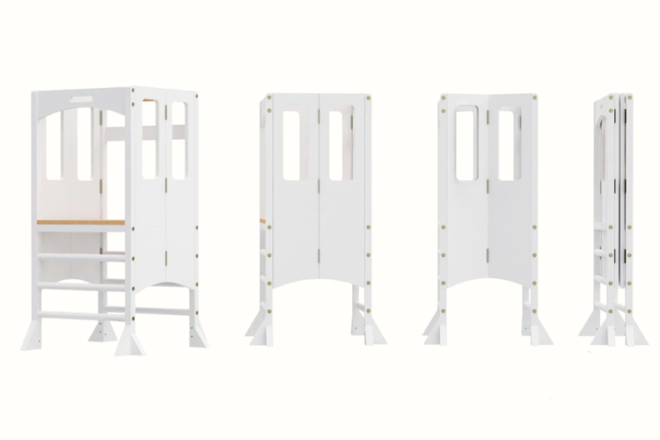 Able to be stored away, My Happy Helpers Bi-Fold Learning Towers have three adjustable height settings, 2-sided tower safety locks, soft closing hinges and protective edging. Suitable from 12 months of age they arrive fully assembled ready to use straight out of the box. Neet!
One happy customer left the review "My son loves it. Tonight he helped wash dishes and every night since receiving it he excitedly brushes his teeth of the evening. Best purchase I've made, only regret it not buying one sooner! So easy to set up, fold down and store away"
---
Hubby Made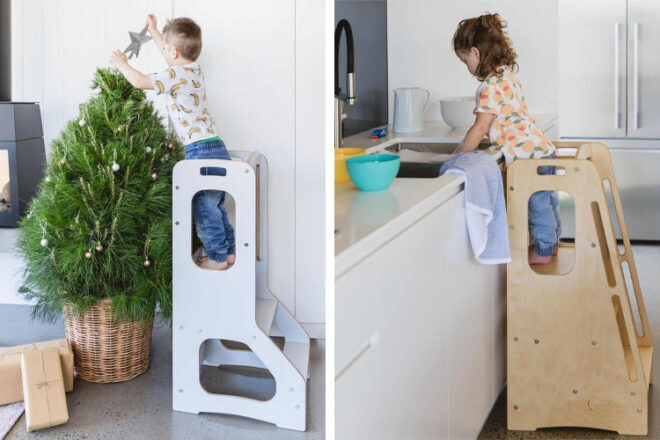 Proudly Australian-made and owned, Hubby Made Toddler Chef Stools are height adjustable to four settings and hold up to 80kgs. Available in a choice of MDF, bamboo or plywood styles, we love that the Chef Stool comes in single, tandem and twin sets.
A reviewer wrote "Absolutely fabulous! The tower is the best thing we have ever bought for our daughter.
She loves it. Quality is great, and the service was great. Definitely recommend."
---
Little Nation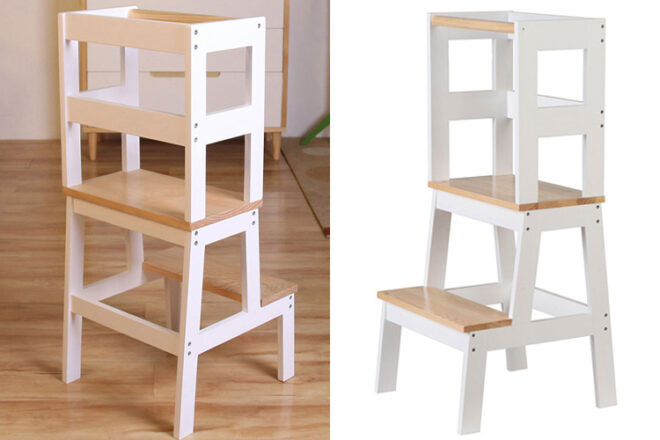 Simple to assemble and equipped with a safety bar, the Little Nation Oscar Learning Tower boasts a solid frame made of pure New Zealand pine and a two-level design with wide platforms. Minimalist in design, we love that it fits anywhere.
One reviewer said, "Brilliant product, my son absolutely loves this and so do I. We use it every day. Also very stylish and excellent quality. "
---
My Duckling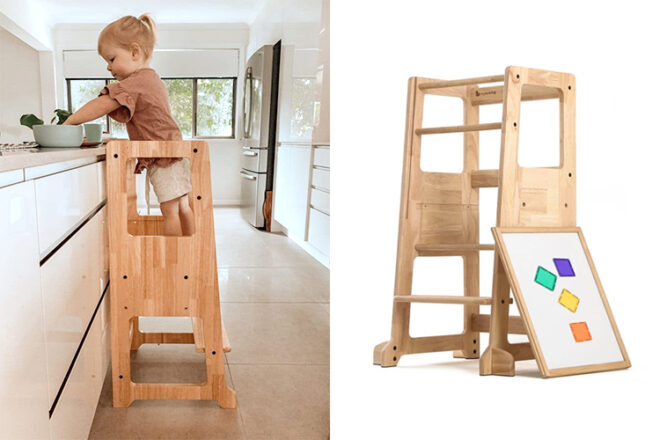 Made from 100% solid rubber wood, My Duckling LOLA adjustable tower features two built-in platform heights, perfect for when your child grows. We love that it comes with a removable magnetic drawing board for extended play.
"Bought this for my little one for first birthday. It is amazing! Love the fact that I can adjust the height and it has added support to the back compared to other ones on the market." said one happy mum online.
---
Moppet Kids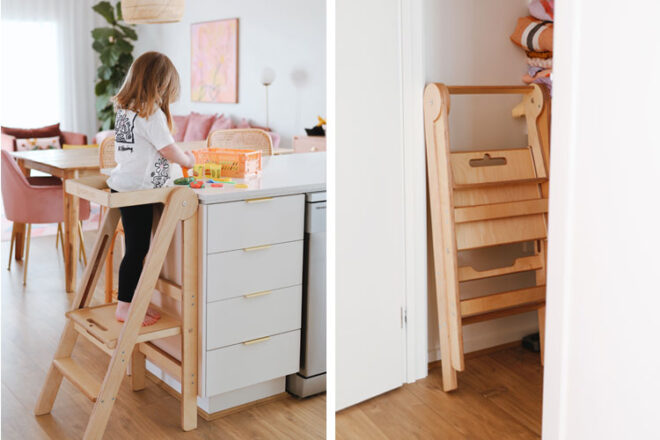 Elevate learning and play with the Moppet Kids Folding Learning Tower. A space-saving helper that boosts independence, we loved that this tower can hold up to 120kgs meaning even Mum, Dad and older siblings can use it without the safety bar (making it last even longer).
One mum left the review "We have used our tower every day since it arrived. Sturdy and easy to clean. Best of all I can open it one-handed with a toddler on my hip." Breanna
---
Little Big Learning

Made in Australia, Little Big Learning slimline learning towers feature two height adjustments and a removable chalkboard that doubles as a safety backing panel as recommended for a child under two. And the conversion kit takes the single to a double (sold separately).
---
All 4 Kids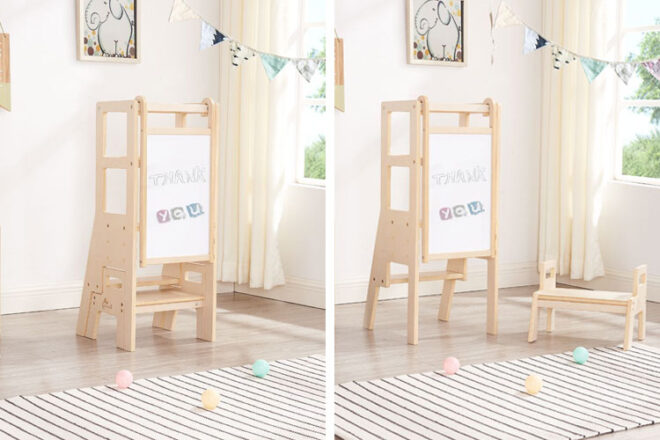 Supporting little ones in their venture for new knowledge and life skills, the All 4 Kids Learning Tower ensures they're safe while doing so. We love the add-on of the step stool that serves as a puzzle piece at the bottom of the tower making it extra storage friendly.
---
Toypark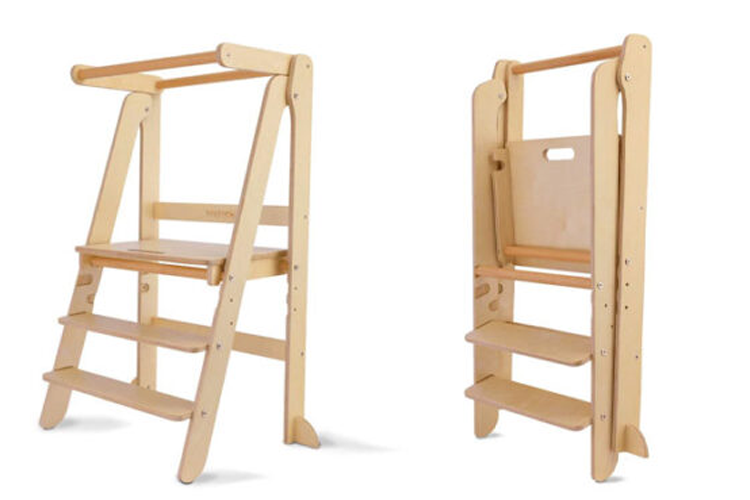 Combining functionality, safety, and convenience, the Toypark Folding Learning Tower is a great way to enhance your little one's development in a fun and engaging way. Built with high-quality materials to ensure durability and stability, we were impressed with the foldable design.
---
BillerCraft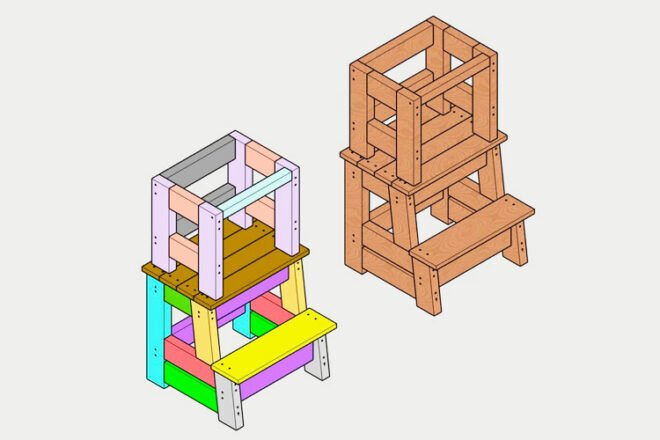 Feeling handy? Have a go at crafting your own toddler learning tower with these DIY plans. Using around $30 worth of materials and basic tools you could whip up your very own learning tower in a few hours (well, maybe!).
---
Is a Learning Tower worth it?
Thinking of getting a learning tower for your toddler? We asked the huge Mum's Grapevine Facebook community how often they use their kitchen helper tower and this is what they said …
"100x a day haha we got a My Little Helper because it can change heights. Love love love it" said Amanda
"Mate- get one! Any type! We use it alllll day. I got ours from the local carpenter and it converts into a table and seat" said Hannah
"My bub is 15 months, LOVE it, uses it every day throughout the day" said Esther
"Use it all day. Our little one loves helping in the kitchen. Eating while standing in it. Ours also turns into a table & chair" said Bec
"Same as everyone else. We use ours multiple multiple multiple times a day. He eats at it, we bake and cook dinner at it, we FaceTime family at it, oftentimes he just stands at it to talk to me while I'm having coffee at the bench so we just kind of hang out at it. One of our most used purchases" said Jessica
"Honestly one of the best things we bought for him. Bought it at 16 months old and he's just turned 3 and uses it every day" said Megan
---
FAQ: Your questions answered
Buying any kind of kitchen helper tower can be confusing and over-whelming, so to help you out, we've answered some of the most common questions.
What is a learning tower?
A learning tower is a freestanding structure designed for children to safely stand on a platform to participate in activities at a higher height, such as helping in the kitchen, playing, or reading.
What age can kids use a learning tower?
Learning towers are typically designed for children aged between 18 months to 6 years, depending on the weight limit and height adjustability of the tower.
Are learning towers safe?
Learning towers are generally safe if used correctly and if they have safety features such as non-slip surfaces, a sturdy base, and secure locking mechanisms. However, it's still important to always supervise the kids when they are using the learning tower.

Seen a learning tower we should add to our list? Contact us and let us know, we've been curating Australia's best baby products into helpful lists for over 15 years and we're always happy to support new brands and businesses.
Read next …
Ask other mums
Looking for a kitchen helper and still not sure if any of these are right for you?  Join the huge #MGVfam in one of our private Facebook Baby Groups and ask thousands of other mums with toddlers the same age as yours which ones they recommend. Join today!

We want you to know
At Mum's Grapevine, we're a team of passionate mums with over 15 years of experience researching and writing about all things baby and parenting. Our reviews of recommended products, like the ones in this post, may include paid inclusions, but we promise to only feature products that we truly believe in and have used or seen ourselves. We want to ensure that our readers have access to the latest and greatest products in the parenting world, and we're committed to maintaining our high standards of quality and honesty. See our Disclosure Policy.
Thank you for trusting us to be your go-to source for all things baby-related.
xoxo